Do You Actually Need To Use Eyelash Primer Before You Apply Mascara?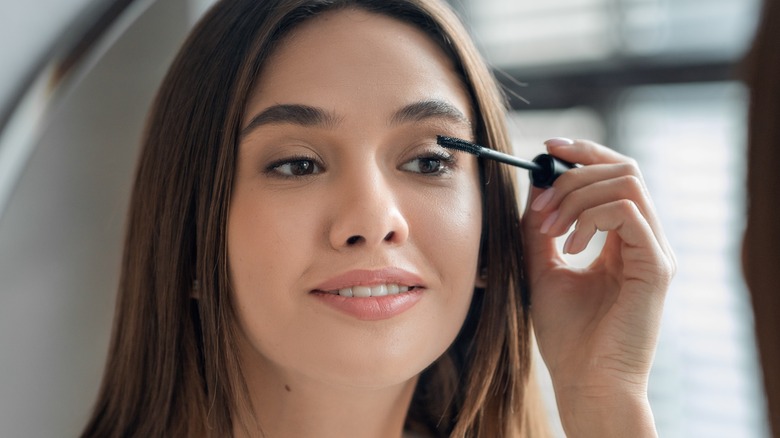 Prostock-studio/Shutterstock
While bold brows are having a moment in the beauty world, if there's one makeup item that can change your entire look, it's mascara. While some of us are fortunate enough to be born with Bambi lashes, others turn to falsies or a tube of mascara to achieve the look. The quest for longer, thicker, and fuller lashes is never-ending, and thankfully beauty aisles are filled with the best mascaras for volume, length, or definition. Celebrity makeup artist Anthony Nguyen tells Vogue, "I love mascara because it makes the eyes pop and enhances your eye shape. It's an essential item for an everyday look, whether it's worn alone for a natural or dramatic look!"
Waterproof mascaras can be a lifesaver for weddings or if you're running around in the heat, so no tears or sweat can mess up your snatched look. Most of you probably apply a coat or more on your lashes, but here's a little tip from makeup artist Lauren Aiello to make them look thicker and more lifted. "After applying a coat to the underside of your lashes, look down and apply one to the top, starting from the root and combing through, flicking upward at the ends," Aiello explains to The Strategist.
And if you want your lashes to look next level without the expenses and complications associated with lash extensions and falsies, some pros live and die by eyelash primer to provide extra length and longevity. But do you really need eyelash primer? Here's what to know about this much-debated beauty extra.
What eyelash primers can do for you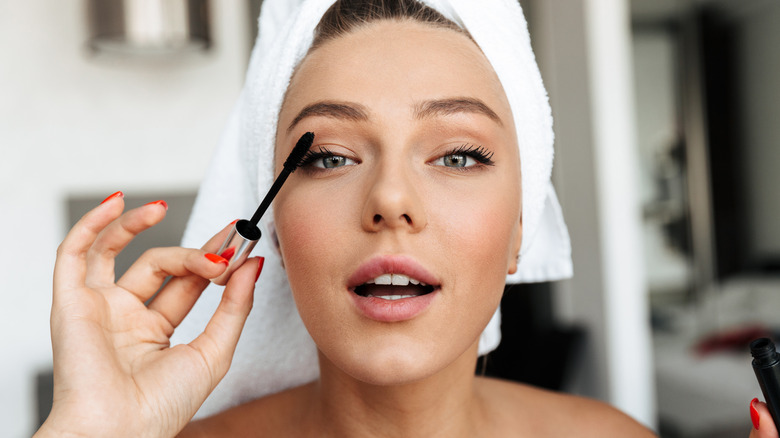 Dean Drobot/Shutterstock
You don't necessarily require an eyelash primer every time you wear mascara. However, you might have noticed a difference when you wear makeup with and without a little prep, and that's where eyelash primer comes into play. Makeup artist Laura Roncagli tells The Editorialist, "Whenever you see the word 'primer' used in the makeup world, it means the product is meant to prepare before using another product. Lash primers are meant to prep the lashes before using mascara, with the intention of having fuller, longer-looking lashes." Adding a base layer of a primer can amplify the look of the lashes and make your mascara last longer.
So if you want to take your mascara game up a notch without getting falsies, you should probably invest in a mascara primer. According to makeup artist Joseph Carrillo, eyelash primers can make your lashes look longer and thicker. Carrillo tells Byrdie, "They [primers] usually come in the color white. So you can see where you have applied it." He added that some of them now have ingredients to help your lashes grow faster and stronger.
So, while you don't actually need an eyelash primer, you'll probably want one — because it'll change your mascara game. Primers are less dramatic than lash extensions or fake lashes, but they're also easier and less expensive. Plus, they'll make your lashes thicker and fuller than with just mascara, letting the world say hello to your sky-high fluttery lashes.
Best eyelash primers
For sensitive eyes, consider Lancôme Cils Booster XL Super-Enhancing Mascara Primer because it's free of sulfates, formaldehyde, and phthalates. Infused with vitamin E, it conditions your lashes with every application and helps them look longer, thicker, fuller, and more lifted — quite the all-rounder. With over 106,000 likes on Sephora, it's a favorite of many beauty lovers. As reviewer EliaWes says of the product, "Best primer I've ever used. Really makes all my lashes separate and sit up higher and longer." It's slightly pricey, but a safe bet for sensitive eyes.
For those on a budget, NYX Professional Makeup Big & Loud Lash Primer is a great steal. This drugstore eyelash primer can thicken every lash and make it look fuller before applying your favorite mascara. It's super easy to apply and goes on smoothly. Plus, this little treasure is cruelty-free, so animal lovers can rejoice.
Looking for something darker? Most eyelash primers are white, but the Benefit Cosmetics They're Real! Tinted Lash Primer comes in a mink-brown tint and can be worn alone or under mascara. It's infused with conditioning provitamin B5 to keep your lashes soft and boasts over 4 out of 5 stars on Ulta, with reviewer Okchic saying, "This is the best primer in my opinion. Just a thin coat before my mascara, and it makes my lashes look so much better. Love that it's brown, and you don't have to try and cover white goop."