The Ponytail Method Makes Cutting Your Hair At Home A Breeze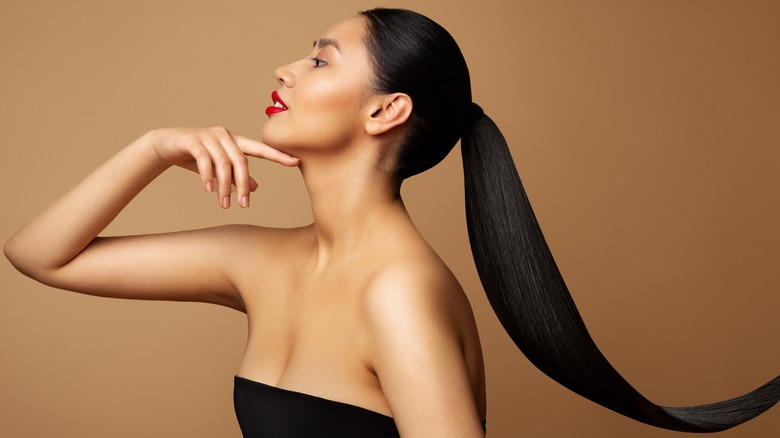 Inara Prusakova/Shutterstock
Whether you're dealing with endless tangles or hair so long you have to tie it up to go to the bathroom, you shouldn't ignore the signs that you are due for a haircut. A couple more of those indications that your hair needs a cut include damaged, stringy ends or extreme lack of volume, per Ferro Salon. Or, maybe there isn't anything necessarily wrong with your locks, but you want to change your look with a fresh short chop or some chic layers.
Advertisement
Whether you need a drastic cut or a subtle trim, it's understandable that you might not be too eager to schedule an appointment at the hair salon, as prices can be high. Plus, it can be annoyingly time-consuming to go to the salon, wait for the hairdresser to be ready, explain what you want, pay, tip your hairstylist, and then go home. So, many people get tempted to cut their hair at home. While this is always a somewhat risky idea, the trending ponytail method might make it a bit easier for some people, depending on the look they want.
This technique is all over TikTok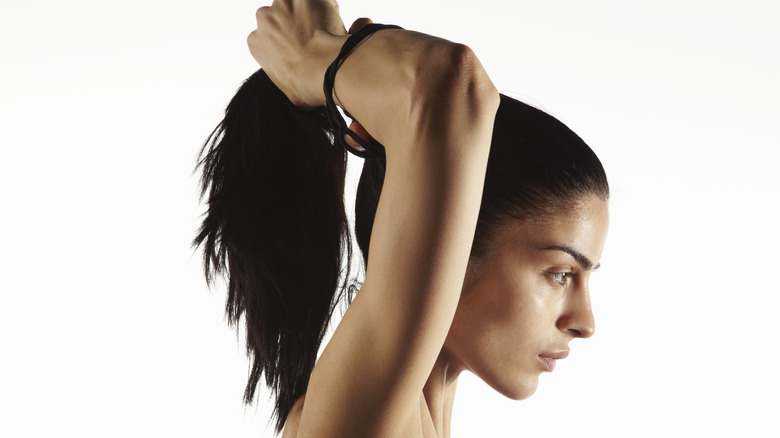 Moof/Getty Images
First and foremost, it's crucial to note that the ponytail haircut method isn't ideal for you if you want a blunt, 100% even hair length. This haircut aims to achieve choppy, layered locks, and you can find many examples of people doing this edgy "unicorn" haircut on TikTok. For instance, a TikToker with the username @gemini.jen tried this trend in a video. The TikToker put her locks up into a high ponytail, then held it up and trimmed off the ends of the ponytail with her scissors and ended up with choppy layers that framed her face for an edgy, trendy look.
Advertisement
Like many other TikTok hair trends, you can find variations of this method on the platform. For example, a TikTok user with the username @_monique_ shared a video of a more detailed version of the unicorn haircut technique. The TikTok user started the method with her hair up in a ponytail flipped in front of her face, then sectioned off and trimmed the ends with her fingers. Next, she put a smaller section of her hair in a smaller ponytail that was also flipped in front of her face — since some of her locks were down at this point — and trimmed off the ends of that ponytail, too. Then, she made one final ponytail flipped in front of her face with a tiny section of hair and trimmed those ends, too. The results were super layered and bouncy!
Advertisement
Don't expect it to be perfect, and it's not for everyone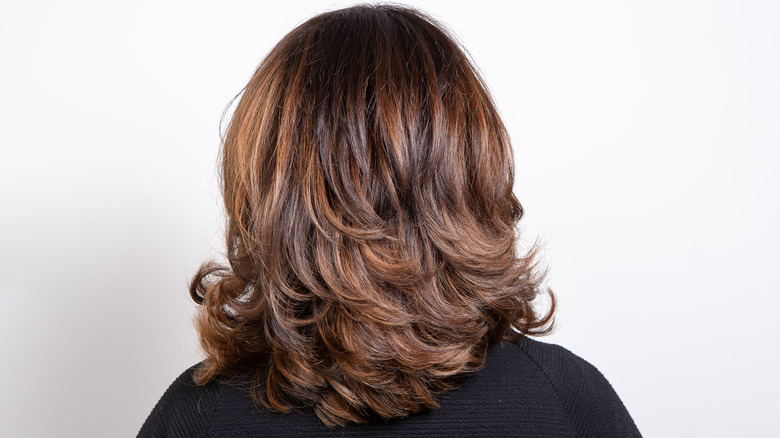 sruilk/Shutterstock
The ponytail haircut method is fun, easy, and trendy, but you should be aware that it likely won't look perfect. As mentioned earlier, this haircut is meant to appear shaggy and layered, not sleek and precise. However, you still likely won't get salon results when you cut your hair at home, so you should keep that in mind when setting your expectations if you're considering trying this haircut technique. Plus, the strategy tends to work better for people with wavy/curly locks than people with straight tresses. "This method may work for someone with wavy or curly fine hair, where the mistakes won't show as much, but a lot can go wrong with this 'technique,' and it's not so forgiving on all hair types," Erickson Arrunategui, a hairstylist, told Allure. Moreover, the ponytail strategy is most suitable for long locks, as short, shaggy cuts are typically better for pros to handle (via L'Oréal Paris).
Advertisement
Therefore, the ponytail haircut is easy to achieve and can save you the time and money you would typically spend at a salon. However, you must remember that it isn't the best strategy for everyone, and a professional hairdresser will likely give you more polished results for any haircut.