Is Applying Products To Wet Hair The Secret To Combatting Frizz If You're A Curly Girl?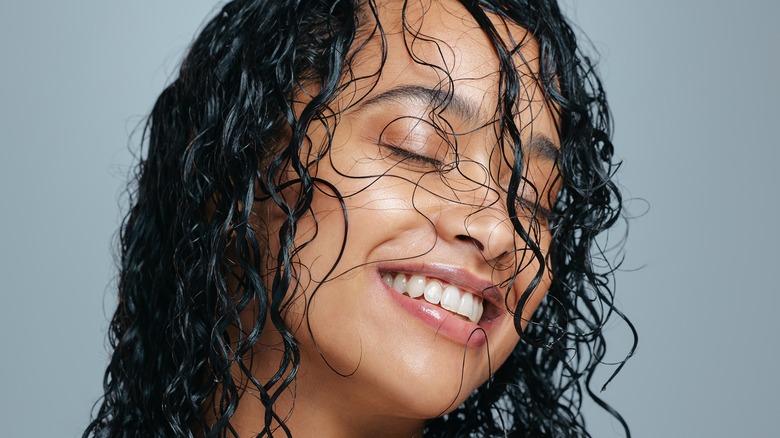 PeopleImages.com - Yuri A/Shutterstock
Having curly hair can be a blessing and a curse. First off, curly hair is gorgeous and voluminous. It can easily be worn down and left to just bounce along as you go about your day. Healthy curls are just so pretty, but they need to be properly maintained and the correct products have to be consistently applied to keep them looking perfect. 
Advertisement
Everybody's hair is different, of course. But curly hair tends to dry faster and needs considerably more moisture and hydration to remain in its healthiest state. Those with curly hair shouldn't use just any shampoo and conditioner either, but rather only specific products that help to hydrate their locks. Frizz is another component of curly hair, too.  
Again, it's not just a curly hair problem, but frizz is a known enemy of curls and even with products designed to tame it, frizz still strikes. To combat frizzy, curly hair so you don't end up looking like a pre-makeover Amelia Mignonette Thermopolis Renaldi in "The Princess Diaries," wet hair is the key. And here's exactly how to do it. 
Use product on wet hair for frizz-free curls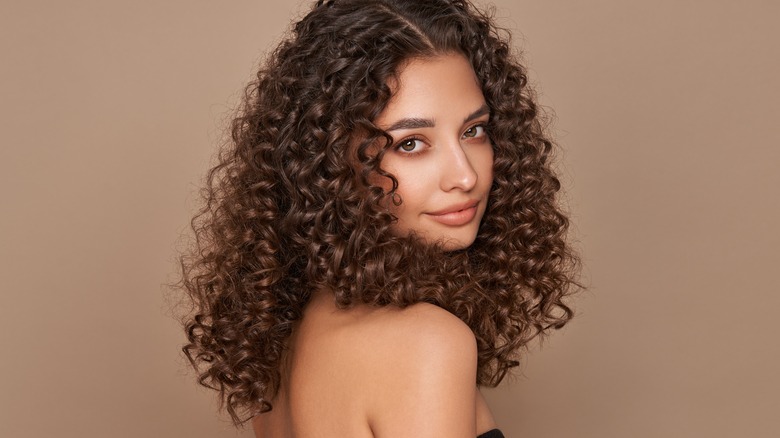 Oleg Gekman/Shutterstock
As Naturally Curly notes, "More moisture = less frizz." Now, this is in terms of hydrating your hair, meaning that in order to achieve a less frizzy look overall, you need to really moisturize your curls first. Thankfully, this can easily be done with the right products. But this concept is also crucial when considering how to apply all of your products. After you shampoo and condition, they advise that "dripping wet hair" is best for leave-in conditioners.
Advertisement
You should always apply plenty of regular conditioner but use leave-in or deep conditioners more sparingly, about once or twice a week as applicable. They recommend applying it to wet hair and then using some serum on top too. Latest Hairstyles also points out that applying your products while your hair is still soaking wet "locks in the moisture" and also helps with curl definition.
You also want to stay away from heat as much as possible so you don't dry out your curls or damage them. It's best not to use a hairdryer unless you're in a time crunch. And even then, always make sure you have a diffuser on hand. You can "plop" your hair or pat your curls and leave them to air dry, but it's safer to use a microfiber towel or a 100% cotton shirt. Regular towels dry your hair too much and you need moisture to hydrate your curls. 
Advertisement
Is it better to have soaking wet or simply damp hair?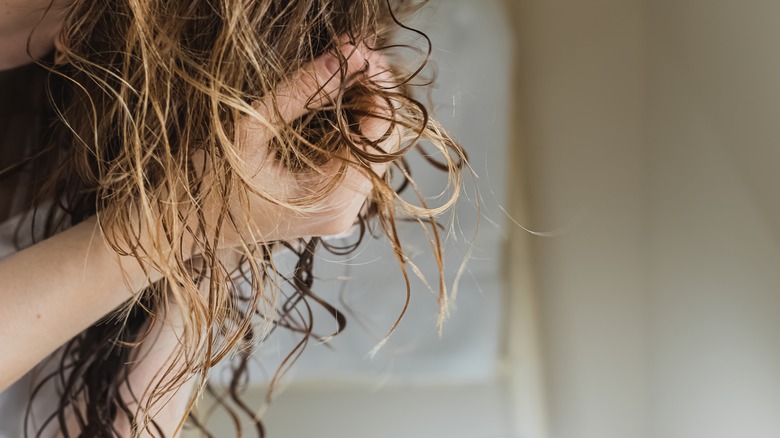 Chiociolla/Shutterstock
"Wet hair" might mean something different to everyone, so it's generally a good idea to play around and see what works best for you. However, some types of curls, especially the tighter kind, will absorb products better when dripping wet.  Royal Locks went into specifics about both methods, confirming that styling curly hair when wet is your best bet to achieve "defined, frizz-free curls." 
Advertisement
Wet styling, or adding product to sopping-wet hair, is better for those with coiled or especially curly hair because of how it works. The water is holding the hair down, in a way, creating softer curls and making them stick together in bigger sections. This tames hair when products are applied, and it dries like that. For those with bigger, looser curls, damp hair might be better because your partially dry hair will start to show off your curl definition. Applying your favorite products helps lock in those specific-looking shapes. 
Pay attention to your hair too, as hairstylist and curl expert Melissa Guido informed Glamour. "A great rule of thumb to follow is if it looks frizzy when it's wet, it's going to be frizzy when it's dry," she said. "I personally like to comb through a leave-in conditioner, then rake in a curl cream with my fingers, and last, scrunch with a liquid gel. This provides moisture, enhances curl definition, and holds the style so your curls stay defined for days." 
Advertisement