How To Banish Frizz When Air Drying Your Hair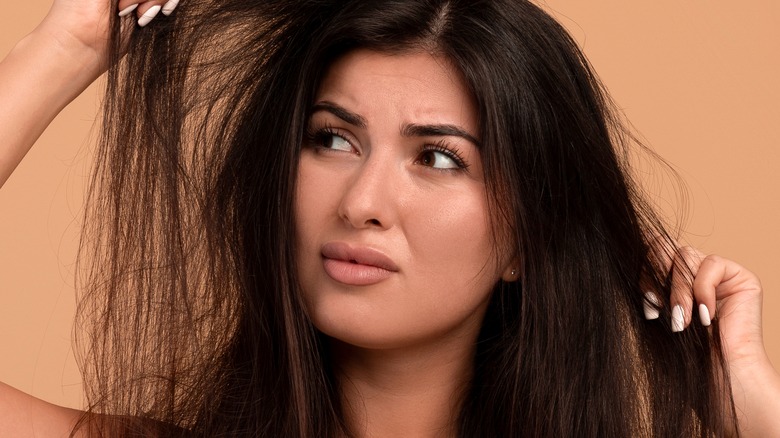 Prostock-studio/Shutterstock
Our hair is our crowning glory, and we always want it to look gorgeous. In recent years, there has been a lot of attention on scalp care and focus on shampooing the scalp to keep it healthy since that's where our hair actually grows from. Unfortunately, our hair also experiences damage from exposure to the sun, over-usage of hot tools and hair colors, and our diet, which can sometimes make our hair drier, thinner, and prone to breakage (via Medical News Today).
The power of a good hair day cannot be undermined because when our hair looks good, we feel more confident. Research shared that Americans experience over three months of bad hair days in a year, and most of them prefer to stay in and even skip work if their hair doesn't look great, per the New York Post. Our hair really has the power to make or break our days.
Some people hate humidity because it makes us super sweaty, but it also messes up our hair, making it look extra frizzy — and we can blame the cuticles for that. Steve Waldman, director of technical training at Hair Cuttery Family of Brands, told Healthline, "A healthy cuticle lays down smooth," resulting in a smoother appearance. However, when hair is "dry and damaged, its appearance resembles a pine cone: open, rough and prickly." While we can take proactive steps to keep the hair healthy, how we dry our hair can also help tone down the frizz.
Tips for drying your hair for a smooth finish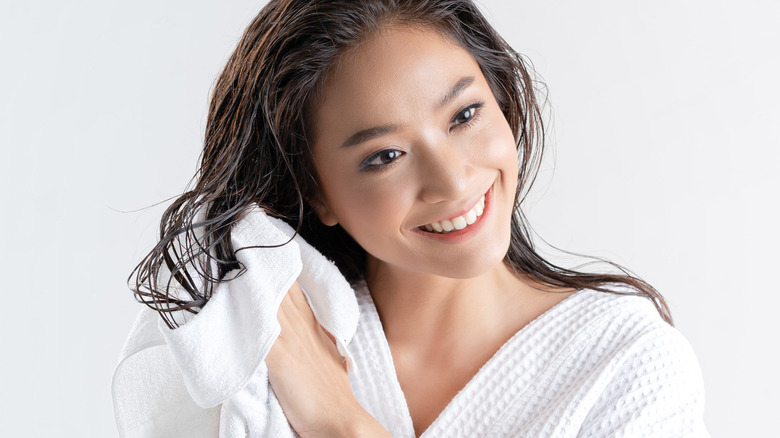 TORWAISTUDIO/Shutterstock
We all want smooth and silky hair, but the environment and our love for hot tools result in hair damage and unwanted frizz. However, drying your hair the right way can change that. Do you aggressively towel dry your hair after taking a shower? On this, New York City-based celebrity hairstylist Marco Santini told Byrdie, "My best advice is to not towel-dry the hair too much because that generates frizz and poufiness." Santini then recommending being gentle when getting rid of the moisture. Furthermore, the outlet recommends using a microfiber towel because it will be gentler with your hair.
It's better to use a lower temperature when using heat tools to dry your hair to prevent split ends and damage that causes frizziness, per Seventeen. Stevie Kennedy, Ouidad Certified Stylist, told the outlet, "High temperatures can form cracks and ruptures in the cuticle making the curls vulnerable to damage." This way, you can still style your hair without the excess heat damage. Get regular trims for healthy cuticles.
Use the "cool" setting on your hair dryer after drying your hair on low heat. Moreover, Jonathan De Paca, a Frederic Fekkai Palm Beach stylist, told Prevention, "Closing the cuticle of your hair will reflect natural light and give you an extra-shiny look. It will also keep your hair less reactive to the elements, like humidity." Ultimately, you should invest in a quality hair dryer to prevent frizz and maintain gorgeous hair.