Switching Up Your Shampoo Routine Could Save Your Hair When Traveling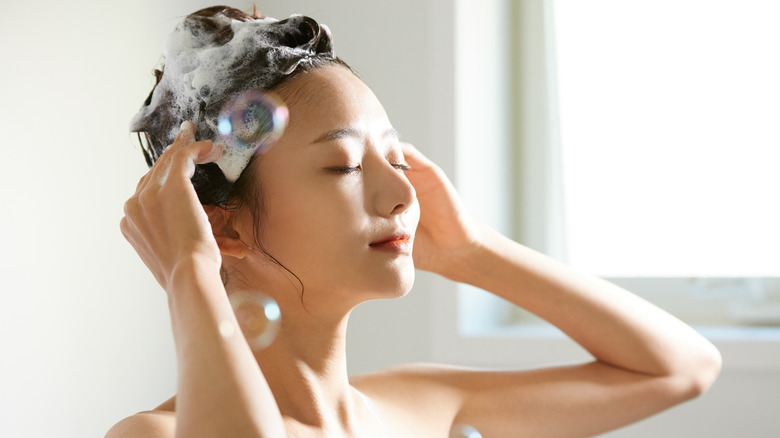 K-angle/Getty Images
Do you travel for work or attend weddings and other important occasions? Or are you simply a travel buff? If so, chances are that you find yourselves packing for trips quite often. And if you do travel frequently, you probably struggle with maintaining healthy hair while you are on the go.
Addressing this issue is Ouai founder Jen Atkin who's also a celebrity hairstylist to the Kardashians, Jennifer Lopez, and Hailey Bieber. She recently told British Vogue, "Everybody is always like, 'Why is my hair so flat?', or, 'I want my hair to be smoother', and I always think it's good to switch up your shampoo routine, especially if you're traveling. The water is different in every place you go to, and water pressure really matters. It's also a good idea to use two different shampoos in the shower. If you have an oily scalp and dry ends, use a formula that's really cleansing for the scalp and then something moisturizing for your ends to hydrate older hair."
But does her solution actually work? Let's find out. Here's everything you need to know about keeping your shampoo game strong when road-tripping or jet setting. 
Is it necessary to switch up your shampoo routine?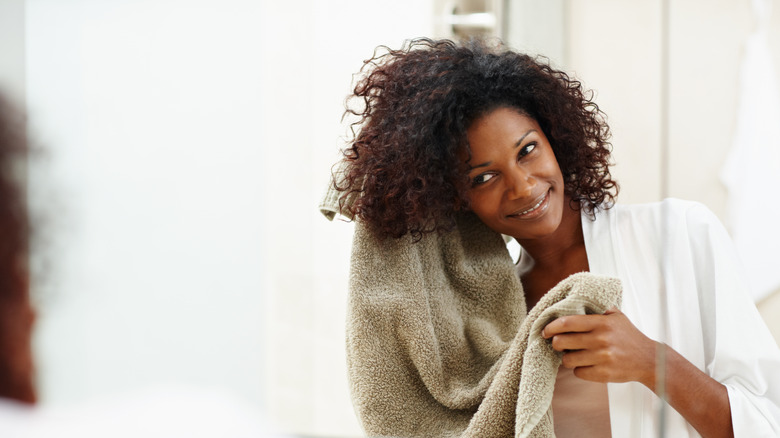 Globalstock/Getty Images
Not everyone believes that it is necessary to switch up your shampoo routine frequently. Speaking to Martha Stewart, hairstylist Alicia Bailey, the Global Education Manager at Design Essentials shared, "Switching up the products you use in the shower does not necessarily improve the health of your hair — you could be using the incorrect shampoo or conditioner in the first place." According to her, you should identify the problem you are trying to fix and use the products best suited to tackle them.
Though this is a general rule of thumb, it is also important to be mindful of changes in the condition of your hair, as highlighted by Atkins. External factors are often responsible for changes in one's hair type and texture. The temperature and humidity in the air in your destination play a role. Aspects of your lifestyle, such as what you eat and whether you exercise or not when traveling, should determine the frequency with which you wash your hair, as well as the products you use. For example, it's important to keep your hair clean but you don't really need to wash your hair after every sweaty workout or every beach day. It is most prudent therefore to reassess the needs of your hair from time to time. This doesn't mean you should change shampoos just for the sake of changing them, but only when absolutely needed, such as when you travel.
How to live your best hair life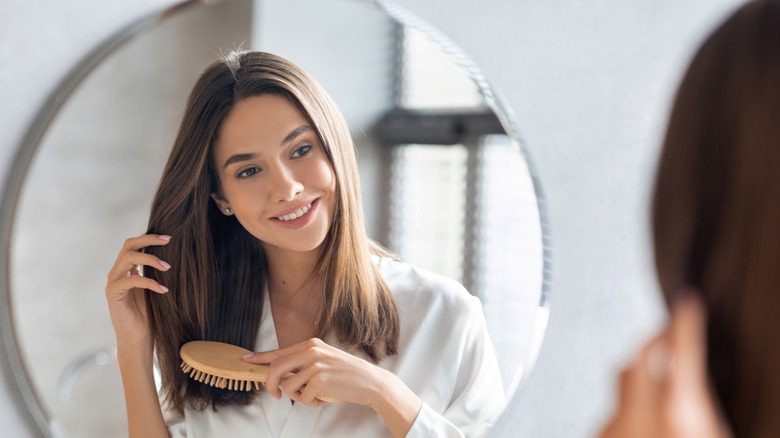 Prostock-studio/Shutterstock
A few bad habits could be ruining your hair. In order to prevent that, you must first recognize your hair type. Paul Labrecque, hairstylist and owner of Paul Labrecque Salon and Spa told Women'sHealth that everyone has different hair, and if you use the wrong shampoo for your hair type, the chances of damaging your hair are higher. Hence, people with curly hair should look for shampoos that help retain curls, and people who color their hair should look for products aimed at color-treated locks.
If you have an oily scalp with dry ends, you could benefit from washing your roots more frequently and washing the rest of your hair only once a week. You should use a clarifying shampoo to get rid of excessive build-up, but restrict its use to once a week, as it can strip your scalp of essential oils. It is also important to give a break to your hair between washes, especially when you are traveling. Daily shampooing and dry hotel rooms can prevent your hair from looking bouncy and healthy during your adventures, so lean on dry shampoo between washes.