What's The Difference Between A Hair Oil And Hair Serum?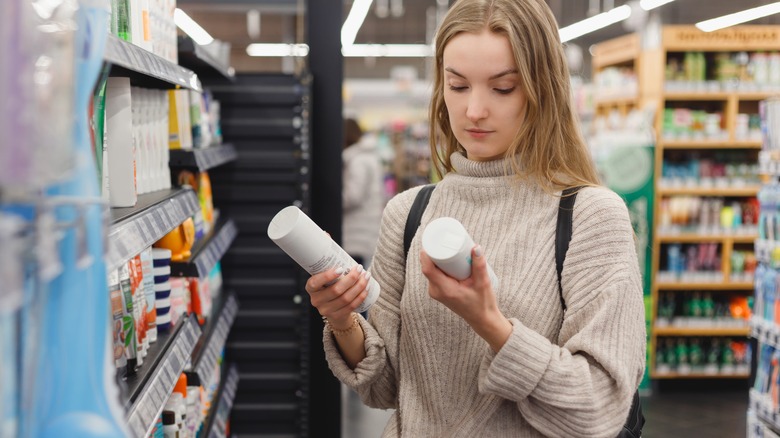 Vladeep/Shutterstock
You aren't the first person to go to the store to purchase a bottle of hair serum and return with a bottle of hair oil (or vice versa). Hair serum, hair oil: when you don't know exactly what you're looking for, it's tempting to think of them as interchangeable. But they're not. They're two different hair products that serve different purposes. 
If you want a quick way to differentiate the two, think of hair oil as a deep conditioner — a way to restore and improve the health of your hair in myriad ways (via SkinKraft). Hair serum coats the hair and improves some of its qualities so that it's easier to style. In fact, many people simplify this definition even further and regard hair serum as a hairstyling product. Ultimately, if you're determined to develop a clear understanding of the two products, it may help to imagine putting them side by side and learning what they do, the benefits they deliver, and how to apply them. Once you're fully informed, you should find the proof in your shopping bag.
How hair oil works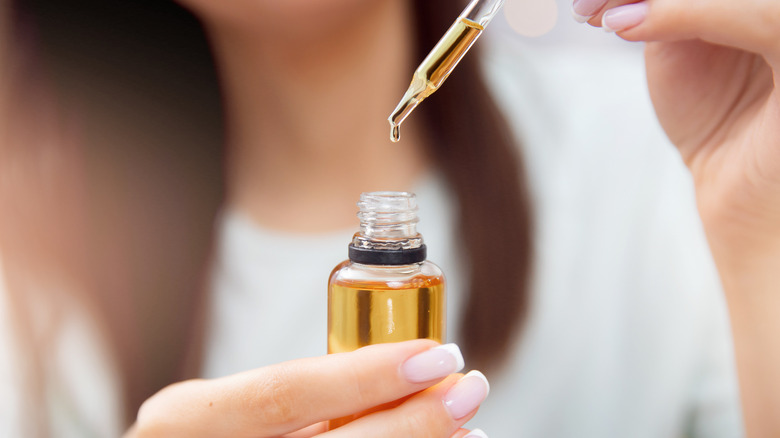 Parilov/Shutterstock
Using hair oil may be new to you, but the practice of hair oiling is more than 5,000 years old. Hairstory notes that people massaged hair oil "into the scalp to rejuvenate, moisturize, and nourish the hair." Despite the widespread assumption that oil can add weight to hair and make it difficult to style, today's hair oils often contain both essential oils and carrier oils to keep the formulas light (via Soap Deli News). Surprisingly little has changed about the presumed benefits of using hair oil. Used consistently, it can improve shine, moisturize, prevent dandruff, protect hair from sun exposure, repair split ends, strengthen roots, and tame frizz (via SkinKraft). 
Although people with all different hair types can use hair oil, it makes sense that those with thin or fine hair may be wise to use fewer drops of the oil than people with thick, dense hair. Either way, following the less is more dictum is a smart move until you get accustomed to using it. The oil should be applied evenly from the mid-section to the ends and then rinsed out after a good wash with shampoo. Some people equate hair oil with hot oil treatments that can rejuvenate dry, brittle, or damaged hair (via Healthline). And the results can be similar. Only you can decide which treatment works better for you.
How hair serum works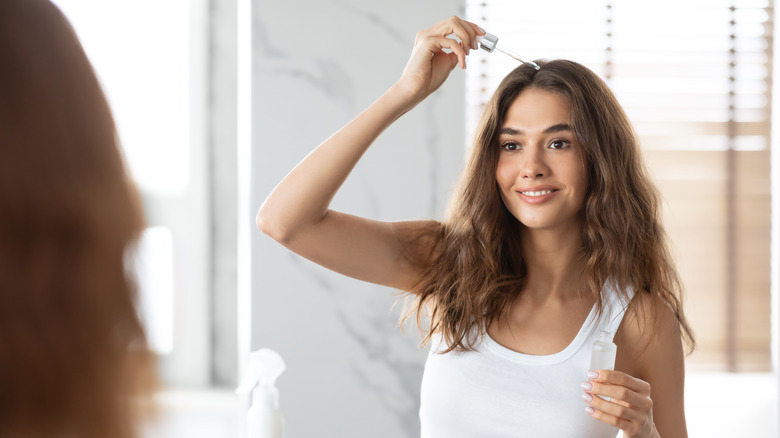 Prostock-studio/Shutterstock
It's possible that hair serum is a difficult concept to understand because of the presence of the word "serum." It may not be in your everyday vocabulary. Hair serum not only coats the hair, but it does so with gusto. Healthline notes that hair serums are typically manufactured with silicone, which stays on the outside of the hair rather than being absorbed into it. The silicone is designed to counteract some pretty rough treatment, including heat from blow dryers and other styling tools, rough brushing, haphazard detangling, and extended sun exposure. It explains why All Things Hair calls hair serum "Botox for your tresses."
After such heady praise, it may be difficult to think of other benefits to add to the list. But hair serum can also protect hair against high humidity while adding shine. Healthier hair is often easier to style because it cooperates with what you're trying to do with it. Like hair oil, hair serum is simple to apply and calls for a light touch, at least at first. SkinKraft suggests flipping your freshly washed, towel-dried hair forward so you have free access to the brunt of your hair. Rub a little serum in your hands and apply it from just below the roots to the ends. Hair serum can also be pressed into emergency duty. If you spot a mound of out-of-control frizz or a few errant flyaways, you have exactly the tool you need to put them in their place.