All About The Huge Hair Benefits Of A Boar Bristle Brush
mayura benjarattanapakee/Shutterstock
Since the time you were old enough to part, comb, and brush your hair by yourself, you've probably reached for the same brush every day. Even if you have a collection of four or five brushes to choose from, you play favorites, don't care who knows it, and are loath to change — that is, perhaps, until you're introduced to a brush that not only looks different but also feels different against your scalp.
Today may be one of those game-changing days — the day you learn about boar bristle brushes and decide to inspect them for yourself. As the name implies, boar bristle brushes are made from the hair of wild boars. And here's the ironic part: the bristles are tightly wound — difficult to separate with your finger — but still very soft and somewhat flexible (via Prevention). This sensation may be so new and surprising to you that you find yourself "strumming" the bristles.
Now, try to imagine the sensation against your head. LKC Studios heaps praise on boar bristle brushes by calling them "hands down the most gentle on your hair. This is the best hair brush for fragile, weak, or damaged hair." In fact, the brushes can spoil people with any hair type. Just count the ways.
Start adding up the benefits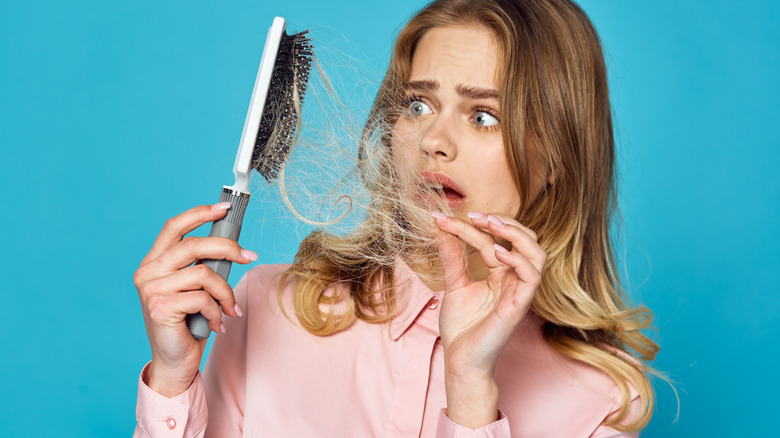 ShotPrime Studio/Shutterstock
One of the first things you'll surely notice about a boar bristle brush is how soothing it feels against your scalp. This is because the bristles actually work to massage your scalp (via Gramercy Hair Salon). Your circulation should respond in kind, sending blood flow to the hair follicles to produce a healthier head of hair that is less apt to split and break. Adding shine is another huge benefit of using a boar bristle brush. It's uniquely qualified to do this because as you run the brush through your hair, it spreads the natural oils from your scalp to the rest of your head (via All Things Hair).
At the same time, the bristles can trap dirt and dust and remove dead, loose strands of hair — the main reason so many people credit the brush with helping "clean hair." It can, to a point, since the bristles act like tiny brooms, but it's smart not to overreach. You'll still need to shampoo your hair, and it's vital to clean the brush weekly (with a gentle shampoo, no less) to keep it in top shape (via Christophe Robin Paris). As it stimulates your oil glands and adds shine to your hair, a boar bristle brush also works to calm static, flyaways, and frizz. In fact, Morrocco Method International says the brush performs "better than any anti-frizz serum that you can find on the market today."
Will you pay the price?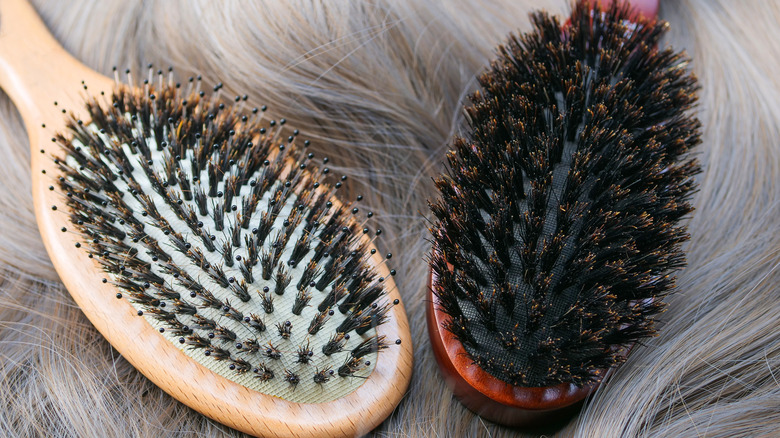 mayura benjarattanapakee/Shutterstock
You'll have to decide for yourself how a boar's bristle brush performs as a styling tool. But Morrocco Method International says that it can create "amazing" volume if you do the familiar hair flip by bending at the waist, tossing your hair forward, and then brushing your hair from the nape of your neck down to the ends. And an ancillary but welcome side benefit? A boar bristle brush won't get stuck or tangled in your hair like brushes with nylon or plastic bristles are prone to do (via LKC Studios). Even if a boar bristle brush collides with a mass of product or a clump of wet tangles, all you have to do is give it a gentle tug and it will escape — no harm done.
Now you may be wondering how much it will cost you to escape from a store with a new boar bristle brush. As you might expect, these brushes often cost more than synthetic brushes, but how much will depend on your preferences. Even a cursory check online will reveal a wide range in prices from under $10 to hundreds of dollars. But it's fair to say that you should be able to find a solid boar bristle brush for about $20 or $30. So, look at it this way: if you settle for a less pricey brush, put the one you're pining for on your birthday or holiday wish list. It should be worth waiting for.