How To Use A Round Brush For The Perfect Voluminous Hairstyle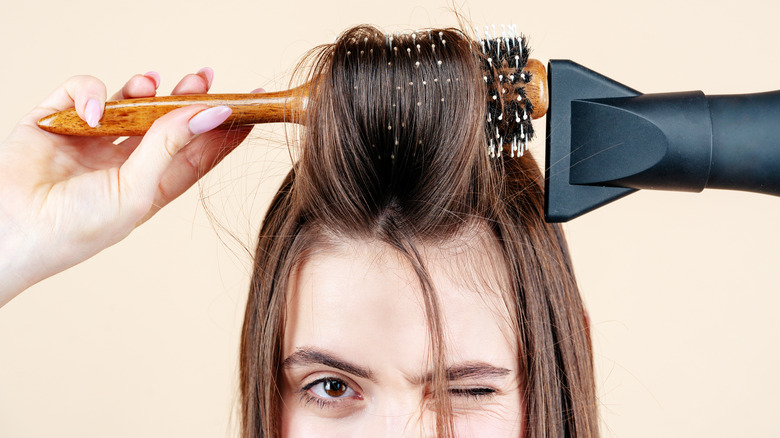 Puppy 9/Shutterstock
We may receive a commission on purchases made from links.
We all wish we could look like we just got out of the salon chair without actually shelling out the money for it. There's just something about that professional blowout that most of us mere mortals simply cannot replicate at home. No matter what hair type you have, hair just looks better with a little volume. While most of us weren't blessed with the styling abilities of the hair pros, there is a trick to getting the voluminous yet frizz-free blowout we all crave. It's called a round hairbrush.
We know, we know –- everyone's heard of a round hairbrush before; this is not exactly a new invention. In fact, it dates back to the 1960s, notes The Cut. Yet, while we know that this is how our hair stylists get us that amazingly perfect blowout, how many of us actually know how to use the round brush correctly and make it work its wonders? Luckily, there are tricks to getting va-va-voom volume with nothing but your round brush and your hairdryer, and once you master this method, you're not going to want to go back (via Byrdie). 
Get the right hair tools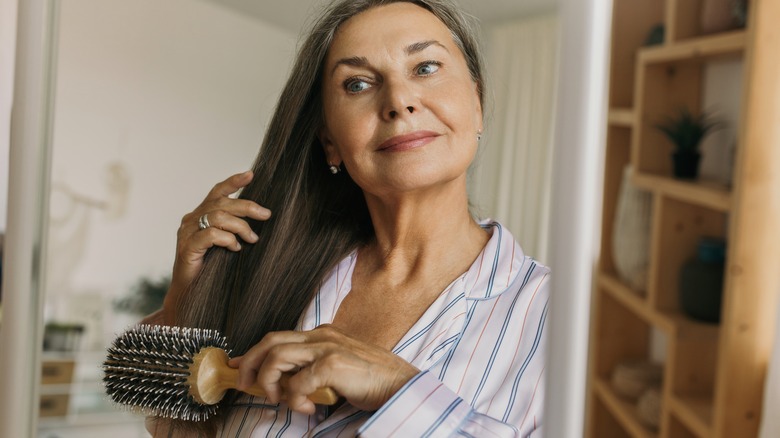 shurkin_son/Shutterstock
Before you're ready to give yourself the perfect blowout, you'll need the perfect blowout tools. First, ensure that you've got a good hairdryer (via Live Your Truth). You want to look for something that's 1,500 watts or more. This type will get your hair completely dry, not just looking dry. Use a root lifter during your blowout. There are plenty of options on the market that meet different needs, such as Big Powder Play by Sexy Hair. You should also work a styling mousse into your hair for extra fullness, like this John Frieda mousse, a steal at only $8. Whenever you're using hot tools, a heat protectant is a must. Artistic director of Blushington, Monaè Everett told Byrdie you should opt for a spray "that protects the hair up to 450 degrees, minimizes frizz, and is keratin-based." A good option is this Peter Coppola spray.
Most importantly, you'll need to invest in a good round brush, since that is the star of the styling show. Brushes with boar bristles are denser than brushes with other types of bristles. Consequently, they'll be a bit tougher to pull through your hair and create better volume. Just like when you're choosing a curling iron, choose your brush size based on how big you want your curls to be. Bigger tends to be better, to an extent, since this will give you more of that blowout look and won't tangle your hair, leaving you with a mess to unravel. This Wet Brush is a great pick.
Brush your way to big volume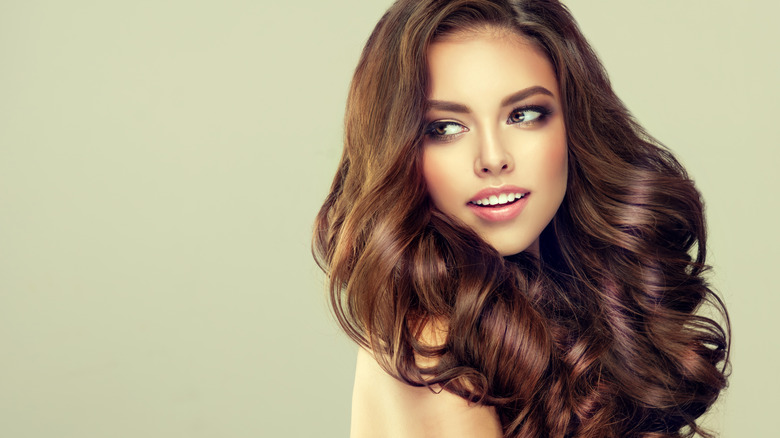 Sofia Zhuravetc/Shutterstock
Once you've got your toolbox together, it's time to get that volume. You should have clean hair before you begin your blowout. As Monaè Everett, artistic director of Blushington, told Byrdie, "if you have pretty straight hair, you can let it air dry or you can rough dry it with a blow dryer until it's 80 percent dry before you then use a brush to dry and style it. If you have coily hair, you will want to pull it straight with a brush while it's soaking wet." Once your hair is prepped, you'll want to apply your root lifter, mousse, and heat protectant (via Live Your Truth).
Now, wrap your section of hair around the brush at the roots and dry as you slowly roll the brush to the tips of your hair. Make sure not to rush through this part, as getting your hair extra dry is a big part of the recipe for success. You'll want to continue doing this while alternating the direction you're pulling your hair in. Don't repeatedly pull each section down as you dry it. Instead, pull up, sideways, and down as you go. This will give you the volume you want while drying your locks enough to prevent frizz. Ensure that you're twirling your brush a bit at the ends of your strands, and switch up the direction you're twirling now and then to give yourself volume-filled curls. And, just like that, you've got major volume that will last.