5 Ways To Effortlessly Style Face-Framing Bottleneck Bangs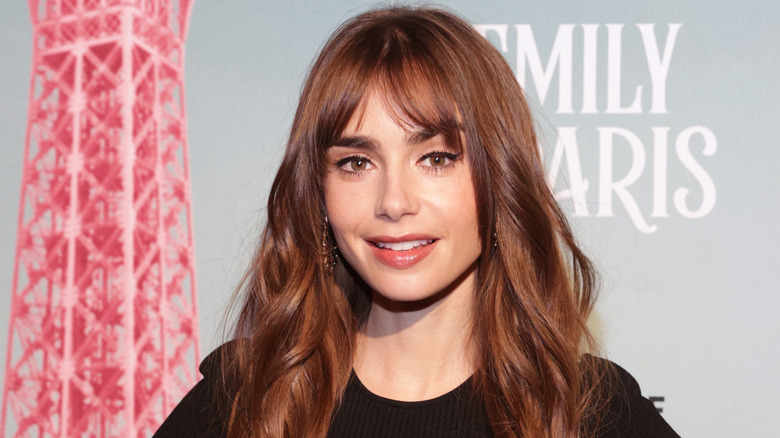 Tasos Katopodis/Getty Images
Bangs have traditionally been a classic hairstyle that people love to sport. No matter the era, bangs will always be the favorite go-to for those looking for a quick hair change. They make a statement and are easier to maintain than most people think, so what's not to love? From curtain to wispy bangs, there are various ways you can sport bangs nowadays. Another variation of bangs that is starting to gain popularity is bottleneck bangs. This combo of curtain and wispy bangs can give you some extra texture and length.
The bottleneck bangs are a recent hairstyle that was coined by celebrity hairstylist Tom Smith. On his new popular creation, Smith explained on Instagram, "Bottleneck bangs, the ultimate 70's [sic] inspired, super flattering, face-framing, cutting technique that can be adjusted to suit almost any face shape!" With an extra flair, the bottleneck bangs give you more dimension. And the best thing about this cut is the versatility gives you the opportunity to pair the look with almost any hairstyle that you would like.
'70s bottleneck fringe
Bottleneck bangs are the ultimate '70s hairstyle. If you want to truly embody this hairstyle, go full out with the retro look. Start by curling out your bangs to give you an over-the-top vintage vibe, and try adding extra fringe and texture for an almost shaggy esthetic. You can easily give yourself a voluminous blowout to up the drama with this look, too. Flip out the ends of your hair to match your bangs to complete the style.
Bottleneck with long hair
Who says a bangs haircut means you can't still sport long hair? Bottleneck bangs with long-layered hair are ideal for creating a face-framing look. Adding layers to long hair gives your hair a softer texture that creates a more romantic vibe and can also give your hair more volume. At the 2021 Oscars, Margot Robbie famously rocked these bangs with long hair, confirming them as an undeniably feminine look (via Grazia Magazine).
Go short with bottleneck bangs
If you want to make a statement, try chopping your hair to go with your new bottleneck bangs. Going for a shorter bottleneck bangs hairdo gives your hair even more bounce and thickness. Adding short hair to bottleneck bangs can also help give you an edgier and more textured look. And even if you opt for short hair, bottleneck bangs give you the appearance of more length.
Style them straight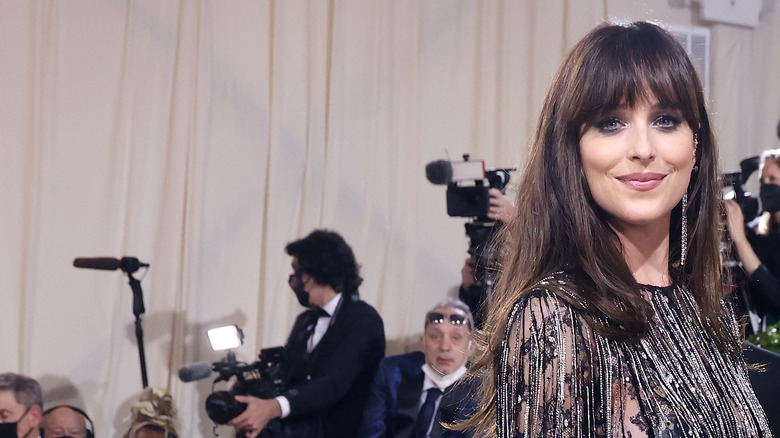 Taylor Hill/Getty Images
Although bottleneck bangs are synonymous with blown-out and large hair, there's no saying you can't rock them with some straight hair. One example of how you can wear bottleneck bangs with pin-straight hair is actress Dakota Johnson's Met Gala look in 2022. If you want to create extra length and sport a classic, timeless look, try giving your hair a swipe with the straightener.
Wear them in an updo
Give your hair more movement and fun with an up-style hairdo. Bottleneck bangs create a face-framing look, meaning you don't need much more to make a statement. Try pulling your hair back in a ponytail or bun to bring all of the focus to your bangs. This easy hairstyle is perfect for those who want something new without putting too much work in.