How Often Do You Need To Trim Bangs?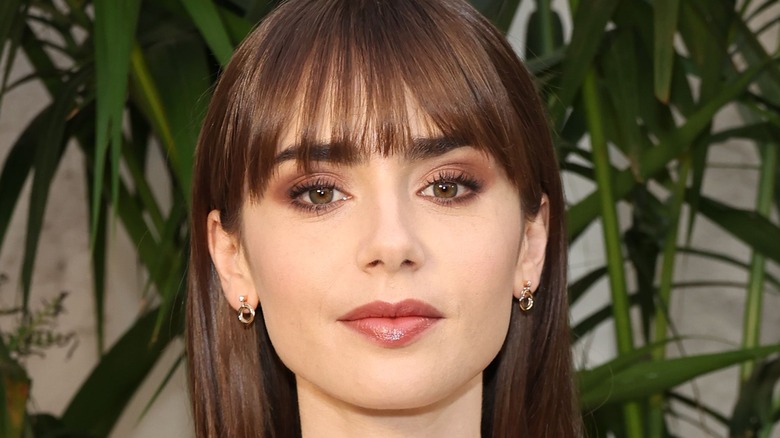 Amy Sussman/Getty Images
What do Jess from "New Girl," Anna Wintour, Wednesday Addams in "Wednesday," and Emily in season three of "Emily in Paris" all have in common? Bangs! All of these iconic women look stunning with bangs and inspire many pop culture enthusiasts to get bangs, too.
Bangs are fun and flirty and can be an excellent way to change your look if you've been dying to do something different with your hair. Plus, they look good with various hairstyles. For instance, an effortlessly chic french bob (via Instagram) is short, stylish, and sleek, so you should consider getting bangs if you already have a bob or are thinking about getting one. But bangs also look beautiful with long hair and help already-cute hairstyles such as buns appear even more intriguing.
While bangs are super stylish, you must remember that they require maintenance, so think about whether you're ready to style your bangs in the morning and commit to regular trims before you decide to get them. So, how frequently do you need to keep up with the trims?
Go for a trim every few weeks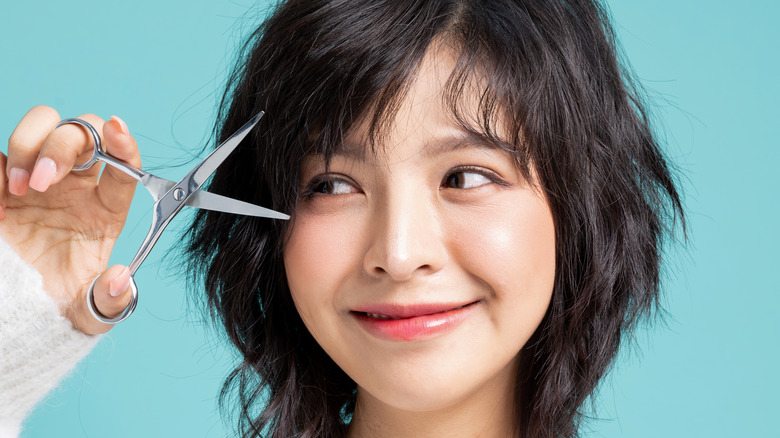 Pixpan_creative/Shutterstock
You won't need to trim your bangs every week, but you probably won't be able to wait a month, either. According to Oprah Daily, most people should trim their bangs between every two and three weeks, so think about whether you're willing to devote that much time to your fringe.
However, you'll likely find that the commitment is worth it. "Your bangs become their own hairstyle. With styled bangs, a simple ponytail becomes date night-worthy," Mark Townsend, a Dove celebrity stylist, told Oprah Daily.
Fortunately, some salons provide free bang trims in between haircuts. But if you don't want to visit your hair stylist all the time to get consistent trims, you can try trimming your bangs at home. Just be sure to trim them when they're dry.
A YouTube video outlined the steps of how to do this, starting with clipping back the rest of your locks and paying attention to the shape of your bangs. Then, comb your bangs following that shape. If you have longer frames at the sides, you should trim the center section of your bangs first. Use styling shears, and keep in mind that it's always better to trim too little than too much.
Hold your bangs with your fingers and trim with the scissors vertically, not horizontally, for a gentle look. Keep trimming and checking the length until your fringe is the length you want. Then, hold the scissors diagonally to carefully trim the longer, framing portions of your bangs.
More specific bang styles have different requirements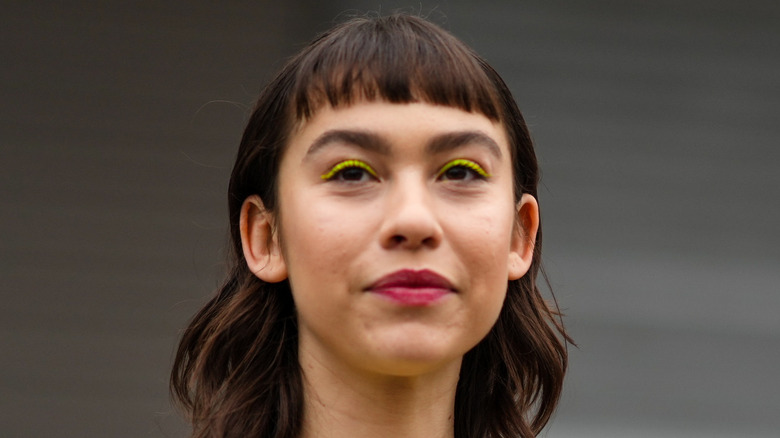 Edward Berthelot/Getty Images
When most people think of bangs, they probably think of the traditional full, blunt bangs that lie across your whole forehead. But those aren't the only bang styles available.
Another popular choice is curtain bangs, which are longer than blunt bangs and are typically only at the sides of your face. As suggested by their name, they act like curtains that frame and accentuate your features. Since curtain bangs are longer than more classic full bangs and don't spread across your forehead, curtain bangs don't need as much maintenance. Thus, you can typically go five or six weeks without trimming them, per Salon Nirvana 954, making them a convenient option for anyone who wants to ease into bangs.
Another option is the ultra-bold baby bangs, which are noticeably shorter than traditional bangs. "The key to maintaining baby bangs varies on the clients [sic] hair texture, density, and hairline... In terms of how often to cut, I'd say generally a trim every four to six weeks to maintain the look," Allen Wood, a hairstylist, told NYLON. Therefore, as quirky as micro bangs are, they somehow require fewer trims than classic bangs.
So, are you willing to commit to the trims you need to keep up with the bang-ing lifestyle?