The Best Way To Prep Curly And Textured Hair For Blow Drying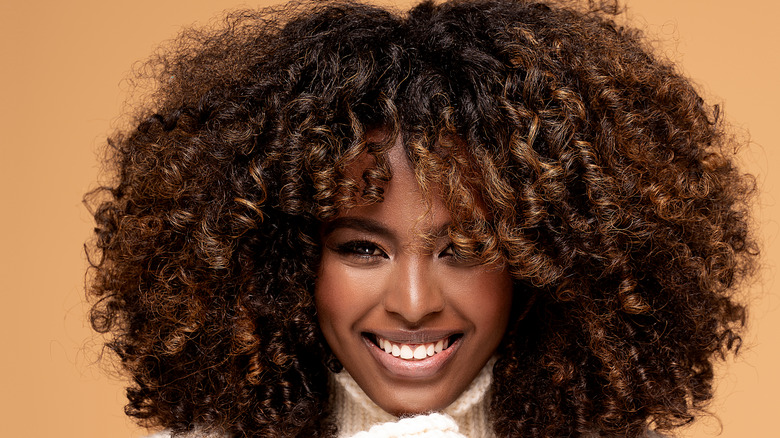 NeonShot/Shutterstock
The natural hair renaissance has taken the world by storm, with more people finally accepting the beauty in their naturally textured hair, including wavy, curly, and coily hair types. Though many curly-haired girlies are new to working with their natural hair, styling and caring for textured hair has never been easier thanks to popular styling techniques such as the Curly Girl Method. These styling approaches have made it easier for people to understand and appreciate their wavy, curly, or coily hair in a way that is both affordable and accessible.
While learning to style curly hair is both empowering and beautiful, all curly-haired gals can relate to the struggles of a wash day. Washing, styling, and blow drying curly hair can be time-consuming and even frustrating if your curls turn out wonky, frizzy, or damaged. And, unfortunately, blow drying your hair can negatively affect the outcome of your styling efforts by blasting your strands out of their defined curls, per Naturally Curly.
Thankfully, there is a way to make sure your hair turns out fabulous every time. The secret to bouncy curls and coils after drying is adequate prep, so here is everything you need to know to prepare your hair before blow drying.
Prep your hair with the right products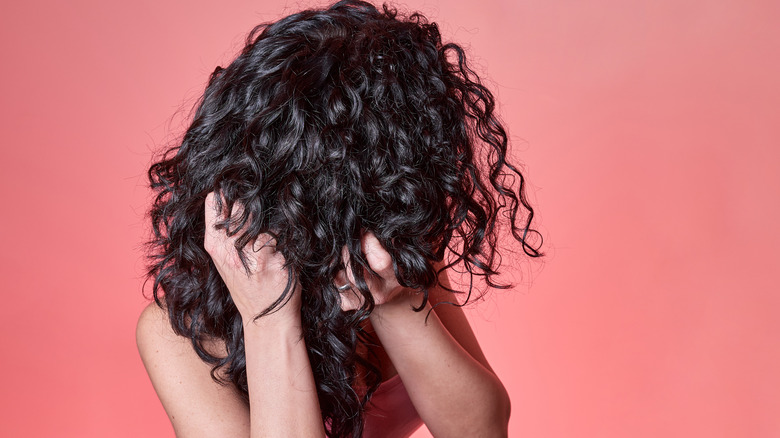 Cerrotalavan/Shutterstock
Styling your hair with the right products is crucial before blow drying. Regardless of your curl pattern type, this step can make or break your styling routine. To prepare your hair for blow drying, and to prevent limp or wonky curls, there are three main hair products you shouldn't miss out on: leave-in conditioner, curl cream or mousse, and hair gel. All curl products also require water to activate, so make sure your hair is still soaking wet during this step.
Leave-in conditioners are essential to ensure your hair is properly moisturized before you expose it to direct heat. Leave-in conditioner also reduces frizz and makes it easier to detangle your hair without breakage (via Function of Beauty). A leave-in conditioner should be applied after you wash with shampoo and conditioner.
After you've applied your leave-in and detangled your hair, then it is time to apply your styling cream. Curl creams are perfect for curly and coily types, while mousse foams are lightweight and, therefore, more suited to fine or wavy hair, per Prose. Both products encourage curl formation, though curl creams contain heavy moisturizing ingredients, which is why they are better suited for curly and coily hair types.
Gel is, arguably, the most important product when it comes to curly hair as it keeps your curls and coils in place. Gel also reduces frizz, which is common in curly hair types, and creates definition.
How to blow dry your curly hair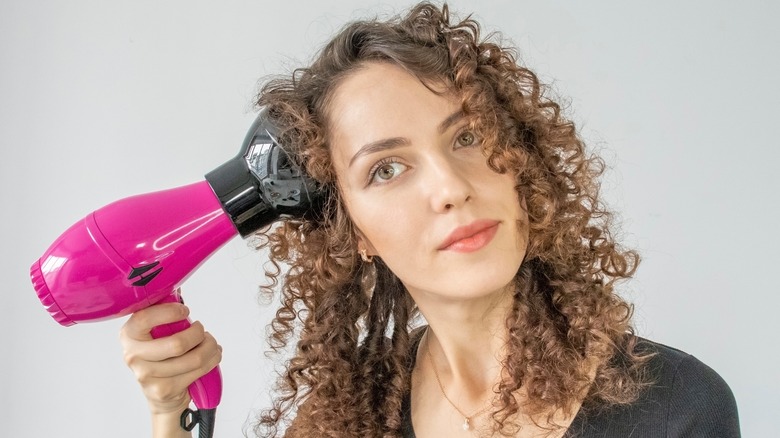 Zaruna/Shutterstock
Before you blow dry, protect your hair from heat damage with a heat protectant spray or cream. After you apply a heat protectant, absorb excess water by micro plopping, To micro plop, flip your hair upside down and use a microfiber towel or cotton shirt to gently scrunch your hair (via Kurlify).
At this point, your hair is ready for blow drying. It is highly recommended to use a diffuser attachment with your blow dryer for wavy, curly, and coily hair. Always use low heat to dry your hair and start by hovering over the top of your head to dry the roots first, per L'Oréal Paris. After you've dried your roots, it's time to pixie diffuse. In other words, gently cup sections of your hair with your diffuser and hold at the top of your head. To prevent frizz, make sure you only turn on your blow dryer after you've cupped your hair with the diffuser, and turn off your dryer before you bring the diffuser back down. You can also use the cool shot button on each section to seal the cuticles and secure the curl shape (via Curl Keeper).
Stop diffusing when your hair is about 70% dry and allow the rest to air dry. When your hair is completely dry, use oil to scrunch out the crunch created by the gel cast. This step will also make your hair feel smooth and soft.