How To Style Naturally Curly Hair With A Curling Iron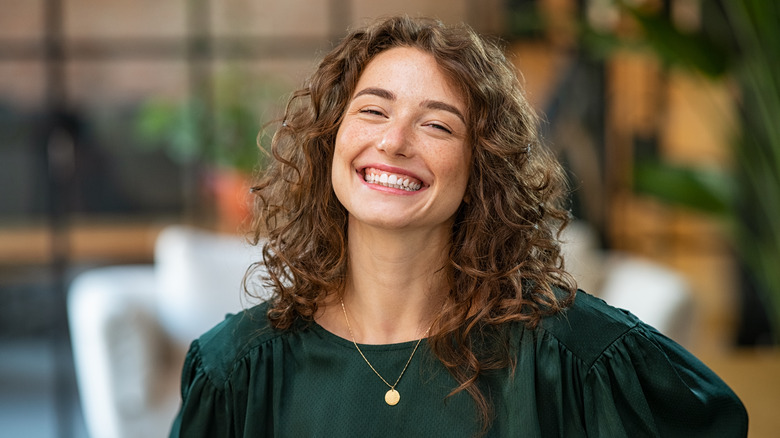 Ground Picture/Shutterstock
We may receive a commission on purchases made from links.
Naturally curly hair is known for being drier, more finicky, and more easily damaged than its straight counterpart. As a result, many curly-haired girls and guys choose to cut heat styling out of their routine, opting for techniques like the Curly Girl method, as explained by Naturally Curly, instead. These strict routines disallow the use of products that contain non-water-soluble silicones, sulfates, or alcohol. They also strongly discourage the use of shampoo and instead encourage co-washing, which involves gently scrubbing the scalp with warm water and silicone-free conditioner.
What Curly Girl and other similar routines for naturally curly hair don't always recognize is the fact that many curl types just can't recover after a couple of days without washing or co-washing, even with wetting and adding more product. This leaves you with a choice between washing your curly hair more than you'd like, living with stringy hair that's weighed down with products, or allowing heat styling back into your life. Here's how to safely revive your curls with a curling iron (via Gena Marie).
Select the right products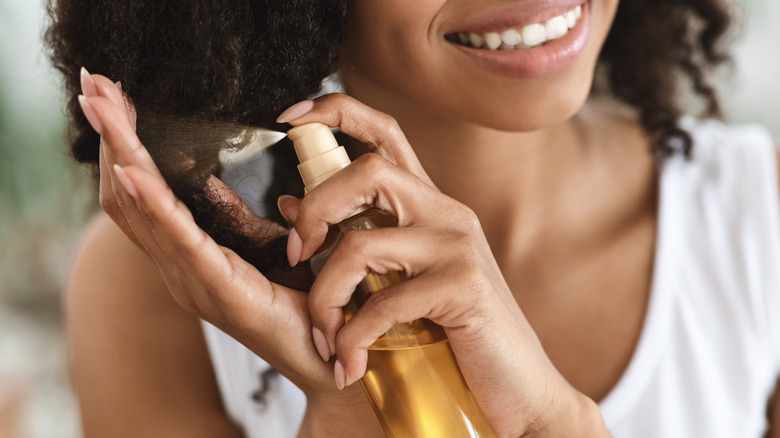 Prostock-studio/Shutterstock
While it's true curly hair tends to be drier and more delicate than straight hair, that doesn't mean it can't be styled with heat. With the right products and technique, you can use a curling iron to re-form any curls that have fallen or stretched since you last washed and styled your hair. First, select the right products to protect your curls. It's vital to always apply a heat protectant before using hot tools on your hair to prevent breakage, focusing on the ends (via L'Oréal Paris). For best results, choose one that contains water-soluble silicones (via Amazon). These silicones will coat and protect your strands and prevent moisture from entering the hair shaft. If you want to apply dry shampoo, do so to the roots and scrub it in with your fingers.
After curling your hair, you'll want to set the curls using a hair spray. Since silicone isn't essential to the formulation of hair spray, the way it is to heat protectant, look for a silicone-free formula. Alcohol is another common ingredient in many hairsprays that you may be better off avoiding. According to Natural and Proud, some types of alcohol are damaging to curly hair while others aren't. 
Spruce up your curls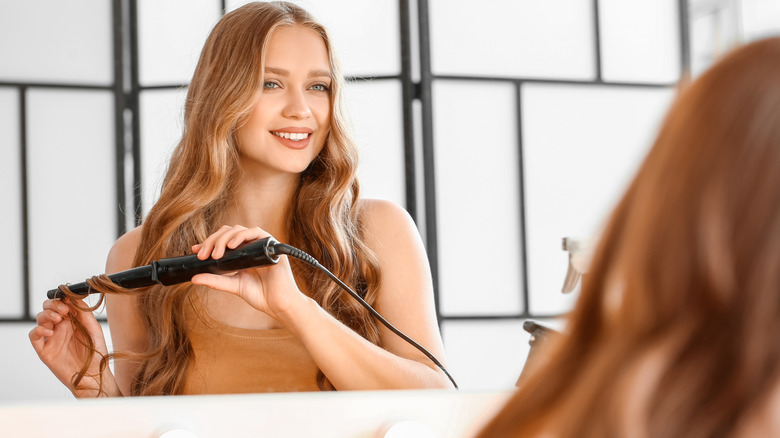 Pixel-Shot/Shutterstock
After selecting your products, it's time to get out the curling iron. If your goal is to touch up any natural curls, you'll want to match the size of the barrel to your curl pattern (via Only Curls). A smaller barrel will produce tighter curls, while a larger one will create bigger, looser curls or waves. Examine your natural curl pattern to get an idea of how big your natural curl clumps typically form and use this is a guide for how large your sections should be. Curl each section in alternating directions, making sure that the sections framing your face are curled away from it. This will create a more randomized, natural-looking head of curls.
Once you've curled all your hair or retouched all the curls that need refreshing, you'll need to set them. Spray your entire head of hair with your selected hair spray. While the spray is still wet, comb your fingers or use a wide-tooth comb through your curls, separating them (via Schwarzkopf). Flip your head over forward and back up a few times. Once the curls are combed and fluffed into your desired look, spray one more coat of hair spray and go tackle the day.