Here's How To Stay Ready For A Surprise WFH Meeting If You Normally Wear Comfy Clothes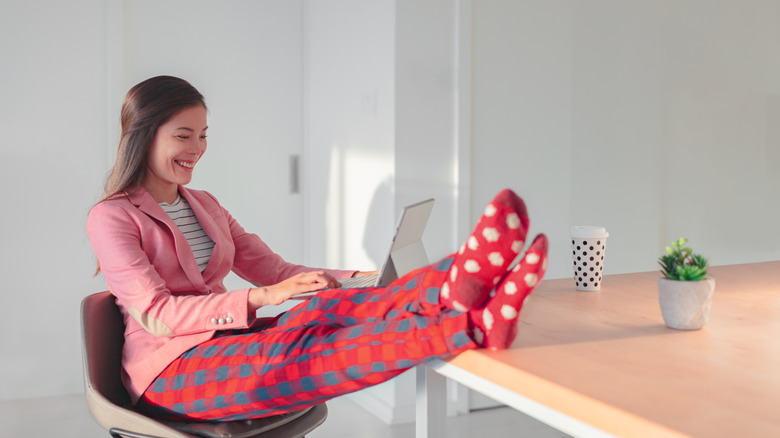 Maridav/Shutterstock
Let's face it, those who work from home probably aren't walking around their house in a pair of slacks and a blazer. In fact, most people who don't have to leave their house to clock in are probably putting very little thought into their appearance entirely. A study conducted by Shinesty found that out of 3,000 American employees who work from home, 73% of them confessed to wearing pajamas while they work, with 43% carrying out their pajama-wearing habits three days a week — if not more.
Advertisement
Aside from rocking the loungewear all day, there are many other perks of working from home, like enhanced work-life balance, convenient lunch breaks, and no commute. According to the United States Census Bureau, a whopping 27.6 million Americans have the luxury of working from home as of 2021, with that number tripling since 2019 (courtesy of the coronavirus pandemic).
While working from home definitely has its benefits, it's not all sunshine and rainbows. It can be lonesome for those who crave social interactions, and burnout is always a heightened possibility. Plus, those surprise WFH meetings can really rain on your pajama party. Don't worry, though — we have the lowdown on how you can stay ready rocking your comfy clothes.
Advertisement
Always have a Zoom-ready shirt on-hand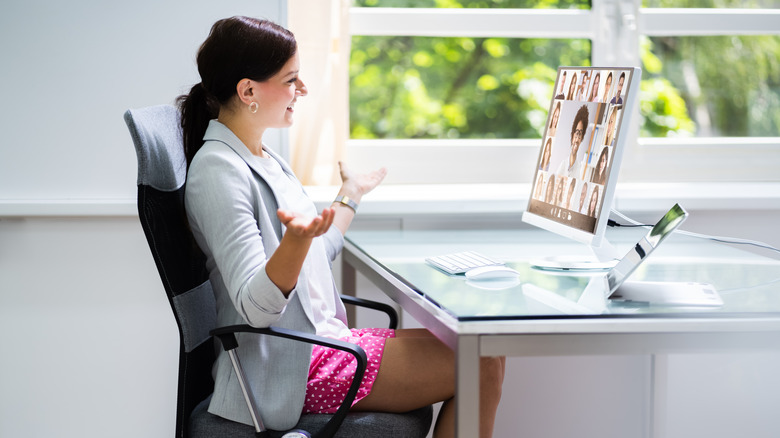 Andrey_Popov/Shutterstock
Whether your loungewear preferences consist of an oversized t-shirt, a tank top, a hoodie, or a silk nightgown, none of those options are necessarily work-meeting appropriate. Well, that's where the "Zoom shirt" comes in. We didn't make this up. A Zoom shirt, loosely defined in 2020 by the slang word glossary Urban Dictionary, is "A clean shirt or blouse that's kept on the back of your desk chair to quickly be presentable for video conferences." A Zoom shirt is what you want to keep close by in case of those meeting emergencies, so that you can wear whatever top you desire and quickly change if needed.
Advertisement
We recommend selecting a shirt that is both appropriate and easy to throw on, like a flowy blouse, knit sweater, or loose button-up. According to Hallie Abrams with The Wardrobe Consultant, the perfect Zoom top is a solid color, free of patterns to avoid any optical illusions on camera. You may not want to go too oversized on the top, as it can appear messy — but for those who cringe at the thought of wearing a bra during your workday at home, oversized may be the way to go. And the best part? You can still wear your jammies from the waist down (unless you plan on standing during the meeting). Once you hit "end" on your call, your comfy top will be waiting for you.
You may want to have a hairbrush and other grooming supplies nearby, too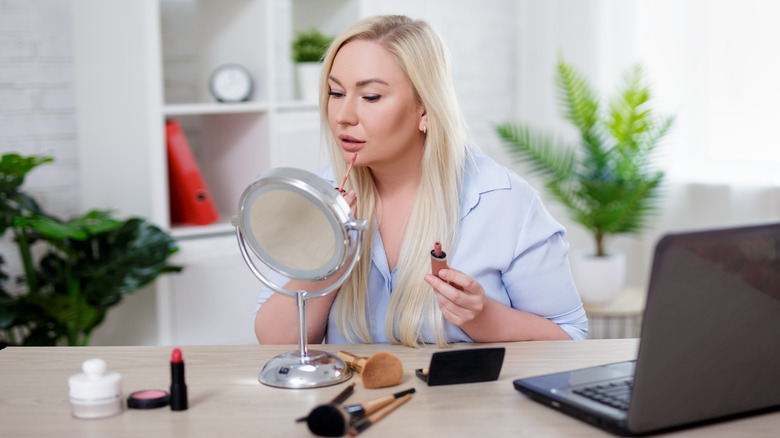 Di Studio/Shutterstock
If you're sporting a comfy outfit while working from home, chances are, you didn't bother applying makeup or fixing your hair. And while putting on a full face of makeup and straightening your strands isn't necessary, you still want to look fabulous in your Zoom meeting from the neck up. Keep a hairbrush or comb nearby to quickly run through your locks and a bottle of dry shampoo for those roots that may need a wash. A simple ponytail or smooth (not messy) bun are also great options for those who prefer to keep their hair up.
Advertisement
Beauty and lifestyle creator Miana Lauren (@mianalauren) posted a TikTok video of easy hairstyles you can quickly throw together for a meeting or video call. She says in the video that you can even do these hairstyles on the couch or in bed! From a low bun and simple ponytail to a trendy half-up hairdo, you can style your hair to look like you put effort into your appearance. Hey, nobody will even know that you were rockin' a onesie five minutes prior.