The For Days Take Back Bag Is Here To Help You Clean Out Your Wardrobe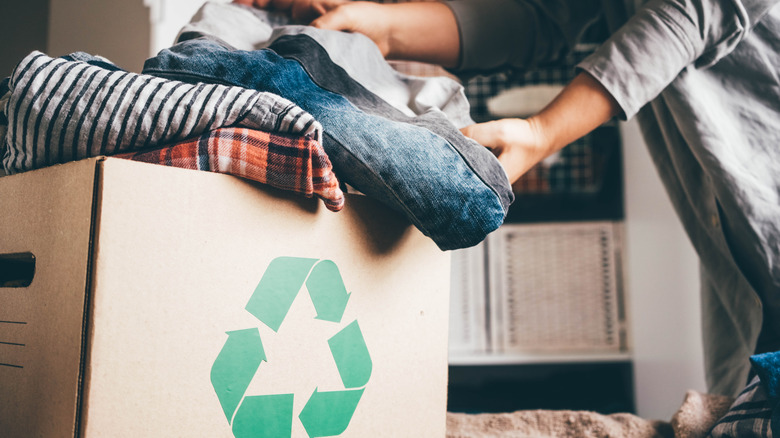 Mariia Korneeva/Shutterstock
If your closet is bursting at the seams, you're probably considering a donation run. However, before you fill a trash bag with the pieces you no longer want and head over to the thrift store, you might want to learn a little bit about For Days.
While donating your clothes may seem like the most sustainable option, it's actually not. As For Days points out, 85% of all clothes and fabrics that are donated or sold end up in landfills. Therefore, while you may have good intentions, most of your donated items are still being thrown away. That's why For Days is on a mission to eliminate waste by creating a circular fashion system, where every item they sell is recyclable. Not only that, but they also have something called a take back bag, which will allow you to get rid of any clothes, linens, and other items you no longer want in a sustainable and more convenient way.
How it works
Using a For Days take back bag is simple. All you'll do is purchase the bag for $20 from their website, have it delivered to your home, fill it with the items you no longer want, and send it back for free. To find the shipping information, scan the QR code on the bag, print the shipping label, and bring it to a USPS location. If you don't have a printer, there's also an option to get a QR code that can be scanned at the USPS location when you drop off the package.
When deciding what to place inside the bag, basically anything is accepted, including undergarments, sheet sets, towels, shoes, handbags, and, of course, clothes. Further, these items can be in any condition, even stained or ripped. All they ask is that the items are freshly laundered. The bag can hold 15 pounds and is 2 feet by 2 feet in size.
What you get in return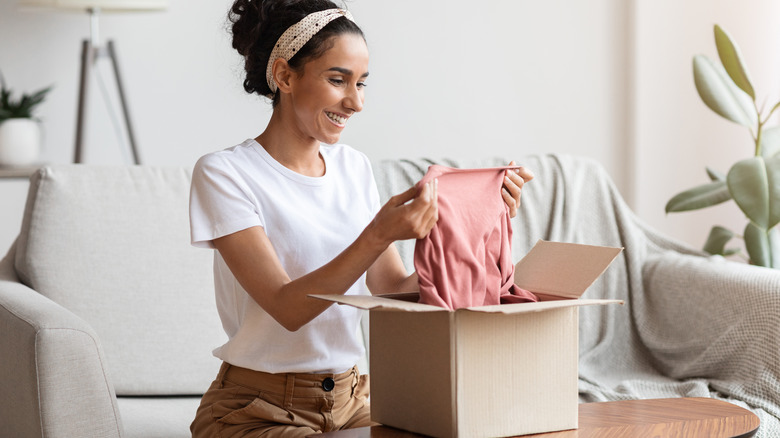 Prostock-studio/Shutterstock
When you purchase a take back bag for $20, this same amount of money will instantly go toward Closet Cash credit that never expires, meaning you can purchase new items from the For Days website. This is why this system is circular — you recycle items to get new ones, then send those back to be repurposed and buy more, and the cycle continues. There are a number of categories on the website that will help you find the pieces you most enjoy including sleepwear, activewear, tops, bottoms, swimwear, shoes, bags, and accessories. If desired, you could even shop by intent, like for work or school, or by location, like the city versus the ocean.
Keep in mind that these pieces are quite expensive, and you'll almost definitely need more than just $20 in Closet Cash to purchase an item. However, you're paying for the pieces to be sustainably made and without any toxic dyes. There are also additional ways to get more Closet Cash –- if you recycle an item you purchased from For Days, you'll get an additional $5, and you'll get 10% back in Closet Cash for everything you purchase. When you purchase over $75 worth of items, you'll also get free shipping.
Where the unwanted clothes go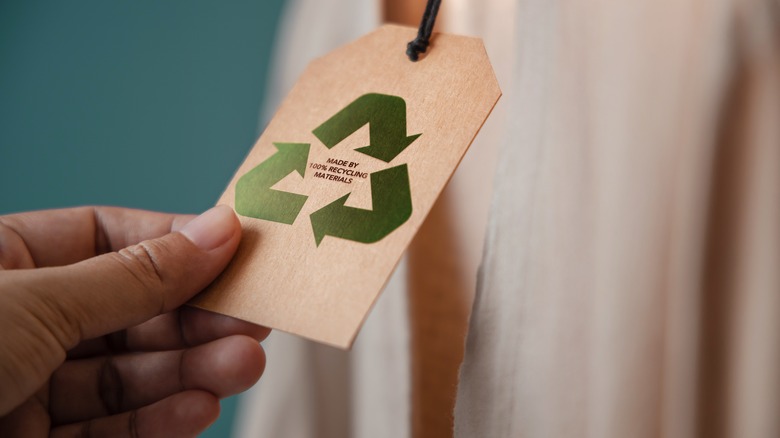 Black Salmon/Shutterstock
Once you send out your unwanted clothes in your take back bag, For Days ensures that they are properly reused to make many things including clothes, rugs, insulation, and cleaning supplies. Some of them are also resold as well. If you send back your worn For Days pieces, because all of these items are made out of 100% cotton, most of them are repurposed; 90% are recycled into new fabrics, while 10% are resold. However, because non-For Days items can be made out of any number of materials, they are mostly repurposed for other items; 50% are made into things like insulation and rugs, while 45% are resold and 5% are, unfortunately, actually trash.
For Days themselves does not do the reselling or recycling, but they work with partners who do. Before this is done, however, they sort all the products, putting them into 250 different piles depending upon how worn they are. This ensures that every item is reused for the right purpose.
The main benefits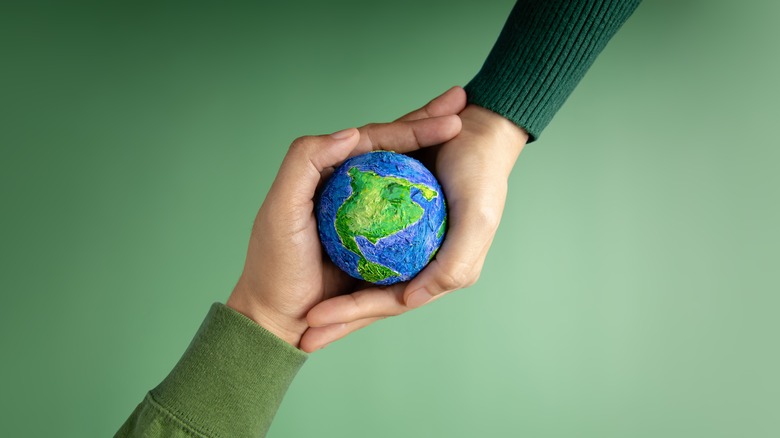 Black Salmon/Shutterstock
Of course, one of the main benefits of using this system is that you contribute to a more sustainable world and know that almost everything you donate is being recycled. For Days says that each take back bag you purchase saves 16 kilograms of water, rescues 15 pounds of clothes from landfills, and stops 118 pounds of carbon dioxide from being emitted into the air. This is because their method of making clothing doesn't require any water and emits almost no greenhouse gases, while other methods do.
Further, you also get the reward of Closet Cash to spend on new clothes, which could be a great incentive to clean out your closet. And, when purchasing items from their website, you get to choose which nonprofit to support, as 1% of every purchase goes to an incredible cause. Each purchase also supports those who make the clothes as well; in 2021, For Days began contributing money to build a school for the workers' children in Morocco, as well as providing free tuition for them.
Why it's better than donating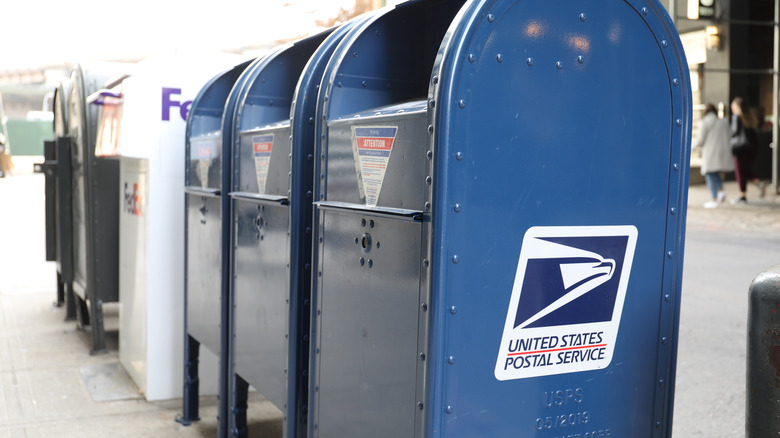 Kevin Chen Images/Shutterstock
This system is extremely convenient; instead of having to drive to a donation center to drop off your clothes and possibly having to sort them yourself, you can just place them all inside the take back bag and send it through the mail. This system is also available to everyone, making it a much better solution than other donation methods. And, while some thrift stores or donation services don't accept certain items, that's not the case with For Days. You can send any item of any brand or condition and you'll always get the $20 of Closet Cash.
Circular fashion is also much better for the planet than just simply donating. While we typically purchase items, wear them out, and then donate them (which, most times, means they end up in landfills), For Days doesn't work by this cycle. Instead, you send back the items once you're done using them and they're repurposed into new pieces, so this method contributes to much less waste.