These Easy Tips Will Help You Slim Down Your Bloated Wardrobe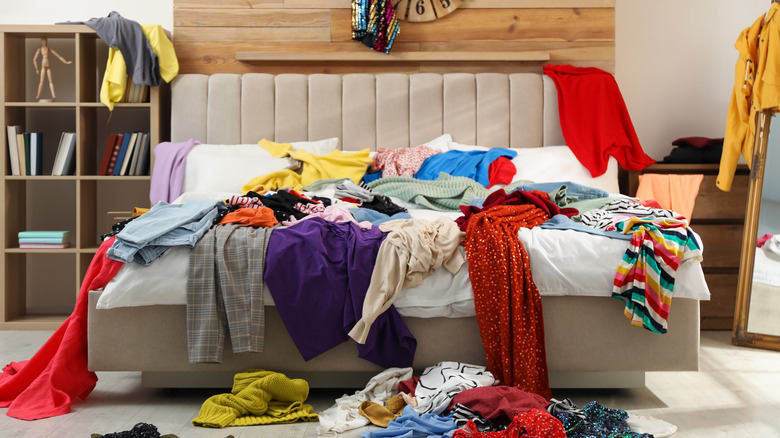 New Africa/Shutterstock
Most people have a complicated relationship with their wardrobe. According to a survey of 1,000 women by ClosetMaid, the average woman has 103 items in her closet (via Daily Mail). While this may seem like more than enough to create cohesive outfits throughout the week, it's reported that 21% of items are unwearable, while 57% were either slightly too tight or too loose. That means that only 22% of the total average wardrobe consists of things that women frequently reach for and feel confident in, giving some credit to the consistent "I have nothing to wear" problem, even with a full closet.
After seeing the data, it's safe to say that many of us need a fresh start, and a closet clean out is the perfect way to reveal what items you actually wear and what pieces you should invest in in the future. A bit of decluttering can free up some much-needed space and give you a fresh slate to build a wardrobe that works for you.
Try on your clothes and donate what no longer fits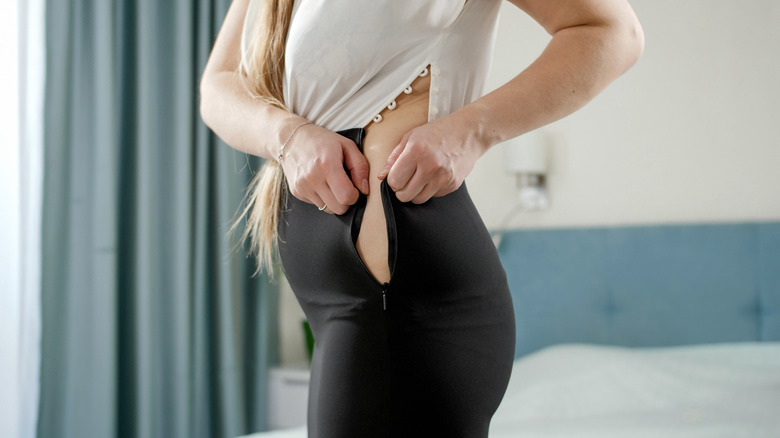 kryzhov/Shutterstock
The easiest way to cut out the excess in your wardrobe is by trying everything on. Many people are guilty of holding on to items only to be worn once they finally lose a few pounds, but bodies are constantly changing. That pair of pants that fit your freshman year of college will likely not fit as a fully-grown adult. Holding on to them will only perpetuate unrealistic and unhealthy expectations for yourself. Instead, if you go on a fitness or weight loss journey, celebrate your progress by investing in new pieces.
The same goes for items that technically fit but feel uncomfortable or unflattering. If, every time you try a piece on, it doesn't make you feel like your best self, put it in the donation pile. Clothes are designed to fit your body; your body isn't designed to fit in clothes, so try to look at it from a more utilitarian perspective and cut out what no longer serves you.
Try the hanger trick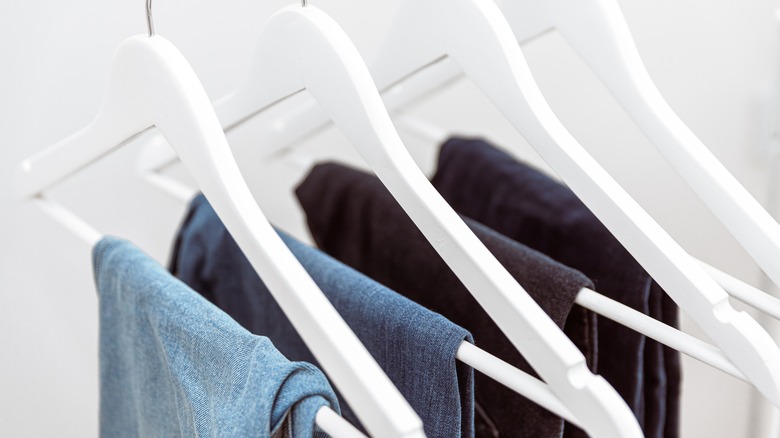 Damian Lugowski/Shutterstock
The aptly-named hanger trick has been floating around the internet for a few years, but if you haven't heard of it, the premise is simple. To learn what items you wear regularly, hang all your hangers backward, then flip the hanger back around when you reach for an item. At the end of a specific period — one month, three months, a year — check back in and see what pieces you haven't touched. The results might surprise you.
With this hack, you'll see more clearly what pieces are taking up space in your wardrobe. It seems simple, but most don't actively document what we wear daily. Consider picking up a pack of cheap stickers for folded items, then peel it off before you wear something. Donate what you haven't touched at the end of the time period. You can make exceptions for a special occasion or seasonal pieces, but this trick will give you a clearer perspective on your everyday items.
Document your most-worn outfits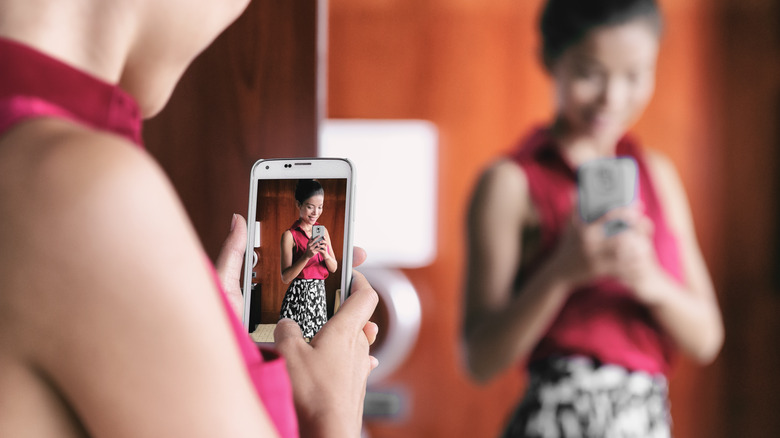 Maridav/Shutterstock
To understand your wardrobe better, try to consider documenting your favorite outfits, either by taking photos, adding specifics to a note on your phone, or even creating a spreadsheet of your frequent clothing pairings. This method will allow you to see what pieces you enjoy wearing, but it will also give you a complete list of looks to throw on if you are stumped on what to wear or do not feel particularly creative that day.
This method is similar to the hanger trick in that it shows you exactly which items you wear and which things you don't, but it also provides additional information on what clothing works well together. Gone are the days of turning our noses up at outfit repeating — if you know what works for you, rock the look repeatedly. It's sustainable and lets you get the most value possible from your pieces.
Carefully consider duplicates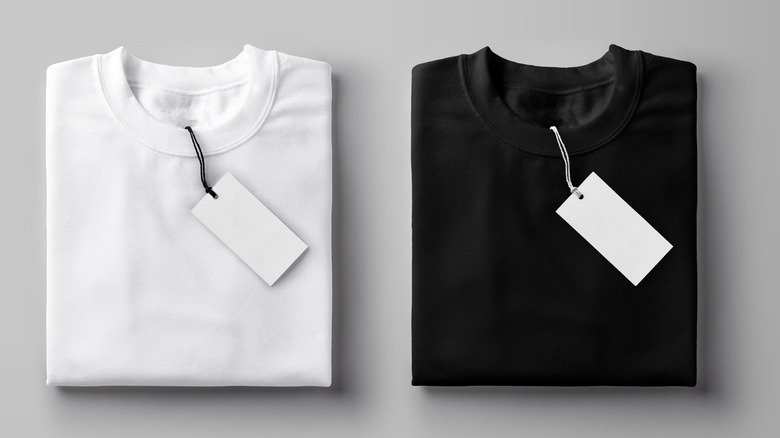 FabricioUZ/Shutterstock
Pretty much everyone has a handful of cuts and colors that they gravitate toward when they're shopping. Whether you're a gray sweatshirt fan, black tank loyalist, or advocate of the classic white tee, you likely have several of one similar core item in your closet. This can be incredibly helpful in cutting down on how frequently you have to do laundry. Still, if you find yourself consistently reaching for one iteration of the same piece over another, you might be able to reduce some excess items.
Instead of keeping six different oversized black sweaters, consider reducing your numbers to two top picks. Duplicates are entirely acceptable, but you want to ensure you're wearing what you have on hand. Unless you have a Steve Jobs-level loyalty to one look, keeping two — one primary and one backup — of your favorite piece will do the trick and help you slim down your overflowing closet.
Try a temporary capsule wardrobe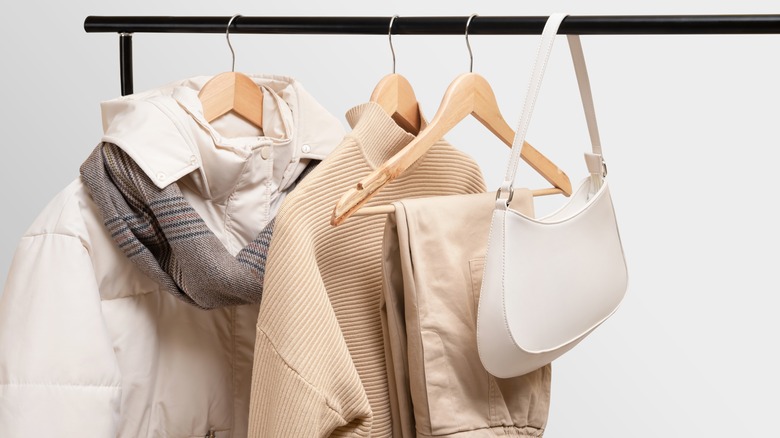 Svetlana Khutornaia/Shutterstock
We've all seen perfectly curated, clutter-free closets designed to work together cohesively — but for the average person, that level of organization and limitation can be a bit intimidating. Instead, take a capsule wardrobe for a test run. Pull a few of your most-worn, simple pieces that work together and completely block off the rest of your closet for a few weeks. Once the time is up, carefully consider which pieces from your entire wardrobe you found yourself missing when creating outfits. 
It's like going on vacation and returning home to your whole wardrobe — you'll either get a better perspective on what items make you feel good, or you'll realize that having a hyper-simplified wardrobe is not too far out of reach. To get ideas on what to pull, look to travel capsule lists and cater to your lifestyle and closet. Most recommend about eight core clothing items and three pairs of shoes to get you started, but this can be tweaked to your needs (via Wantable).
Donate an item for every new purchase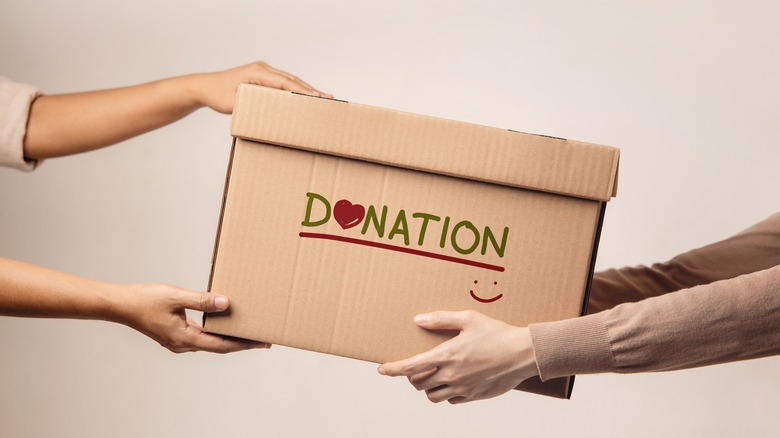 Black Salmon/Shutterstock
Finally, the easiest way to cut back on the number of clothes you have is to stop buying new items. This seems like common sense, but sometimes, the temptation of a cute top or a seasonal sale takes over. Don't panic; go for the one-in-one-out approach. For every item you buy, add one more piece to the donation bin. This will keep excess items from piling up and allow you to maintain a consistent number of pieces, even as you bring in new finds. 
This method also serves as a bit of a deterrent if you're known to buy without thinking. Even if you're getting a good deal on something, there's an additional sacrifice you have to weigh that might give you pause before you head to the register. Critically considering your purchases, ensuring they fit well in your existing closet, and asking yourself if they're worth donating an item you already have will allow you only to buy items that are truly worth it and prevent your wardrobe from spiraling back into the mess it was before you decluttered.