How To Build The Perfect Capsule Wardrobe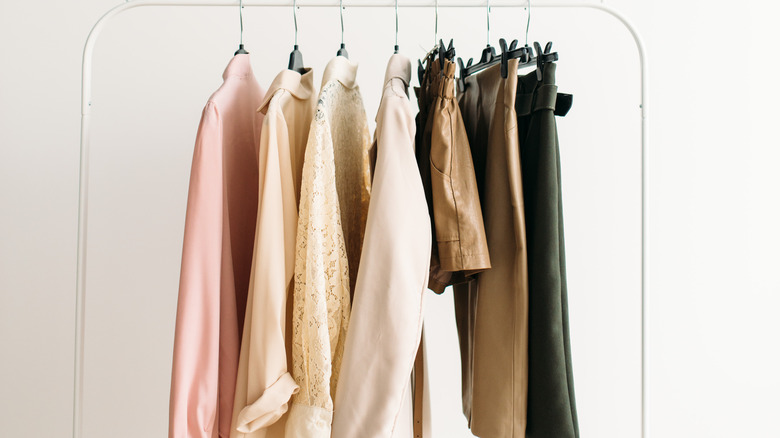 Lisa Shishlyannikova/Shutterstock
If you've ever stared blankly into your closet wondering what you're going to wear, overwhelmed by the myriad of choices in front of you, you may want to consider building yourself a capsule wardrobe. It is a selection of key items that you can wear interchangeably with each other, or that serve as fashion staples. Typically, you're looking for a neutral color so the attire will match everything, making finding something to wear easy and painless. It's become increasingly popular amongst those who prioritize minimalism and sustainability in their fashion choices.
Advertisement
"A capsule wardrobe is a concise, curated selection of timeless clothing. It can vary from person to person based on our differing lifestyles, but the best pieces are the kind that can be worn at work, during cocktail hour, and dressed down on the weekend," designer Misha Nonoo tells InStyle. She explains that you want to tailor the items to the individual, based on their needs. Not everyone's collection of clothes will look the same, but the functionality behind it will always be similar.
Deciding to create a collection of closet staples can sound amazing, but can also be daunting. If you think you would benefit from one, we're here to help. Here is everything you need to know to build the perfect capsule wardrobe so you'll always be able to find something to wear.
Advertisement
Why you should create a capsule wardrobe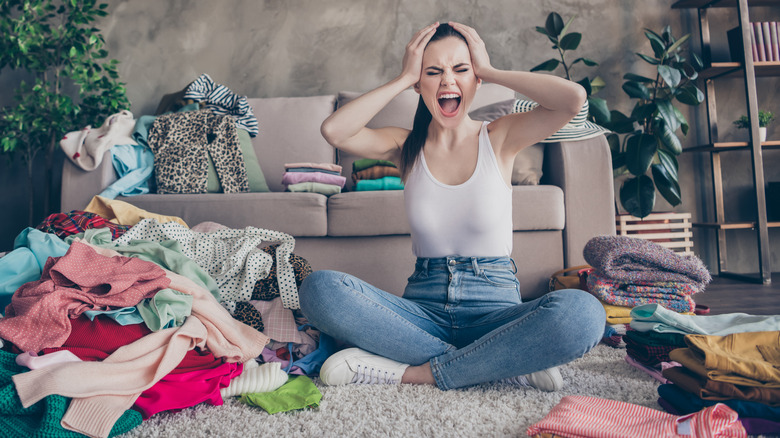 Roman Samborskyi/Shutterstock
Aside from making your life easier when it comes to putting an outfit together, a capsule wardrobe will save you money and time. You can pick items that work for your personal sense of style, and in the end you'll have a closet full of clothes you'll actually wear. After all, how many of us have racks of clothing in our closets that we always bypass because they don't fit right, don't match with anything else, or are simply impractical? Caroline Rector of Un-Fancy explains that a capsule wardrobe means "more time, more money, and more energy for the things in life that really matter." Basically, by simplifying your wardrobe, finding an outfit to wear is so much easier, and you minimize spending money on pieces you won't end up actually wearing.
Advertisement
Rector says that you don't have to give up shopping completely when experimenting with a capsule wardrobe, buying clothing just becomes more purposeful. A collection of wearable items helped her find her individual taste, and as a result, made purchasing stylish pieces more fun.
Every closet is different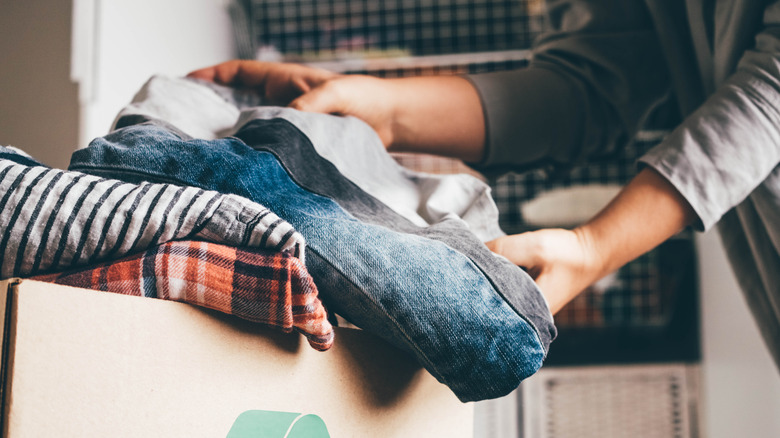 Mariia Korneeva/Shutterstock
We all have different needs when it comes to our wardrobes. There's no sense in having a closet full of business attire if you've transitioned to working from home, nor should you be keeping items just in case you may fit into them in the future. Your lifestyle, employment, and your personal needs will help determine the pieces that will benefit you the most. 
Advertisement
Sustainable fashion blogger Natalia Gomez explains in Seen that asking yourself a few questions can help you take the first step in creating your own capsule wardrobe: "What is my primary activity? What do I like to do in my free time? What staples predominate in my closet?" Your answers will assist you in determining how to best build your armoire and decide what you should be adding to your collection of go-to clothes.
If you have a hard time answering those questions, or you still find that you have too many items to choose from, Gomez suggests tracking your outfits for 30 days before adding or eliminating any items from your wardrobe. Take note of what you wear the most, and what you haven't worn at all during this time. This makes it easier to determine your true needs and what you can purge from your closet.
Advertisement
Time to purge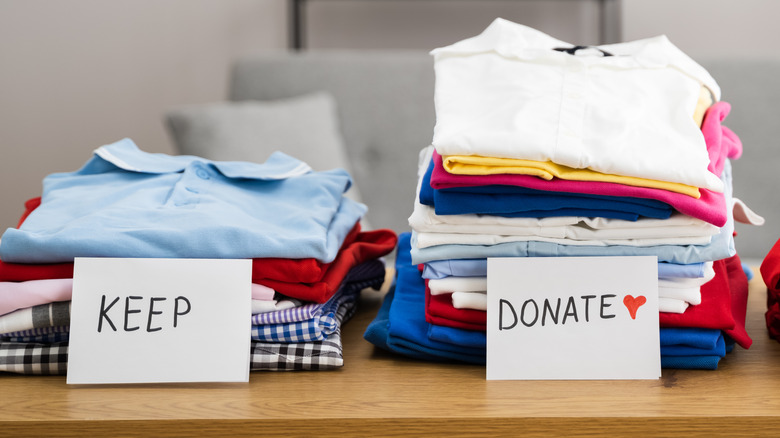 Andrey_Popov/Shutterstock
The first step in creating a capsule wardrobe is seeing what you're working with. That means emptying your closet and dressers so you can truly see the clothes you already have. According to Sustainably Chic's Eva Astoul, you can take inventory to assess what to keep and what you can part with. This is the time to really be honest with yourself and separate your items into different piles. Have one with pieces you wear often, another for those that you rarely wear, a stack for seasonal items, and for those that no longer fit. 
Advertisement
The clothing you rarely wear will likely not be useful when it comes to creating a capsule wardrobe — they may be formal pieces or items that have sentimental value. You don't need to get rid of these items, although it may help you feel less overwhelmed when looking in your closet, but these aren't the items you want to include in this curated collection. Astoul recommends selecting your favorite items and noting exactly what it is that you like about them. Whether it's the color, cut, fit, or style, knowing this will help you when it comes to adding new designs to your wardrobe.
Determine your needs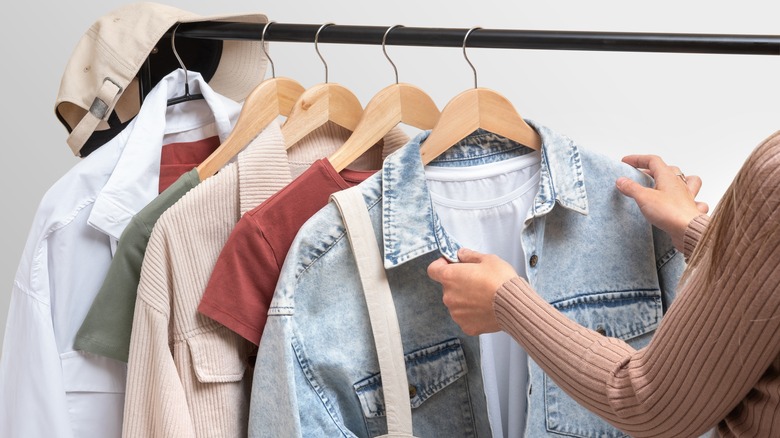 Svetlana Khutornaia/Shutterstock
You don't have to start completely from scratch when creating a capsule wardrobe, even though it may sometimes seem easier to simply start fresh. Since much of the purpose of one is sustainability and using what you already own, you don't want to have to shop to have something to wear until you know exactly what you need. 
Advertisement
Now that you've selected your favorite clothing items from your closet purge, it's time to build your signature collection. Natalia Gomez shares in Seen that it's easier to sort the clothes you want to stick with into categories, like everyday wear, or work items, because this will help you identify what you need to add to your wardrobe — as well as what you don't need. Even though you just spotted a new pair of jeans on sale, you may discover that you already have similar designs that you love, and buying another is simply redundant. However, you may note that you do need a new jacket, sweater, or pair of shoes to add to your closet, so you can focus on adding those pieces instead.
Select your base color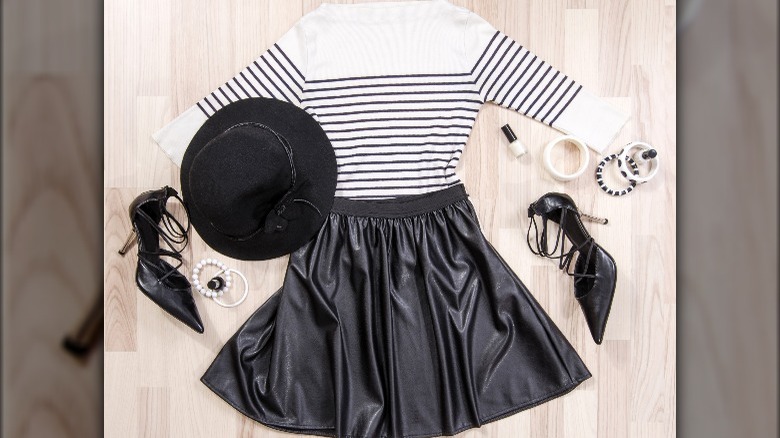 luanateutzi/Shutterstock
Picking a base color is important when it comes to creating a capsule wardrobe since versatility and coordination are key. According to Classy Yet Trendy, most people will choose from black or navy. However, depending on your personal taste you may lean more towards gray or brown. There are no hard and fast rules, except that you want this shade to be truly versatile and neutral.
Advertisement
Once you've decided on that base color it's time to build your wardrobe with essential pieces first. These essentials will include tops like classic t-shirts, camis, tank tops, blouses, and sweaters that can be layered or worn with a variety of bottoms, per Veneka. You will want a few different bottoms like a great pair of jeans, joggers, yoga pants, trousers, and dress pants — or multiple if you require a more formal wardrobe for work. 
Suit jackets, sweaters, denim jackets, and other layering pieces are an important part of a capsule wardrobe. They can help complete your outfit while also adding functionality. The key to creating a great base for your new wardrobe is ensuring that everything fits you well and can coordinate with the other items in your closet.
Advertisement
Find your favorites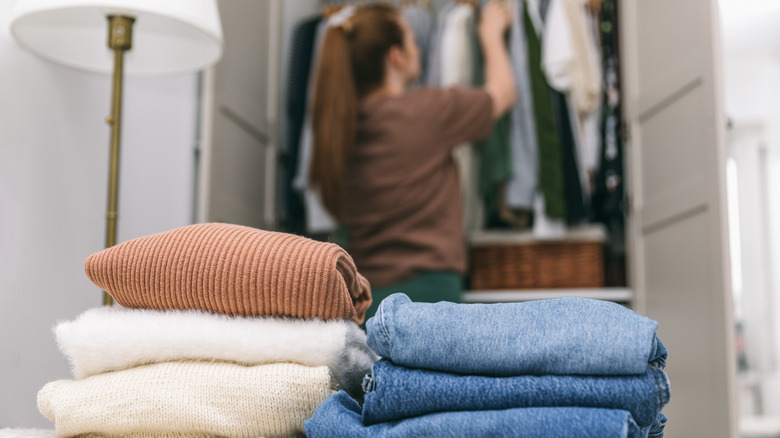 tartanparty/Shutterstock
It will take some thought to create the ideal capsule wardrobe, especially if this is new to you. "Once you figure out your 'basics,' spend some time paying attention to what you reach for the most," fashion designer Misha Nonoo tells InStyle. "Don't buy three trousers with just the hunch you'd wear them constantly — you might surprise yourself! But after a while, if you notice you practically live in that perfect white button-down, stock up!"
Advertisement
Nonoo explains that to maximize your budget, you should ensure you're really loving those essential pieces you have chosen and add to your wardrobe accordingly. And giving yourself time to live in your new wardrobe can help you determine what you should be buying to add to your wardrobe without making any impulse purchases. 
Being mindful of what you wear the most will not only help save your clothing budget it will help you cultivate your personal style. Then, when shopping for new items you'll want to ensure that each piece will fit with what's already in your capsule.
Take it one season at a time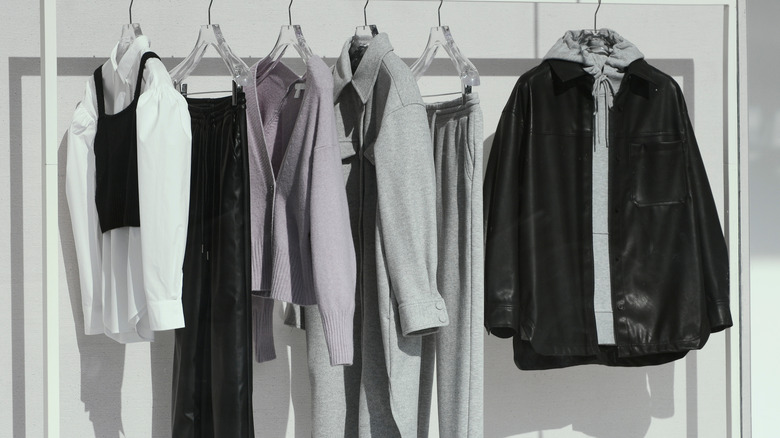 Creative Lab/Shutterstock
The beauty of building a capsule wardrobe is you should be able to use some of those essential items for multiple seasons. It can be overwhelming to try to shop for a year-round wardrobe all at once while worrying about whether you've bought something that will only be trendy, or in style for a hot minute. According to Modern Minimalism, you will have more success focusing on building your wardrobe around the current season, and adding essential pieces as needed, instead of trying to choose clothes for the whole year all at once. 
Advertisement
"Aside from outerwear, my pieces generally stay the same throughout the year," designer Misha Nonoo explains to InStyle. "The future of fashion is moving towards a seasonless calendar, and consumers are getting increasingly tired of the idea of something being 'so last year.'" She notes that aside from needing clothes based on the changing weather, the beauty of a capsule wardrobe is it tends to be so classic you don't have to worry about those key pieces going out of style.
So while your wardrobe may change depending on the weather, it really should be timeless enough to withstand seasonal trends.
Don't be afraid of accent colors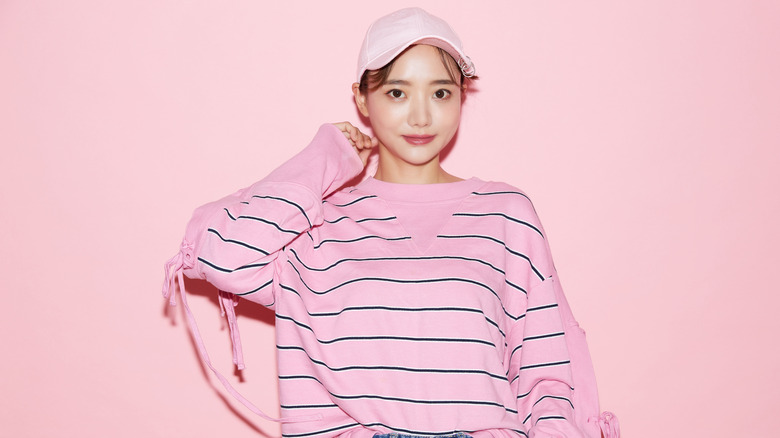 K-angle/Getty Images
Life doesn't have to be boring and neutral just because you've chosen to try out a capsule wardrobe. Sure, they tend to consist of mostly neutral-colored items because it's easy to mix and match that way, but that doesn't mean you have to stay away from bold hues completely. 
Advertisement
Stitch Fix explains that adding pops of color to your capsule wardrobe is a great way to give it new life, especially as the seasons change. Selecting different tones to compliment your skin tone, or shades that are all in the same color family can help make life easier when it comes to creating outfits. Don't shy away from vivid colors either as these often look great on everyone. 
You can jazz up a neutral-colored wardrobe with prints, but you'll want to ensure the patterns you add are classic (via Sustainably Chic). Stripes and polka dots will never go out of style, so they're safe to add to your collection. Your capsule wardrobe has to work for you and if you love color, patterns, and different textures you can definitely include them, you just may need to be more mindful of those pieces you choose.
Advertisement
You can still be creative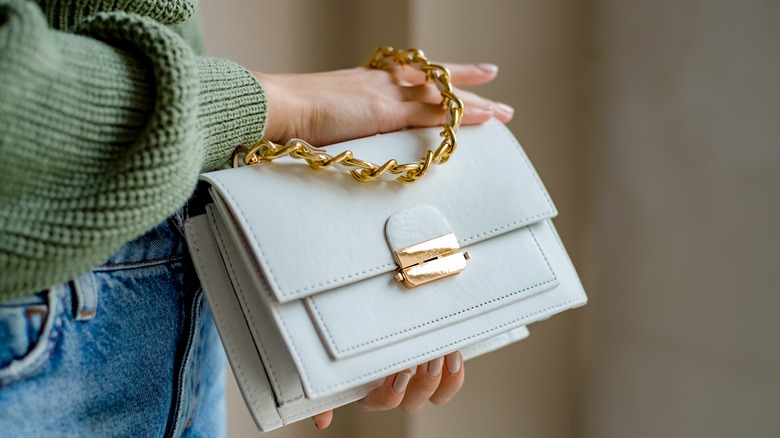 Chernova Yuliia/Shutterstock
One of the main benefits of creating a capsule wardrobe is the versatility it gives you. Previously you may have only worn certain items of clothing alone or as a predetermined outfit — you can now use these pieces together. Instead of wearing your capsule staples individually, you can be more sustainable by layering them. Try mixing your dressier pieces with casual pieces and begin to create your own style as you get more comfortable with your wardrobe.
Advertisement
You can take your outfit from the office out to dinner when you master the art of layering. The pieces in your capsule should work together, so you can start to get creative with your looks. Ideally, you should have items in your closet that can be coordinated for multiple occasions, depending on how you pair them. Whether you're looking for a casual weekend look or something a bit more dressy, putting layers together can help dress up or down those essential pieces you've chosen.
Invest in your clothes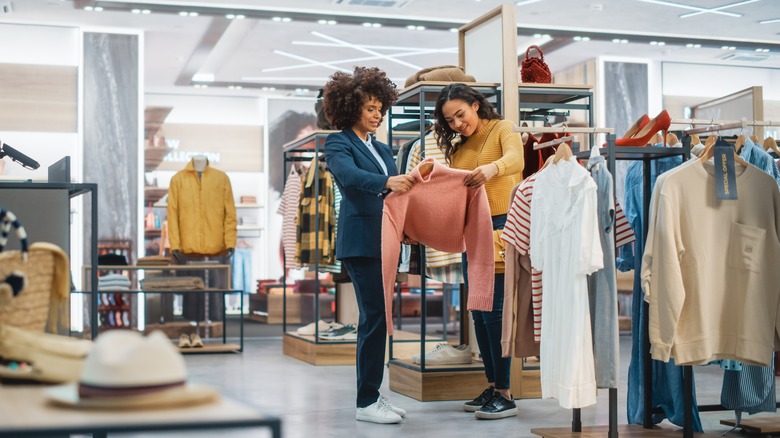 Gorodenkoff/Shutterstock
Most of us have been guilty of purchasing a piece of fast fashion to add to our wardrobes. The allure of a low price tag is often tempting, regardless of whether it's an item you actually need or not. But if you've been trying to be more mindful and sustainable in your fashion purchases, building a capsule wardrobe is a great way to do that. 
Advertisement
Because these pieces all coordinate, you don't have to be afraid to invest in them by purchasing higher quality items when it's time to replace something, or when you want to add clothing to your closet. Investing in staples will give more longevity to your purchases, and will help you avoid over-buying those inexpensive designs you will only wear a handful of times before they no longer work for you.
By minimizing your wardrobe you'll have more budget to spend on essentials because you will eliminate buying all of those items you don't really need, that don't fit you well, or that you will ultimately never wear.
Don't forget the shoes and accessories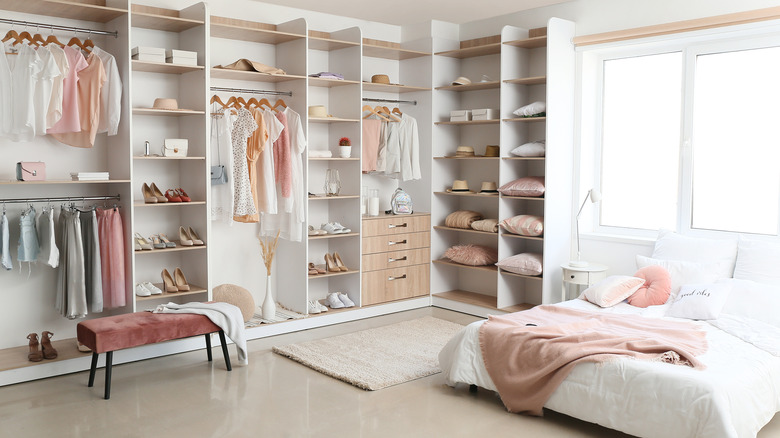 Pixel-Shot/Shutterstock
The purpose of a capsule wardrobe is to make getting dressed as easy and stylish as possible, and that includes your shoes and accessories. Now that you have your clothes selected it's time to choose the footwear and accents that will tie everything together.
Advertisement
According to Classy Yet Trendy, including shoes in your capsule base color is a good starting point. As well, you can add neutral-toned footwear to the mix. Whether those are running shoes, loafers, heels, or flats will be determined by your personal needs.
You can also pick a few handbags in your base or a neutral color, as well as other accessories like jewelry, hats, and scarves. "I absolutely adore accessories, and I believe them to be essential in maintaining a love for your capsule wardrobe," Misha Nonoo tells InStyle. "Jewelry, bags, and shoes are such an easy way to add a touch more personality to an outfit, or just give some pieces a refresh."
Enjoy, and remember that there's no perfect way to create a capsule wardrobe!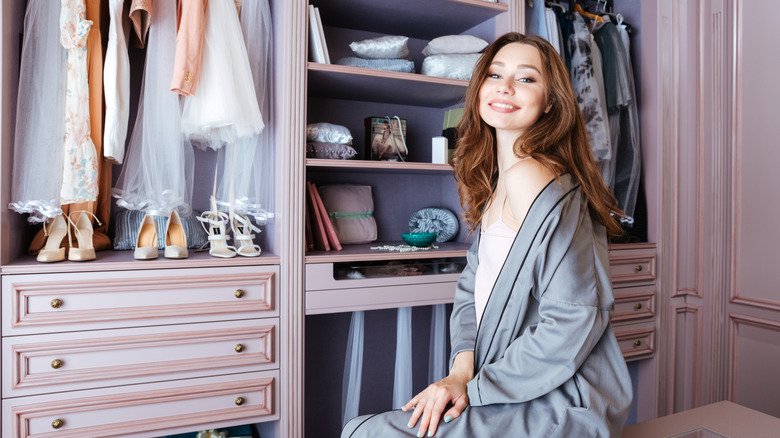 Dean Drobot/Shutterstock
It can be challenging to start building your capsule wardrobe, but the most important thing to remember is there are many helpful ways to tackle this task. Following these guidelines can help you create a minimalist, sustainable closet tailored to your needs that will take the stress out of deciding what to wear while also being budget-friendly. 
Advertisement
You should understand this may require a change in your shopping habits, especially if you're easily tempted by the sale rack. While this may take a bit of getting used to, you'll love the ease of being able to look at your capsule and quickly pull an outfit together, not to mention the money you'll save by avoiding an impulse buy. The added bonus is you'll quickly discover and hone your personal style. 
A capsule wardrobe may not be for everyone, but if you've ever been frustrated with the number of clothes in your closet that you never wear, it may be worth a try.