Slingback Heels Are A Classic Shoe Trend Coming Back To The Forefront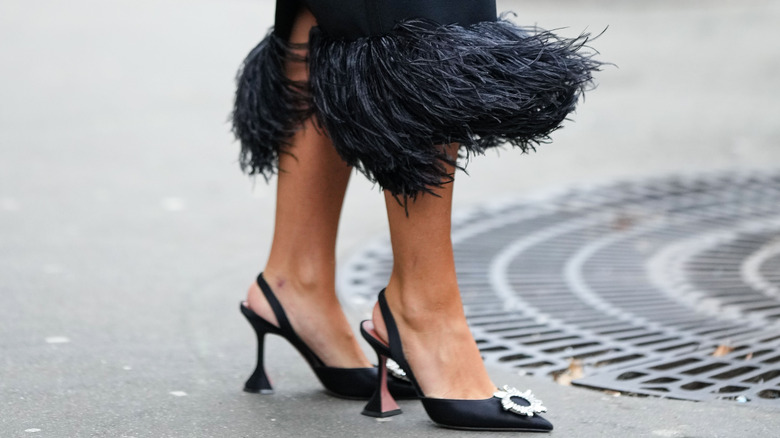 Edward Berthelot/Getty Images
Shoe trends come and go, but only sometimes do they come back into fashion and earn timeless status. This is the case with slingback heels.
While slingback heels have always had their space in style, this footwear has recently started to gain popularity as the go-to shoe for fashion gurus. As Fashion Canons points out, this shoe style is versatile since it's perfect for both workwear and daily life. With the ankle strap holding your heel in place, this shoe is practical and comfortable for whatever your day holds. Plus, the slingback heel has already earned a cult status due to its thinness and subtly when paired against oversized looks.
Advertisement
Like any trend that comes back into style, there are various slingback heel variations you can reach for to fit your desired look. When incorporating slingback heels into your wardrobe, you can play with various colors, designs, and heels for the ultimate chic vibe. No matter how you want to wear slingbacks, these shoes are here to stay.
Classic and subtle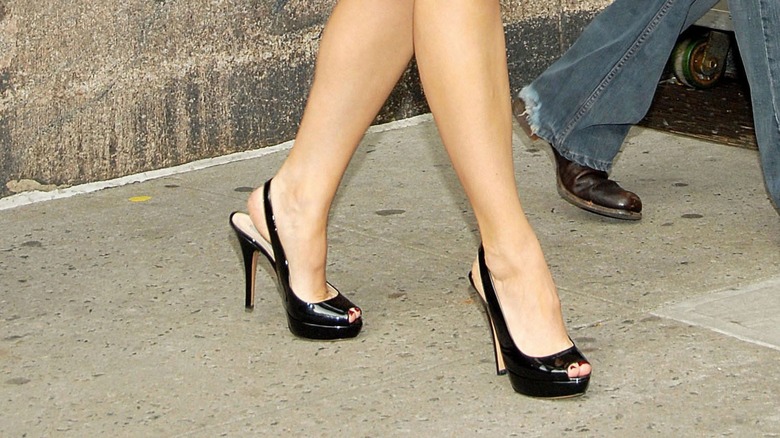 Everett Collection/Shutterstock
There's nothing more classic and timeless than a pair of black slingback heels. Almost as iconic as a pair of black pumps, a neutral slingback heel is minimal but ultra-chic. You can never go wrong with a pair of minimal slingback heels to add a lighter and more feminine silhouette to your outfit. Whether you go with black or white, a solid-colored slingback heel is a basic must-have your wardrobe absolutely needs. 
Advertisement
Bright and bold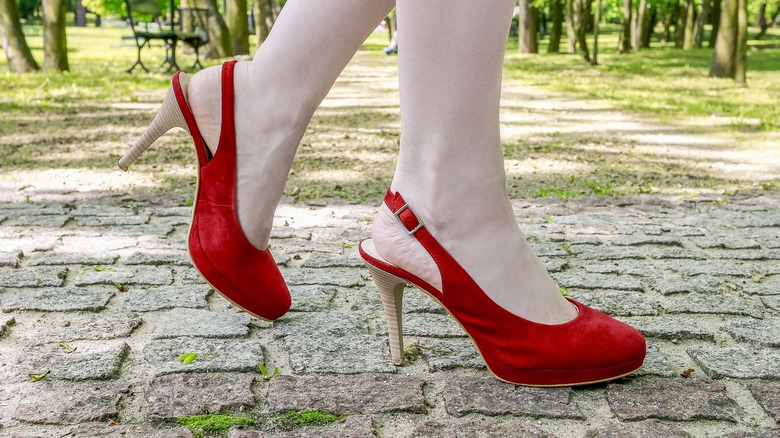 Agnes Kantaruk/Shutterstock
Have you ever wanted to experiment with a pop of color but don't know where to start? All you have to do is look down. Slingback heels are the perfect way to incorporate a bright and bold color into a look without feeling overwhelmed. Bright colors are trending, and you can take part with a spicy pair of slingback heels.
Advertisement
Add a block heel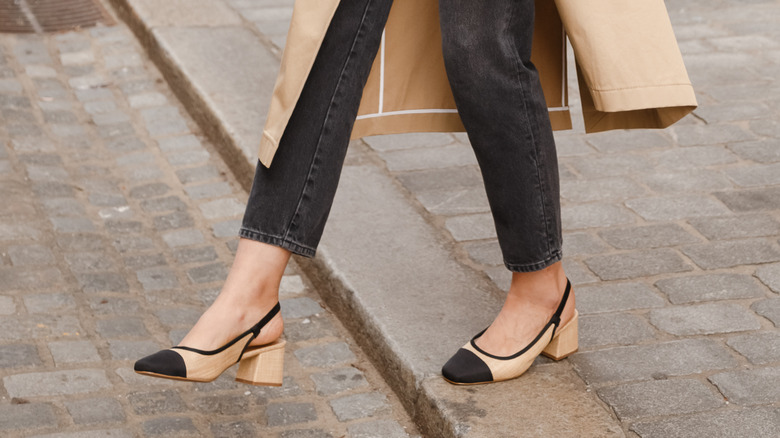 MS_studio/Shutterstock
Let's face it: The most uninviting part of wearing heels is the actual heel. While they're great to add some height, heels can get uncomfortable. Going with a block heel with your slingback heels is the perfect way to add the same height but with more comfort. Although a block heel adds some weight to your shoe, the slingback style is still small and thin enough to balance an oversized outfit.
Advertisement
Pointed toe slingback heels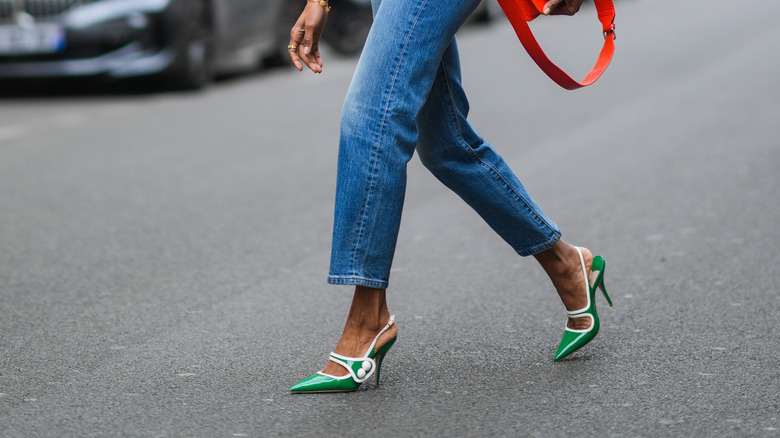 Edward Berthelot/Getty Images
While they're a staple in workwear outfits, pointed toes aren't typically the go-to for many fashion fanatics. However, pointed slingback heels will not only help create an elegant look, but they can help elongate your legs. By extending the perspective of your foot, you can gain the illusion of more height. If you're not completely convinced by a pointed toe, you can always opt for a modern design as shown during the Saint Laurent Summer 2022 show. Adding a bit of a funky flair to your pointed shoe will help make your ensemble look more modern.
Advertisement
Sandal slingback heels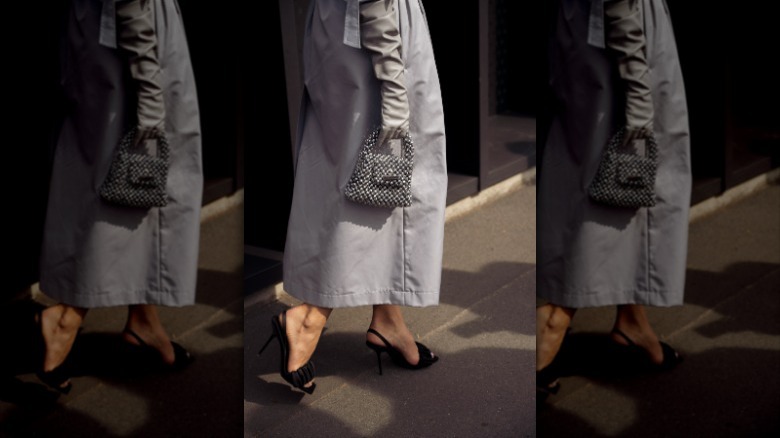 Raimonda Kulikauskiene/Getty Images
Slingback heels aren't only for the fall and winter seasons. If you're looking for a way to wear heels during warmer months, a sandal slingback heel is the best way to bring this trend with you. The only difference between a sandal slingback with a heel and a slingback heel is that the front tends to be open-toed. Reaching for an open-toe will make for a more casual look that's perfect for a summer event. The sandal version of a slingback heel will also make for the perfect nighttime look if you're looking for something more fun and flirty.
Advertisement
Embellished slingback heels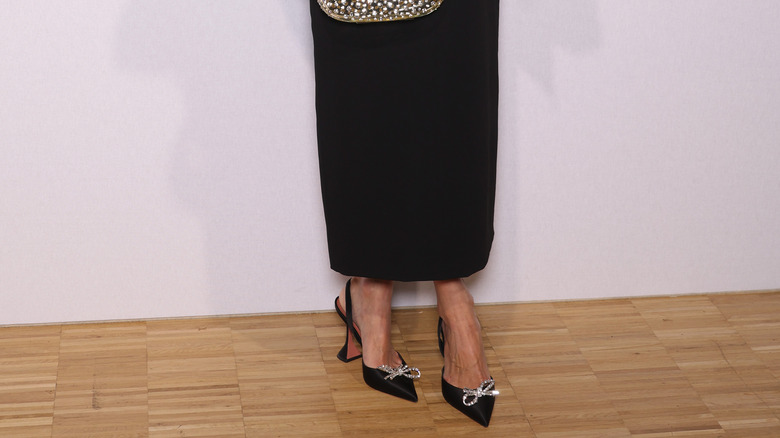 Pascal Le Segretain/Getty Images
Your shoes are the best way to incorporate fun details into your outfit. Many of the newer slingback heels are all about adding fun jewels and embellishments to the shoe for an extra moment of glam. Since your shoes are only a small part of your outfit, it's the perfect place to add these embellishments without taking over your outfit.
Advertisement
Kitten heel slingbacks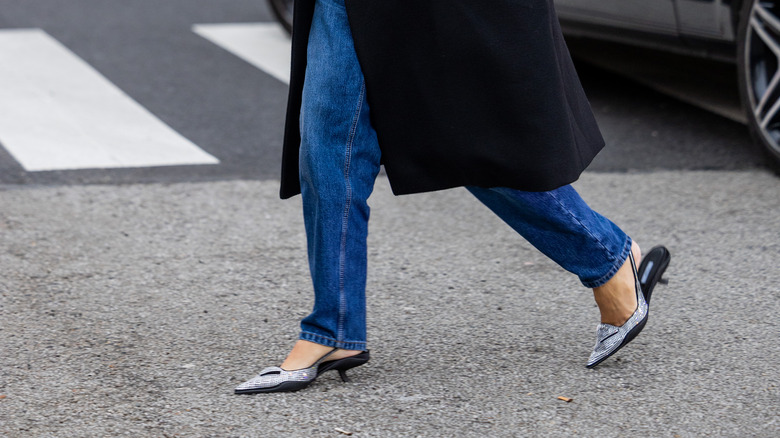 Christian Vierig/Getty Images
Not all heels need to be tall to be classified as heels. A kitten heel is a sweet and simple way of adding height to your look without suffering from high heels. Just a simple swap for a kitten heel will still elevate your look while still keeping things casual for your daily life. Being small, a kitten slingback heel is the best place to start if you are also looking to start incorporating heels into your wardrobe.
Advertisement