Is It Better To Use Coenzyme Q10 In Its Ingestible Or Topical Form?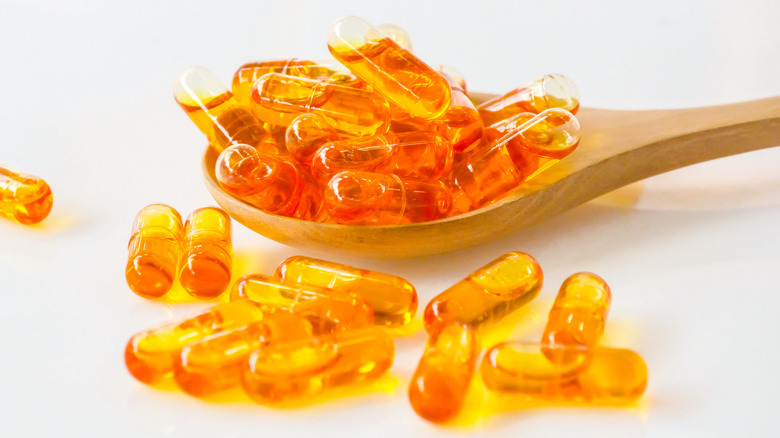 nokwalai/Shutterstock
Coenzyme Q10, also commonly referred to as CoQ10, is an antioxidant found in the human body that's levels lessen with age and some medical conditions, according to the Mayo Clinic. CoQ10 is used as an ingredient in some beauty products that are applied to the skin, and it can be taken by mouth as a supplement. Since higher levels of CoQ10 may be of benefit to some people, you might be wondering if it's better to use CoQ10 in its ingestible or topical form.
Before you choose one form of CoQ10 over the other, it's important for you to understand the purpose for which you're using it. Additionally, there are also some precautions to keep in mind about who should not be using CoQ10 in certain forms. You're in luck, though, because we're covering the basics of the two different forms of CoQ10 and what to keep in mind about them.
Topical CoQ10 is meant to benefit your skin
Ridofranz/Getty Images
Topical CoQ10 is used for its benefits as a skincare ingredient. That said, it might not provide you with significant benefits when it is used alone. Dermatologist Dr. Rachel Nazarian, MD, FAAD, explained to The Zoe Report that "topical coenzyme Q10 has poor absorption and permeability through skin, making it difficult to direct to deeper skin targets . . . some products combine it with other ingredients and technology to enhance stability and penetration."
But it isn't all bad news if you want to use topical CoQ10; you might just need to be more selective about the formulation of the product that you use containing it and shop around based on the effects you want.
You should be careful with using topical CoQ10 under some circumstances. For instance, Dermatologist Shereene Idriss, MD, warned Byrdie, "If you have a history of vitiligo, approach topical CoQ10 products with caution. CoQ10 has been shown to block an enzyme known as tyrosinase, which is necessary for creating pigment. By blocking it, it may lead to worsening of depigmentation in those who suffer from vitiligo."
Ingestible CoQ10 may have other health benefits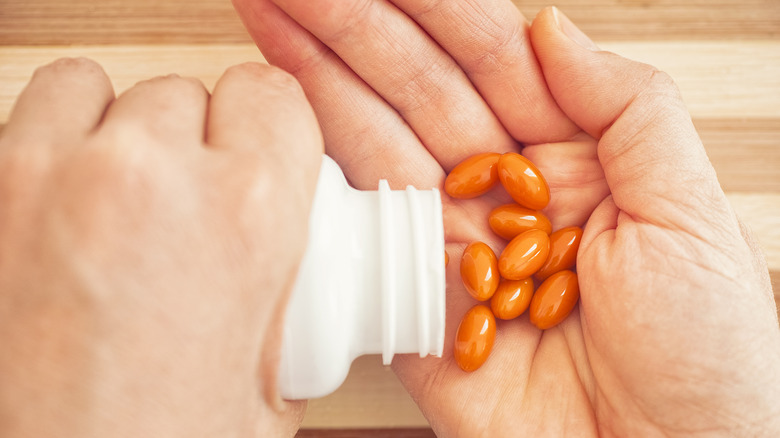 StepanPopov/Shutterstock
If you are looking for health benefits for the rest of your body and not just your skin, taking a CoQ10 supplement that you can ingest orally might be a better option for you. Per Mayo Clinic, there are various forms of CoQ10 supplements, including chewable, liquid, and intravenous forms, so you can choose the one that offers the benefits you're searching for.
Meanwhile, Mount Sinai notes that many heart conditions, in particular, can be addressed with the use of CoQ10. Though, according to dermatologist Dr. Macrene Alexiades, MD, PhD, FAAD, it "interferes with other cardiac medication so it is very important to notify your physician if you're planning on taking the [oral supplement]," via The Zoe Report.
Additionally, Mount Sinai adds that CoQ10 supplements can lower blood sugar and blood pressure, among other risks. Based on this in combination with the cardiac concerns, you should discuss taking a CoQ10 supplement with a medical provider before you proceed, especially if you have any underlying medical conditions that could be affected by it.