Enter Soup Groups, The Next Big Get-Together Trend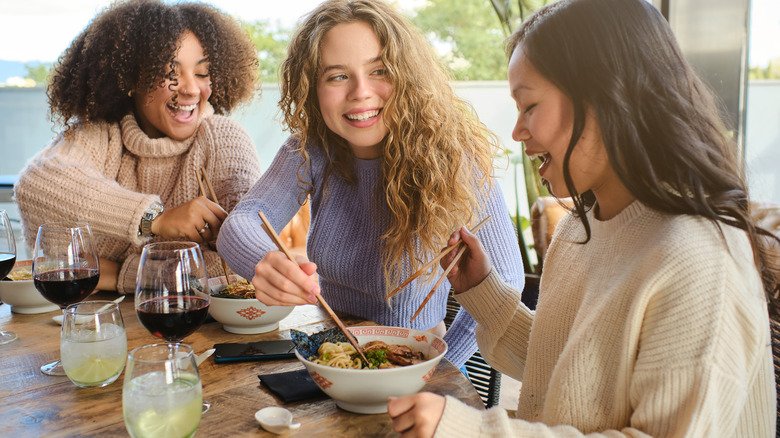 Philippe Degroote/Getty Images
Nothing hits quite like a dinner party at home. While we all love a nice restaurant, there's something so intimate and warm about creating a meal for loved ones. Plus, hosting in a private space means everyone can relax without interruption from attentive waiters or a rowdy group at the next table, maximizing your quality time together.
That said, putting on a dinner party can be a lot of work, and life is busy. With so many obligations vying for their place in your schedule, it can be tough to make time for friends and family — especially if you feel the need to dress up, prepare multiple courses, and make a major occasion out of every gathering in your home.
Wouldn't it be nice if there was some simple, casual meal concept that removed all the intricate planning and heightened stress that usually comes with staging your next get-together? Enter the inviting and approachable idea of soup groups, poised to be the next big trend for social gatherings.
What is a soup group?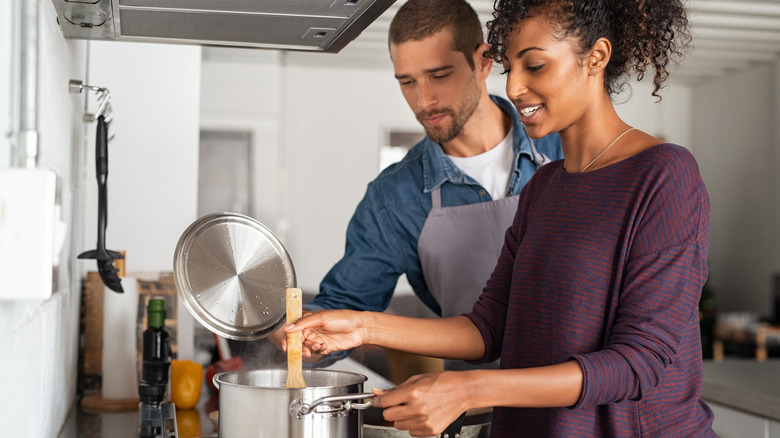 Ridofranz/Getty Images
Like a potluck's cozier cousin, soup groups are making it easy for loved ones to enjoy shared meals without feeling pressured to pull out all the stops. It works like this: Each member of the group takes turns opening their home and providing one or two types of homemade soup for everyone to enjoy. Hosting rotates each time, and the main course is always some kind of soup or stew, creating a casual and unfussy way to schedule regular social time with your BFFs.
Soup is an inherently comforting and communal meal, so there's no need to dress to the nines for this type of dinner party — unless you just want to. Rather, guests can happily show up in their cuddliest sweater or most easygoing loungewear. And because this dinner arrangement operates like a round-robin, you can turn your soup group into a regular event without overburdening a single host.
Of course, you don't all have to be master chefs to participate in a soup group with friends. If cooking is a little too far out of some people's wheelhouses, you can bring back some of the potluck element and make it more of a team effort. Kitchen enthusiasts can divvy up the soup-making responsibilities, and non-foodies can volunteer to bring drinks or side dishes. After all, what goes better with a soup-stravaganza than an easy salad, a boule of crusty bread, or a few bottles of wine?
What to make for your next soup group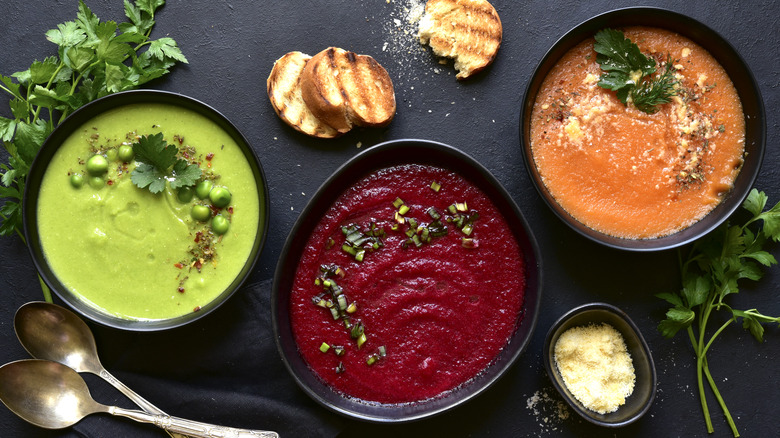 Lilechka75/Getty Images
While you can't go wrong with crowd-pleasing soup classics like chicken vegetable, creamy tomato, broccoli cheese, or loaded baked potato, soup groups also present a fantastic opportunity to broaden your culinary horizons without having to demolish a whole pot of soup all on your own. By playing around with more experimental recipes, you never know when you might discover a new favorite and impress your friends in the process.
For soup group options that will excite and delight, consider bringing something exotic like tart Thai Tofu Tom Yum Soup or earthy, African-inspired Peanut Butter Soup. When cold weather strikes, evoke coziness with a hearty, savory White Bean and Kale Soup or the sweetly spiced goodness of Curried Honey Sweet Potato Soup.
And the fun doesn't have to stop when the warm winds of spring arrive — there are plenty of cool bisques and consommés to keep you going through the hot months. Why not celebrate the growing season with Chilled Sweet Corn Soup? Or for something light but punchy, boozy Watermelon Gazpacho with Smoked Tequila will bring summery brunch vibes to your next gathering. With versatile recipes like these in your back pocket, you can keep your soup group going all year long.