The Fashion Hack That Turns Your Winter Maxi Dress Into A Spring Mini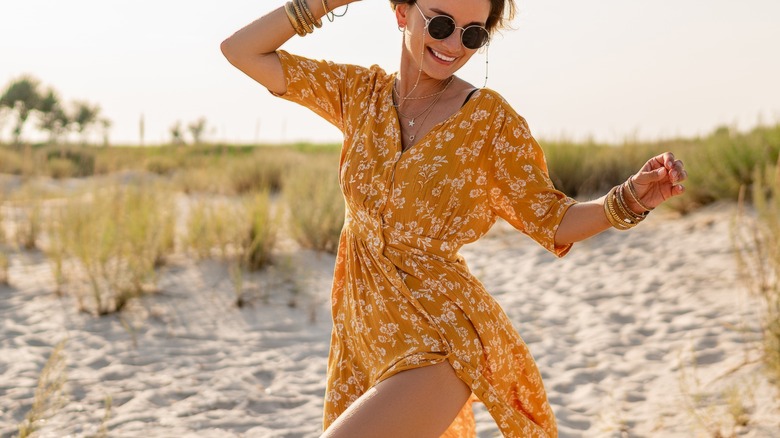 Maria Markevich/Shutterstock
Flowy, comfortable, and versatile — ankle-length maxi dresses are among the few casual dresses that help us look lady-like enough for occasions that require some dressing up and are great for any weather. They also offer full coverage, shielding us from the chilly temperatures while sparing the need to shave our legs. However, now that spring is in the air, it's an excellent time to show some leg and look sleek in above-the-knee dresses.
Although shopping for the latest trends is a terrific way to channel the spring sunshine, refashioning your winter maxi dress into a spring mini is also a great idea for budget-minded fashionistas looking to jazz up their looks without feeling the pinch. If you don't have a talent for sewing or any activity involving scissors, fear not! This upcycling hack doesn't entail any major alteration and is super easy to do. Here's how you can take last Christmas' maxi dress and turn it into this year's spring mini.
Hike it up and fold it down
If your maxi dress is a tight-fitting one that sticks to your body — like a bodycon dress — then re-hemming is a breeze, as displayed in the TikTok video above shared by @trendycurvy. Starting from your knees, hike both sides of your dress up according to your desired length. The higher you pull them up, the shorter your dress will turn out. Then, fold the pulled-up sides over the excess fabric to cover the original hem, do some pulling and tugging to straighten the material, and you've got yourself a new mini-dress.
Another way to shorten your dress is to use hemming tape, a heat-activated, transparent adhesive tape that helps you fake a new hem and shorten your dress. To shorten your dress with this tape, mark the spot where you want the hem of your dress to end, turn your garment inside out, and fold the hem up to the desired length. After that, unroll the tape and line it over the hem. Then, press — not glide — an iron over the hem to make it adhere to the dress. Fabric glue also works in a similar way as hemming tape and is effective in helping you take a few inches off your hem instantly.
Shortening flowy maxi dresses
Suppose you want to shorten a flowy, empire waist maxi dress, an ankle-length fit-and-flare style with an empire silhouette that gathers right under your bust line and flares out below the hips. Unfortunately, that TikTok hack won't work. Instead, put on the dress and stand before a floor-length mirror. Then, grab both sides of the dress and pull them up, ensuring they're even all the way around and you have a straight line. As the sides of the dress are pulled up to the point below your bustline or where you want your hem to fall, tug the sides behind your back, and drape one side underneath the other. 
Then, use a big safety pin or a brooch to cinch the fabric layers to create a new length for your dress. If necessary, use another pin to keep the fabrics in place. To cover the pinched-up edges and the pins, as well as add an extra layer of secureness, put on a wide belt just below the bustline. And voila! You've just refashioned your flowy maxi dress into a mini. Next step: styling that mini dress for everyday wear (We've got you covered there, too).