25 Up-And-Coming Fashion Designers You'll Want To Have Your Eye On In 2023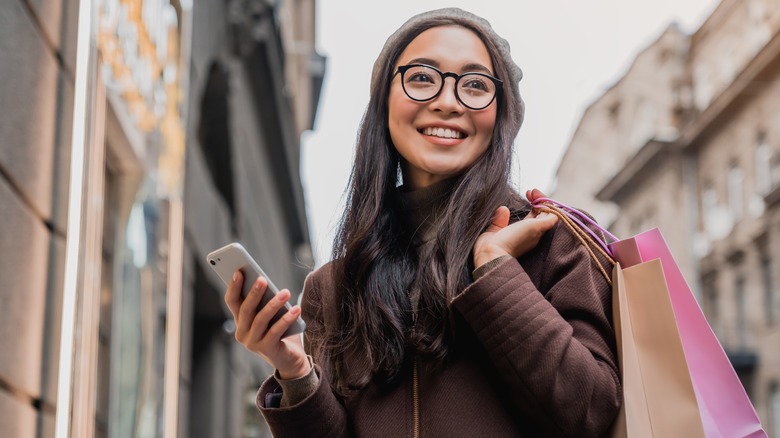 Inside Creative House/Shutterstock
It looks like 2023 is the gearing up to be the year of fashion. Fashion has always been considered a big deal, and it will continue that way since so many people are obsessed with the notion of looking absolutely fabulous. When your clothes are sharp, you show the rest of the world that you're putting your best foot forward. 
Advertisement
First impressions are everything, which means the clothes you choose to wear each day make a bold statement whenever you leave the house. Do you want the world to see you as someone who's welcoming and approachable? Or would you rather the world see you as someone who doesn't want to be bothered? 
If you're the type who gets excited by the idea of others noticing your keen eye for detail, then fashion is probably one of your top priorities. Regardless of how you define your own personal sense of style, it's interesting to keep up with the up-and-coming fashion designers who are making waves in the industry with designs that will undoubtedly impress you. These are the top fashion designers to get excited about in 2023.
Advertisement
Colin LoCascio
True designer fashion is the name of the game for Colin LoCascio. The talented designer has worked with the likes of Kendall Jenner, Kylie Jenner, and Bella Hadid over the years. Getting into the same room as A-list celebrities like them isn't an easy feat to accomplish, but it's something LoCascio has achieved. His official website is filled with pieces of clothing that appeal to some of the most eccentric fashionistas out there. 
Advertisement
LoCascio's gorgeous Bella Turtleneck Mesh Top is covered in what appears to be hand drawn flowers and floating waves in a stunning variety of colors including bright green, sky blue, and neon pink. His Cleo Lurex Skirt pairs perfectly with the matching Cleo Lurex Vest covered in green animated frog imagery and argyle print. There's something quite refreshing about the way he mixes traditional patterns with unrelated imagery as he keeps his line completely fresh and exciting.
Boutet Soulanes
There's nothing simple, boring, or basic about the fashionable pieces a brand like Boutet Soulanes brings to the table –– despite the fact that it fits in the minimalist category. The brand was founded by fashion experts Coco Boutet and Jose Maria Solanes in 2020. It has been thriving ever since. Their Dress Fantom stands out for its intricate cutout design that shows off a little bit of skin down the center of the chest before veering off to the side to show off a little more skin on the hip and thigh. 
Advertisement
Their Jumper Activa is enough to make anyone look like a model due to its interesting combination of long sleeves that keep your arms covered and a short hem line that will show off tons of leg. Despite the leg exposure, it was also designed with a slight turtleneck. If you're hoping to fill your closet with loads of neutral colors, this is the perfect brand to look into as a starting point in 2023.
Tanner Fletcher
You don't have to be straight from the heart of New York to appreciate fashion from Tanner Fletcher. The top-notch company is based in Brooklyn, but people from all over the globe can appreciate the stunning pieces they offer. This is the ideal brand to check out if you're excited about pushing the boundaries of gender norms. There are plenty of items you'll find to help you embrace your femininity and masculinity, based on what you personally prefer. 
Advertisement
Their Tootsie Lampshade Fringe Blazer is a standout item to admire to because of its lovely design that would look absolutely fabulous on anyone, regardless of sexual orientation or gender identity. At the top, it's designed to look like your typical white suit coat. At the bottom, it's a lot more fun to look at with brown and white fringe hanging in smooth waves. It gives a professional vibe up top with a western party vibe below.
ASHLYN
The only reason a fashion brand as spectacular as ASHLYN exists is because a creative director named Ashlynn Park decided to make it a reality. ASHLYN puts a modern spin on traditional tailoring with total confidence. After spending decades of her life developing a strong and beautiful taste in fashion, Park was able to pull inspiration from New York and Japan to bring her line to life. What makes her brand even more impressive is that they're committed to zero-waste luxury. 
Advertisement
This means she isn't interested in fitting into the mold of fast fashion, even though TikTok and Instagram fashion hauls have been pushing that narrative in a significant manner over the last few years. Some of the beautiful pieces from ASHYLN come in colors as bright as red, but it's easier to find tons of pieces in black and white. Although it might be easy to assume that her black-and-white fashion wouldn't stand out, she has a talent with combining the colors in unforgettable ways.
Melke
It's not surprising for fashion brands to be vocal about their sustainability pledges in 2023. We are living in a day and age where consumers truly care about shopping from companies who promise to be plastic-free, eco-friendly, and all-natural. The good news about Melke is that they are committed to building a brand that fits those labels. 
Advertisement
Melke exists thanks to a fashion designer named Emma Gage, who studied the subject of fashion at Marist College in New York City. After taking a trip to the Met Gala, she knew she wanted to make a name for herself in the fashion world. And due to family members who do anti-trafficking work, she also has been aware of the tragic reality of human trafficking from a young age. Because of this, she feels strongly about paying her garment workers fair and livable wages for their services without exposing them to dangerous chemicals in the workplace. Some of her most interesting pieces include the Hunt Jacket, the Eura Skirt, and the Jacquard Sonora Pant.
Anne Isabella
Fashion lovers can certainly get excited about Anne Isabella in 2023. Isabella is a talented fashion designer of Danish-French heritage. After graduating from Central Saint Martins, she decided her goal in life would be to gain industry experience in the fashion world. She got connected with some of the people who inspired her the most on her journey, including Jil Sander and Kenzo. She even had the opportunity to design pieces for Courreges along the way. 
Advertisement
Isabella stepped up to the plate to launch her own label in 2020, selling handmade clothing, accessories, and shoes. Everything about Isabella's line leans toward modern luxury, vintage nostalgia, and a sense of true playfulness. Wearing clothing from her line is meant to give fashionistas a sense of boldness, balance, comfort, and optimism when they leave the house. Some of her standout pieces include long sleeve shirts, puffer jackets, and zipper tank tops designed with intricate stripes.
Act N°1
Act N°1 is a fabulous up-and-coming brand to look out for in 2023. Founders Galib Gassanoff and Luca Lin launched the brand in 2016, and decided to go with the name they chose because of its precise meaning linked to when both of the designers were still in their infant years of life. They were inspired to launch a line that would successfully tell the story of their multicultural backgrounds, focusing on their authentic lifestyles, homes, and childhoods. 
Advertisement
One of the reasons their brand stands out so much is that they promote hybrid items of combined pieces you wouldn't easily find elsewhere. Skirts attached to pants and jacket attached to dresses are the norm while shopping for items from Act N°1. Some of their standout pieces include the Embroidered Tulle Dress Composed by Two Pieces, the Plisse Ruffles Hoodie Dress, and the Poplin Shirt Patch Satin Mini Dress.
AYAMA Studio
The purpose of AYAMA Studio fashion is for shoppers to find purposeful clothing that help reinvent what they consider to be traditional or classic through a modern-day lens. There's no reason to feel bound by structure or definition with a company like this that's interested in constructing brand new staples, and reclaiming what it means to dress your best. AYAMA Studio exists because of a woman who keeps things short and simple in her official Instagram bio, claiming "Maya is AYAMA" and that she is simply "making clothes I want to make." 
Advertisement
Why would she spend time making clothing she wasn't proud of, anyway? It seems that she has a great eye for detail based on the bulk of pieces she promotes on the official business Instagram page. Some of the standouts include the Benz Bustier, the Lambo Jacket, and the Motto Trench. One detail a lot of her pieces have in common is that they're each designed to showcase two or three bold colors at one time.
AnOnlyChild
Headquartered in New York City, Maxwell Osborne founded a fashion line called AnOnlyChild after finding inspiration and influence from old family photos of his childhood. It turns out that from Osborne's perspective, children who are raised without siblings often keep to themselves while living in their imaginations. They've been gifted a life of solitude and quietness, and they make the best of it. It's beyond true that children raised without siblings are forced to figure out how to entertain themselves in their lonesome without help from any outside sources. 
Advertisement
His line is all about striking a balance between the strength you reach out for from the outside world and the strength you find within yourself after spending quality time in your own presence. A lot of pieces of clothing from AnOnlyChild focus on primary colors including green, red, and yellow. Some of the items that stand out significantly include the bright yellow Hanover Pants and the sleek purple St. Andrew Shirt.
DIDU
Di Du is the name of the talented fashion designer who graduated from Royal Academy of Fine Art in Antwerp before establishing her brilliant brand in 2019. As of now, she's in the process of developing her brand further in Shanghai and Paris, but it's already making bold statements across the globe. The purpose of her line is to open up dialogue about equality, society, and gender in some of the most elegant ways. 
Advertisement
Achieving true self-acceptance and self-love is another important factor for Du, and what she wants to achieve with DIDU as a whole. Some of her trendiest pieces would look absolutely fabulous on a musician hitting the stage for a performance in front of a massive crowd, or an average individual getting ready to attend a crowded festival. Her Lace Up Corset Bustier is certainly worth admiring because of its sex appeal with just enough edge.
Anna October
Along with having one of the coolest names out there, Anna October is also one of the most talented fashion designers alive today. October is from Ukraine and focuses on creating pieces that highlight the true beauty of the community she knows so well. If you're interested in shopping for pieces of clothing that represent freedom, sensitivity, happiness, and courage, then October's collections should be right up your alley. 
Advertisement
She understands that feeling confidently sexy is a treasured experience to have, and she wants everyone to feel just as empowered as she feels. Some of her most popular pieces include the Simone Dress, the Vivienne Dress, and the Snowdrop Dress. Taking the time to scroll through some of the options she has available will reveal tons of pastel colors, pale shades, neutral tones, and feminine designs. You'll be able to find different calming shades of blue, brown, green, yellow, cream, and more.
Ruohan
New York seems to be a very common backdrop for fashion designers to gravitate toward. In 2021, Ruohan Nie founded Ruohan with some thought-provoking values in mind. The company is all about being minority-owned, being woman-owned, and honoring true sustainability. If you're hoping to shop for custom-made textiles with unique silhouettes in 2023, those are the things that truly set this brand apart in comparison to others. 
Advertisement
Shopping for pieces to curate a timeless wardrobe that embodies modern-day minimalism with a color palette mainly filled with neutrals is the name of the game for Ruohan. Shoppers will also find impeccable details, perfect tailoring, and glorious fabrics when looking for items from this brand. If you're the type of person who's easily inspired by art and travel, you'll find a lot of the things you're looking for from Ruohan. Some of the skirts and dresses are billowy enough to hide your entire figure, while others are a bit more formfitting to show off your shape.
Florentina Leitner
There's something very dainty, magical, and whimsical about clothing from Florentina Leitner. When you think about shopping for items from this brand, you might imagine yourself frolicking through a garden or green grassy field with your best friend or significant other. These are the type of clothes you wouldn't want to wear to a nightclub, but they are certainly the type of clothes you'd want to wear for a photo shoot up in the mountains, surrounded by fresh fallen snow. 
Advertisement
A lot of the pieces from this line give off a very vintage feel with old-school flowers and argyle print. There are also tons of pieces that look more modern, including strapless black dresses made out of leather material and sheer long-sleeved tops that leave very little to the imagination. One of the big names to be connected to this brand in the past is Addison Rae, bona fide TikTok starlet.
Vaillant
Alice Vaillant is the brilliant mind behind Vaillant, a fabulous fashion brand launched in 2020. After working with fashion experts such as Jean-Paul Gaultier and Nina Ricci, she knew she wanted to dip her toe into the industry on her own. Some of the big names she's worked with as a designer include Rita Ora and Rihanna. You would most likely want to shop for clothing from her brand if you're interested in embodying femininity, power, and the grace of physical movement. 
Advertisement
A lot of the pieces you'll see from this brand include tons of lace, which is a very delicate and refined fabric to wear. Lace can go one of two ways: super sexy or super innocent. The different pieces of clothing from Vaillant allow the shopper to opt for the exact energy that they want to exude. Whether you're hoping to give off some sex appeal on a first date or you're excited to celebrate a springtime holiday with your family, you'll find what you're looking for here.
Gabriela Hearst
If you care about shopping from a woman-owned brand that's all about sustainability, Gabriela Hearst's line might be the perfect option for you. Hearst is considered an emerging designer from Uruguay who continually wants to design clothes that celebrate women. The reason this line stands out compared to the competition is that it's filled with clothing that has a modern edge, while also striking a balance of true timelessness. 
Advertisement
These pieces will make sense in your closet today and five years from now. Hearst mixes sustainable textiles and deadstock textiles in order to create her jaw-dropping pieces. If you're the type of person who cares about clothing that showcases your full silhouette, she certainly makes that an option. She plays around with different textures, patterns, and necklines with each different design she brings to the table. Some dresses have areas of sheer material while others are solid from top to bottom, giving you total control of your modesty.
Tokyo James
Clothing from Tokyo James is enough to make you feel like you're ready to walk down a runway or hop on a yacht with all of your closest friends. There's something about his designs that will instantly give you a party vibe! James is a Nigerian-British designer who knows his clothing line represents a different style of luxury. His custom Yellow and Black Cotton Jersey Suit is worth some admiration because of how crisp and clean-cut it looks with a simple white T-shirt and a pair of solid white shoes. 
Advertisement
His custom Lime Green Upcycled Cotton Crêpe Suit is another standout piece due to its exhilarating brightness. There is no way you won't garner endless attention if you walk up to a group of your colleagues wearing something as bold and eccentric as that. James doesn't shy away from making loud and impressive statements that will last a lifetime in the world a fashion.
Ester Manas
It's possible that size inclusivity is your main focus in 2023. The good news for you, if this is something you care about, is that Ester Manas made size inclusivity her main focus after lunching her trendy line in 2019. She didn't launch the line completely on her own, though. She linked up with Balthazar Delepierre to bring the brilliant idea to the runway. No matter what shape or size you are, you should be able to find pieces of clothing that make you feel absolutely beautiful. 
Advertisement
Some of the top-notch pieces to consider from this line include the Pink Long Ruched Cutout Dress, the Pink Peephole Ruched Crop Top, and the Laurel Peephole Knit Dress. Ruched material is super trustworthy in providing a more slimmed-down look, since it distracts from areas you might be insecure about. Clothing made primarily with ruched material isn't available everywhere, but it's certainly up for grabs from this brand.
Collina Strada
Hillary Taymour decided to launch Collina Strada after leaning into her Y2K influence and her personal interest in the beauty of monarch butterflies. Since she's all about sustainability, she understands how important monarch butterflies are in our ecosystem. After all, they are endangered species that plays a crucial role in the health of our planet. If you're looking for clothing that is truly nature-inspired, you'll find exactly what you're looking for from this brand. 
Advertisement
She designs all of her pieces with a whimsical sensibility that gives off fairytale vibes in a beautiful manner. You'll probably feel like a fairy princess or a magical gem while wearing some of Collina Strada's most popular pieces. This is the perfect brand to look into if you appreciate silky fabrics that have a bit of shine to them. You won't look overly sparkly, but you'll certainly stand out because you'll look like you belong on a unicorn's mystical back.
Fforme
Whether you've spent time in Paris before or not, Fform is certainly a 2023 fashion brand to pay attention to. It exists straight out of Paris because of a creative director named Paul Helbers, who knew he wanted to design clothes that represented understated beauty and quiet luxury. The company's Instagram bio describes Fform as being foundational, fundamental, and filled with interrelated shapes. 
Advertisement
You'll find several necessary staples available from this brand including simple black leather jackets, white skirts that are long enough to cover your knees and have slits up the sides, cream-colored cashmere sweaters to keep you warm, and more. Some of the items that will most definitely catch your eye include the SAIBA Sculpted Cap Sleeve Dress in black, the LINN One Slit Crewneck in Orchid, and the Selma Sculpted Cap Sleeve Sweater in Moonbeam. At first glance, a lot of the designs might seem quite it simple, but they're a lot more intriguing than what initially meets the eye.
Puppets and Puppets
When you think of puppets, stage performances and TV shows for children might come to mind. Puppets and Puppets is a fashion brand that has nothing to do with any of those things, aside from the fact that their designs are very playful and childlike. Puppets and Puppets is New York-based and filled with items that will definitely make you want to take a second look. When you pay attention to the intricate details, they might even have you raising your eyebrows with confusion and curiosity. 
Advertisement
Some of the purses from this brand are covered in chocolate chip cookies! The weirdest detail of all is that the chocolate chips are made out of colorful crystals. One of the eye-grabbing pairs of high heel shoes they offer has cracked eggs plastered over the toe sections in front. It doesn't end there, because one of their gorgeous black purses has an old-school house telephone in place as the handle.
AnnaKiki
Although AnnaKiki has been around since 2017, it's making major waves in 2023 thanks to a brilliant designer named Anna Yang. She's been showing up and showing out on the Milan fashion schedule with items from her brand since starting on her path. Now she's getting all of the clout and attention she thoroughly deserves. There's something very asymmetrical and fantastical about her tailoring that provides a sense of futuristic randomness and retro appeal. 
Advertisement
Admiring some of the dresses she's placed on models on runways will leave you absolutely floored. One of her dresses is made out of a shiny black material that looks sort of like a crumpled-up piece of paper. Somehow, it still gives off an over-the-top sense of wonder. Another dress you'd spot at her fashion shows is black and white covered in intricate swirls with a small cross shape deliberately placed in the center of the chest.
Andreādamo
There's no time like the present to take note of a glorious fashion brand like Andreādamo. Andrea Adamo is the Italy-based designer who came up with such beautiful pieces to check out in 2023. This line offers clothing to people who appreciate feeling as empowered as ever while living life unapologetically and authentically. There aren't any split genders from this line, which means you can lean into your masculine or feminine while shopping for items. 
Advertisement
When you embrace individuality and uniqueness, it gives you the chance to feel absolutely incredible in what you're wearing. Some of the pieces that stand out the most include a fuzzy black vest with large zippers and a hood, tall over-the-knee-high boots in a bright shade of red, and a dark brown jumpsuit with tons of cutout sections over the midsection and chest. There's something for everyone from this brand, especially if you're comfortable showing off a little more skin.
Matty Bovan
There's a reason more than 68,600 people are following Matty Bovan's official fashion account on Instagram right now. He knows what he's doing in this industry, and he knows the audience he's catering to. If you love bright colors, wild patterns, and showing a sense of eccentricity, this is the perfect line for you. Bovan's clothing will possibly remind you of some of some unforgettable scenes from childhood movies like "Alice in Wonderland."
Advertisement
One of the shirts he offers is made of a green and purple corset with pink long sleeves that have puffy shoulder pads on both sides. The pink sleeves also tie together in a bow over the front of the chest with ribbons dripping down the center. The model who wore such an unconventional top also wears a pair of distressed jeans covered in rips and tears that were layered from top to bottom. Along with all of the distressed rips, there were also tons of glittery patches.
Supriya Lele
Supriya Lele is the fashion designer who launched a label in 2017, using her own name as the base. The British-Indian designer leans on inspiration from her heritage in order to come up with gorgeous and unforgettable ideas for her clothing. She prioritizes the idea of empowerment, maintaining a contemporary essence, and embracing the beauty of the female form. Some of her most beautiful pieces are absolutely jaw-dropping and even a tad shocking. 
Advertisement
If you're the type of person who's comfortable showing off some skin in 2023, you'll probably find exactly what you're looking for from this brand. Lele isn't shy when it comes to using sheer material that is completely see-through. Some of the material is thin enough that it leaves very little to the imagination. Lele is the type of designer who knows a thing or two about mixing fishnets into her outfits as well. You'll easily find fishnet leggings and undershirts on her representative models.
Jawara Alleyne
There's no use in playing it safe if you want to shop for items from Jawara Alleyne's fashion line. Alleyne is a fashion designer who was heavily inspired to create pieces of clothing that reflected his experience growing up between the Cayman Islands and Jamaica. 
Advertisement
Designers who can lean into their own personal childhoods and lifestyles for inspiration usually have the best eye for detail, and this happens to be the case for Alleyne. He graduated from Central Saint Martins in 2020, and he has a lot to show for it. Pieces from Alleyne's line are incredibly chic, although they might remind you of folks who live life without any sense of direction. There's something very wild and reckless about some of the items from Alleyne, including a blue cutout long-sleeved top that has gigantic sections of missing fabric and a white crossover crop top that hugs the chest tightly.