When Should You Book Your Wedding Hair And Makeup Trial?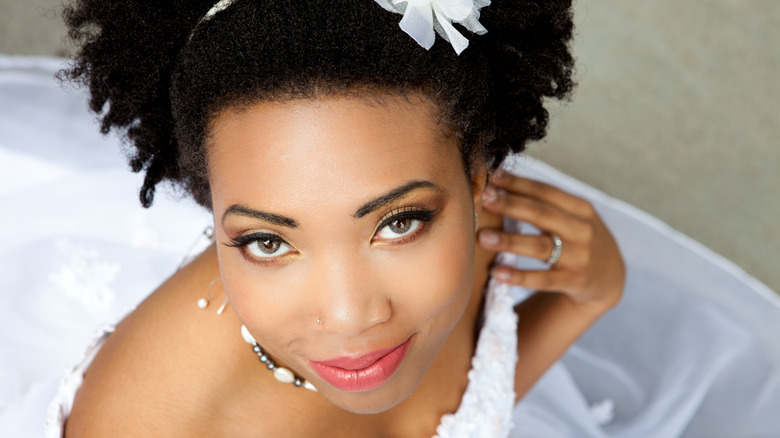 Inarik/Getty Images
The day of your wedding is likely one that you have waited for all your life. On such a momentous occasion, no one wants to look anything less than their best, so your pursuit of bridal perfection will probably begin months before the date on the invitations. As it draws closer, you may have already picked out your dream dress, booked a stunning location that seems straight off the 'gram, and pinned and saved your favorite wedding hair and makeup looks to ensure that all eyes are on you on your big day. One essential thing you may have overlooked, though, is test-driving those hair and makeup looks with a professional.
Advertisement
Speaking to The Knot, cosmetologist, makeup artist, and wedding salon owner Bisi Eissen highlights the importance of having a bridal hair and makeup trial, even if you are wary of the added cost or effort. For convenience, the wedding pro recommends aligning the trial with another important occasion when you're already planning to get made up, such as "the day of your engagement shoot, bridal shower, or maybe even the day of your bridal gown fitting. That way, you really get to see how it all comes together." But seeing the big picture is only one consideration of the bridal hair and makeup trial — it's an important part of your preparation for many reasons, each of which relies on proper timing.
Advertisement
Why do you need a wedding hair and makeup trial?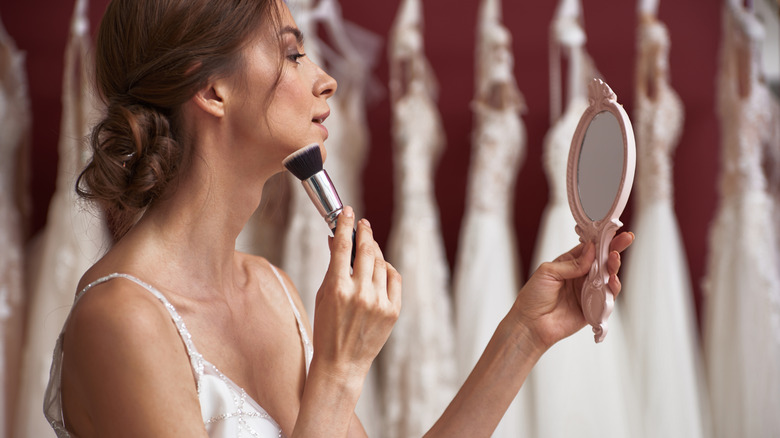 Yakobchukolena/Getty Images
Just as every great show requires a dress rehearsal to smooth over any hiccups in lighting, performances, costumes, and sets, the biggest day of your life deserves one, too. A trial will (help) prevent you from feeling overrun with wedding anxiety in case something goes wrong on the day of your actual ceremony. It will also give you time to plan a look that will suit the weather conditions at your chosen venue and to coordinate your overall appearance with your dress (which you will hopefully have selected already).
Advertisement
In terms of your relationship with your stylists, a trial has two very important purposes. First, it accustoms you to the techniques used by the makeup artist and hairstylist, who are then both in a position to guide you toward (or keep you on) a skincare or haircare regimen that helps you look and feel your best at your wedding. Secondly, it allows the artists to get acquainted with your particular skin and hair type, affording them much-needed practice that will result in perfection on the main day.
Though it can be daunting to fork over extra cash for a trial, some makeup artists ask for a reasonable flat rate or combine the cost with that of the overall bridal package, while others charge no more than half of the bridal makeup fee. So it's worth checking if a trial can feasibly be worked out to suit your needs and budget.
Advertisement
The best time to book your bridal hair and makeup trial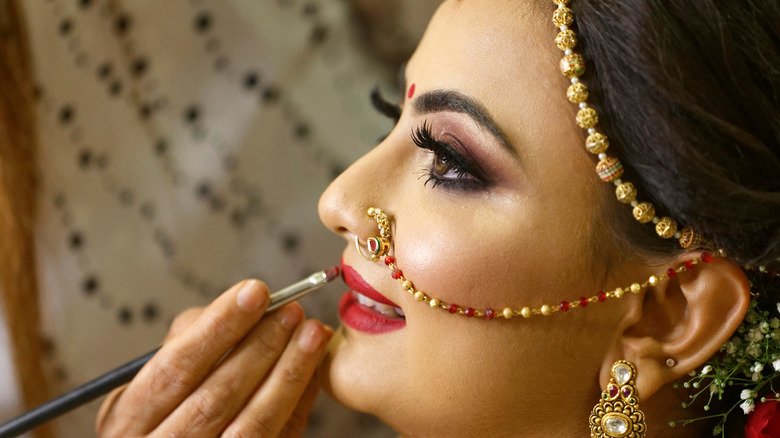 RAMNIKLAL MODI/Shutterstock
Now that you're convinced about the merits of booking a trial, the question arises: When is the right time to do it? Most experts, per Brides, agree that the makeup trial should take place three to six months before the wedding day to ensure both stylist availability and ample time to change your products and overall look if needed. The hair trial can take place one to two months prior to the wedding unless you plan to cut or change the color of your hair before then, in which case you should do it along with the makeup trial to avoid any mishaps closer to the day. This approach can also be useful for previewing the final outcome all at once.
Advertisement
To make the most of your trial when it arrives, there are a few important things to keep in mind. First of all, don't forget to have photos of your preferred looks on hand, but be mindful that these are probably edited or shot in a flattering light and could look different in reality. To get a tailored look that says "you," bring your own makeup to the trial and discuss your existing preferences with the MUA — and come alone so you don't have too many outside opinions to wade through. Most importantly, though, trust the artists: They are professionals and will work hard to ensure you look your best on your big day.