Tips For Choosing Where To Take Your Engagement Photos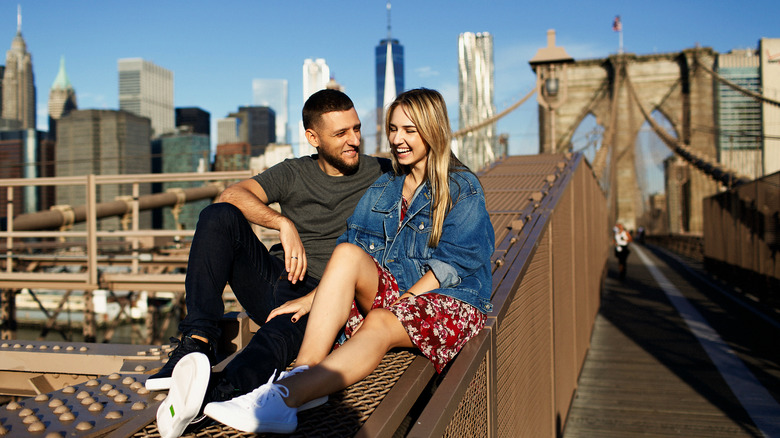 IVASHstudio/Shutterstock
A lot happens between shopping for engagement rings — or engagement ring alternatives — and officially tying the knot. Not only can wedding prep be hard on your wallet, but it's also a time-sucker. The planning process should begin one year in advance, says event expert Nicole-Natassha Goulding via Brides. This involves booking a wedding venue, choosing a dress, scheduling caterers, mailing out invitations, and much, much, much more. As Brides note, save-the-dates typically go out between six and eight months before the wedding to give guests time to book travel, take time off, and so on. It's no surprise that the majority of couples experience pre-wedding anxiety (per Wedding Wire).
In fact, 80% of the engaged couples, relationship coach Matt Morgan counsels, battle wedding-related stress. But don't fret — "Having wedding jitters does not mean that the marriage is doomed or that it's time to call off the wedding," explains relationship psychotherapist and author, Dr. Fran Walfish. As long as you stay on top of that to-do list, tying the knot with your soul mate will be magical.
With all this in mind, it's best to plan your engagement photoshoot two months prior to shipping out those RSVPs (via Brides). In other words, at least 10 months before the wedding. Of course, step one is picking a location. Although the possibilities are endless, typically ranging from the banks of tall waterfalls to your apartment's living room, it's ultimately up to you and your partner.
Consider your most meaningful memories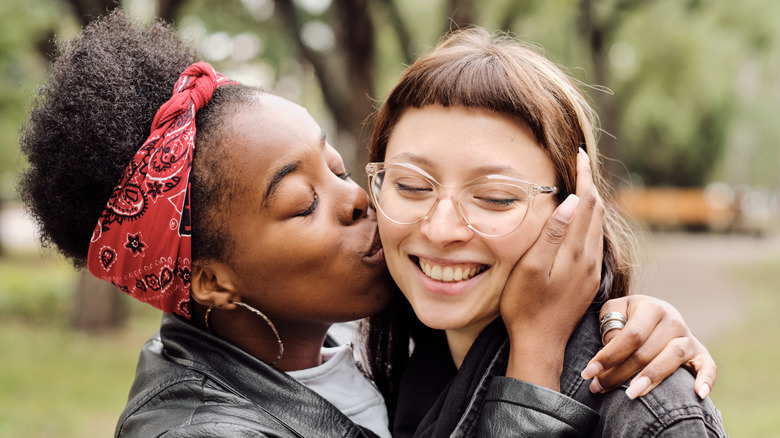 Pressmaster/Shutterstock
Engagement photos are the perfect opportunity to think about your favorite moments as a couple, notes Brides. Pick a nostalgic location, such as your go-to walking trail, an elevated park with a view of your city, or the coffee shop where you had your first date. If anything goes, just talk to your photographer first to work out logistics, especially if your shoot location is a busy local haunt. 
Be sure to investigate the site's rules and regulations regarding photos. For instance, some art museums and historic libraries have policies surrounding camera flash and copyright (via ARTnews). If necessary, secure a permit before the big day or speak with the business owner to get the go-ahead (per Brides). If your ideal location is a popular tourist attraction, like the Brooklyn Bridge or the top of the Empire State Building, schedule around during off-season or after hours. In the worst-case scenario, a practiced editor can digitally erase unwanted background characters. Idalia Photography even recommends venturing back to the site of your proposal. When in doubt, a touch of nostalgia will make your invites look special.
Aside from capturing fun photos, using the same cameraman for the wedding as you did for your engagement shoot benefits you more than you think. Cincinnati-based photographer, Molly King, explains to Brides, "It also helps you establish a relationship with your photographer so you're comfortable with them, and vice versa."
Get adventurous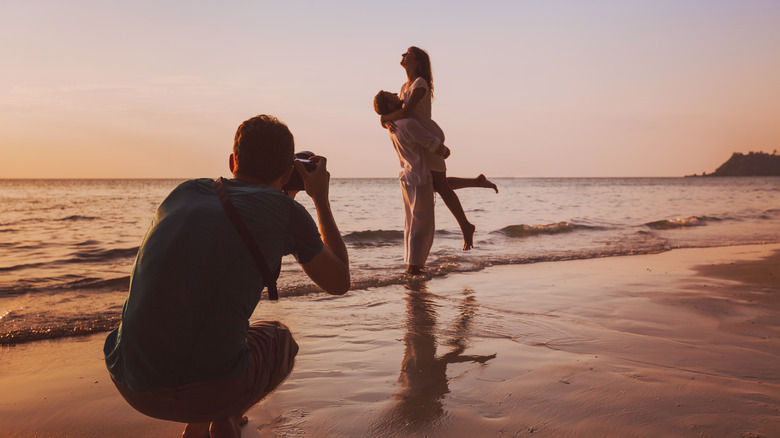 Song_about_summer/Shutterstock
As photographer Molly King tells Brides, she likes when couples are up-for-anything. "I'm always driving around and scouting out new or lesser-known photography spots, so I'm excited when a couple asks for my opinion." Take a trip to an amusement park and try out a rollercoaster photo shoot, or lace up your walking shoes and venture to the scenic peak of a hiking trail (per Brides). In other words, don't shy away from action shots or inclement weather. Instead, pose in the waves or on a row boat, and hold up an umbrella during a flash rain storm. If you're feeling extra creative, put your own spin on the classic engagement pic with pets and props, like bubbles, books, your new puppy, or really whatever represents your shared interests and life together.
As for the time of the year, King clarifies via Brides, "I think spring and fall are the best times because you avoid extreme temperatures and still have pretty, colorful foliage—while avoiding dormant and bare trees in the winter." So, if you can, avoid midday when the glare of the sun could get in the way. Just before sunset or sunrise are ideal times.
Given the means, Brides also recommends scheduling your engagement shoot around an upcoming couple's getaway. With this, you'll have a whole new set of natural scenery and historic landmarks to choose from. At the very least, a vacation will help you and your fiancé decompress during those stressful pre-wedding months.