Gilet: The Fashion Item You Don't Know By Name But Love In Practicality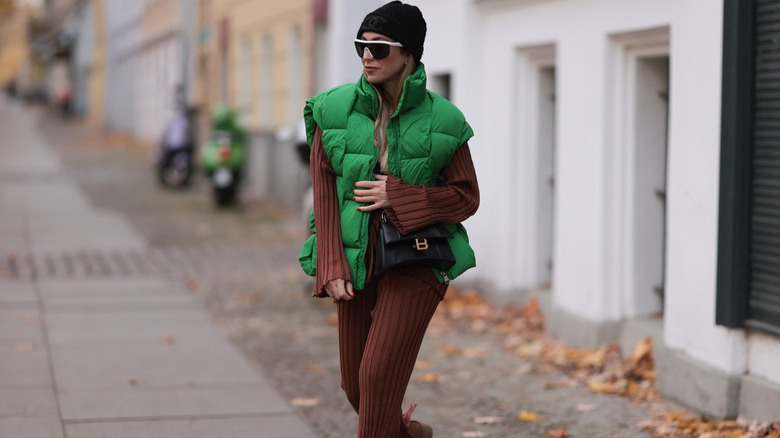 Jeremy Moeller/Getty Images
"Gilet" may not be in your everyday dictionary but it's most likely already hanging out in your closet. These clothing pieces are one of the winners of recent fashion trends as their popularity has undoubtedly taken over. While gilet is definitely a chic name for a clothing piece, it simply is the French synonym for the piece known as the vest. So while we all know what vests are, gilets are a much nicer way of explaining that they are sleeveless jackets. Apart from being chic clothing pieces, gilets are versatile and can be used in various circumstances. Depending on the season, you can find these trendy pieces in a variety of fabrics to match your style.
Advertisement
Gilets can add an extra layer to an outfit, providing warmth without the bulk of a jacket. This makes them a popular choice for transitional seasons, such as spring and autumn, when the weather can be unpredictable. Fashion influencers and celebrities have been seen wearing them in different ways, such as layering them over oversized shirts, pairing them with jeans, or even wearing them with dresses. With the increase in popularity in gilets, there's no doubt that we'll be seeing them more often.
Add a pop of contrast
Because gilets act as a fashionable third piece, you can easily use them to add a bit of contrast to your ensemble. Add an extra flair to your outfit with a fashionable puffer vest in a contrasting color to help bring another dimension to your look. Gilets are versatile and can take your look to the next level, making them a must-have in any wardrobe. Opt for a gilet in the same tone but in a lighter or darker hue for a complete ensemble. A contrasting piece is always a great idea, whether you're dressing up or down.
Advertisement
Play with textures
A textured gilet adds visual interest and depth to your outfit, making it more appealing. It can be made from a variety of materials, such as faux fur, quilted fabric, or knitted wool, which can create different textures and patterns that add dimension to your outfit. Reaching for one of these vests can result in a statement piece that elevates even the most basic outfit. A textured gilet can also provide warmth and comfort during colder seasons, without the added bulk of a full jacket.
Advertisement
Shearling is always in style
Shearling is known for its warmth and durability. It's typically made from sheepskin that has been tanned with the wool still intact, which means that it provides excellent insulation against the cold. This makes a shearling gilet a great choice for wearing during the colder months. It also has a luxurious and timeless look that can elevate any outfit. This type of vest has a soft and plush texture that adds even more depth to your outfit, and it has a natural look that pairs well with a variety of other materials.
Advertisement
Neutrals are always a good choice
A gilet in a neutral color can be a great addition to your wardrobe because these are versatile and can be paired with a variety of other colors and patterns. Any neutral piece is ideal for building a wardrobe that can easily be paired with anything, and a neutral-colored gilet provides a classic and timeless look that never goes out of style. It is a versatile piece that can be dressed up or down, making it suitable for a variety of occasions. Because of its neutrality, these gilets are not limited to a particular color trend or season. This makes it a worthwhile investment that you can wear for years to come.
Advertisement
Layer your gilets
Layering your gilets can be a great way to create a stylish and unique look. This technique also provides extra warmth and insulation during colder months. By layering a thin gilet over a thicker one, or layering a gilet over a sweater or shirt, you can create a cozy and stylish look that keeps you warm and comfortable. This way, you can create multiple looks without having to buy new clothes. You can use this to save money and make the most of your existing wardrobe.
Advertisement