How To Style All Of Your Vests To Fit Your Aesthetic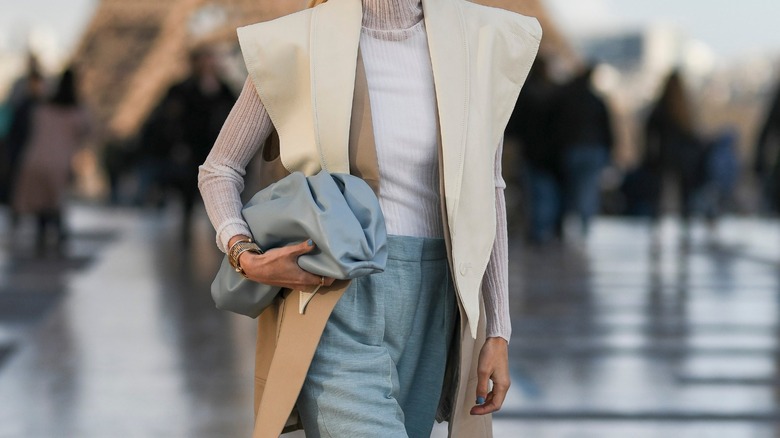 Creative Lab/Shutterstock
No matter how you wear them, vests add an instant upgrade to any outfit. Easy to layer, naturally chic, and available in a wide variety of styles, vests are a wonderful complement to your wardrobe should you be trying to level up your fashion sense. They also happen to be on-trend year round, per Byrdie. But really: have vests ever actually gone out of style?
Vests were originally made for men throughout history (though this is not to say women did not participate in androgynous dress in centuries prior). Known as a "waistcoat," these sleeveless garments were traditionally worn under suit jackets after being introduced by King Charles II in the 17th century, per Bespoke Unit. Often stitched with elaborate, expensive embroidery and stained with delicious dyes, waistcoats then screamed wealth. As the years progressed, the waistcoat persisted, and by the 20th century, the waistcoat became or less standard issue when worn with a suit, per Love to Know. Particularly in the 1920s, women, queer and gender-diverse people would also wear a waistcoat to "reclaim the symbolic cultural power the vest has held throughout its history," per Fashion Magazine.
Fast forward to the 1970s and waistcoats, now evolved into vests, were ubiquitous. Appropriated by the counterculture movement in the United States, vests then subverted the expectation of wearers as buttoned-up businessmen and were instead worn by the masses, per Flashbak. After another resurgence in the 1990s, the vest earned its status a wardrobe staple; now, it can be a staple in yours.
Versatile enough to dress up or down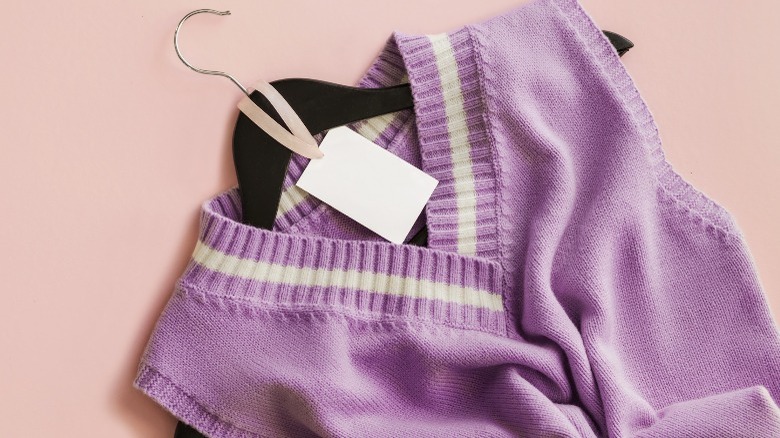 MTetiana/Shutterstock
Whether you're going for the refined, light academic aesthetic or dreamlike cottagecore aesthetic, there is a vest out there for you. To start, there are several different styles of vest that we are most drawn to this season.
The first is the sweater vest. In particular, we love that it can be worn as the shirt itself instead of as a layer, with or without anything underneath, a la Bella Hadid. Sweater vests come in a range of fun prints and retro colors (like this checkerboard sweater vest from ASOS) as well as neutrals for that smart, casual look (like this cream, collared sweater vest from H&M). Depending on your aesthetic, sweater vests can be worn tightly knit for a more fitted sensibility, or oversized for that laissez-faire vibe.
We are also crushing on the long vest this season, which functions almost like a sleeveless cardigan. The long vest can be slightly more structured than a sweater vest, like this V-neck collared vest from Zara or this double-breasted blazer vest from Forever21, but still versatile enough to dress up or down. Hearkening back to its roots as a garment of flare and expression, long vests are also perfect for adding a splash of color to your outfit, like this gorgeous deep green collared vest from Zara. Pair your long vest with wide-leg trousers or cropped flares, and you absolutely have a winning outfit.
Match every aesthetic imaginable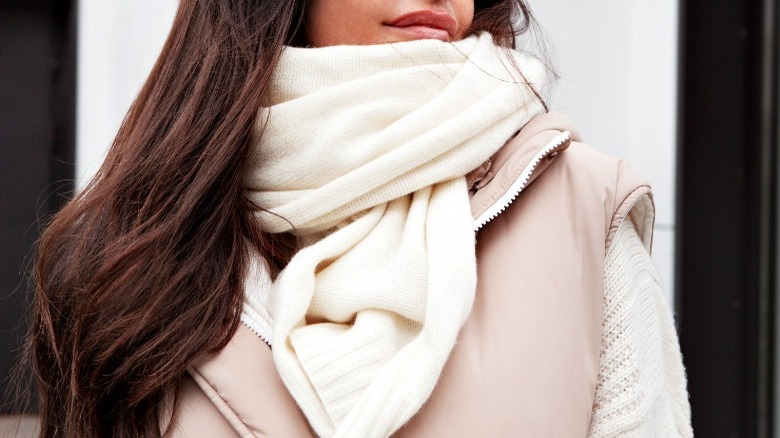 Anna Zhuk/Shutterstock
But of course, one can never go wrong with the classic short vest. These vests can match pretty much every aesthetic imaginable. Combining the history of the vest as a boldly embellished garment and one used to subvert gender norms, this short vest from Zara hits all of our marks: while it is cut like a tailored vest, it is actually knit like a sweater vest, and features fun, floral embroidery. For that classic look, Cider offers a short vest made from recycled materials, all for $20. And should you be looking for a vest to match your trendy grunge aesthetic, then H&M offers a short, faux leather vest for $17.99.
Last but not least, we all know that puffer jackets are the trend of the season. Should you want to go full gorpcore aesthetic with a vest to boot, look no further than this cropped, oversized puffer vest from Hollister in a subtle sage green. Fleece vests are also the perfect way to achieve that outdoor aesthetic, and this fleece vest from ASOS with moss-green lining and a little front pocket is a wonderful combination of utilitarian and comfortable.
No matter what era of aesthetic you are in, vests have long been a garment rooted in both personal and collective expression. Now you can wear your own!