20 Ideas For The Ultimate Double Date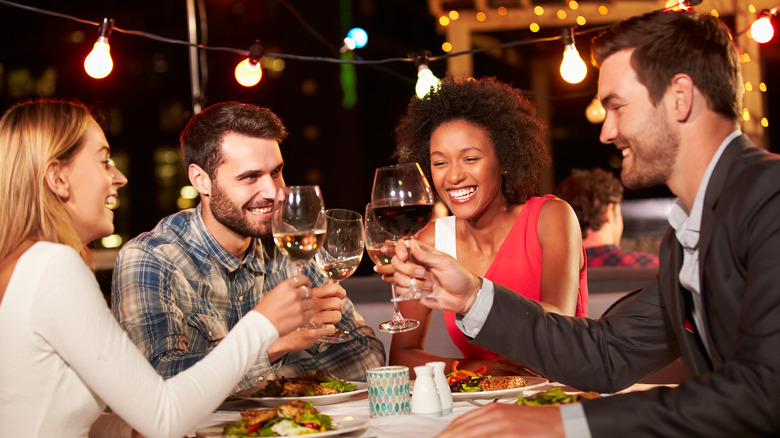 Monkeybusinessimages/Getty Images
There's something fun and exciting about planning double dates when you're in a relationship. Maybe your best friend is dating someone super cool or your partner has a best friend who's dating someone you adore. However your double date comes to be, the most important factor is that you narrow down some enticing activities that will keep everyone engaged and entertained. One-on-one dates with your significant other is easy enough because all you have to do is focus on the happiness of your person. 
Making sure your partner is having a good time on a one-on-one date doesn't require tons of planning if the two of you are comfortable with each other and you already have lots of past dates under your belt. It gets a little more complicated when you add another couple into the mix because you want everyone to walk away feeling like they had a wonderful shared experience. These are some of the best and most creative double date ideas to consider.
Miniature golfing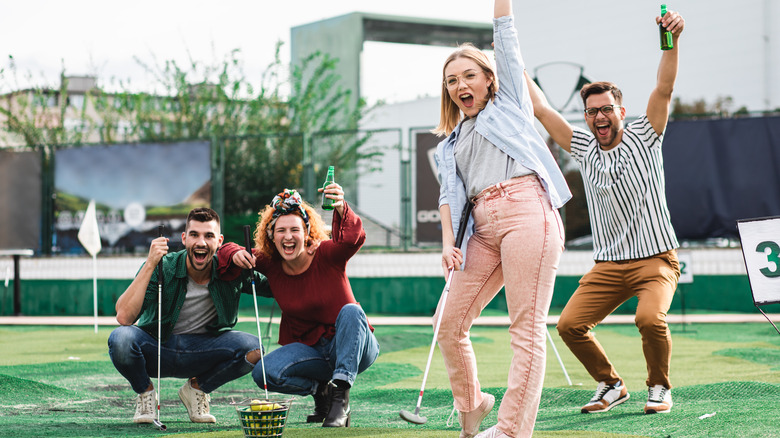 Zoran Zeremski/Shutterstock
Miniature golfing is a fabulous double date to try since it gives everyone the chance to showcase their competitive side. You might not be super competitive in nature, but when you're counting up points with your significant other and another couple, it's possible that side will come out of you in an unexpected way. As long as everyone is a good sport and no one is a sore loser about coming in last place, miniature golfing can be one of the most exciting double dates ever. 
Based on where you live and how the weather is looking, you can choose miniature golf courses that are indoors or outdoors. Indoor golf courses are amazing because they're typically decked out with tons of cool lights, decorations, and fixtures. Outdoor golf courses can be picturesque since you'll be able to catch a gorgeous sunset if you book a time slot in the early evening.
Paint & sip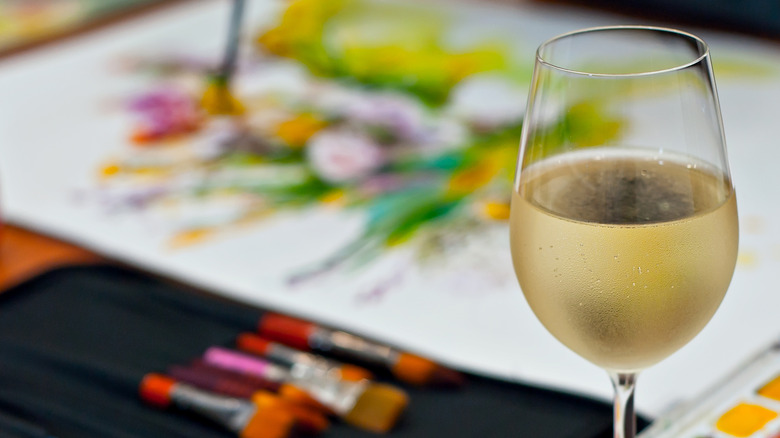 Ivan Kovbasniuk/Shutterstock
Paint and sip dates are top-notch options for double dates since they give you the chance to paint beautiful pieces of art while sipping on beverages of your choice. Whether your double date crew has a preference for alcohol or not, paint and sip businesses offer tons of delicious drinkable options. If everyone's in the mood to drink alcohol, cocktails and beers are usually available. If all of you would rather keep a sober mind, paint and sip businesses usually offer mocktails and virgin drinks on their menus too. 
When everyone starts painting their canvases and following directions from the instructor, it turns into a super creative and artistic experience. At the end of a paint and sip double date, everyone will have their own paintings to admire and compare. You can have a humorous discussion about whose painting came out looking the best, and whose painting looked like, well, they shouldn't quit their day job!
Local sporting event or game on TV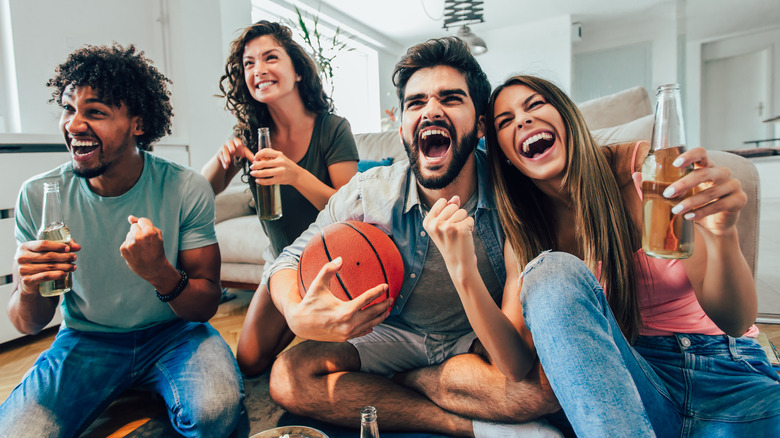 Jovanmandic/Getty Images
It's hard to go wrong with local sporting events when it comes to having a good time on a double date. As long as you're all able to sit together, you'll enjoy the sporting event as a group. Collectively cheering for one team will bond you since you have one common goal in mind. 
If you're watching basketball, your group can make a playful game out of how many baskets specific players are able to make within each quarter. If you're watching football, you can do the same thing with touchdowns. The same idea can apply to baseball, lacrosse, soccer, and any other sport you choose to watch. The main factor to keep in mind is that whatever sporting event you go to should be something everyone in the group actually finds entertaining.
Also, you do not need to buy stadium tickets to enjoy a double date sporting event. Just have the date at your house — and enjoy the thrills with food and drinks in the privacy of your own home. 
Concert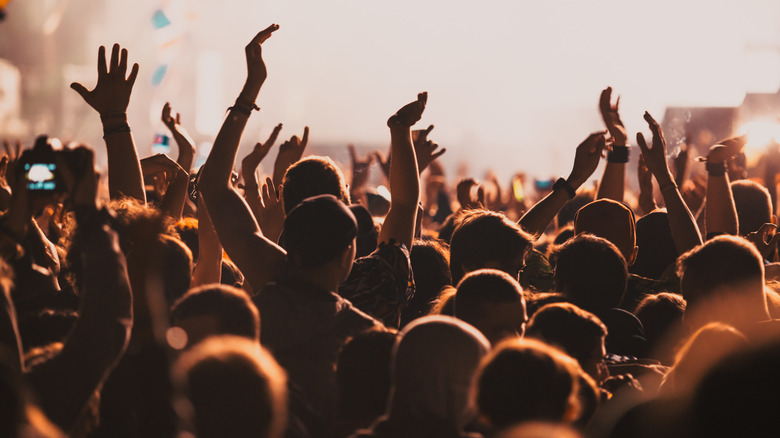 Melis82/Getty Images
Going on a double date to a concert is an exciting idea for a pair of couples who enjoy the same music. When you and your partner link up with another couple to attend a concert together, the four of you can belt out lyrics to your favorite songs. Music brings out the best in people, so this is undoubtedly going to lead to a magical bonding experience. The easiest way to make sure this double date idea turns out well is if everyone included actually knows songs that are going to be performed — at the very least, you're all big fans of the music!
If one person in the group isn't knowledgeable about any of the music being played, they might end up feeling left out and bored for the duration of the concert. It's important that everyone feels included during a double date, which means you might need to take some time to educate a member of group (beforehand) about music they can expect to hear at the concert.
Bowling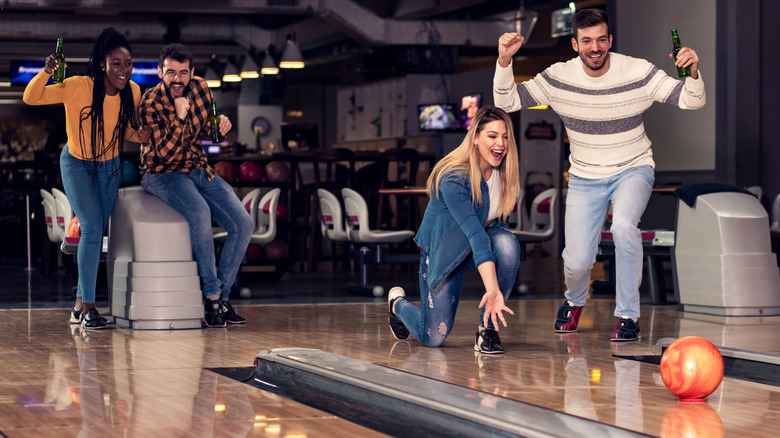 Zoran Zeremski/Shutterstock
Just like miniature golfing, bowling is another fun double date idea that will pull out everyone's competitive side. When you go bowling, you don't need to take note of everyone's points on a sheet of paper — that's old school! Typically, there are digital screens that keep track of everyone's success as you roll bowling balls down lanes. Bowling is a wonderful double date to go on since it gives you the chance to cheer each other on when someone successfully knocks all the pins down in one roll. 
It's called a strike if someone can pull that off, and it isn't the easiest thing in the world to accomplish. When you go bowling with a group, everyone takes turns trying to knock down as many pins as possible. Observing everyone's different stances as they bowl, taking videos of each other's turns, and having fun with silly dance moves whenever you do well is part of the excitement.
Wine tasting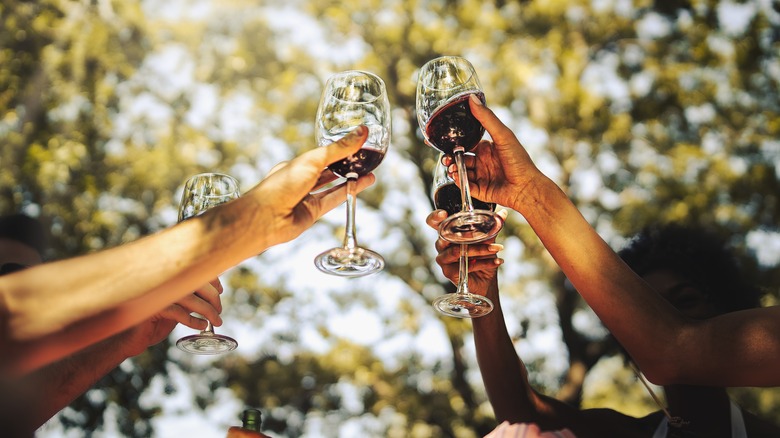 Lomb/Shutterstock
Depending on everyone's individual taste for wine, a wine tasting event could potentially be an incredible double date option. This date only works if everyone is on the same page about tasting a variety of wine. Some people might not be interested in consuming alcohol in any form. If that's the case, a wine tasting double date simply doesn't make sense. If everyone is comfortable with the idea of tasting and learning about different varietals, pairing treats with them on the side, and enjoying a pleasant ambience, wine tasting events bring all of that to the table. 
Wine tasting events give everyone an opportunity to explore red wines, white wines, sparkling wines, dessert wines, fortified wines, rosé wines, and more. The amount of wines to explore is endless. If your double date group ends up drinking a little more than intended, it's important to make sure you have a safe ride home whether you choose to order an Uber, Lyft, or call a taxi.
Scavenger hunt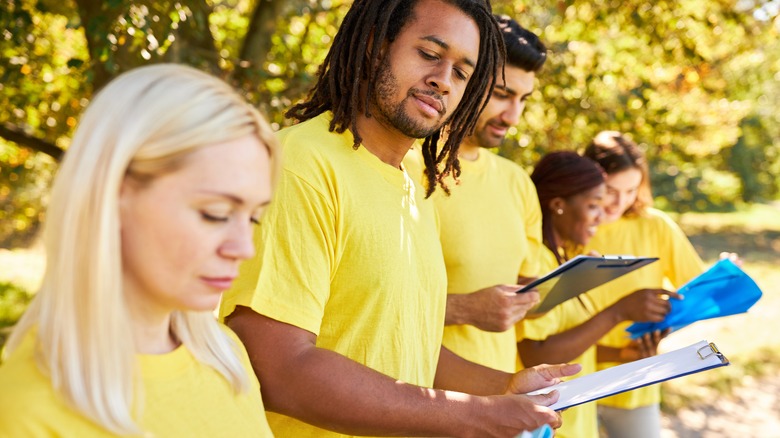 Robert Kneschke/Shutterstock
Coming together with people you care about on a double date to attempt a scavenger hunt is a great bonding experience. When everyone is teamed up to find certain items on a list throughout different areas of a specified location, it forces you to work together in a way you wouldn't need to otherwise. There are plenty of different ways you can go about participating in a scavenger hunt. 
You can set one up yourself in your desired location by making a list and placing items to be uncovered. You can also sign up for a public scavenger hunt that's local to your city. Local scavenger hunts that are available to anyone who signs up will give you the chance to meet other adventurous people who are interested in doing the same things. And who knows — maybe you'll meet some new people!
Local museum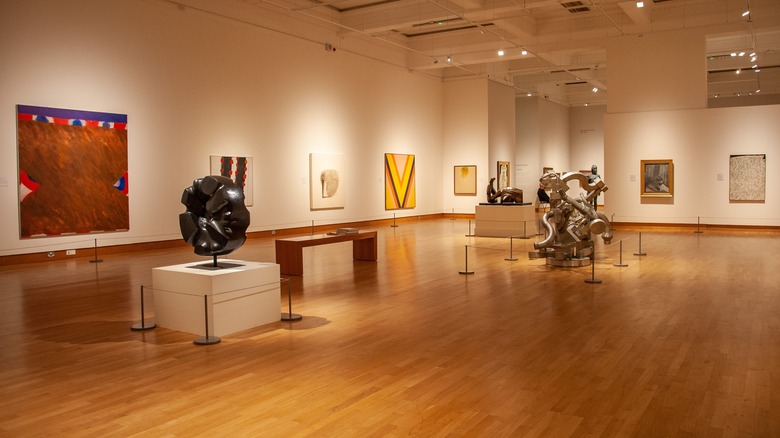 Nina Alizada/Shutterstock
A museum is a thoughtful backdrop for a double date since it gives everyone the opportunity to take note of interesting visuals special to them. Depending on the theme of your museum, you and the people in your group might learn several historical facts that you can discuss. You might also brush up on various cultures. If you choose to visit a museum filled with art instead of ancient artifacts, you could challenge your analytical brain — and everyone will be able to point out and interpret things they like.
From there, you can have open dialogue about why certain things stand out to you more than others. Museums help get deep conversations started because you and the people in your double date group will have so much to talk about based on the various artifacts or art pieces you're observing. The good news about visiting a museum is that they are usually inexpensive or free to enter — at least on certain days of the month. 
Nature hike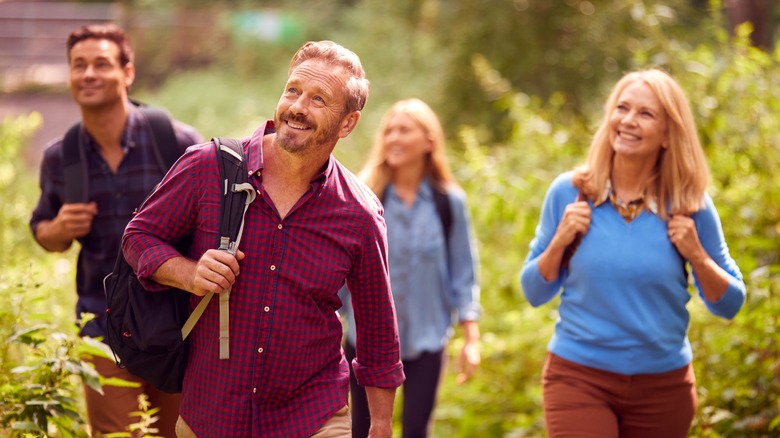 Monkey Business Images/Shutterstock
If the people in your double date group don't want to spend money, going for a hike in nature is a top-notch plan to lean on. Even beautiful easy-going trails can provide gorgeous scenic views. If everyone in the group is on the same page about wanting to break a sweat by getting exercise, you can decide on a trail that's a little more challenging with some uphill areas to climb. 
This type of double date is especially fun if anyone in the group has a dog they'd like to bring along. Dogs appreciate any chance to get into nature so inviting one along during an outdoorsy double date only adds to the fun. Hiking dates can be especially romantic if the visuals and weather are on point — and you can even pack a picnic and find a perfect spot to sit and have a bite. 
Also, hiking as a group gives everyone the opportunity to open up and share some candid dialogue since you're out in nature with nothing to distract you.
Karaoke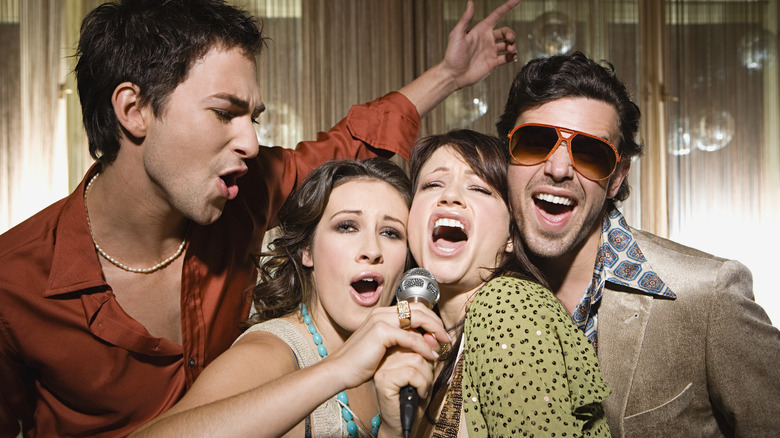 Image Source/Getty Images
Karaoke is one of those activities that's significantly more fun to do with a group. When you're on a double date with another couple, mentioning karaoke as an idea for an evening plan will probably get everyone feeling fired up with excitement. It's possible that one or more of the people in your double date group will be a little too shy to enjoy karaoke — but if everyone's on the same page, it can be brilliant fun!
Some important things to keep in mind when deciding on karaoke are the location and song choices. Your group may opt for a private karaoke room that only accommodates the four of you. But if you're all game, you could choose to perform karaoke songs in front of an entire club, bar, or lounge. Sing with your significant other, split up based on gender, or grab the mic and go solo by taking individual turns.
Beach day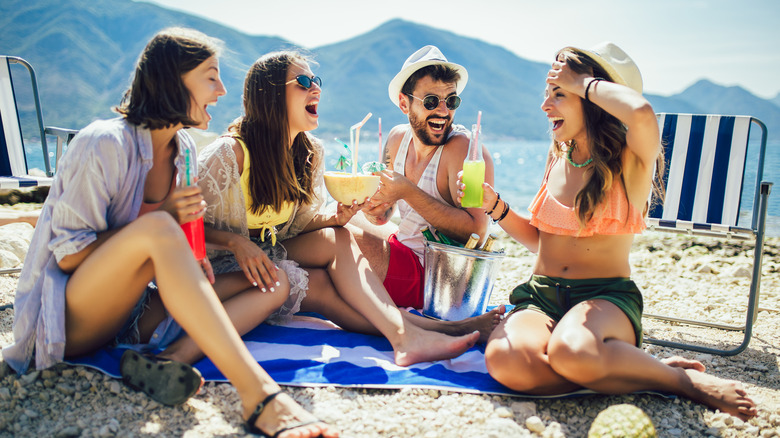 adriaticfoto/Shutterstock
A beach day could be the most enjoyable double date to plan, depending on how awesome the weather is. Casual beach days only make sense if you live in a coastal area that touches the water's edge. The best thing about planning a beach day is that you and the people in your group get to swim, picnic near the water, build sandcastles, and take fun pictures.
You can also bring the right sports equipment to play beach volleyball, toss footballs, and enjoy some ultimate frisbee. Beach days allow you and your group to bask in the sunshine, ride the waves, and chill out. Beach days are perfect for groups of people who feel comfortable wearing swimsuits in front of each other. If someone in your double date group isn't feeling super confident about their physique, this idea is something you might want to reconsider — or postpone for a later date.
Laser tag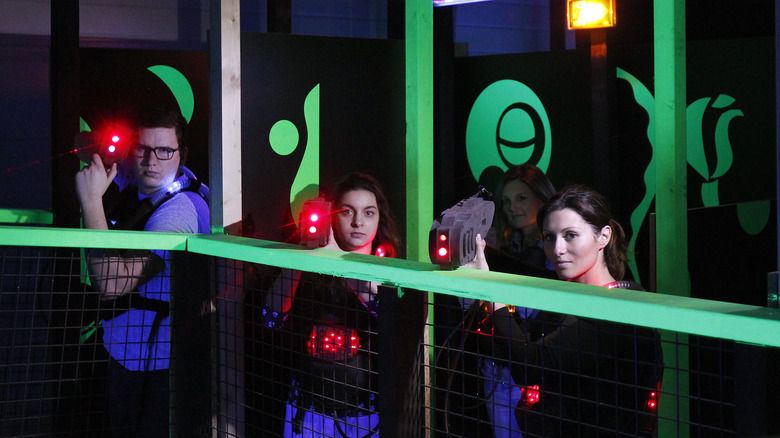 Chesnot/Getty Images
You might think of laser tag as being an activity that should be set aside for young kids. But laser tag is actually a fun double date idea for people of all ages — even as an adult you can enjoy laser tag just as much as you would if you were still in middle school. This is another double date idea that sheds light on just how competitive (or not) all of you are. 
The goal of laser tag is to shoot as many beams at people you're competing against in order to come out on top. The more laser beams that accurately hit the target (your opponents), the higher your chances are of succeeding on the points board. If you already know you don't have the best aim in the world, you can go into a laser tag game with zero pressure — and still have a blast without being the ultimate winner. You can either go solo or work as teams to rack up the points!
Axe throwing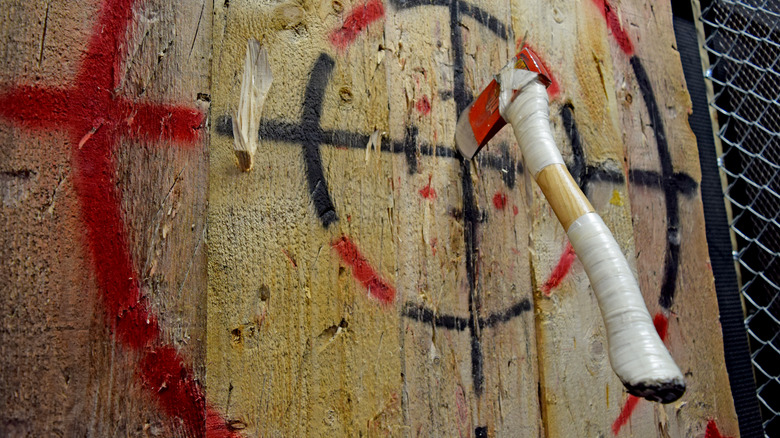 Aldo_Parrotta/Shutterstock
Axe throwing is an entertaining double date idea for couples who enjoy the thrill of an adrenaline rush. You might not be big on the idea of riding massive roller coasters, but you can still experience some of that similar excitement with an activity like axe throwing. This is a great double date for people who have some pent-up aggression to release as well. At the end of the day, this type of date is meant to be approached lightheartedly and all in good fun. 
You and the people you're with can challenge each other to see who does the best in terms of aim and strength as you go. You don't need to be super strong to be successful with throwing an axe, but it might take you a few tries until you're comfortable enough to say you've got the hang of things. Unfortunately, it's possible to injure yourself while participating in axe throwing since you're dealing with dangerous and heavy items. If you're not extremely careful, axe throwing can lead to cuts, bruises, and possibly even death. Following all the rules is an absolute must.
Ice skating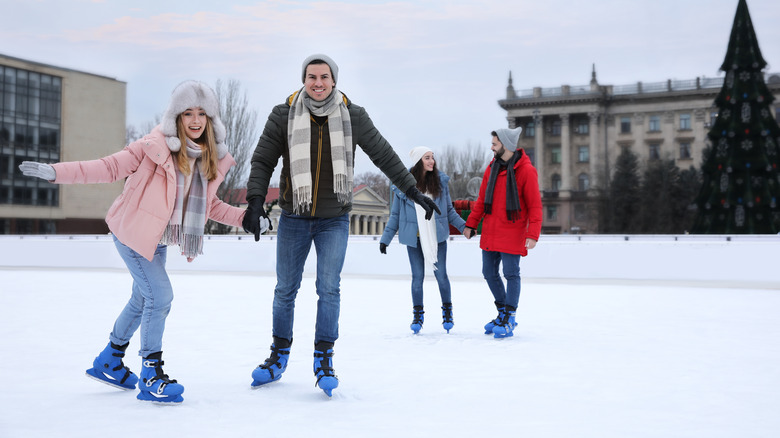 New Africa/Shutterstock
A double date to an ice skating rink is one of the more romantic ideas to fall back on. The only way you can go wrong with an ice skating double date is if one or more members of the group doesn't have enough balance to enjoy their time wearing ice skates. As long as everyone is game and with similar ice skating abilities, finding a rink that's open and available year-round is typical in most cities. 
While ice skating on a double date, everyone involved can show off the impressive tricks they know — spins and twirls come to mind, along with skating backward. Ice skating rinks also happen to be some of the best backdrops for group pictures. It's vital to make sure everyone dresses warmly with long socks, pants, and gloves for as much comfort as possible. Because, you know, ice skating rinks can be chilly!
Cooking class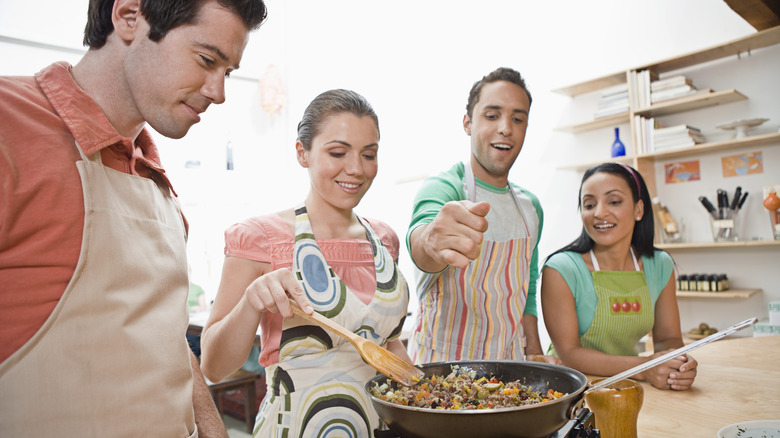 Jupiterimages/Getty Images
It's possible that you or another member from your double date group isn't super talented in the kitchen. If this happens to be the case, a double date to a cooking class would be an enjoyable activity. Not only are cooking classes entertaining, but they are also informative. You get to walk away with knowledge you didn't have — about new recipes, ingredients, and kitchen utensils. 
You also get to end your cooking class chowing down on whatever meal the instructor guided you to make. Cooking classes are ideal for people at all levels including those who are confident in the kitchen. This type of double date will give people who enjoy cooking time to shine since they'll already know some of the more common culinary steps. It will also sharpen the skills of anyone who isn't too comfortable with cooking.
Boat sailing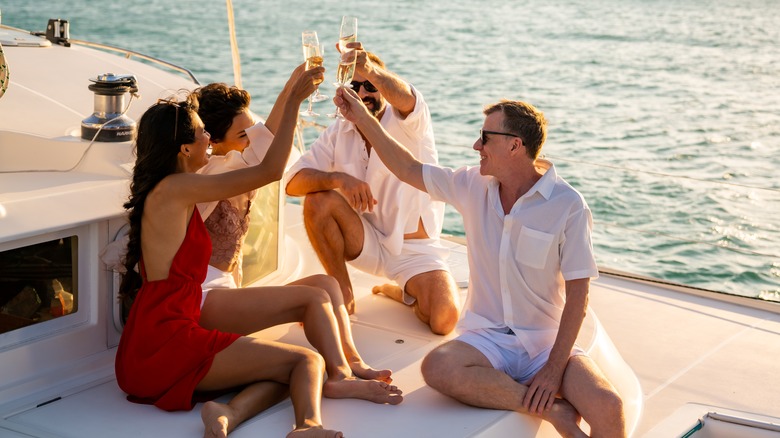 CandyRetriever/Shutterstock
There's something freeing and exciting about sailing on a boat. When you have wind blowing through your hair and you see open waters all around you, it can fill you up with tons of happiness and gratitude for your life and current circumstances — along with having a sense of calm and peace. For these reasons, boat sailing is a wonderful double date idea for couples who enjoy spending time on the water. You can plan for a double date on a boat in the ocean or at a lake. 
One person in the group needs to be licensed to drive (sail) a boat wherever you're headed. If no one is licensed, you can sign up for a group boating excursion, and the company will provide the captain. There's tons of fun to be had on boats — eating good cuisine, enjoying music and sunshine, and jumping into the water for a swim all come to mind. 
Picnic at the park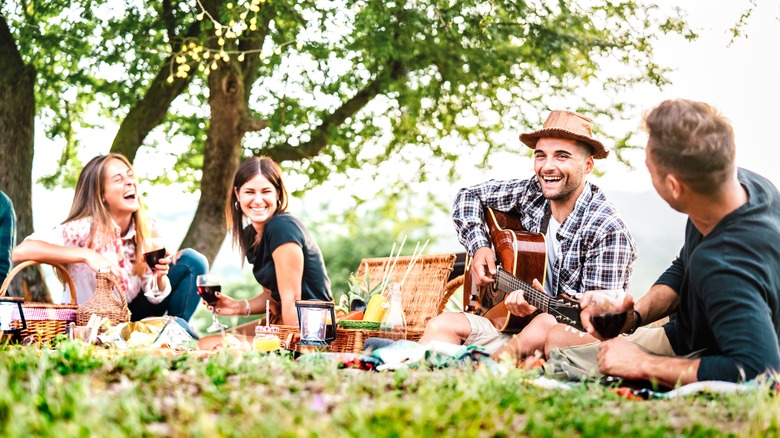 View Apart/Shutterstock
As simple as this double date idea might sound, a picnic at the park is a great opportunity for everyone in your group to get to know each other a little better. It's also a chance for everyone to contribute if you treat it like a potluck. A double date picnic means everyone shows up with a food item of their choosing. One person can be in charge of drinks, someone else can supply the appetizer, another can bring the entrée, and the dessert is also delegated. 
This way everyone feels included and everyone knows there will be at least something they'll enjoy eating with the group. When you sit down together for a picnic, there aren't any TV screens to distract you from making quality connections. Picnics often take place outdoors at public parks and other areas with lots of openness and greenery. Everyone will be able to easily engage in conversation with each other — particularly if you collectively decide to pocket your phones!
Illusionist show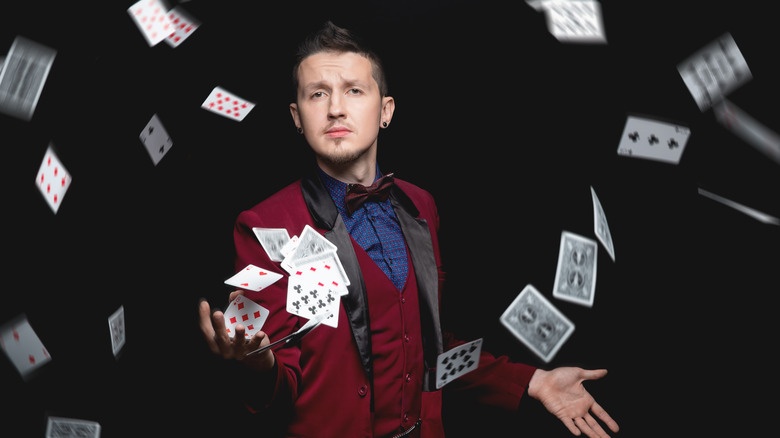 Parilov/Shutterstock
Going to illusionist shows can be super exciting for people who don't know what to expect when walking in the door. Illusionists are trained to shock and surprise members of their audience with different tricks they have up their sleeves. They might do card tricks or utensil tricks, and they may even attempt to read your mind. If anyone in your double date group is skeptical about the talents of an illusionist, it's fun to make sure they get called on by the illusionist at one point or another during the show. 
Illusionists rely on powerful psychological tricks to make members of their audience see and believe different things during their time on stage. It's their job to leave you feeling stumped about how they're able to pull off such impressive and unforgettable feats. The most intense and mind-bending tricks will have you and the people in your double date group rehashing the experience for hours.
Comedy show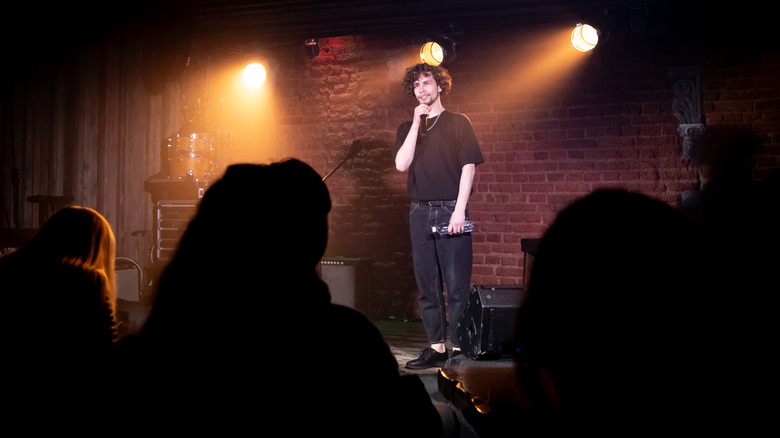 Supamotionstock.com/Shutterstock
Hitting up a comedy show for a double date is a fabulous idea when you're part of a group that absolutely loves to laugh. It's true that comedy shows can be hit or miss depending on the comedian — but for the most part you'll likely end up cracking a smile and laughing at least a handful of times. This double date idea is perfect for two couples who are trying to break the ice with each other as well. 
When you share a humorous experience where you all find several of the same jokes funny, it can instantly help you feel bonded with each other. Some comedy shows focus on one sole comedian taking the stage and doing their thing. Other shows feature multiple comedians who take turns telling as many hilarious jokes and anecdotes as possible. This is also the type of place where you and the members of your group can enjoy alcoholic beverages if you so choose.
Game night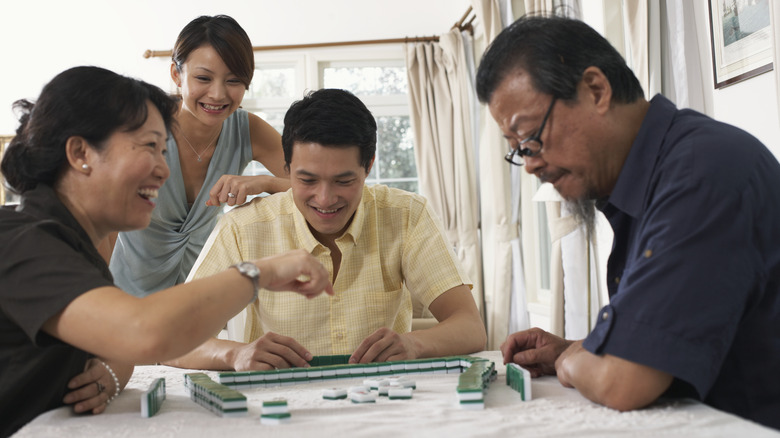 Pinnacle Pictures/Getty Images
You don't have to leave your home for the perfect double date if you decide to host a game night. When hosting the best possible game night, you must make sure you have some super amusing games to play. If everyone is on the same page about playing board games, having popular options such as Monopoly, Scrabble, and Jenga on deck is necessary. If folks love video games, you should have a multiplayer system up and running with enough controllers for everyone.
Game nights are great for gauging each person's sense of humor and maturity when things don't work out their way. It's never a treat to deal with sore losers, but each game typically ends up with at least one. You can make a double date game night even better by having the right snacks, drinks, and music playlist to create a more pleasurable ambiance.