All The Inspiration You Need For The Most Romantic Winter Dates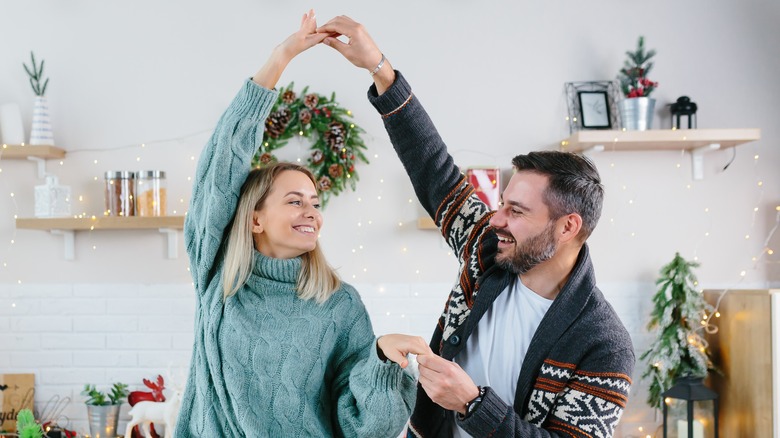 voronaman/Shutterstock
There's something incredibly magical about the winter season. Whether you live in a place that snows or not, the winter season is spectacular because it's filled with holidays and endless chances to get together with friends, family members, and loved ones. If you're going on a first date with someone in the middle of winter, you can narrow down your options to find the perfect setting and activity. 
You might be in the mood to cuddle with your partner somewhere warm as the temperatures are dropping, but that doesn't mean you can't still plan out some thoughtful, exciting, and unforgettable dates as well. Are you looking to do something immersive with your partner that will stay in both of your memory banks forever? Are you simply hoping to do something that will allow you both to stay warm and toasty? Here are several romantic options to consider when booking your next date.
Go ice skating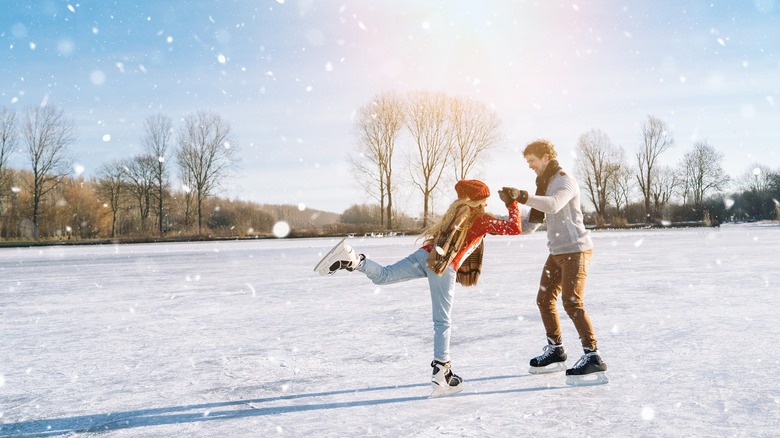 OlenaPalaguta/Shutterstock
There's nothing cliché about a romantic ice skating date. Ice skating dates top the charts for being incredible since they give you a chance to hold onto your partner as you glide around the ice. This type of date gives you a chance to show off your vulnerable side if you aren't super athletic with perfect balance.  
Your partner might find it sweet and endearing if they have to help you stay on your feet throughout the course of the date. Ice skating serves as an awesome icebreaker to help couples move past the awkward stage of just getting to know each other as well. Helping each other up after one of you falls down gives both of you a chance to show off how nurturing you each can be. If you have amazing ice skating skills to show off, you can impress your partner just as much that way too with some excellent spins and tricks.
Visit a local Winter Wonderland festival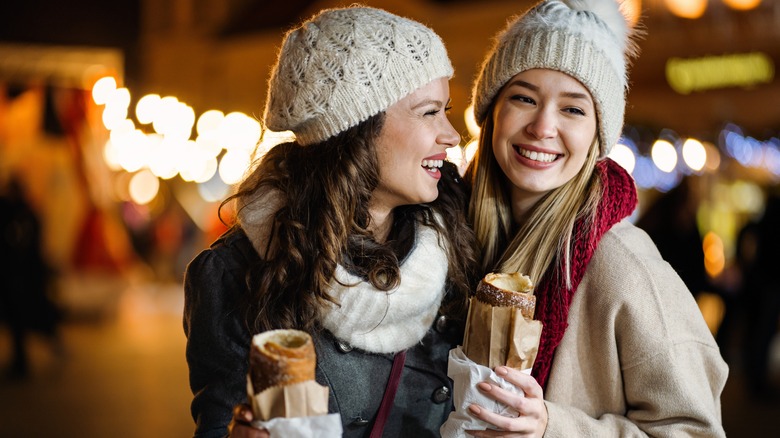 NDAB Creativity/Shutterstock
Most towns are happy to set up local Winter Wonderland festivals for anyone in the area to visit and enjoy. Winter Wonderland festivals can be quite celebratory with illuminated lanterns, family-friendly entertainment, handmade crafts, pop-up gift shops, and thrilling rides to try out. Even warm places like Las Vegas, which is surrounded by desert, have the capability of creating a Winter Wonderland during the holiday season. 
Regardless of where you live, and regardless of if there is snow, you can experience the true magic of a Winter Wonderland vibe by attending an awesome local festival. Winter Wonderland festivals tend to offer delicious food options, alcoholic beverages, live performances, and other modes of entertainment. You might run into several families with small children at your local Winter Wonderland festival, but you'll also notice that these are great places to go on romantic dates. Winter Wonderland festivals give locals so much to enjoy and look forward to annually.
Airbnb out a cozy cabin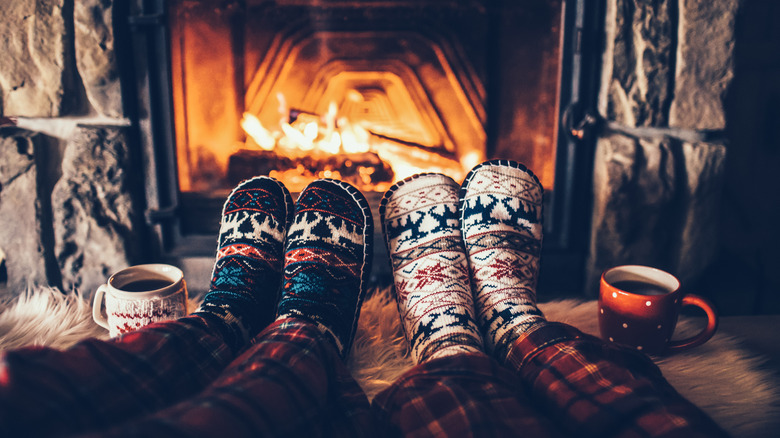 AlexMaster/Shutterstock
Opting for an Airbnb inside a cozy cabin in a snowy mountain town is a great idea for any couple who lives in a place that doesn't naturally experience snowfall. Some of the most romantic cabin getaways you can consider while searching for Airbnbs include Dutton Hot Springs, Colorado, and The Hideout, Wyoming. There's something very heartfelt, sweet, and relaxing about disappearing into a cozy winter cabin with your partner.
It might feel like the two of you are taking a break from the bustling and busy reality of the world. Cozy winter cabins that are available on Airbnb offer the ideal setting for couples interested in calm quietness, peace, and privacy to share as much affection as possible. Cozy winter cabins are often located in mountain towns that offer a range of fun activities and gorgeous views. You might also consider booking an Airbnb in Twin Farms, Vermont, or Sorrel River Ranch, Utah.
Hot tub in the snow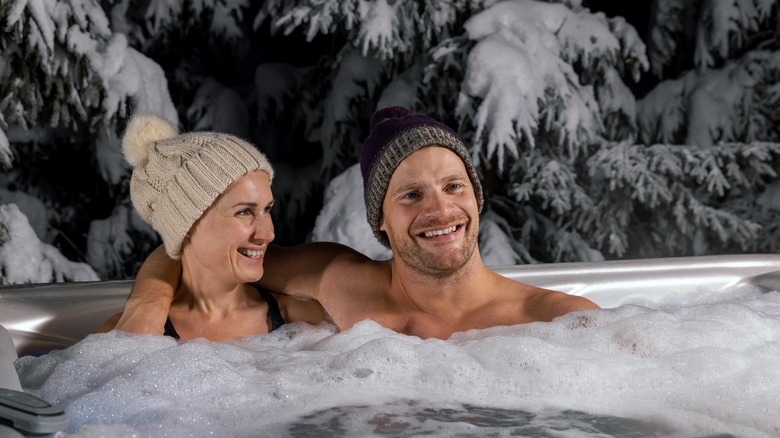 ronstik/Shutterstock
Have you ever considered experiencing the warmth of a hot tub in the middle of a snowy environment? This isn't something that will appeal to everyone, but it is still interesting to consider. When you go on a hot tub date with your partner in the snow, you should wear a toque and sandals to get to and from the hot tub. You should also make sure to keep your waterfall valves open while turning all of your air controls off.
If your hot tub is a little low on water, you should refrain from using snow to refill it to higher levels, as that will totally throw off the chemical balance of the water. Naturally, some of the best hot tubs you can visit in snowy conditions are located in Canada, Austria, and Switzerland. Hot tubs are already romantic and fun in normal weather, but chilling in a hot tub in the middle of the snow with your partner is so much more romantic.
Decorate the Christmas tree together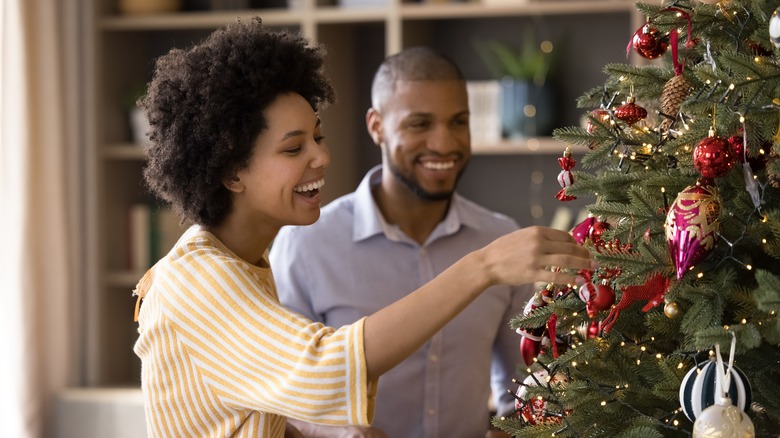 fizkes/Shutterstock
Anyone who celebrates Christmas understands the importance of decorating a stunning Christmas tree. When your guests come over to visit you at home, one of the first things they'll notice is how gorgeous your Christmas tree is based on all of its decorations. Decorating your Christmas tree should include the right string of lights, the perfect amount of garland, and tons of dangling ornaments. You might want to consider investing in a high-quality artificial tree if you don't feel like dealing with the mess that comes along with trees that sprout in nature. 
Whether you're dealing with an artificial tree or a natural one, it's your job to fluff and shape your branches as much as possible before getting started with decorations. You and your partner can figure out whether you're going with a specific theme or keeping things completely random. Some Christmas tree decorators opt for a color scheme that includes nothing other than white, gold, red, or green. Others are happy to cover each branch of their Christmas tree with pieces of decor that have nothing to do with each other at all.
Enjoy holiday movie night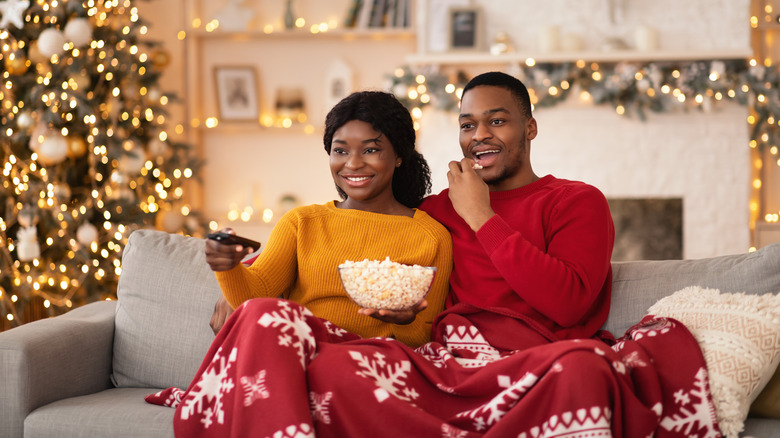 Prostock-studio/Shutterstock
Enjoying something as sweet and fun as a holiday movie night with your partner can end up being one of the most magical and memorable date nights ever. Hosting the ultimate holiday movie night starts with ensuring that you have a large TV screen or projector, a popcorn maker, a delicious selection of candy or other snacks, and the perfect lineup of movies to watch. 
Whether you're only watching one movie, or you intend to watch a few back-to-back, it's important to have some great options lined up. If you're looking for an animated Christmas movie to watch with your partner, Glam suggests "The Polar Express," "The Grinch," and "Rudolph the Red-Nosed Reindeer." If you're hoping to watch a movie that's a little more modern and focused on the notion of falling in love during the holidays, you might consider "Love Hard" starring Nina Dobrev, "Falling for Christmas" starring Lindsay Lohan, or "Last Christmas" starring Emilia Clarke.
Enjoy a Christmas drink-tasting table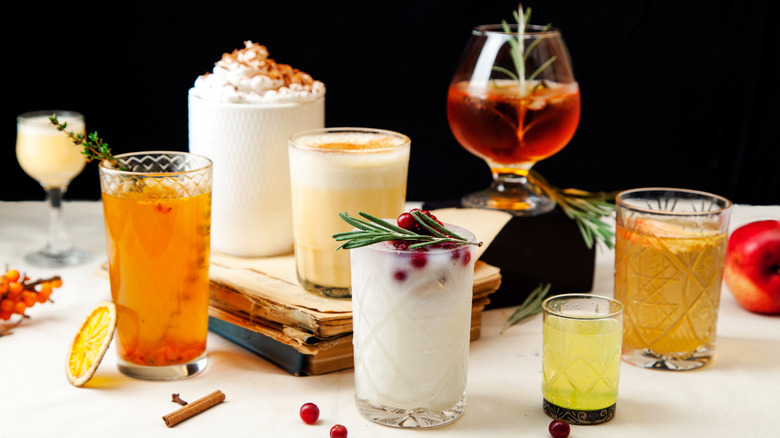 Asya Nurullina/Shutterstock
An incredibly fun and delicious winter date to enjoy with your partner might be experimenting with a Christmas drink-tasting table. You can set up a table with samples of hot chocolate, eggnog, wine, seasonal beers, and themed cocktails. After all, Christmas cocktails are incredibly exciting and festive. Why not try chocolate martinis, pumpkin pie martinis, and mulled apple cider?
What's more, Inspired by Charm believes Christmas cocktails like holly jolly punch, cranberry old-fashions, and salted caramel white Russians should be added to the menu. A Christmas drink-tasting table gives you and your partner a chance to try different flavors to see what you both like or dislike. Interestingly enough, although eggnog is considered one of the most popular holiday drinks to consume, a lot of people refuse to try it because they're convinced it tastes like plain eggs! This is a great opportunity for you or your date to try new things.
Go skiing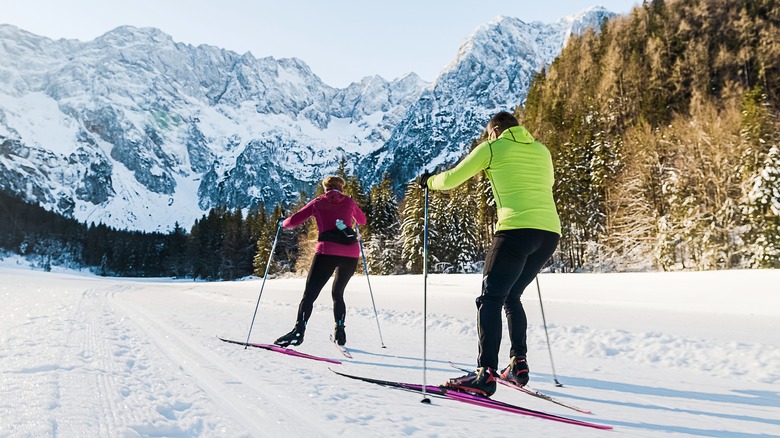 24K-Production/Shutterstock
Going skiing with your partner is an amazing date to experience during the winter season if you live in a place with freshly fallen snow, or if you choose to travel somewhere that does. Skiing isn't considered a traditional date compared to dinner and the movie theater, but it's still worth exploring. Whether you've never skied a day in your life before, or you consider yourself to be a pro, skiing is a freeing experience.
You should mentally prepare yourself ahead of time to hit the slopes on multiple occasions with your date instead of thinking of it as a one-off. The reason for this is that one or both of you might not be as successful with skiing as you might hope after one try. This doesn't mean you should throw in the towel on skiing forever, though. Dress warmly, grab the right skiing gear, and stay as positive as possible while you experience a skiing date with your partner.
Go snowboarding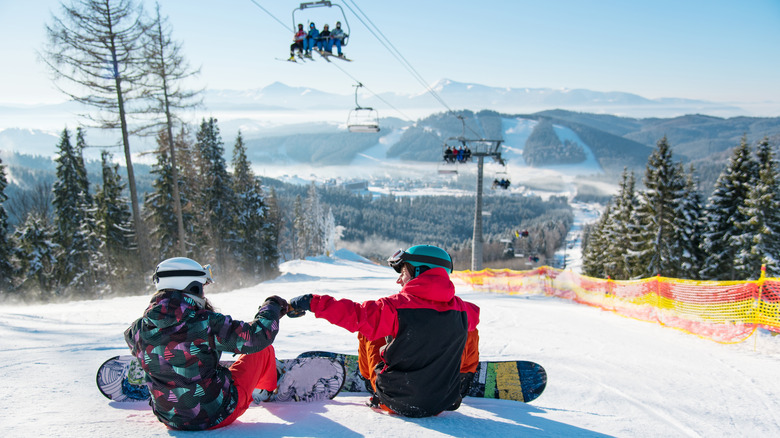 anatoliy_gleb/Shutterstock
Snowboarding is similar to skiing in the fact that it's considered a snow sport, but some might argue that it's way more exhilarating and invigorating. You should consider some of the best snowboarding resorts before planning a date like this. You can come across excellent snowboarding resorts in places like Oregon, Utah, and Colorado. You can narrow down snowboarding locations based on if you prefer ski lifts or helicopter rides, park snow or powder snow, and a few other important details.
They take their snowboarding resorts list to an international level suggesting places like Japan, Austria, and New Zealand. Not everyone will be fabulous at snowboarding on their first try. Just like skiing, you should prepare yourself to practice on more than one occasion if you are a newcomer to the world of snow sports. If you are already comfortable snowboarding, all you have to do is keep warm by bundling up in good clothing and having fun.
Go snowshoeing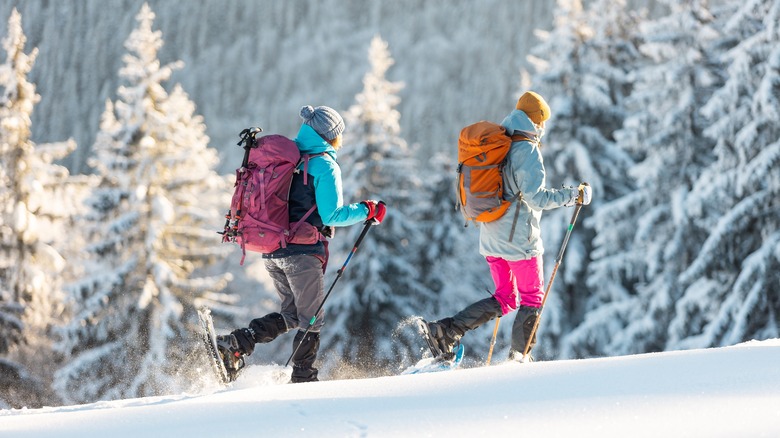 zhukovvvlad/Shutterstock
People who don't live in places where it naturally snows probably haven't heard of an activity called snowshoeing. However, snowshoeing can be done safely if you understand the difference between this activity and typical hiking. You'll want to ditch your summer trail, dress in layers, and check mountain weather before you head out on your way. You should also be aware of any possible avalanches that could come down your path. 
Ultimately, too, snowshoeing is an inexpensive social activity that classifies as great winter exercise. All you need are snowshoes that can handle your weight, waterproof boots, and adjustable poles with snow baskets. As you and your partner go trekking through the snow, you will be able to admire some of the most stunning and breathtaking views ever. This is a great option for people who want to be outside in the snow without skiing or snowboarding, so why not give it a shot this year?
Go to a holiday parade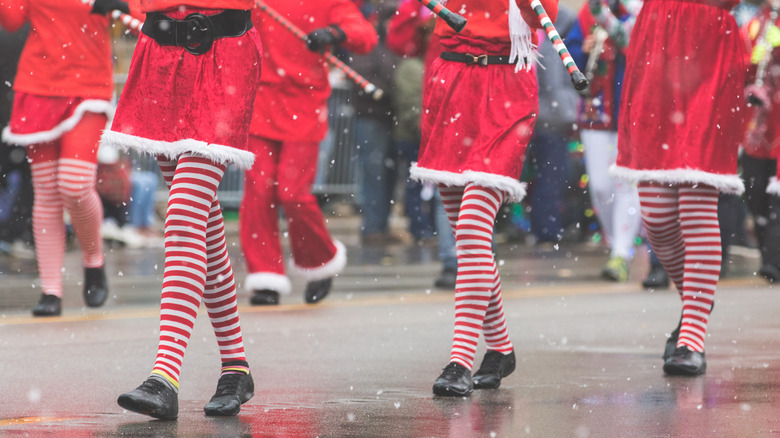 Jennifer McCallum/Shutterstock
You and your date can enjoy a lovely holiday parade during the winter season if you want to spend some time connecting with each other while admiring gorgeous floats and upbeat performers. There are top-notch holiday parades that take place every year in New York and Florida, for instance. If you don't live in either of those places, though, you can still often steam them.
The annual Macy's Thanksgiving Day Parade is a three-hour spectacle that captures the attention of millions of people each year. It certainly isn't the only holiday parade to pay attention to, though. The Farmer's Santa Parade in New Zealand, the Grand Festival of Lights Parade in the Philippines, and the Pasa Del Nino in Ecuador are some other gorgeous options to think about. Parades that celebrate the holidays usually include gorgeous flowers, balloons, and more. There are also tons of talented dancers, singers, and showmen in costume.
Book a couples spa day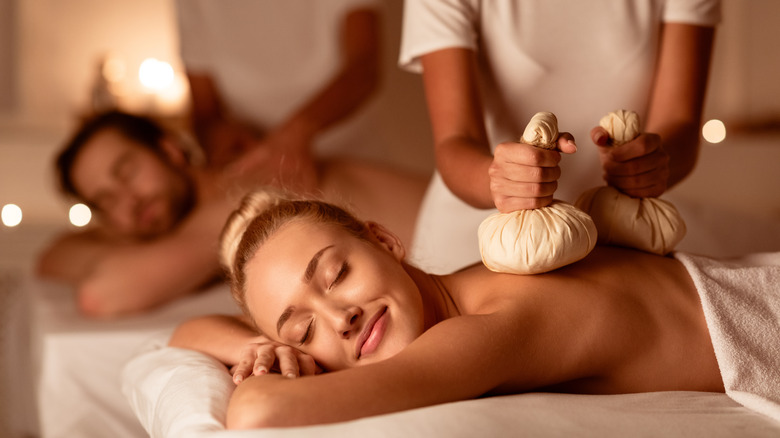 Prostock-studio/Shutterstock
It's time to consider booking a couples spa day in the middle of the winter season with your partner. A spa day can turn into a lovely date since it gives you and your partner a chance to relax in each other's presence. Enjoying a spa day with your partner helps great intimacy between you two, helps lower your stress and anxiety, encourages feelings of affection, and allows you to reset your emotions.
The act of getting a couples massage with your partner gives you the chance to try something new, enjoy some quality time, and reconnect. A couples massage is a bonding experience since you and your partner are both experiencing a moment of luxury at the same time. Spas tend to be temperature-controlled destinations, which means that you and your partner will be able to stay as warm as ever wild enjoying your spa date together.
Spend an afternoon at the bookstore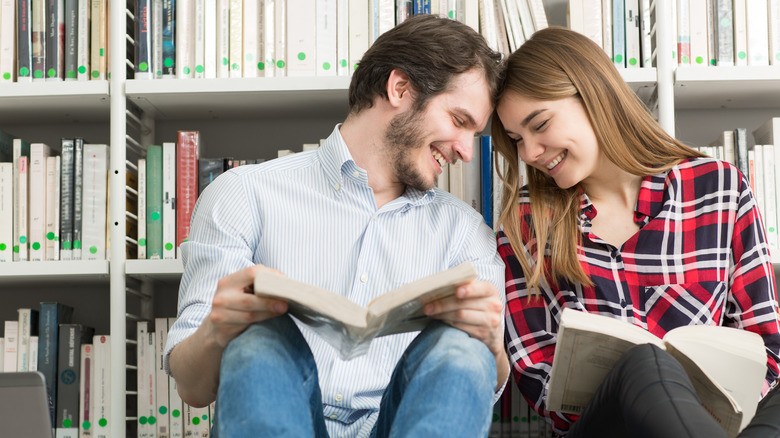 Nestor Rizhniak/Shutterstock
There is nothing boring or basic about visiting a bookstore if you're doing it with your partner as a fun winter date. Visiting bookstores in person is a better experience than online shopping because you get to experience the new paper smell of a book as you're flipping through it and picking out interesting options that grab your attention.
There's nothing quite like holding a book in your hands, even though you can easily download books or listen to them in audio form at any time. When you grab a book in your hands, you're invited into a whole new world as you read through the pages and become absorbed by the storyline before you. Sharing an experience like this with your partner gives you both a chance to grow as intellectuals. It opens up the door to in-depth conversation because you can talk about some of the treasures you've discovered at your local bookstore together.
Build a gingerbread house together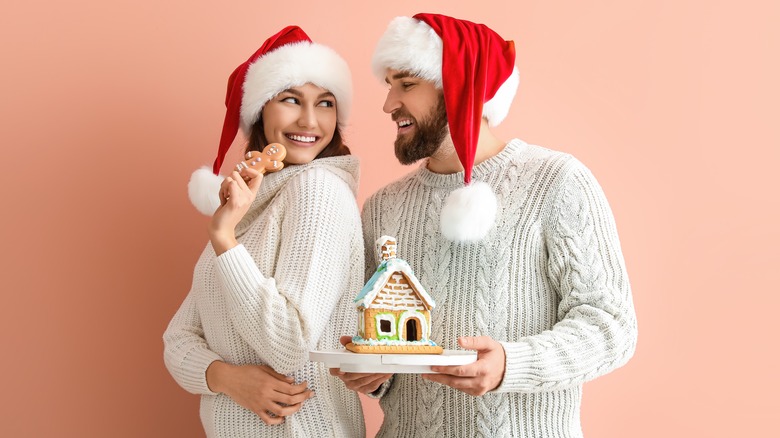 Pixel-Shot/Shutterstock
Building the perfect gingerbread house can be a tricky experience if you don't know exactly how to go about it. If you choose to build a gingerbread house with your partner as a winter date plan, you should definitely come prepared. You can use super glue to keep your gingerbread house together if you don't intend to eat any of the pieces after it's built. Super glue will keep it sturdy but take away its edibility. 
If you want your gingerbread house to remain completely edible, you can use melted granulated sugar instead of royal icing to keep your walls together as tightly as possible — just be careful, as melted sugar is incredibly hot but must be handled before it cools and solidifies. You and your partner will have a blast decorating the outside of your gingerbread house with different pieces of colorful candy on the roof, the doors, and the windows. You can use colorful icing to line different details including windowsills, door knobs, and roof slats.
Go for a drive to admire holiday lights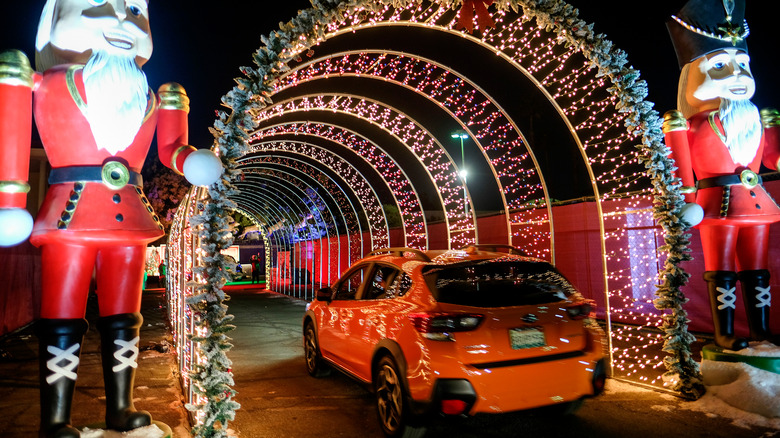 Ringo Chiu/Shutterstock
There are tons of individuals who enjoy the magic of decorating their homes with exquisite lights. Some neighborhoods make it a challenge to ensure that every single family on the block is willing to decorate their home from top to bottom during the holiday season. What's more, Michigan.org notes that you can visit gorgeous Christmas light displays in several different areas throughout the state, including Dearborn, Westland, and Flint. Take a page from Michigan's book and try to find beautiful lights near you!
Regardless of where you live, there is bound to be a neighborhood or two that is worth exploring. You can turn this into a romantic date night with your partner if you go for a drive to admire all of the gorgeous Christmas lights and decorations that have been set up by festive holiday lovers. Some of the houses you'll see will be covered in decorations that feature some of the world's most famous fictional Christmas characters like Santa Claus, Rudolph, and the Grinch.
Build a snowman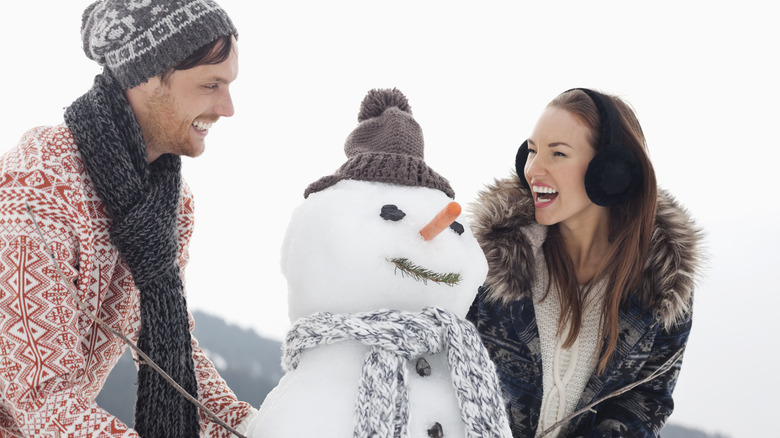 Sam Edwards/Getty Images
Just like building a gingerbread house during the holiday season, building a snowman also requires tons of effort and knowledge. If you try to blindly start building a snowman, you might just end up with a sloppy pile of snow. The best type of snow to use for a snowman should be a tad sticky, but not slushy. This means it has to have just the right amount of moisture.
Having a snowman-building competition date with your partner is bound to create tons of laughter between the two of you. You have to make sure you are wearing a solid pair of gloves so that your fingers don't freeze. You should also make sure that you have the right accessories to add to your snowman including a carrot for a nose, chocolate chips for the eyes, sticks for the arms, and possibly even a trendy hat to be perched on top of its head.
String Christmas lights on your balcony or patio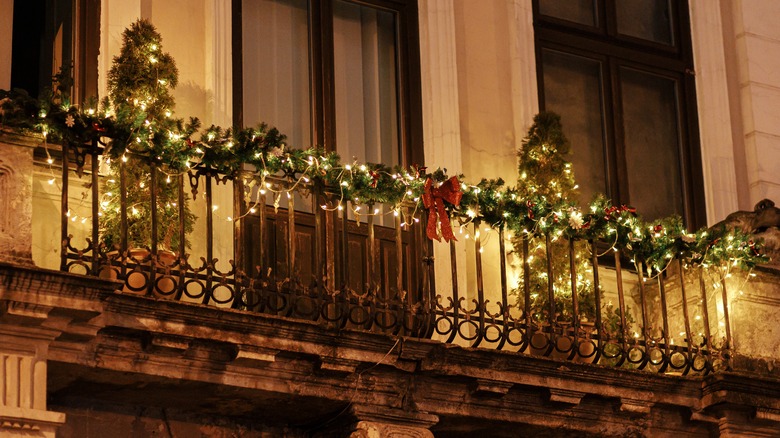 Bogdan Sonjachnyj/Shutterstock
You can get into the holiday spirit with your date if you choose to cover your patio or balcony with a gorgeous set of Christmas lights. Hanging outdoor Christmas lights requires a little bit of measurement before you purchase anything and some safely grounded power stakes so that you can safely plug your lights into an outdoor outlet. When you and your date are ready to hang Christmas lights, you should start small, stay safe, and check for burned-out lights before getting started. 
They also suggest starting at the bottom and working your way up if you are decorating something that has some height to it. You and your partner will experience an amazing bonding moment as you begin decorating an outdoor area of your home as a team. Once the lights have been strung to perfection, you and your partner can turn them on and admire the beauty of what you've done together.
Take pictures in front of holiday aesthetic backdrops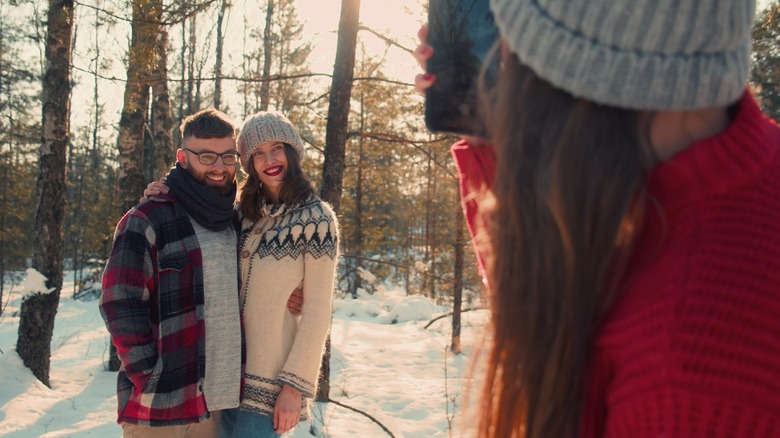 KeyStock/Shutterstock
If you're the type of person who loves making memories and looking back at old pictures, taking stunning photos with your partner in front of holiday aesthetic backdrops might just be the perfect date for the two of you. You can pose for amazing holiday pictures in front of Christmas trees, wearing matching ugly Christmas sweaters, or in front of a gorgeous ice skating rink.
You can pose with candy canes in your hands in the shape of a heart or stand in the center of a heart you carved out of snow on the ground. Taking Christmas-themed pictures inside of a decorated house, wearing matching Santa hats, or sitting in front of the fireplace. The purpose of taking pictures is to have proof of your beautiful memories to look back on in the future. There's tons of creative freedom that can be taken when it comes to a date night like this.
Go Christmas caroling together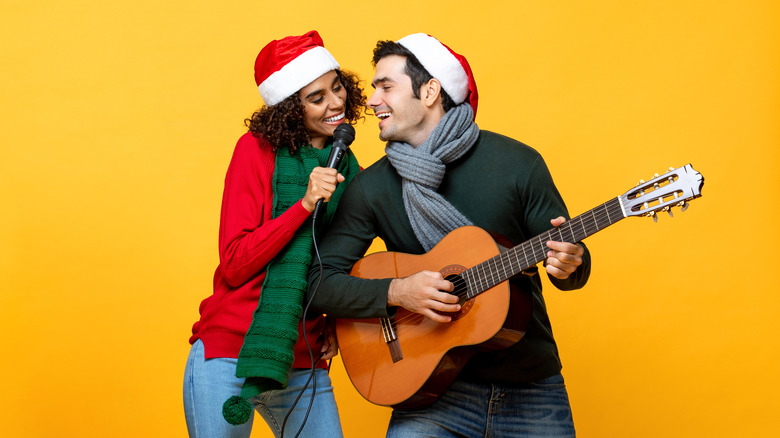 Atstock Productions/Shutterstock
Singing might not be for everyone, but if you find singing to be one of the more pleasant and enjoyable things to do in life, a Christmas caroling date night should be added to your list. Organizing a Christmas caroling event is wonderful because it helps spread cheer in your neighborhood. All you have to do is convince your date to get on board, compile a list of songs that you're comfortable singing together, and go door to door to perform your favorite songs.
Naturally, Christmas caroling used to be a way bigger deal than it is now. There's nothing wrong with reviving and preserving the classic tradition with the help of your partner on a romantic date night. You can sing brand new Christmas songs that have just been released this year, or keep things familiar with popular songs that have been around for decades.
Eat s'mores around an outdoor fireplace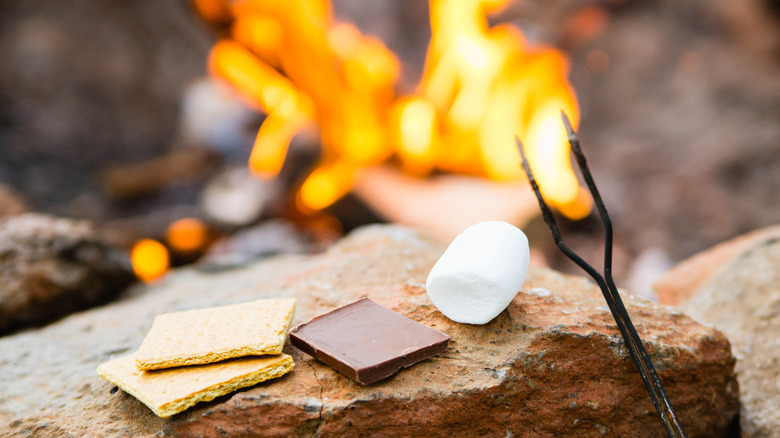 Amber Kirchner/Shutterstock
There's no denying the fact that s'mores are some of the most delicious treats to enjoy. There's a reason s'mores are considered a highly popular dessert with such a great reputation. As most of us know, the perfect s'mores recipe simply includes a few sheets of honey graham crackers, milk chocolate bars that have been broken down, and large, fluffy marshmallows. Together, these ingredients create something gooey yet crunchy on the outside — a testament that final products can truly be greater than the sum of their parts.
If you have all three of these things, then you're in business. When you are enjoying a s'mores date around an outdoor fire pit, you should make sure there's comfortable seating, keep long-stemmed grill inserts on deck to roast the marshmallows, and include a few other non-s'mores treats in case you or your date wants a little more variety for your taste buds.
Go sledding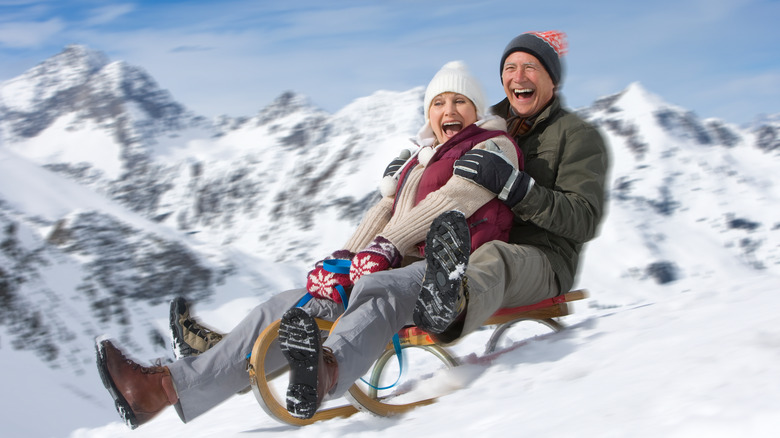 Juice Verve/Shutterstock
The best thing about sledding is that it gives you and your date a chance to enjoy the magic of snow without requiring any balance. If you know that you don't have enough balance for other popular snow sports like ice skating, skiing, or snowboarding, then sledding is your best bet. All you need is a sturdy sled and a snow-covered hill in order to share a lovely moment with your partner.
Sledding is both classic and charming since it provides an element of childish fun. You and your partner can take turns going down snow-covered hills on sleds, or you can hop on a sled together to experience the moment at the same time. Sledding is different from snowboarding and skiing in the fact that you will typically seek out smaller hills instead of large mountains. You don't get to fully control the direction your sled goes as you're sliding so smaller hills are much safer.
Make snow forts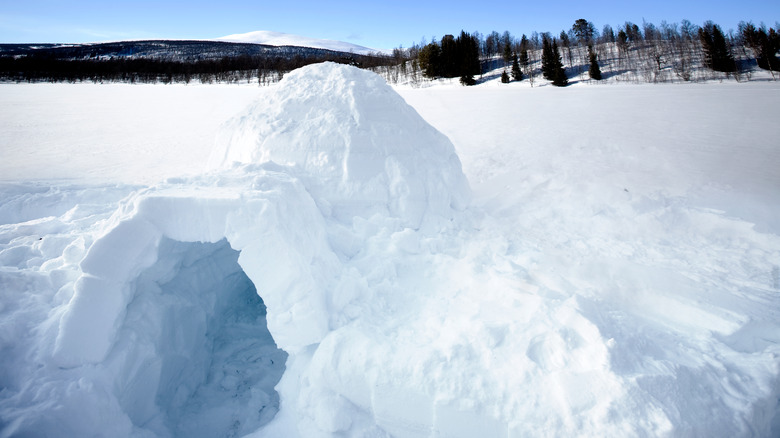 Leaf/Getty Images
Have you ever been inspired by the idea of building an entire igloo? Building an igloo might feel like a daunting challenge, but you can still build a snow fort with your date in a similar fashion. When building a snow fort, you need to trace out the perimeter, start building snow bricks, build your first wall, and start filling in the gaps with snow. After that, you'll flatten out your walls and douse everything with water to solidify each section. 
Before getting started, you should smooth or clear a ground area so you have an ideal foundation. Building a snow fort takes tons of time and patience. For this reason, it's a great date idea for you and your partner to try. You'll have a chance to engage in some interesting conversation while building your snow fort. You'll also get a chance to see how each other thinks when it comes to the analytical side of building something from the ground up.
Make snow angels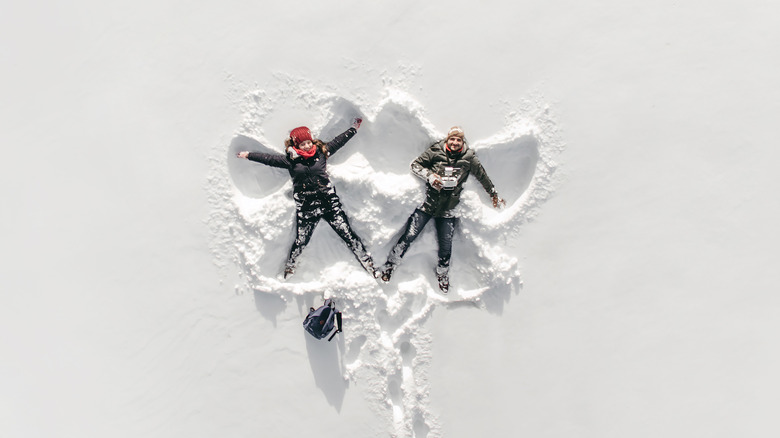 LL_studio/Shutterstock
Walking past an area of snow with the image of a snow angel carved out is usually always a magical moment. It means that someone took time out of their day to lay down in the snow, spread out their arms and legs, and create the depiction of angel wings. It takes lighthearted playfulness to agree to do something like this. Making the perfect snow angel starts with carefully falling backward with your arms outstretched. 
Once you're in a T position, you have to move your arms and legs up and down as if you're doing jumping jacks. You should make sure the snow is deep enough beneath you so that you won't end up seeing the ground beneath it. As long as the entire layer of your snow angel looks like powder, it will turn out beautifully. Creating snow angels with your partner gives you both the chance to showcase the fact that you're comfortable living freely in the moment.
Attend your holiday work party together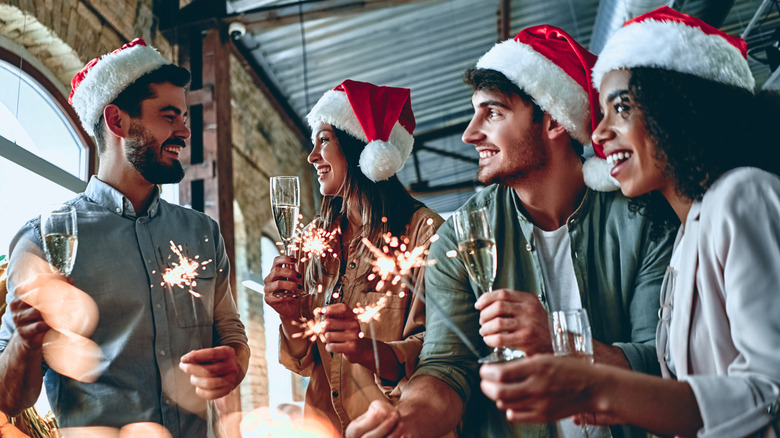 4 PM production/Shutterstock
If you work at a job that's offering a holiday work party event, this is a great place to invite your partner. You can treat your holiday party at work as the perfect date night. The COVID-19 pandemic made holiday work parties more complicated now than they were before due to the fact that people are more health-conscious than easy-going.
Your job may opt for a virtual work party instead of an in-person event for that very reason. Whether the holiday party is via Zoom or hosted somewhere for people to gather face-to-face, inviting your partner to show up as your date gives you a chance to introduce them to your colleagues. You also get to enjoy finger foods and drinks together that most likely won't cost you a dime. Some holiday work parties include small gift exchanges with cash limits as well, which simply add to the fun.
Bake Christmas cookies together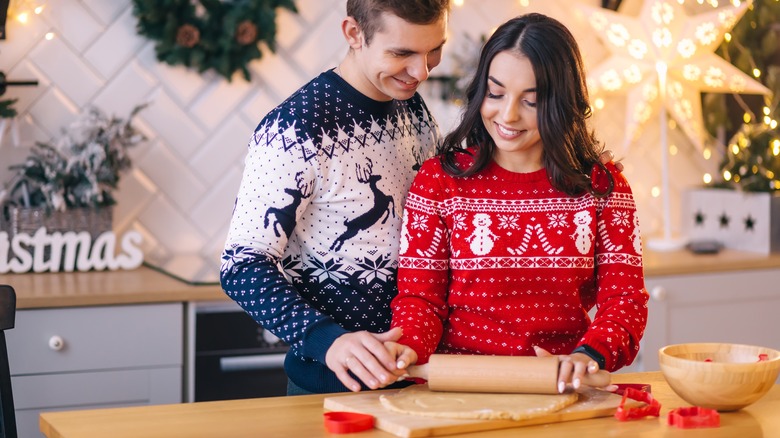 Kyryk Ivan/Shutterstock
If you think baking Christmas cookies with your partner would be an ideal holiday date during the winter season, you'd be absolutely right. After all, baking Christmas cookies is something you can do to bring your family closer together. If you're just focused on growing closer to your romantic partner, making cookies together will help you do just that.
The art of baking cookies together helps you manage teamwork, develop patience, grow a sense of gratitude, and more. Plus, in the end, you get to enjoy something delicious that you made together to satisfy your sweet tooth. The Pioneer Woman says that you can consider baking peanut butter cookies, snowball cookies, classic sugar cookies, chocolate chip cookies, red velvet cookies, or even caramel cookies together. Whatever you and your partner are craving can be brought to life in the kitchen as you work side-by-side with the guidance of a tasty recipe.
Go ice fishing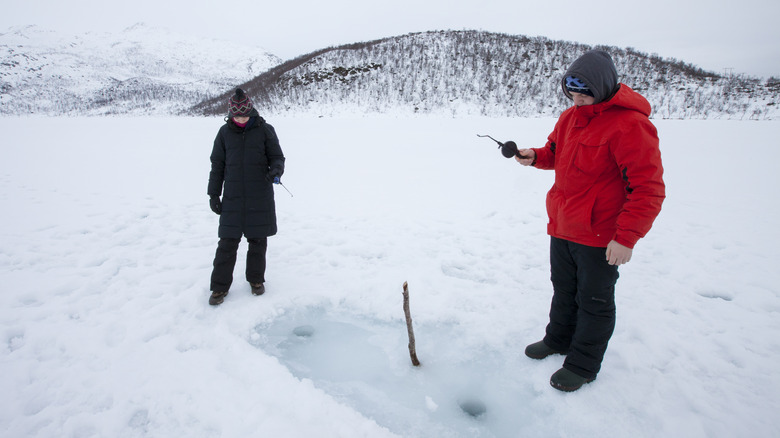 Tim Graham/Getty Images
If you've never been ice fishing, it's something to consider when thinking of romantic dates for you and your partner. Ice fishing is similar to other hobbies in the fact that you could make it as simple or complicated as you want. Nothing about ice fishing has drastically evolved over the last hundred years, which means you can follow tons of classic and traditional tips and tricks from people who have been doing it for decades. 
Do note that you'll need to acquire a fishing license that's valid in your state before getting started. Next, you should check to make sure that you're following any fishing regulations in your area. Once you have the legal and tricky stuff squared away, you and your date can narrow down a gorgeous place to ice fish together. You can always toss any captured fish back to freedom if you're a true animal lover.
Go snowmobiling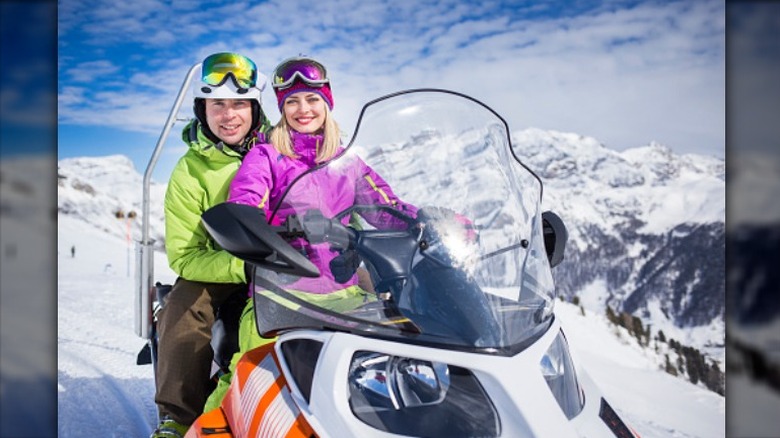 Corr/Getty Images
Snowmobiling is a great date for romantically involved couples in the middle of the winter season. Some beginners might find the art of riding a snowmobile to be challenging, but that doesn't mean you should throw in the towel right away. It's an incredibly fun and entertaining activity to partake in. You should focus on safety first when riding a snowmobile by wearing a helmet and layering up. 
Make sure that you are balanced and comfortable on your snowmobile before you start riding it. You and your partner can share a snowmobile while gliding through nature, or you can ride your own individual snowmobiles instead. Learning how to steer and counter-steer on your snowmobile might not be something that happens in a flash, but eventually, you'll feel like you can handle yourself on the incredibly fun machine. It might feel bouncy and difficult to control at first, but soon enough you'll understand how to maintain a steady speed.
Share a kiss under the mistletoe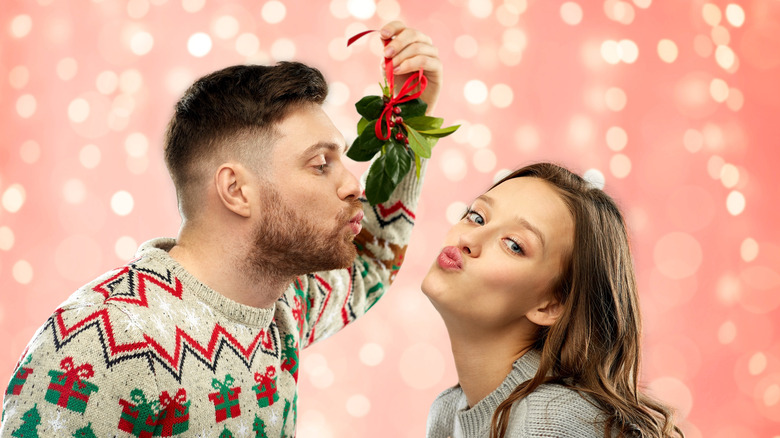 Ground Picture/Shutterstock
Why is it such an old-school tradition to kiss your lover underneath the mistletoe? This tradition has been around for quite some time and is wrapped up in tons of romantic symbolism. History.com explains that kissing underneath the mistletoe was what the Greeks once did as a cure for physical ailments, including menstrual cramps and disorders of the spleen. If you were sick back then in their culture, mistletoe was sort of a cure-all. 
It didn't become widely recognized along with other Christmas decorations until about the 18th century, though. Time.com notes that historians are still uncertain about where the tradition of kissing beneath mistletoe got started despite the fact that it's heavily connected to the Christmas holiday. If you want to share a romantic smooch with your partner underneath some mistletoe, you can either set up mistletoe in one of your doorways or visit holiday-themed destinations that have mistletoe hanging around in order to make this lovey-dovey moment happen.
Go shopping for ugly Christmas sweaters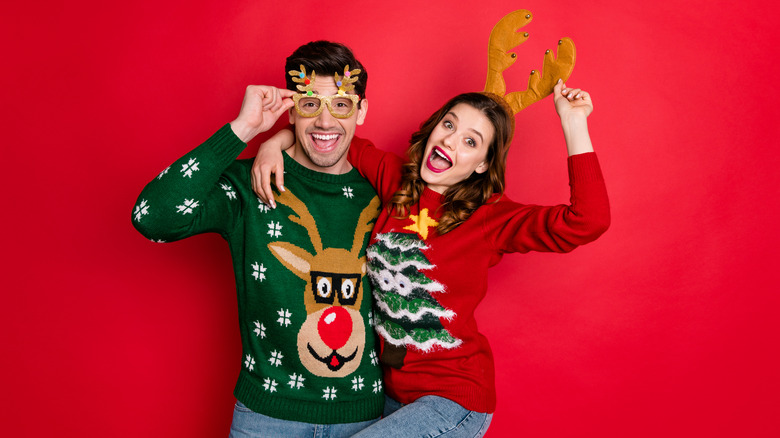 Roman Samborskyi/Shutterstock
Ugly Christmas sweaters are incredibly popular during the winter season. Of course, ugly Christmas sweaters don't necessarily have to be ugly, but the endearing name is what makes them even more beloved each year. Ugly Christmas sweaters became sort of mainstream in the late 1980s thanks to a few different iconic moments in pop culture history.
You can turn the search for the perfect ugly Christmas sweater into a romantic date with your partner. Narrow down a handful of department stores you're willing to visit and stop at each one searching for the ugliest possible Christmas sweaters ever. Some ugly Christmas sweaters are so dramatic that they can light up with the press of a button. Others aren't as intense and are simply covered in tacky patterns and designs. Once you've each discovered ugly Christmas sweaters you can be proud of, you can show off them to your mutual friends to get their hilarious reactions.
Stuff stockings for each other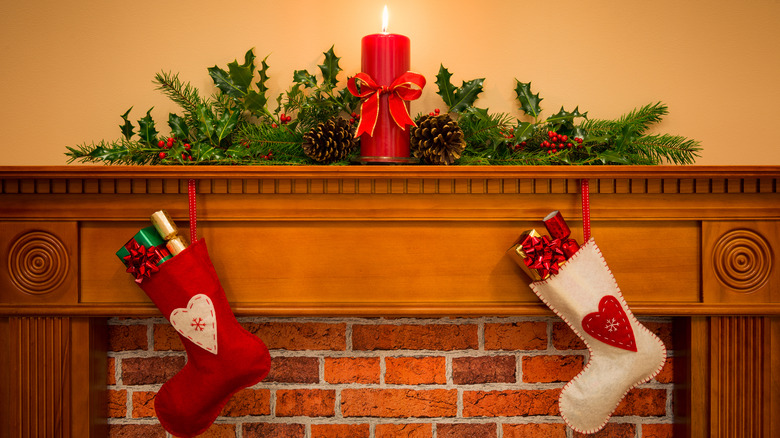 RTimages/Shutterstock
You and your partner can experience a sweet and thoughtful date night if you choose to stuff stockings for each other. Stockings are a traditional Christmas item to use when decorating during the holiday season thanks to their mainstream connection to Santa Claus. Some couples enjoy hanging their stuffed stockings for each other over the fireplace until Christmas morning.
There are no rules to subscribe to when it comes to stuffing stockings with your date, though. We suggest compiling thoughtful items to add to your partner's stocking before handing it off. The more stuffed it is, the more loved people will feel. You can add things such as small puzzle books, card decks, gloves, socks, tiny liquor bottles, hot chocolate packets, miniature flashlights, pocket knives, travel mugs, keychains, and bike tools. You can add brand-new phone cases, pens, chapstick, small tubes of lotion, and more. Pay attention to your partner's interests to decide what stocking stuffers they'll love.
Make custom ornaments for each other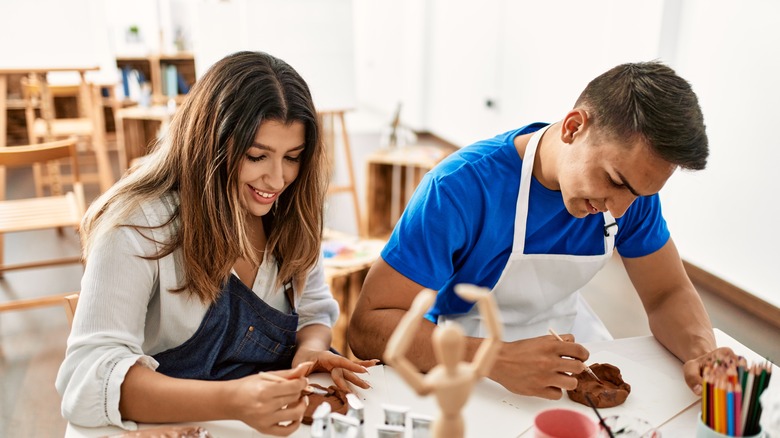 Krakenimages.com/Shutterstock
Lean into your artsy side by offering to make custom ornaments with your partner as a date night idea. There's so much creative freedom that you can have when it comes to arts and crafts. Personalized Christmas ornaments are keepsakes that you will treasure forever. You can use your handprints, fingerprints, or even footprints to create loving ornaments to hang on your Christmas tree. 
Making Christmas tree ornaments at home doesn't have to be hard; it simply requires the right materials and supplies. Do you want to make custom ornaments on top of acrylic spheres or wood slats? Are you more interested in keeping things simple with card stock and construction paper? You and your partner can narrow down your creative ideas and decide what kind of custom ornaments you want to make for each other. These types of heartfelt ornaments are even more special if you can incorporate a picture of you two in some way.
Christmas karaoke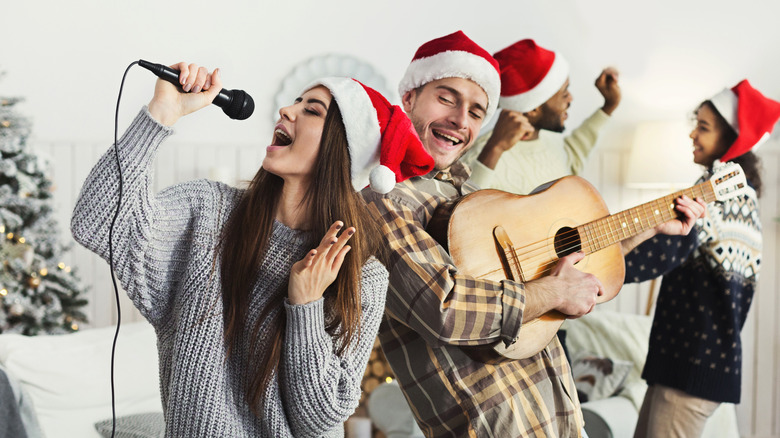 Prostock-studio/Shutterstock
Singing Christmas music brings on the holiday spirit for anyone who absolutely adores festive vibes. Winter is one of the best musical seasons when it comes to karaoke. The reason why is that there is an endless number of songs to choose from. You and your partner can enjoy singing with each other or performing for each other.
Songs like "All I Want For Christmas is You" by Mariah Carey, "Blue Christmas" by Elvis Presley, and "Jingle Bell Rock" by Bobby Helms are some of the best to sing around the holidays, though you may have your own personal favorites, too. These are just a few examples of the Christmas karaoke songs you and your date might love. Christmas karaoke can take place in the privacy of your own home using lyric videos on YouTube with a plug-in microphone. You can also head to a karaoke lounge if you're more comfortable singing in front of strangers. Some karaoke lounges offer food and drinks to make the night even more enjoyable.