Red Tights Are Surprisingly Hot If You Style Them Well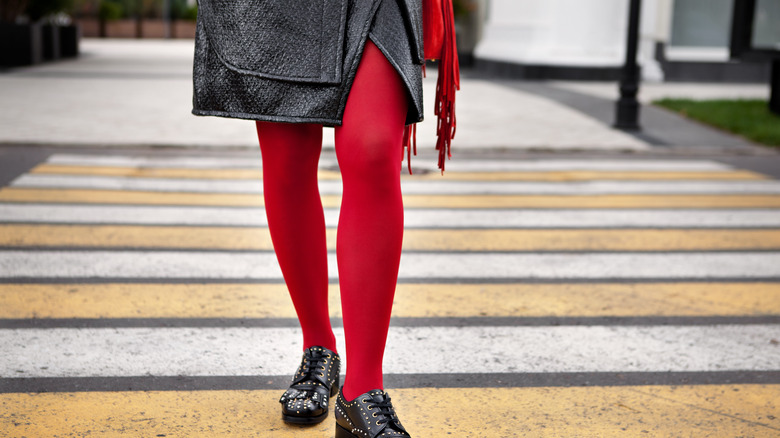 Annazhuk/Getty Images
Dopamine dressing has been the breakout fashion trend of recent times. As we jump from season to season, various methods of adding strong punches of color are starting to shine through. From head-to-toe looks in vibrant hues to the addition of bold accessories to your outfits, there are many ways to add some extra color to your wardrobe. This trend of bright and bold colors stems from wanting to add more happiness and fun to your every day by injecting these exciting hues into your clothes. Since fashion trends also point towards nostalgia and retro styles, it's easy to see how color has become more important in our ensembles. Because this trend is all about creating a moment with your clothes, there's no better way to make a statement than with a fiery hue.
Advertisement
Red tights are not only a useful piece to keep your legs warm, but they can add some serious heat to your closet. As uncommon as red tights are, there are plenty who are embracing these bold-colored tights. Like Blair Waldorf, many style lovers are adding these pops of color in their tights to add another layering piece to their looks that are both daring and practical. Even though it may seem overwhelming to add vivid red tights to your wardrobe, there are plenty of ways you can pull these off seamlessly.
Match them with other items
The best way to smoothly integrate your bold tights into your outfit is by matching them to another red piece. Whether it's a small hair accessory or a bold handbag, another red item can help to match your tights and create a cohesive look. To finish off your look, keep the rest of your outfit minimal and let your red pieces do all of the talking.
Advertisement
Embrace the red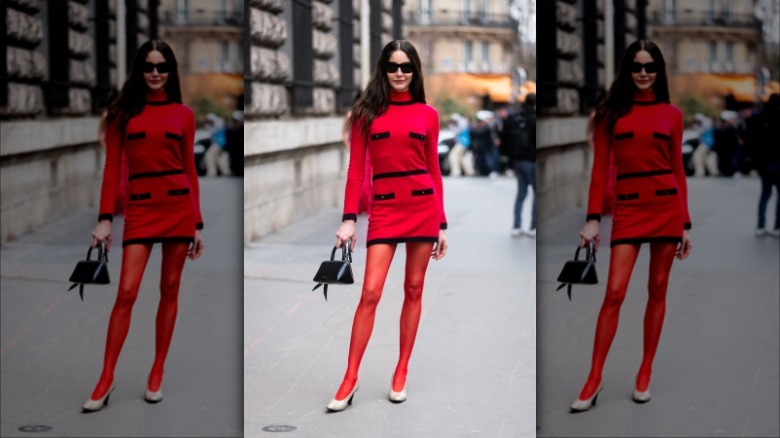 Claudio Lavenia/Getty Images
Since your red tights will already make a statement, why not embrace the trend and reach for an all-red look? We already know that dopamine dressing is on-trend, so use this moment to create a powerful and bold aesthetic. If you're stuck on styling your red tights, nothing will go better than other red pieces. Create your red hot moment by sticking to the same shade of red or by infusing various shades of red into one outfit. And red lipstick is always a good idea!
Advertisement
Add another statement trend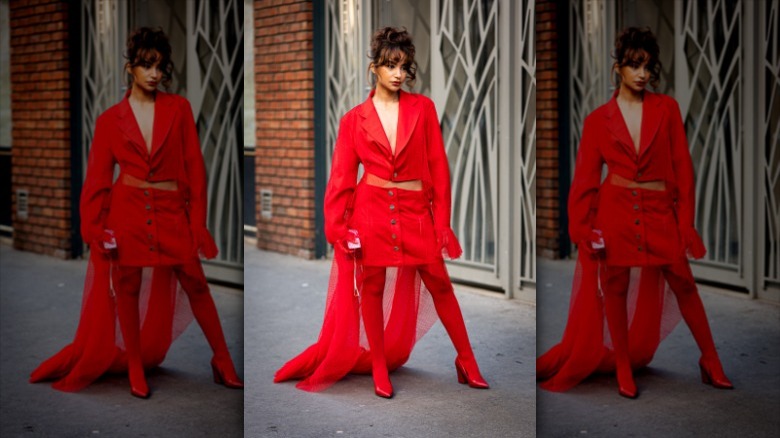 Claudio Lavenia/Getty Images
If you're worried that your red tights will take all of the attention, the solution is simple. Instead of keeping with a minimalist vibe, try adding multiple statement trends into one outfit for a chic and modern aesthetic. Add statement fabrics like velvet, tulle, or sequins to keep your look red hot and chic. Mixing and matching trends will help keep your ensemble looking fresh and create a dynamic feel for your red tights. You can never have too many trends. 
Advertisement
Create a sweet red moment
Red is sometimes seen as the color of power and royalty. Mysterious and rebellious, the red hue can be a harsh and edgy color to wear. However, red is also the color of all things love and romance. Use your red tights to create a bold feminine moment by incorporating other delicate details like pearls, sweetheart necklines, and preppy hair accessories. Even though feminine outfits are typically thought of in light and airy colors, there's no reason why you can't have a girly moment in a bold red.
Advertisement
You don't even need pants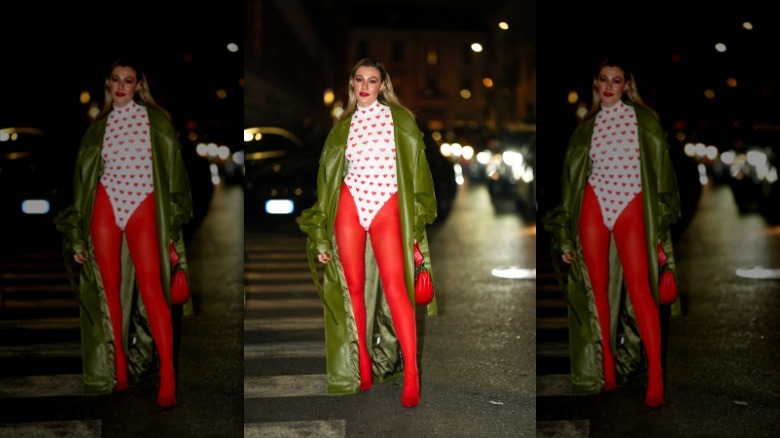 Edward Berthelot/Getty Images
Tights and stockings have generally been worn underneath bottoms like shorts and skirts. At one point, tights also became the perfect layering piece to put on under trousers or pants. However, when the recent no-pants trend came into the spotlight, this meant that there was no more need to layer your tights. While not wearing pants with your tights might initially seem awkward or out-of-the-box, you can simply use a pair of matte or opaque tights that will not show your undergarments. Use a bodysuit as a top and complete your look with a coat or jacket for extra coverage.
Advertisement
A small hint of color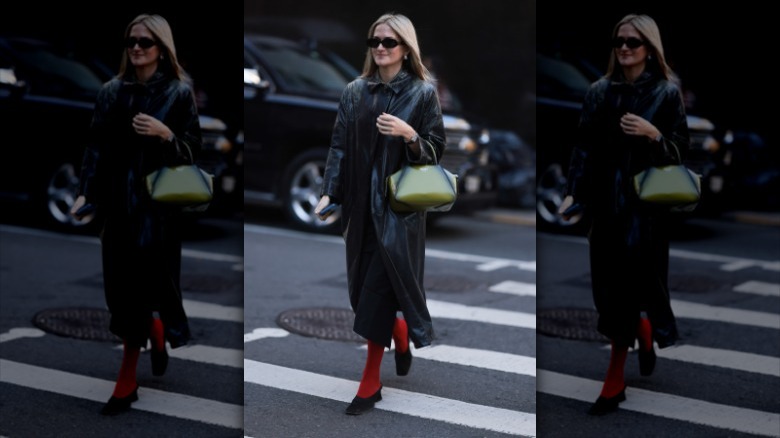 Jeremy Moeller/Getty Images
Wearing bold and vibrant color trends can sometimes be challenging for those who prefer an understated look. Even if your style usually revolves around neutrals or minimalist fashion, there's no reason why you can't also rock this trend. Add red tights underneath your long dresses or skirts for the smallest peek-a-boo of red that will create a fashion moment with each step. You can also achieve this by pairing a miniskirt with over-the-knee boots and red tights. Just showing the smallest hint of red is enough to elevate your outfit.
Advertisement