Why Red Lipstick Is Always A Good Idea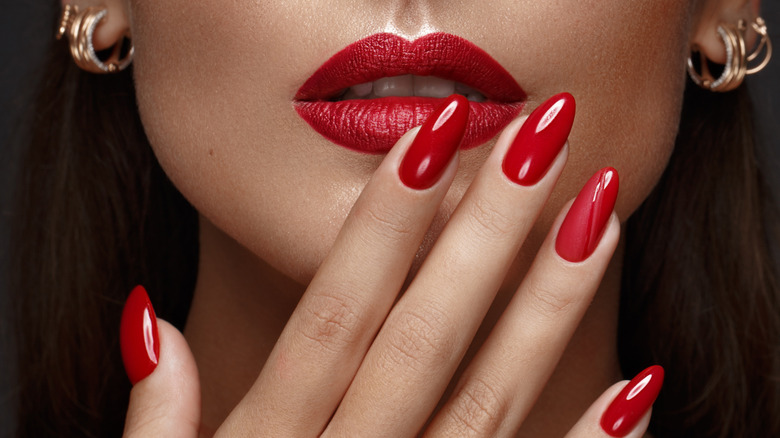 KOBRIN PHOTO/Shutterstock
We may receive a commission on purchases made from links.
Considering how the intense yet stylish show "Euphoria" has influenced the beauty world, many early 2000s looks are trending again, and since face masks are no longer required at large (though still useful), we're not surprised by how daring lipstick trends have been lately. Not all of the lip trends have been wild, as nude shades have been trending, but other lipstick trends — such as metallic options, two-toned looks, and glittery lips (via Jamo Magazine) — are very specific. Some people have even been eager to try out yellow lipsticks, too.
Advertisement
If you enjoy donning a bold lip but aren't comfortable wearing such dauntless trends, you can never go wrong with red lipstick. As noted by Good Housekeeping, red lipstick never goes out of style and exudes classy, sophisticated energy. Plus, red lipstick looks good with a wide variety of outfit options whether you're dressing up or down. No one should ever be afraid to flaunt a gorgeous red lip!
There are many ways to rock red lipstick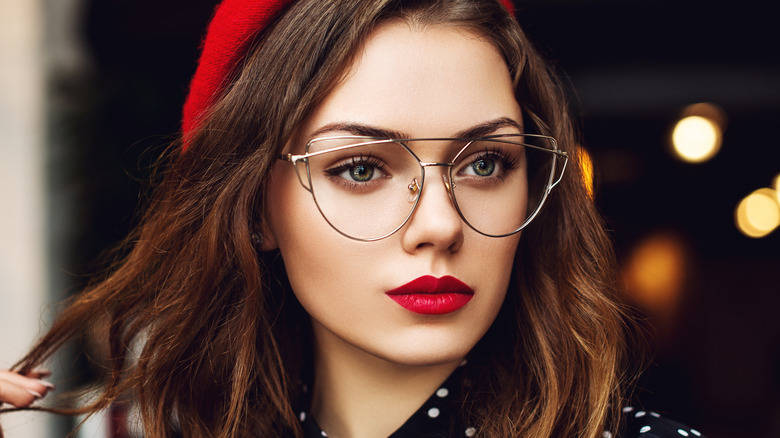 Victoria Chudinova/Shutterstock
One excellent aspect of red lipstick is that it requires you to put significantly less effort into the rest of your makeup than you would if you were wearing a more subtle lip product like nude lipstick or clear gloss. Since red lipstick is so noticeable on its own, it should be the focal point of your look; thus, you shouldn't wear too much other makeup so your red lips can get the attention they deserve (via Makeup.com). If you're new to flaunting red lipstick, you shouldn't be surprised if people keep looking at your face. After all, red lipstick makes a statement.
Advertisement
Red lipstick is such a beloved makeup staple that over 3 million posts popped up when we searched #redlipstick on Instagram, where you can find a plethora of examples of people rocking red lips. For instance, you'll notice that many people pair red lipstick with black outfits so that the bold red lip will stand out and add some pizazz to the dark, neutral clothing. On the other hand, you'll see that red lipstick provides excellent contrast with blue pieces. And, of course, you can never go wrong with an intense red lip and red lingerie for a sexy look.
The best red lipsticks
Every beauty enthusiast should have some red lipstick in their makeup bag, but some are better than others. Byrdie named the Fenty Beauty Stunna Lip Paint the best overall red lipstick because of its beautiful color and ability to last long periods. You can buy it at Sephora, Amazon, and Fenty Beauty for $26. In fact, it has at least four out of five stars at all three retailers. But if you're looking for something more affordable, Byrdie named the Maybelline New York Color Sensational Matte Finish Lipstick in Rich Ruby the best drugstore red lipstick because it's smooth and has such a reasonable price tag. Labeled as Amazon's Choice, you can purchase this item on Amazon for around $5, and it has 4.4 out of five stars with more than 49,000 reviews.
Advertisement
Moreover, we made sure to search for lipsticks that look great with everyone's skin tone. For example, the Sephora Collection Cream Lip Stain Liquid Lipstick in 01 Always Red works with all skin tones (via Allure). Available at Sephora for $15, this lip color provides a matte finish despite its liquid formula and has around four out of five stars with more than 10,000 ratings. Another universally flattering red lipstick is the Season One Matte Liquid Lipstick in Holy Grail by Persona. Featuring healthy ingredients like avocado oil, this item is available at Ulta for $16.
Once you choose your red lipstick, all you need to know is how to apply lipstick like a professional makeup artist!