Wedding Dress Sizing: Why You Always Need To Size Up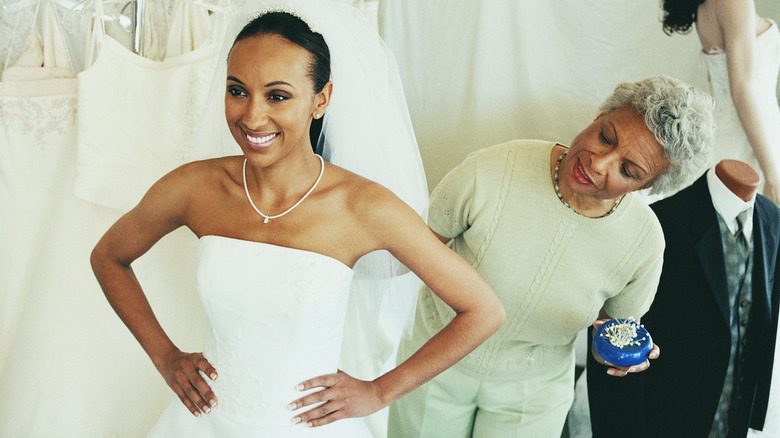 Digital Vision./Getty Images
Wedding dress shopping should be a joyful and celebratory occasion, with the bride made to feel her most beautiful. Long before thinking about the wedding itself, you have probably dreamed about finding your perfect gown. Who doesn't long to be dressed up in a cloud of white tulle or a dreamy satin sheath, with all eyes on them as they walk down the aisle?
Advertisement
When the day finally comes to choose a dress, you may find yourself a bit overwhelmed. With so many choices of material and fit, you'll probably end up trying multiple gowns. You will probably even find yourself visiting several stores, which you probably prepared for. However, the one thing that may leave you perplexed is the inconsistent sizing. If you're usually a size 6, you might be handed a size 10 instead. Don't worry! Wedding dress designers are not trying to confuse you or make you feel bad about your size. When shopping for a gown for your special day, don't focus on the numbers. There's a reason why wedding dress sizes differ from regular clothes.
Wedding dress sizes are based on traditional European sizing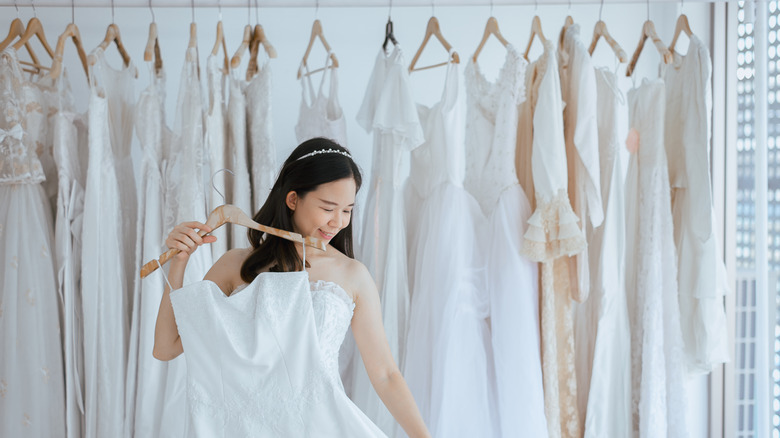 GBALLGIGGSPHOTO/Shutterstock
Clothing sizes have changed drastically throughout the decades and differ based on where you live. For example, a size 8 in the United States is a 12 in the United Kingdom. As if that isn't confusing enough, when shopping for a bridal gown, the size of your dress is not going to match your regular clothing size. The reason for the inconsistency is that wedding dress designers base their sizes on traditional European sizing. Although streetwear sizes have changed over the years, those of bridal gowns have not. Additionally, while many bridal companies have roots in Europe, American boutiques still tend to go by European sizing.
Advertisement
The sizes are also based on women's figures from decades ago. As body shapes changed over time, wedding dress sizes remained the same. So how do you know what your bridal gown size is? The best way to get a perfect fit is to get measured by a professional.
Let the bridal experts determine your size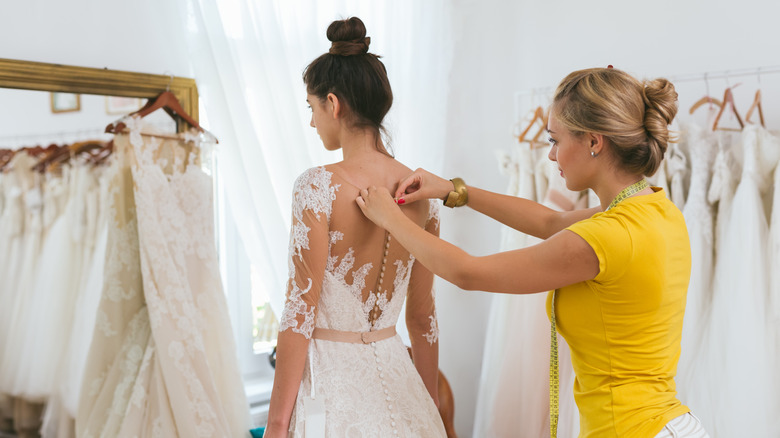 Dejan Dundjerski/Shutterstock
Your wedding dress will be one of the most memorable purchases you'll ever make, so take the stress out of it! Trends come and go, so visiting a bridal boutique will ensure you get the exact style and fit for your body. Bridal stores carry dress samples in a variety of sizes, and none of them are likely to fit you perfectly. That's because your bust, waist, and hips are all different sizes. However, they can use clamps and pins to manipulate the dress so you can see how it will fit after alterations.
Advertisement
After you're measured, the bridal expert will determine what size you need and will base it on the largest measurement. It's better to go larger rather than too tight. Seamstresses can alter the dress a size or two down to make sure it fits in all the right places. Don't worry if the bust is too big or the waist needs to be taken in. Wedding dresses are never one-size-fits-all.
Make time for multiple fittings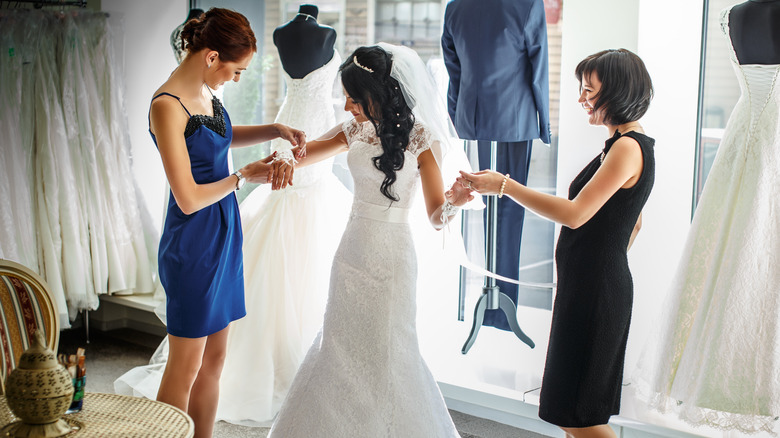 FXQuadro/Shutterstock
Even if you've found the perfect wedding dress, and it fits closely to your size, you should still make time for minor alterations. An expensive wedding gown won't reflect its price tag if it's ill-fitting. Even adjusting the hem or tightening the waist will do wonders for a custom-made look. However, many brides will need more than a minor tweak. Wedding dresses rarely fit the body perfectly and will likely need to be taken in in some areas, especially if you've sized up.
Advertisement
Many bridal boutiques have in-house seamstresses who are especially knowledgeable about wedding gown alterations. Expect to go in at least two to three times, starting about three months before your wedding. Once the major alterations are done, you'll have an idea of what your dress will look like on you. Schedule your final fitting no later than two weeks before your wedding. Remember to wear your wedding day shoes to your fittings, so the seamstress can adjust the hemline accordingly. Don't forget your undergarments. After your last alterations, your dress should fit like a glove for your big day.