The Best Bra Options For A Thin Strap Or Strapless Dress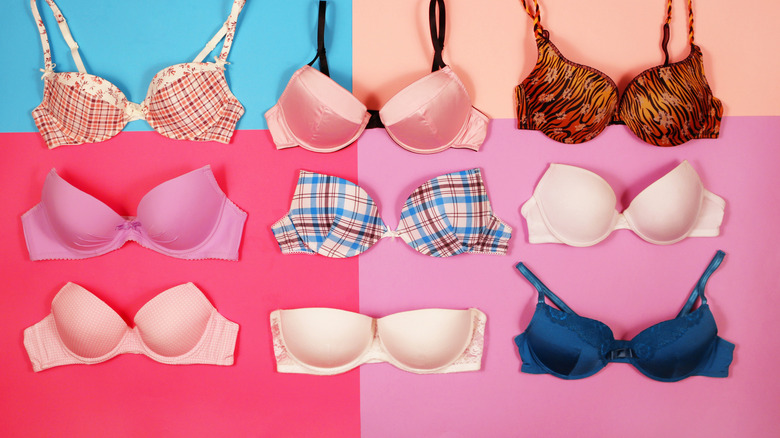 Anastasiarasstrigina/Getty Images
Finding the perfect bra can be exhausting, especially if you resonate with the #FreeTheNip movement and loathe wearing one to begin with. And whether you prefer to let the girls do their thing uncontained, or you never leave the house without support, selecting the correct bra for certain outfits is a universal struggle many face at some point. And when it comes to finding a bra for a thin strap or strapless dress? Cue the eye rolls. 
Advertisement
There are very few rules regarding underwear fashion, as everybody has their own style preferences. However, there is one major etiquette rule that many people like to follow when it comes to those pesky bra straps: They aren't to be seen (well, at least in the U.S.). According to fashion expert Sally McGraw with the Star Tribune, although Europe doesn't share the same sentiment on bra straps, letting them show is "never, ever appropriate in professional settings or on formal occasions."
With that in mind, figuring out how to properly secure the girls in a thin strap or strapless dress sounds like a lot of work. But it doesn't have to be! Regardless of your bra size, shape, and preferences, rest assured there are options out there so you can rock that dress with class and ease.
Advertisement
Strapless bras, bustiers, and bodysuits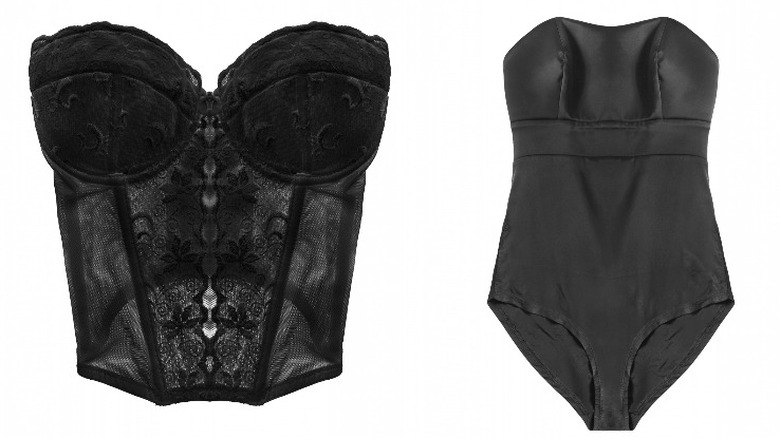 Tarzhanova & Tarzhanova/Getty
Perhaps the first strapless option that comes to mind when planning your undergarments is, of course, a strapless bra. Perfect for those who prefer a traditional bra, the strapless style is a major go-to for many. However, some (especially those with larger breasts) find that their strapless bras slide down too easily, becoming uncomfortable. If you relate, Clovia recommends looking for a bra with a wide band and going down a band size if needed to ensure it fits snuggly across your back.
Advertisement
For those who desire more support, check out a bustier bra. The perfect mix between shapewear and breast support, a bustier is an excellent option for those who want that extra push of cleavage while accentuating those gorgeous curves. According to Hour Glass Lingerie, since the band section is longer than a traditional bra and covers the entire torso, it provides more support. Some bustier bras have sexy textures of lace and boning, so you'll want to reach for a seamless style if your dress is tight-fitting or made of thin material.
Or you can take it one step further and grab a bodysuit. Bodysuits are a wonderful option for those who prefer full-coverage support on the breasts, midsection, and sometimes even legs. Certain bodysuits are intended for shapewear purposes and help smooth out, sculpt, and highlight all the right areas. Others aren't as skin-tight and are designed to provide comfortable support. Either way, a strapless bodysuit may be your answer if you want all-over coverage.
Advertisement
Give boob tape or nipple pasties a try
Perhaps you want to ditch bras entirely, but still want nipple coverage and some support. In this case, boob tape or nipple covers may be your best bet. Boob tape is exactly what it sounds like: tape for your boobs. It's specially made for the tender skin around the breasts, though, so it's gentler than other harsh tapes. Boob tape goes from armpit to armpit and sometimes below the breasts to push them together and provide lift.
Advertisement
According to boob tape company Nueboo, there are various techniques to choose from when applying the tape. Whether your dress has a plunging neckline or one strap, you can adjust the tape as necessary to fit your needs. However, for strapless dresses, the most common method would be to apply the tape from armpit to armpit, securing the breasts together as you tape across your chest.
For those who don't need any support at all (lucky!), you may just need a quick nipple cover to get the job done. Applying the nipple cover is easy as one, two, three — just stick it on! Taking it off, however ... ouch. Best Pasties recommends removing disposable pasties with ease by using an oil to loosen them. And actually, you may want to have oil on hand when removing the boob tape, too. The things we do for beauty! But really, what's a little discomfort when it comes to a gorgeous-looking chest?
Advertisement