Make Your Spring Break 2023 The Best One Yet With These Fun Ideas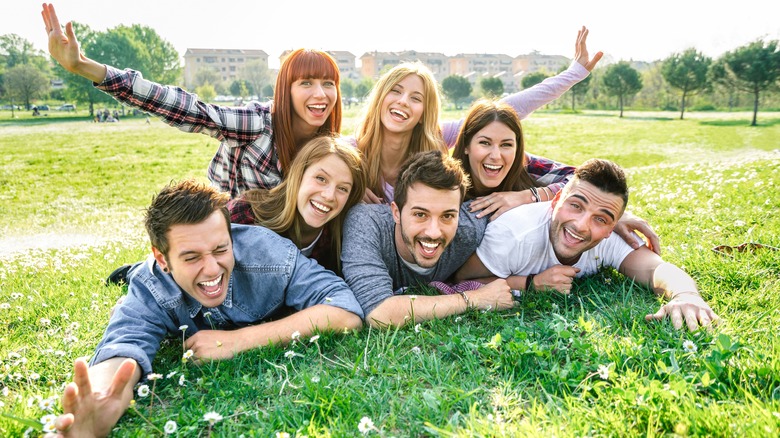 View Apart/Shutterstock
Spring break 2023 has arrived with a vengeance, and she's begging you to take advantage of all the free time she has to offer. You're probably itching to get out in some sun, hang with your besties, and eat copious amounts of food, and we can hardly blame you — after all, what is spring break if not an opportunity to get some good rest and relaxation? 
If you've been looking forward to spring break for a while, you probably already have the week all planned out. In fact, we bet you're jet-setting off to somewhere sunny and sandy, bags already packed. But maybe the typical spring break beach party vacay isn't so much your thing — maybe you've recently gone sober, or a big trip just isn't in the budget this year. Not to worry, spring break homebodies! There's plenty of fun you can have this week that won't break the bank, involves all your closest people, and will make this spring break one you won't forget. From going on outdoor (or indoor) adventures to hosting parties or catching up on all the latest pop culture phenomena, here are our top 30 fun spring break ideas for 2023.
Take turns hosting dinner parties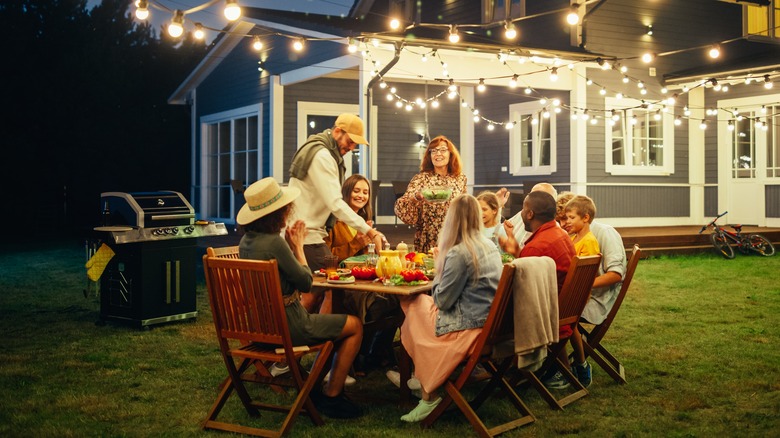 Gorodenkoff/Shutterstock
Spring break is a fabulous time to cook (and eat!) everything under the sun, but we don't blame you if you don't want to cook for yourself every night. Get a group of friends together and take turns hosting a classy dinner party every night. That way you and your pals get to eat a delicious homemade dinner every night of spring break, and you'll only have to cook for one of them. Alternatively, you could take turns hosting potlucks nightly — the host makes the main dish, and the guests each bring a side, drink, or dessert. 
Check out local museums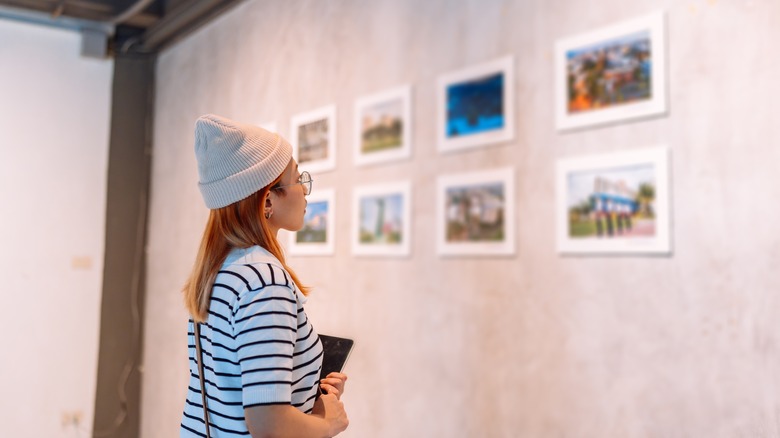 MMD Creative/Shutterstock
We'll venture a guess that there's at least one museum in your local city you have yet to visit. You might not live close to D.C.'s massive Smithsonian, but even small-town museums have a wealth of historical knowledge to offer. This spring break, take a trip to a museum you've never visited and see what you can learn from it. If you live near a larger city, you may even be able to find fun museum activities, like a museum scavenger hunt.
Finally binge that TV series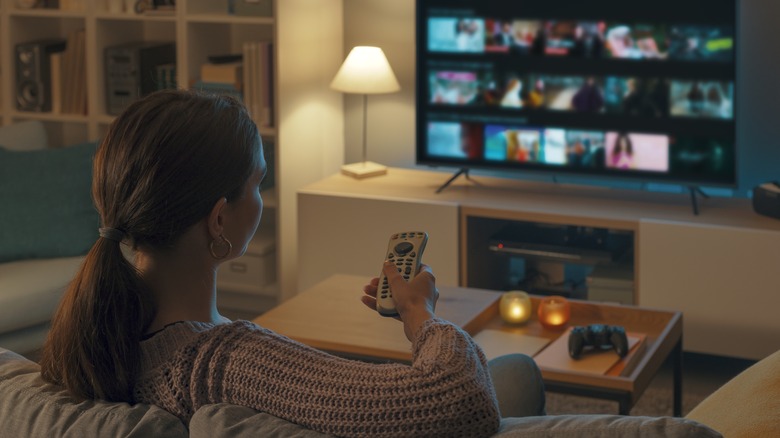 Stock-Asso/Shutterstock
We all have that TV series we've been waiting to watch until we have enough time and brainpower to fully appreciate it. Well, friend, spring break is a great opportunity to finally binge that TV series. Sure, you may not be able to get through all eight seasons of "Game of Thrones," but you could make a serious dent in a shorter series like "Breaking Bad," or you could get into one that's just released new episodes, like "Yellowjackets."
Or catch up on all the Oscar winners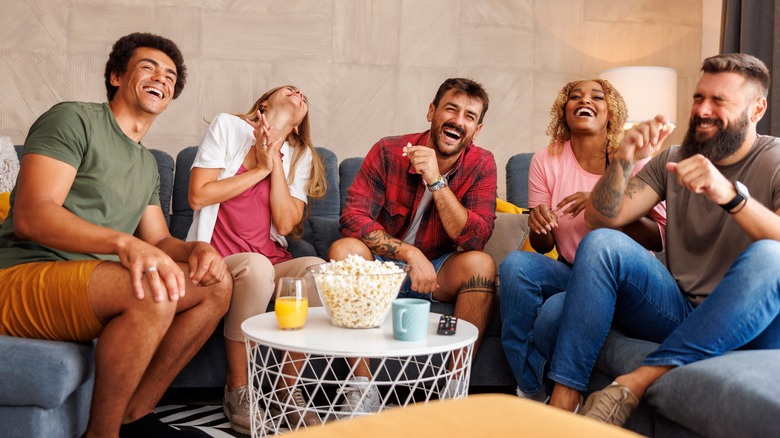 Impact Photography/Shutterstock
While you're lounging in front of the TV in full couch potato attire, invite a few friends over for an Oscars movie marathon. This year's winners were full of can't-miss films from 2022, and though you've probably seen a few of them, it's unlikely you've seen them all. Spring break is a great time to finally watch the winner of seven Academy Awards, "Everything Everywhere All at Once," or the latest from Colin Farrell, "The Banshees of Inisherin."
Hightail it through that book series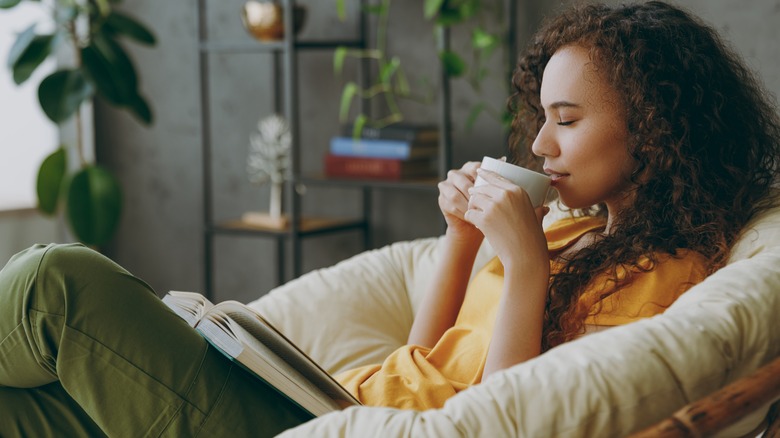 ViDI Studio/Shutterstock
Or just finally read that book that everyone's been talking about. Whether you opt for a series like Janet Evanovich's Stephanie Plum novels, or a novel that's recently taken the world by storm like Bonnie Garmus' "Lessons in Chemistry," use your spring break to get some quiet reading time in. You can always read on your own, but if you have a group of reader friends, now's also a good opportunity to do a brief spring break book club. 
Or revisit a favorite book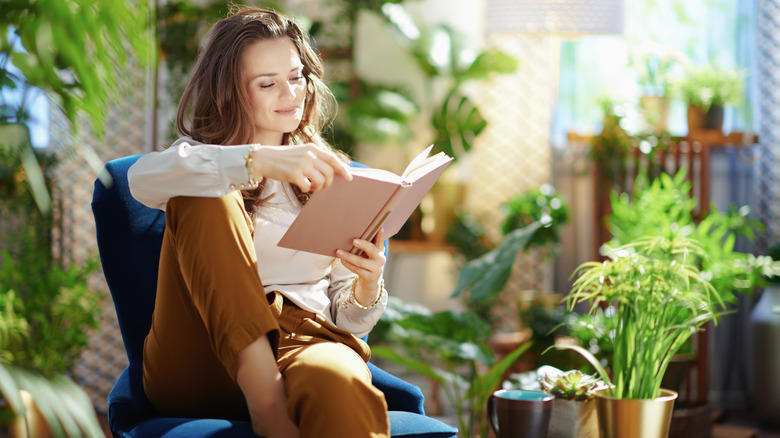 Alliance Images/Shutterstock
Of course, you don't absolutely have to do anything new on spring break. If you're feeling a bit of nostalgia this year, it could be time to revisit an old favorite book. Maybe you read a classic in high school that you've been dying to read again, like "Atonement" or "Jane Eyre." Or, maybe it's time to revisit your pre-teen "Twilight" and "Hunger Games" eras. Whatever old favorite you choose, we hope you love all the nostalgia it brings.
Go on picnics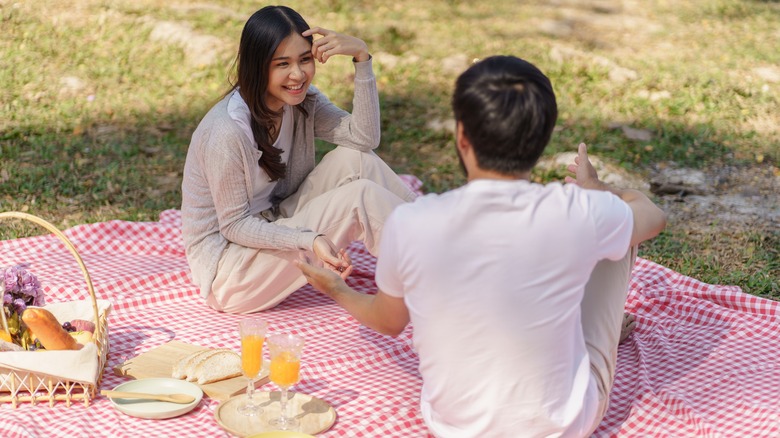 Lee Charlie/Shutterstock
If you're itching to get outside this spring break, we can hardly blame you. Hopefully, you're in an area where it's already started to warm up a little — if you are, take advantage of the blooms and blossoms and get outside for a picnic. You can always make it a solo trip and pack yourself a luxurious lunch, but if you're feeling a bit more social, invite a few friends along. Pack some bread, fresh fruit, and all the makings for a charcuterie spread, and you're sure to have a fabulous time.
Brunch it up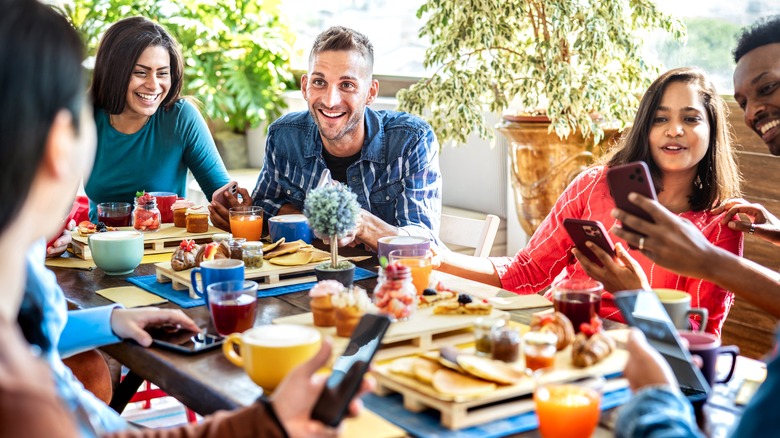 View Apart/Shutterstock
While we're on the subject of food, we can't forget our favorite meal of all time — brunch. Brunch is typically a weekend-only activity, but spring break is a lawless land of free time, and we think you should use it to brunch it up! You could go with a few friends to your favorite local brunch spot, or you could host the ultimate brunch at your spot. Bonus points if you make a pancake bar.
Go on a road trip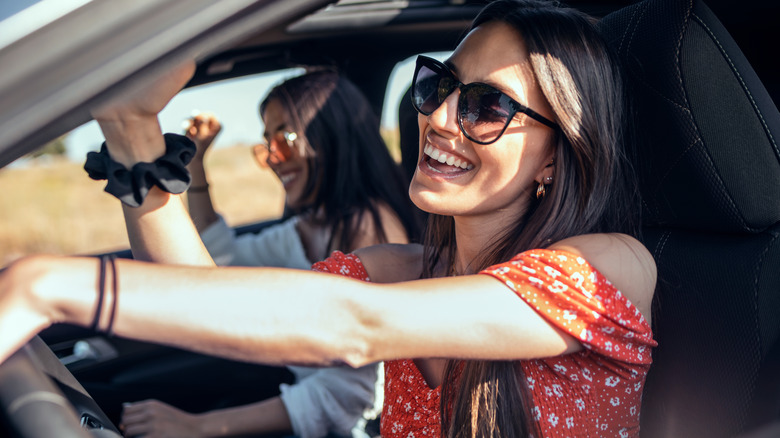 Josep Suria/Shutterstock
Who said you have to hop on a plane to get away during spring break? Not us. This year, why not go old school with a fun spring break road trip? You could make it as long or as short as you like — venture over to another state for a couple of days or drive along the coast. Do it solo or with a pal, and remember, road trips are more about the journey than the destination.
Volunteer your time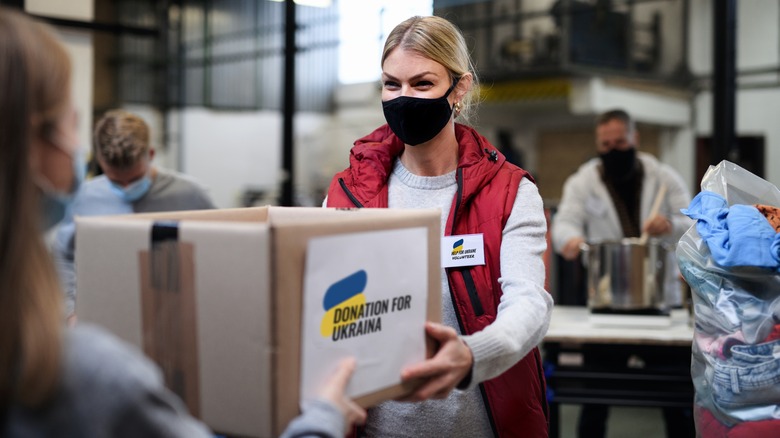 Halfpoint/Shutterstock
If you find yourself with an abundance of free time this spring break, it's always a good idea to use at least some of it to give back to your local community. Local social projects and nonprofits are nearly always looking for volunteers, and using your time to dig into your community is rewarding not only for those you're helping but for yourself, too. It always feels good to do something good, and who knows? You might find that you want to keep volunteering there when spring break is over.
Host a throwback slumber party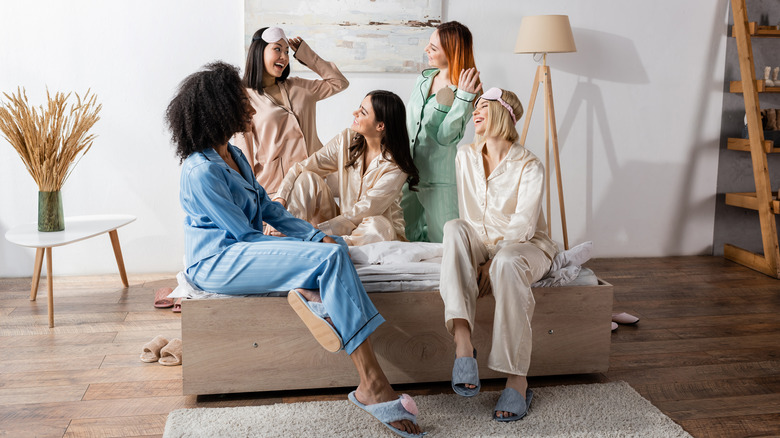 LightField Studios/Shutterstock
Our daily lives are full of un-fun adult things, so this spring break, take a break from the monotony of adulthood and throw it back to simpler times — namely, the time of the slumber party. Don't let spring break go by without hosting a fabulous throwback slumber party, complete with silk PJs, eye masks, movies, snacks, nail painting, and some hot gossip. We wouldn't be surprised if you make throwback slumber parties a post-break ritual, either.
Maybe even a bake-off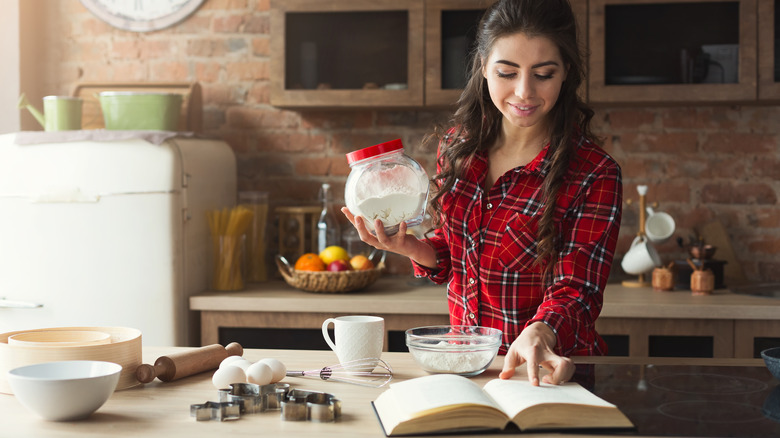 Prostock-studio/Getty Images
If you love to bake, have a competitive side, or maybe both, set aside a day this spring break to host a bake-off with some friends. As many people can bake as want to, but even those who don't want to enter a bake can join in to taste and judge. Make a classic family recipe or branch out and try something new and gourmet. Not everyone may walk away a winner, but everyone will have full bellies and a throbbing sugar headache, which is a win in our book!
Dial in your self-care ritual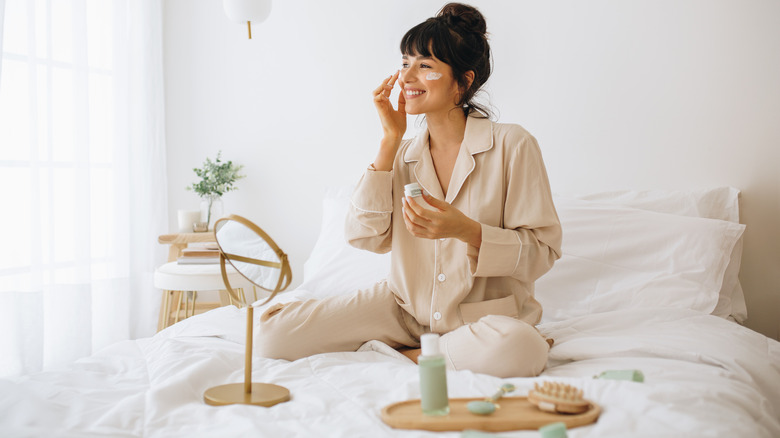 JLco Julia Amaral/Shutterstock
Have you been letting your own health and wellness fall to the wayside in the melee of your everyday? We hardly blame you, and we've been there, too. But since you have some free time this spring break, get your self-care ritual back on track. Go out and refresh your skincare and bath products and take some time to come up with a routine that really works for you and your needs.
Spring clean with friends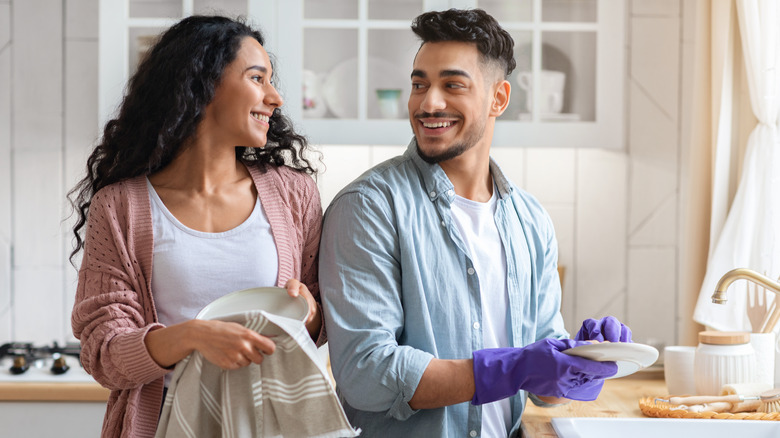 Prostock-studio/Shutterstock
Spring break is the perfect time for spring cleaning — after all, when else are you blessed with an abundance of free time? Get your house in order, declutter your closets and shelves, and sanitize all regular contact surfaces. But if all of this sounds pretty boring to do on your own, make a party out of it! Invite a couple of friends over, throw on your favorite throwback hits, and clean each others' houses. Reward yourselves afterward with some pizza, mimosas, tacos, or takeout from your favorite local eatery.
Host a clothing swap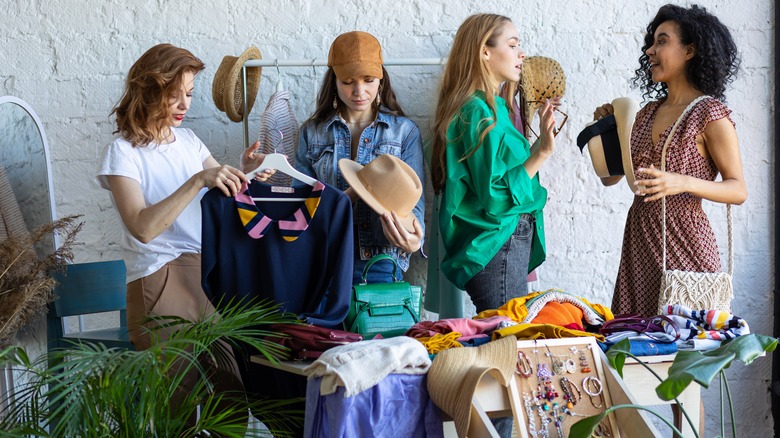 Vera Prokhorova/Shutterstock
While you and your friends are all spring cleaning your closets, it's the perfect time to host a clothing swap. Purge your stash of anything you no longer want and have all your friends do the same — then, set up folding tables, hanging racks, and jewelry stands for everyone to display their pieces. Don't forget to include accessories like hats and handbags. At the end of the day, everyone will walk away with a few new-to-you pieces. Donate anything not taken to your local thrift store. 
Get a new piercing or tattoo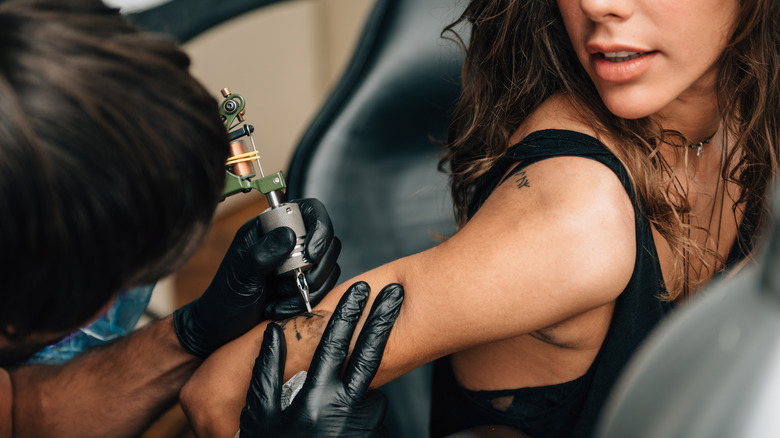 Microgen/Shutterstock
Dying to do something a little crazy this spring break? You could always get a new piercing or tattoo! We don't recommend getting a huge spur-of-the-moment tat, but you can always get a small one with your besties. Or you can finally get that nose piercing or cartilage piercing you've been wanting for ages. Whichever you choose, make sure you give it the proper aftercare.
Get permanent friendship jewelry
Want to cement a friendship in stone without getting matching tattoos? Get matching permanent friendship bracelets! Permanent jewelry has recently taken the accessories world by storm, and it's no wonder why — these dainty pieces are welded together on your wrist and you can do all your normal activities wearing them. Find a local establishment that offers permanent jewelry and book an appointment now, as some don't take walk-ins. 
Go buy some houseplants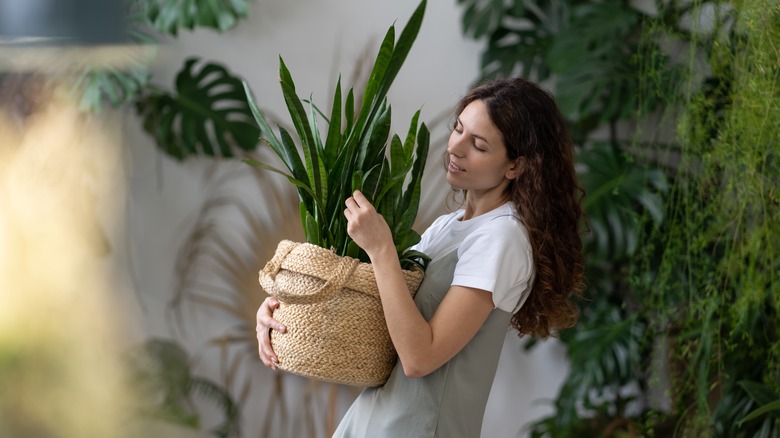 DimaBerlin/Shutterstock
While you're spring cleaning, decluttering, and reorganizing, set aside some time this spring break to go to your local nursery and pick up some stunning aesthetic indoor plants. Indoor plants can do wonders for any space, and spring is the perfect time to incorporate them into your home. Make sure you read up on proper care instructions and know how much light and water your plant needs, and you'll have a greener home in no time. 
Bake a bougie dessert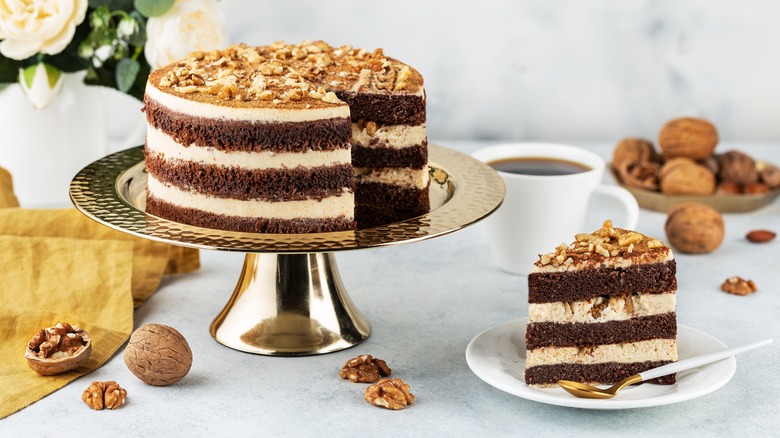 Elena_E/Shutterstock
Spring break is one of the best times to try something new — like that cake recipe you saw on your favorite cooking show that you've been dying to recreate. Lots of fancy dessert bakes take loads of time to make well, and time is something you have in abundance this week. Find a recipe that really makes you want to go all-out and source the best ingredients for it that you can find (check local markets or co-op stores for quality ingredients). Then, take your time making it, and share the end result with your friends. 
Cook a luxurious dinner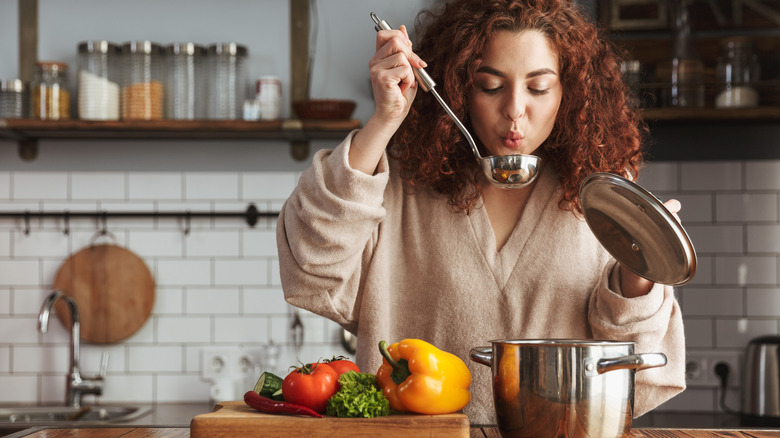 Dean Drobot/Shutterstock
If baking isn't in your wheelhouse, cook instead. Make a favorite childhood dinner or a luxurious recipe you've been waiting forever to eat. It's also a good time to make recipes that just take forever, and to hone your cooking skills in general. After all, practice makes perfect, and you have abundant practice time this spring break. Whether you cook solo or with (or for) friends is up to you — whatever you choose, just take the time to make it delish, and we're sure you'll have a great time.
Detox and reset your body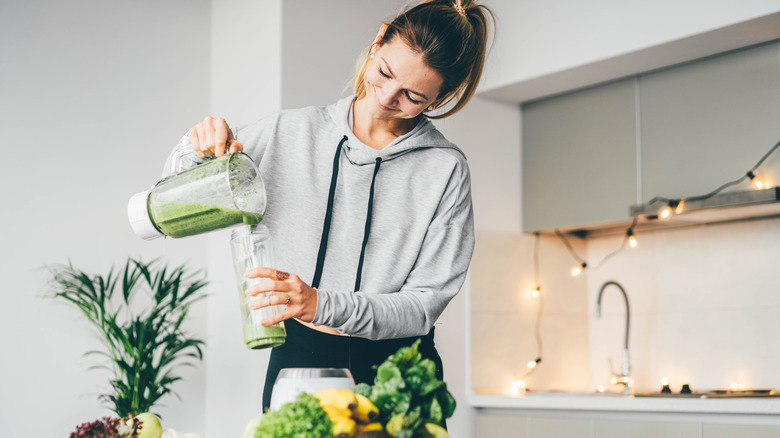 Mariia Korneeva/Shutterstock
The hustle and bustle of daily life gets to all of us at times, and sometimes our bodies bear the brunt of the burden. If you've been feeling a little icky or just generally off this season, use spring break to detox and reset your body. That means eating an abundance of fruits and veggies, staying away from too much refined sugar and alcohol, and taking inventory of any vitamins and probiotics you may take regularly. Doing all of this will help ensure you're ready to enter post-break on the right foot, so this is one you won't want to skimp on.
Dive back into an old hobby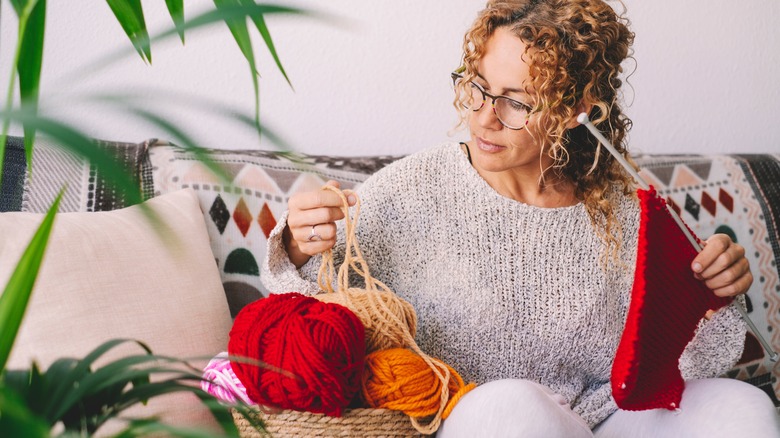 simona pilolla 2/Shutterstock
What's something you used to love doing that you just haven't had time for recently? Maybe you used to be an avid reader, knitter, or jewelry maker. This spring break, why not dive back into some of the hobbies that have brought you lots of joy in the past? It'll allow you to reconnect with parts of yourself that you may not have seen in a while, and you can hone old skills while you're at it.
Catch up with friends and family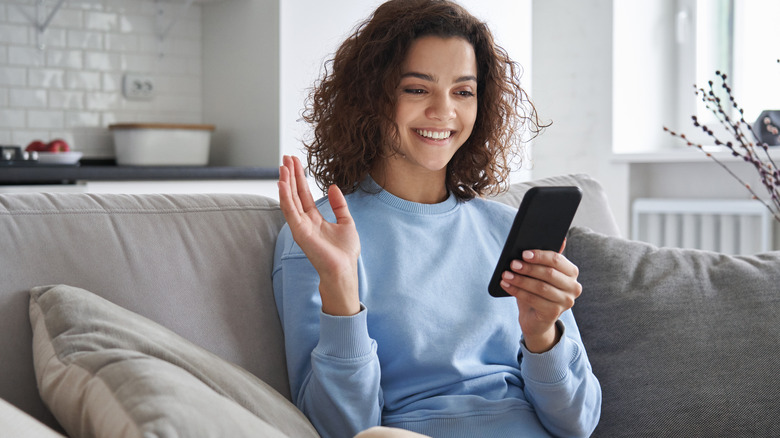 Ground Picture/Shutterstock
We're all busy, and it's easy to let important relationships fall by the wayside in the hustle and bustle of our daily lives. Take some time this spring break to connect with friends and family you may not have spoken with in a while. If you have a group of long-distance friends, you can always organize a fun virtual happy hour to catch up with each other, or you could just call or FaceTime a few people you've been meaning to catch up with. 
Do an extreme activity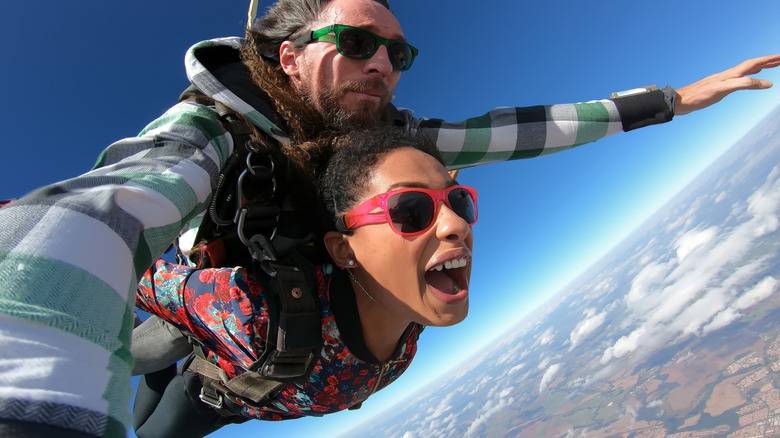 Mauricio Graiki/Shutterstock
Sometimes you just need to get your adrenaline pumping and do something absolutely thrilling — if that sounds like you, spring break could be the time to finally get that adrenaline rush going. Extreme activities like skydiving are great adrenaline boosters, and you could go solo or with a pal. However you do it, you're sure to get the rush you've been craving, and it'll make this spring break one you're sure not to forget.
Host a potluck spa day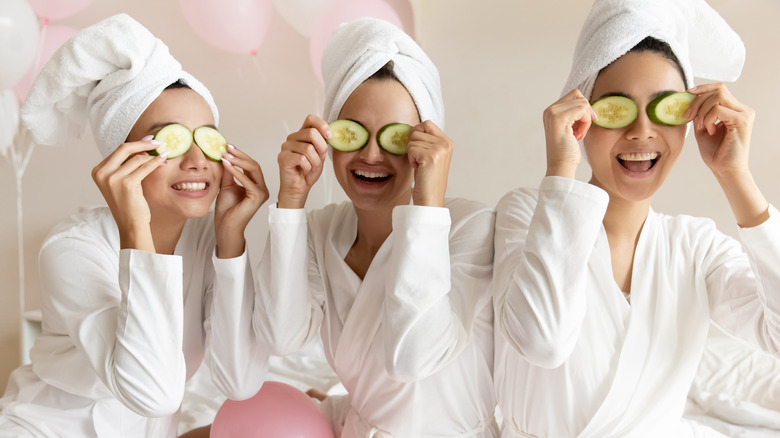 fizkes/Shutterstock
Want to pamper yourself this week? We don't blame you. If some pampering feels like the way to go, host a luxurious spa day for you and your besties. You could supply everything if you want to treat your pals, or you can make it a potluck spa day. Have one friend bring the eye masks, another bring the face masks, and another bring lotion and candles. Then relax and pamper to your heart's content.
Write letters to your loved ones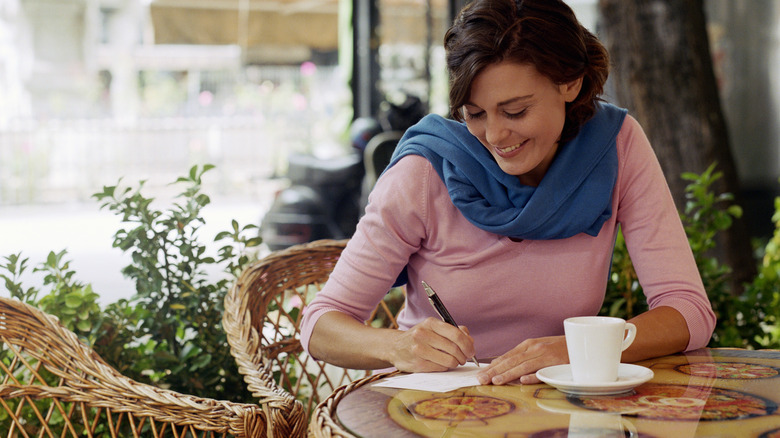 Allan Danahar/Getty Images
Handwritten letters are always such a treat to receive, but they take a good amount of time and effort to write. Since time and effort are things you have in abundance this week, take advantage of them and write some letters to people who are dear to you. Letters are so much more meaningful than other forms of communication — they can be kept and read over and over, and we're sure your friends and family will love receiving them. 
Host a game night
Studio Romantic/Shutterstock
Are you a board or card game aficionado? Maybe you've been an avid poker player and want to get back in the game. Set aside a night (or more!) this spring break to have a game night with your friend group. You could play board games, card games, group video games, or you could even have a game tournament with prizes. And who knows? Maybe everyone will have such a great time that game nights become a regular event.
Get out on the town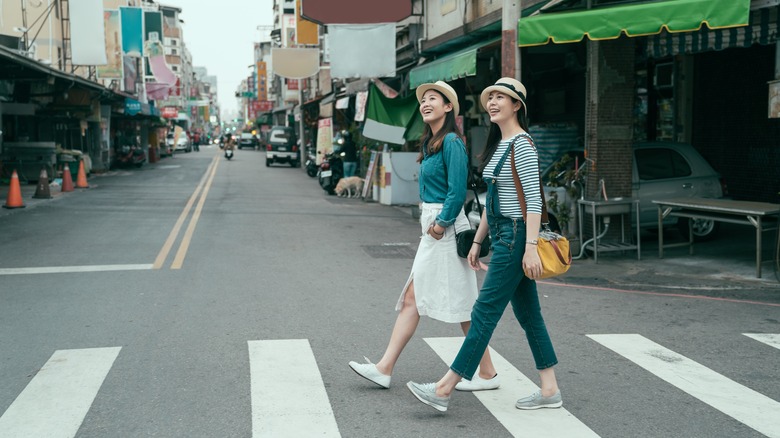 PR Image Factory/Shutterstock
Is there a cute neighborhood in your city or town that you've been dying to check out? Maybe some new local shops or eateries have popped up, but you've been too busy to stop by. Spring break is a great time to check out everything your town has to offer that you may not have seen yet or to revisit some local favs you haven't been to in a while. You could also just use this time to take walks around your neighborhood and get reacquainted with where you live.
Try a local brewery or winery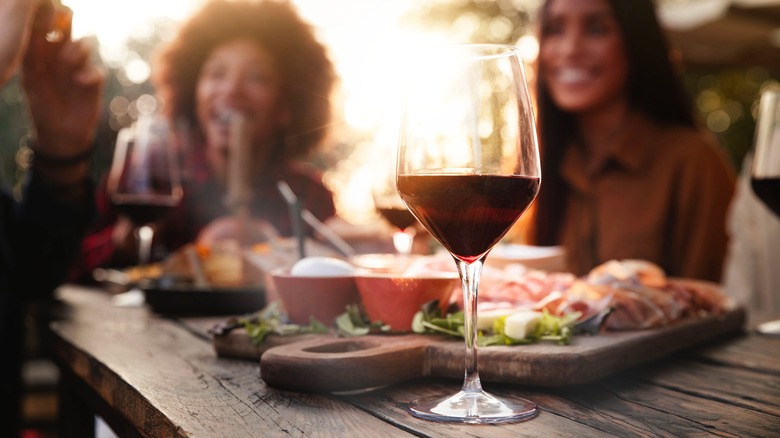 DavideAngelini/Shutterstock
Local joints love the support of their neighborhood's residents, and your local breweries and wineries are no exception. Every winery and brewery has something different to offer, and there's no better time to sample them all than spring break. Take some friends on a tour of local wineries and breweries this week, or just go on your own (don't drive yourself, though!). You'll probably walk away with a new favorite local drink; at the very least, you're in for a great time with your friends.
Get all your beauty appointments out of the way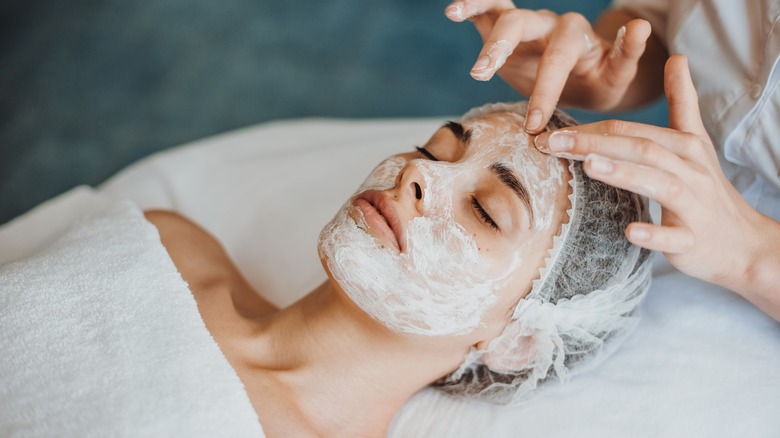 dekazigzag/Shutterstock
You've been meaning to schedule that facial, hair color appointment, wax, and massage for forever and a day now, and you're definitely overdue for all of them. Well, spring break is the ideal weekend to get all these appointments out of the way. Go get all your beauty and self-care appointments done now, so you can walk into your post-spring-break routine fully refreshed and ready to go. Schedule now, thank yourself later.