Try A Facial To Revive Your Weak Nails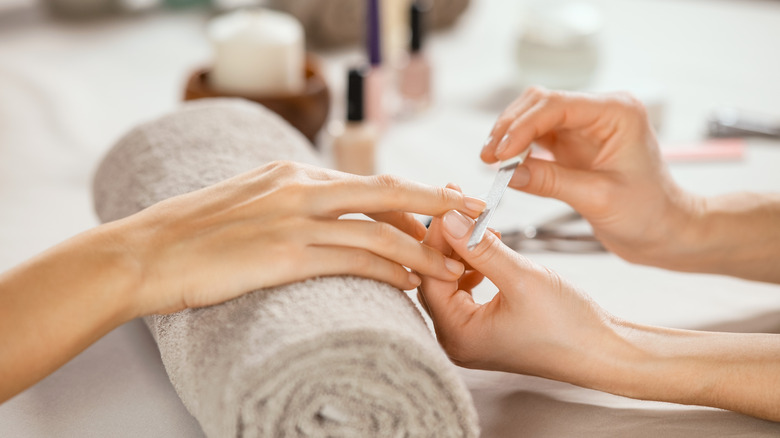 Ground Picture/Shutterstock
We may receive a commission on purchases made from links.
Our nails can tell us a lot about our health. However, if you've been to the doctor and your health appears to check out fine internally, it may be time to focus your attention directly on your nails and figure out what's causing you to have weak and brittle nails. 
Advertisement
Believe it or not, a variety of factors can contribute to having weak nails. For example, if you work in the healthcare or food industries and wash and sanitize your hands multiple times a day, the dryness you experience from doing so can wreak havoc on your nails. Another unexpected but somewhat unsurprising contributor to having weak nails can also be linked to the chemicals you use on your nails when you get them done. So, if either one of these circumstances (or both) is something you believe is contributing to why you have weak nails, try getting a facial to help nurse your nails back to good health.
Why you should try a nail facial for weak nails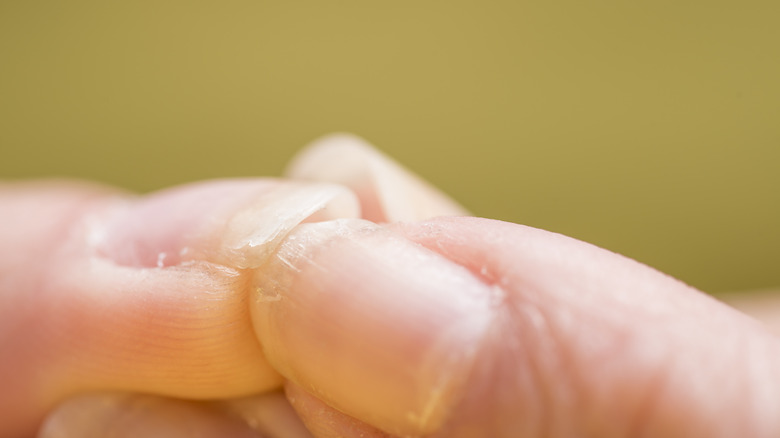 Photosampler/Getty Images
Nothing beats leaving the nail salon with a fresh set of neatly polished nails that can last for a few weeks at a time. However, the chemicals used to achieve your desired set of nails can be tough on your nails, especially in the long run.
Advertisement
For example, while dip powder guarantees chip-free nails for a couple of weeks, it can potentially damage your nails, mainly due to the removal process. "It's not dangerous to apply a dip powder every month. However, to remove these manicures, you need to put 100% acetone on your nails, which can damage your nails," board-certified dermatologist Shari Lipner, M.D., Ph.D., tells the American Academy of Dermatology.
If you notice your nails are brittle, cuticles are dry, or your fingernails now have ridges after applying nail enhancements, treat your nails to a facial. Similar to the extra TLC you give to your face when you steam, deep cleanse, apply a face mask, and treat with a slew of hydrating serums, you'd apply this energy to your nails instead. Made popular by award-winning nail and beauty expert Leighton Denny, a nail facial consists of nourishing the hands and nails by following a simple process that's fairly easy to do on your own.
Advertisement
How to do a nail facial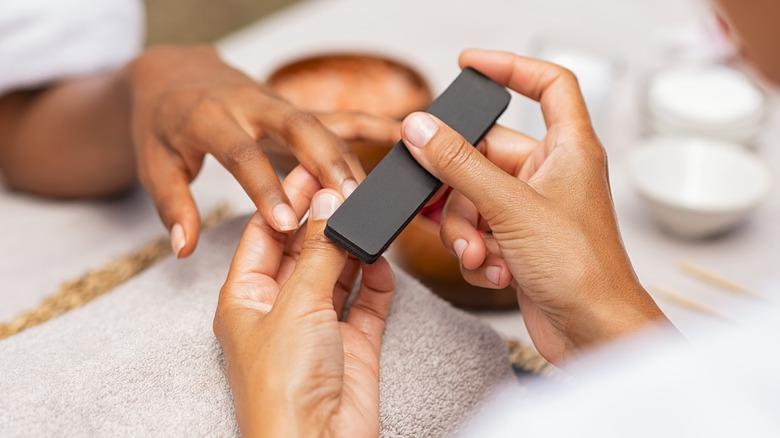 Ground Picture/Shutterstock
To achieve beautiful and hydrated nails, Leighton Denny recommends "sealing" your nails using a crystal file to prevent water from getting into your nails and potentially causing your nails to dehydrate. "When water gets into your nail, it can cause peeling at the tips," Denny tells Refinery29. "The unique surface of a crystal nail file is smooth and seals the edge of the nails, so any treatment you do next is going to stay inside." We recommend the Bona Fide Beauty Glass Nail File from Amazon.
Advertisement
The next step is to "exfoliate" your nails by buffering them with a four-sided buffer that can exfoliate, smooth, and provide shine. The Ulta 4-Way Nail Buffing Block is a great and affordable option for this step. Just as you would moisturize your face, it's just as important to moisturize your hands and nails with a good nail cream. Be sure to moisturize the entire hand, but give extra attention to your cuticles. Apply and massage a bit of cream on one nail and move on to the next nail until all of your nails are finished. Afterward, use the soft side of your buffer to buff the cream in and make your nails shiny. Lush's Handy Gurugu is an excellent hand cream to invest in.
Finally, hydrate your cuticles with cuticle oil. Denny advises dabbing your cuticle oil onto the base of the nail, just above the cuticle. We recommend OPI's ProSpa Nail and Cuticle Oil for this. After this step, you're all set and will have healthier nails over time.
Advertisement