Please, Avoid Hot Tools After Applying Hair Spray (Trust Us, It's For The Best)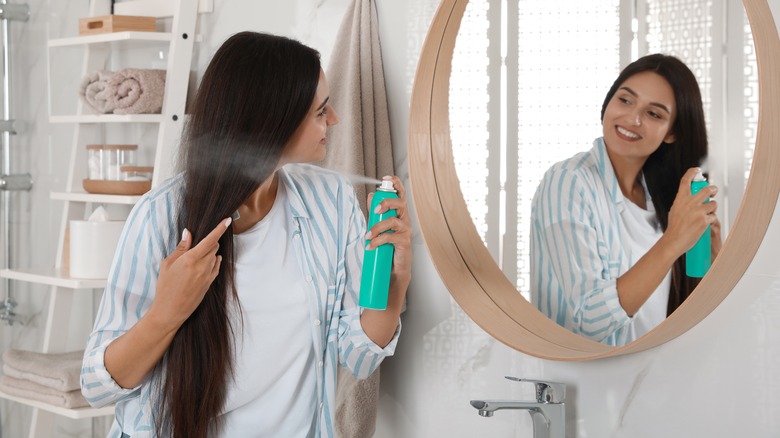 New Africa/Shutterstock
Everyone knows you should limit your usage of hot tools when maintaining your hair's health. However, this doesn't always mean it's an easy task to avoid. Whether you're trying to create the latest hairstyle trend or you're simply just looking to add some extra curls or straightness to your hair, hot tools are sometimes a necessity. Now, if you plan to use these tools on your hair, there are certain steps you want to take to ensure you aren't unnecessarily damaging your hair. The biggest tip is to always use a heat protectant when applying heat to your hair. A heat protectant can act as a barrier between your hair strands and the hot tool, slowing down the process of heat damage.
Advertisement
Another suggestion you may have not been aware of is that you want to avoid using hair spray before going in with your hot tools (via Better Not Younger). There are plenty of reasons why you may want to go in with some heat after applying the final hair product. Perhaps you want to add some extra curls to your look or are unhappy with the way it turned out. However, whatever the case might be, adding heat to hair that's already been locked and sealed with hair spray could turn into a bigger hair disaster.
Avoid post-hair spray heat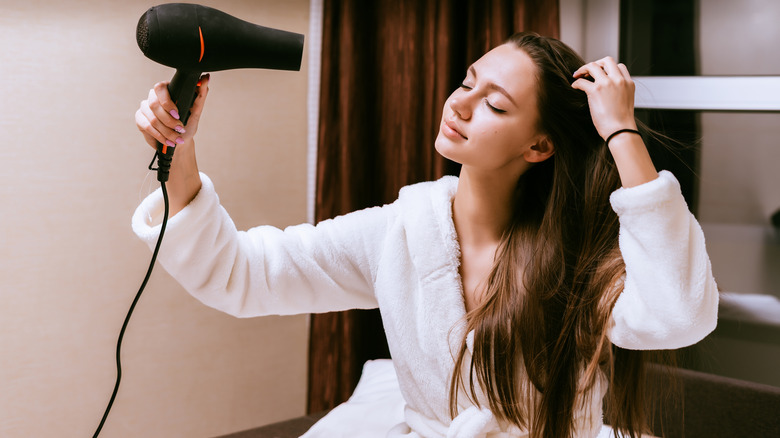 nelen/Shutterstock
Once you've applied hair spray to your hair, you should set down the hot tool for the day. The reason that applying heat to hair that already has hair spray is that it could wind up further damaging and drying out your hair. For the same reason you never want to apply heat to damp hair, you'll want to avoid mixing hair spray and hot tools. Better Not Younger explains that applying heat to hair that still has moisture could fry your hair, which is not a hair trend you want to rock. Since hair spray coats the hair with moisture, your hair is still moist enough to receive some damage.
Advertisement
While heat protectant also coats your hair, this product is formulated to be in contact with heat. Hair spray is a finishing product that is meant to remain as one of the final products to touch your hair. Therefore, before applying hair spray, you'll want to double-check that you've done all of your work with a hot tool because once the hair spray has been applied, it's time to head out the door. On the other hand, if you do need to go in with some extra heat, give your hair time to completely absorb the hair spray, and it feels dry. Once your hair is dry, you can touch up the hair with heat.
How to apply hair spray like a pro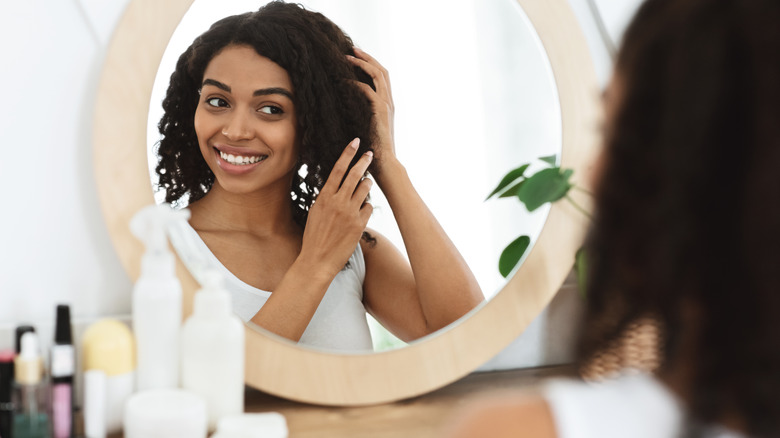 Prostock-studio/Shutterstock
While it's now known that you shouldn't add heat once applying hair spray, it's key to know how to correctly apply hair spray. Many will find that the current way they're spraying the product isn't really doing everything it's meant to do. In fact, L'Oréal Paris explains that one of the common mistakes most people make is using the product too close to the hair. Not only will a close spray cause greasy hair, but it will make you lose your shape. In other words, if you're curling your hair, spraying too close to the strands will weigh down the curl and cause it to fall. Notice the next time your hair spray product suggests spraying six to eight inches, you'll want to ensure you're following through on it.
Advertisement
Fortunately, you can get multiple uses out of your hair spray by getting a firm hold on your curls and taming your frizz. For those looking to tame some of that frizz on curly hair, spray some of the product onto your fingers and run it through your hair. The product should be enough to hold down your frizz without weighing down your curls or messing up your hairstyle. On the other hand, if you have straight hair you can spray some directly onto your brush before running it through your hair. Using a brush will tame the frizz closer to your roots while keeping a sleek and straight look.