Here's How To Get Sleek, Straight Looks Without The Heat Damage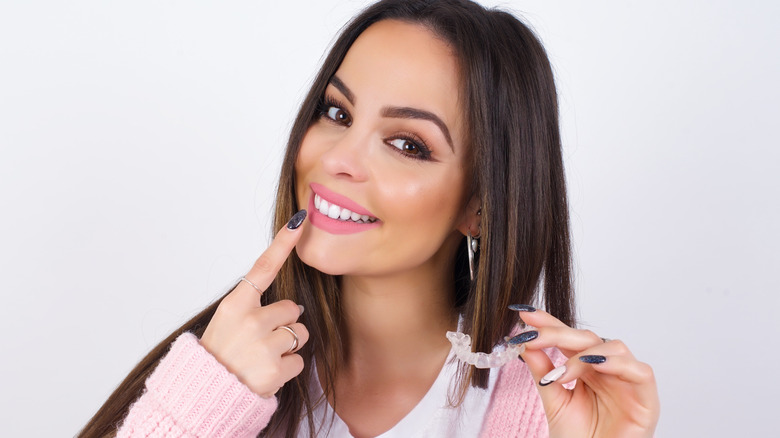 Roquillo Tebar/Shutterstock
Hair fads come and go, but sleek, flowy hair that hangs curtain-like never goes out of style. Be it natural, ironed, or extensions, the straight hairstyle that dominated the '90s has a strong staying power. Many celebrities and beauty icons have created signature looks where shiny pin-straight strands take center stage. Who could forget that Jennifer Aniston, as Rachel in "Friends," rarely deviated from her center-parted, straightened lob that makes the perfect office look, for instance? Stars are using this hairstyle today, too, which goes to show that the '90s never die and it's never a bad idea to don poker-straight mane.
That said, stepping into the straight hair trend again might come at a compromise to your hair's health. Hot styling tools like flat irons and blow-dryers, while essential in making your hair take on the shape you go after, dry out your hair's cuticles, rob your hair of its moisture, and make it vulnerable to breakage, a study in the Journal of Cosmetic Dermatology finds. Exposure to extreme heat defects protein in your hair shafts, damaging the structure of your hair shafts and making your hair more brittle and sparer, per Monpure. You can spray heat protectants to your hair before ironing or blow-drying them, but keep in mind that protective heat sprays can only lessen the amount of damage caused by heat styling to below 50% at best. 
Therefore, getting your hair to look straight yet risk-free is quite a head-scratcher. But fortunately, it's not an impossible mission. With these following tips, you can sport sleek, straight looks without the slightest heat damage.
Cold dry your hair to decrease damage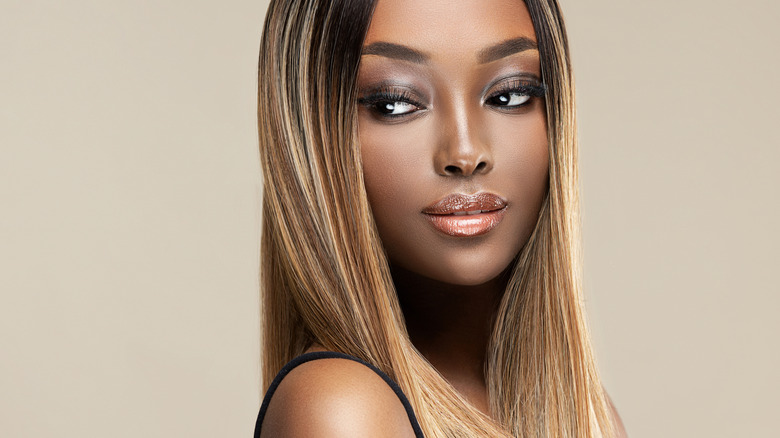 Sofia Zhuravetc/Shutterstock
If hot air gives your hair potential damage, why not expose your hair to some gusts of cool air for less impact? According to Healthline, once three-quarters of your hair has been air-dried, divide your hair into your preferred sections. Then, grab your blow-dryer with the temperature set to "cool," keep it about six inches away from your hair, and start blowing gently from root to tip. As you're drying your hair, point the blow dryer's nozzle down your hair shaft to avoid damaging the cuticle and work in small sections at a time. The main difference between hot air and cold air is that blasting hot air to your strands helps style them more quickly and efficiently, while cold air helps to keep your mane in place and give your hair a lightweight hole. 
For better results, apply a few drops of straightening serum to your hair before or after blow-drying it. Straightening serum, per All things Hair, is an anti-frizz, serum-like product that coats the surface of your hair to keep it straight, smooth it out, and give it an additional shine without weighing it down. To keep the sleek look going, keep a dry shampoo ready and spray it onto the roots when your hair feels damp to remove excess moisture and keep the hair straight for a longer time.
Wrap-dry your locks or roll them straight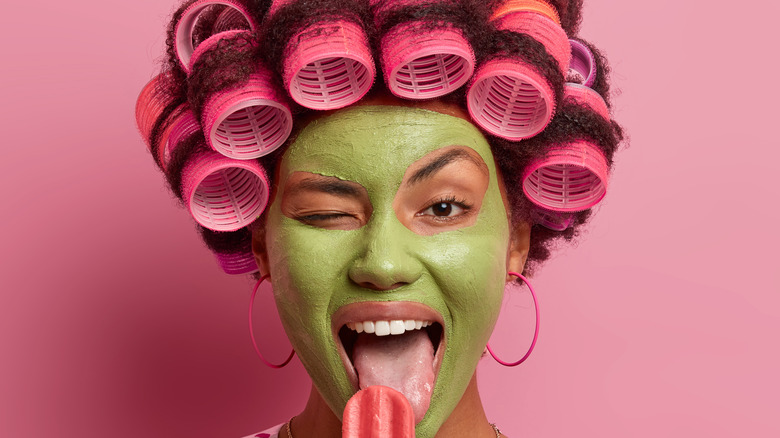 Cast Of Thousands/Shutterstock
Another effective yet slightly time-consuming way to keep your hair straight is to wrap-dry it. This is a process where you wrap your damp hair tightly in one direction with a paddle brush and secure it with long bobby pins, says Ian Mayer-Marszalek, national corporate trainer for Schwarzkopf Professional, to Byrdie. To keep your locks in place, use as many pins as necessary. The more secure the hair is, the flatter it will be. Once your hair has dried, it will maintain a straight and glossy look. Another unusual yet tried-and-true method for straightening coarse and curlier hair is to use rollers, per Hairstory. 
For this method, you'll need six plastic jumbo rollers. Keep in mind that the bigger the rollers, the straighter the hair, and you should save the largest roller for the bump at the crown. When your hair is still damp, section it according to the width of each roller and wrap it flat against the roller. As you roll, use a clip on each side of the roller to secure the hair. Leave the rollers on until your hair is completely dry. For long-term results, use shampoos, conditioners, and serums specially designed to relax your curls and keep unruly hair sleek and glossy.
The aforementioned heat-free procedures can still help you straighten your hair safely, especially if you have finer hair or curly hair, even if they won't leave your hair as poker-straight as heat styling would. If you have textured hair, you might want to consult a professional hairstylist for treatments that give you straight looks sans heat damage.