The Midi Skirt Suit Is The Trendy Alternative To Buttoned-Up Workwear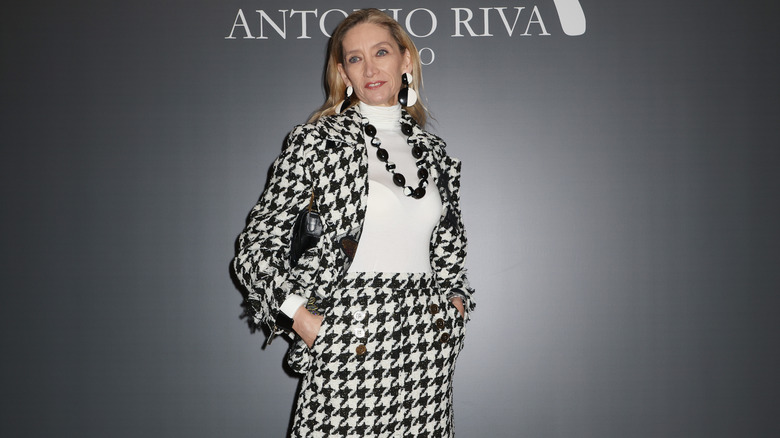 Valentina S. Frugiuele/Getty Images
Weekday outfits are a constant source of stress for many working people. The stereotypical workwear is usually stiff, bland, and hyper-normative. And those who work in office environments that encourage "creative business wear" or "semi-casual" dress codes are often lost in a sea of uncertainty about what makes an outfit workplace appropriate.
Fortunately, the most recent workwear trend offers a business style that's comfortable, distinctive, and effortlessly professional: midi skirt suits. A sartorial retort to the super mini skirt suit and a playful twist on the classic pantsuit, today's midi skirt suit says that your wardrobe can truly have it all.
Midi skirt suits can be taken in any direction. You can have a glam, structured suit with padded shoulders and a midi pencil skirt. Or, you could take a page from the Elaine Benes stylebook and pair a loose midi skirt with an oversized masculine blazer. The options are endless, and with this on-trend workwear look you can create your perfect personalized office uniform.
Monochromatic
When in doubt, monochromatic is the way to go for a midi skirt suit. Whether you choose a neutral tone or a brighter shade, solid color will automatically make your ensemble look more put-together. To avoid looking like a solid mass of color, choose pieces with distinctive texture, such as a structured blazer or pleated skirt.
Play with color
Embrace the funky, creative vibe of a midi skirt suit and find a set in a bold color. A neon skirt suit, for instance, will make you stand out as a confident and stylish professional. If neon isn't quite appropriate for your work environment, rich jewel tones make for a calmer but still impressive statement piece.
Think pink
Discover your inner Elle Woods and go for the pink midi skirt suit. A bright pink, like fuschia, makes a memorable impact, but a medium or pale pink shade will also evoke a classic, tasteful vibe. If you go for the true Barbie pink style, you can aim for a structured, professional silhouette — such as a tweed suit — to offset the cutesiness of the color.
Detailed embroidery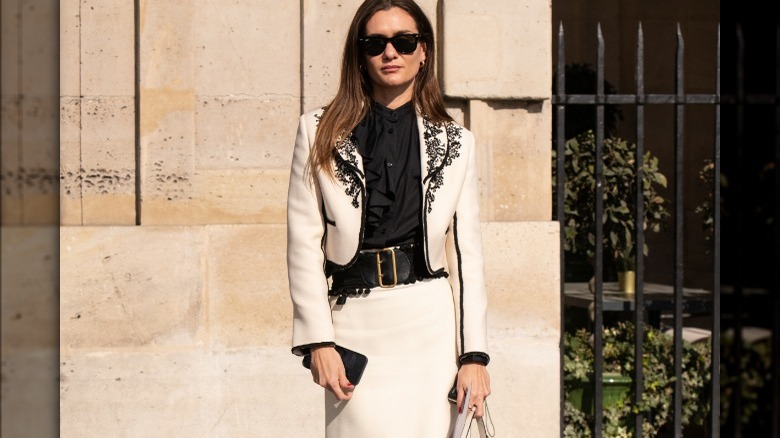 Kirstin Sinclair/Getty
While much of the midi skirt suit trend favors monochrome looks over patterns, there's still space to experiment with details. Try out a skirt set with embroidery on the blazer lapel or skirt hem. A super busy design might not be appropriate for every workplace, but a small floral or abstract decoration will be welcome in even the most serious of office spaces.
Relax with stripes
Midi skirt suits can be ultra structured, but you can also style them for a laidback look. Pair your skirt suit with a comfortable top in a simple pattern, such as stripes. The result will be less formal than a standard skirt suit ensemble but still professional. Plus, after work you can shed the blazer and transition the outfit into a cute happy hour look.
Creative layering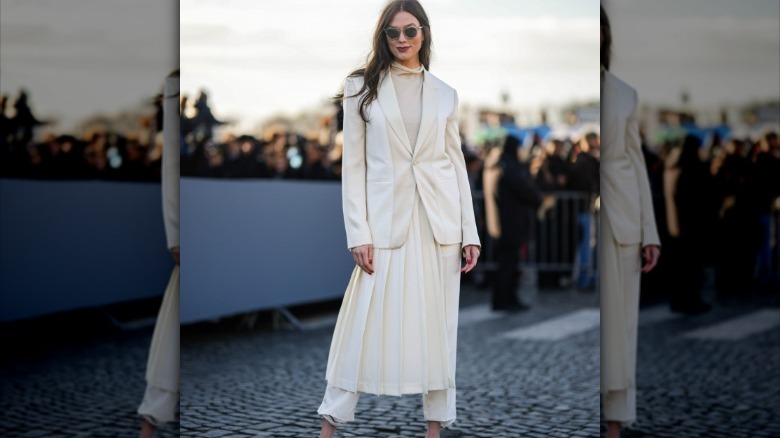 Edward Berthelot/Getty
A midi skirt suit is a great opportunity to get creative with layering. The length of the skirt already gives you more fabric and shape to your outfit, but you can amp up the layers even more. For either modesty or style purposes (or both), you can try wearing matching leggings or pants underneath the skirt. You could also wear a turtleneck or sweater underneath the suit jacket. As long as you plan for a clean silhouette and coordinating colors, you can design a midi skirt set that meets all of your professional fashion needs.