Rave Culture Is Making A Triumphant Comeback, According To Pinterest, & We're Pumped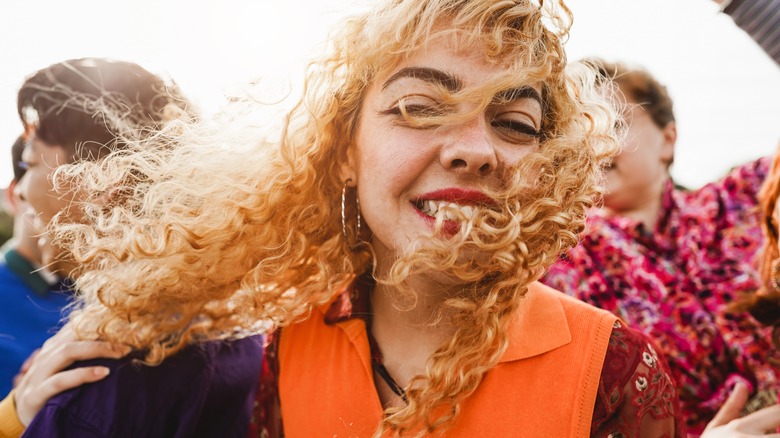 DisobeyArt/Shutterstock
If you're a millennial or Gen Z and you've never heard of the rave culture, you probably lived under a rock throughout the 2010s. Although the rave culture is often considered a modern-day item because it was all the rage with young adults in the years leading to the pandemic, this youth-oriented movement dates back to the Edgy Decade. According to IHeartRaves, raves first appeared in the 1980s as covert dance gatherings that took place after hours in large cities. The word "rave" was coined by DJ Frankie Bones to describe a partying trend that took over the underground music landscape at the time.
Many people think raving is just about watching world-famous DJ headliners perform and bouncing with your body the whole time. But the rave culture has its ethos. Indeed, the fundamental tenets of rave culture are PLUR, which stands for Peace, Love, Unity, and Respect. It's all about honoring our love of self-expression, dancing, and music with a like-minded crowd. Before the pandemic, people would flock to EDM clubs or massive international festivals to rave. But the pandemic changed everything.
Now that the world is returning to normalcy, the rave culture is also making a triumphant comeback, according to Pinterest. All over the globe, it looks like loyal ravers are getting ready to dance, sweat, and repeat — again. If you can't wait to jump on the rave train, now is a good time to practice your moves and stock up on rave wear.
What does the forecast say?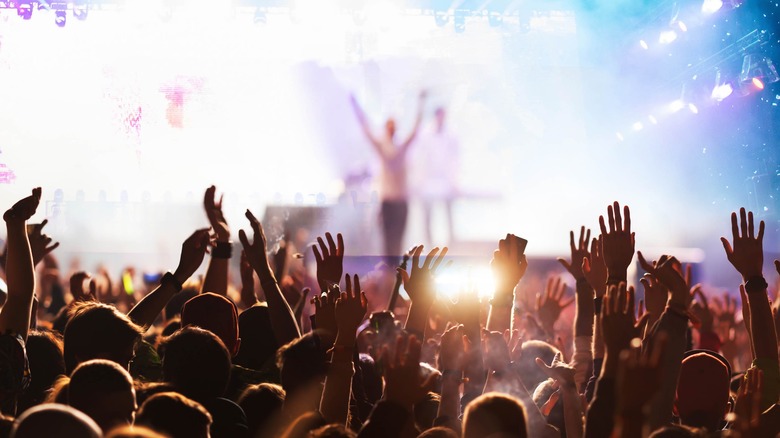 Melinda Nagy/Shutterstock
According to Pinterest, everything related to the rave culture — from music to fashion — is seeing a dramatic surge in popularity as Gen Z and millennials can't wait to blow away the cobwebs and get into the groove after over two years of cabin fever. In terms of searches, house music outfits have seen a 185% increase, Berlin rave fashion a 250% increase, and rave party aesthetics gained a 35% increase. 
Obviously, people are getting all excited about rave accessories and festival gear. If you need a recommendation, sweat-friendly but not too revealing options like off-shoulder tops and shorts that allow you to shuffle and headbang freely are great. For more ambitious ravers, put on a glowing holographic outfit, and you'll still be seen sparkling from space.  
Music is the heartbeat of a rave. That's probably why people are finding inspiration for their super bumpin' moments in the dopamine-releasing feel of Techno, which has seen a 60% increase in searches. Meanwhile, it looks like quite several people are planning to switch from flag-waving ravers to DJs this time. Search for music mixers, which are tools that allow musicians to mix songs and perform live mixes with electronic tracks, have gained a 115% increase in search. 
How to prepare for a rave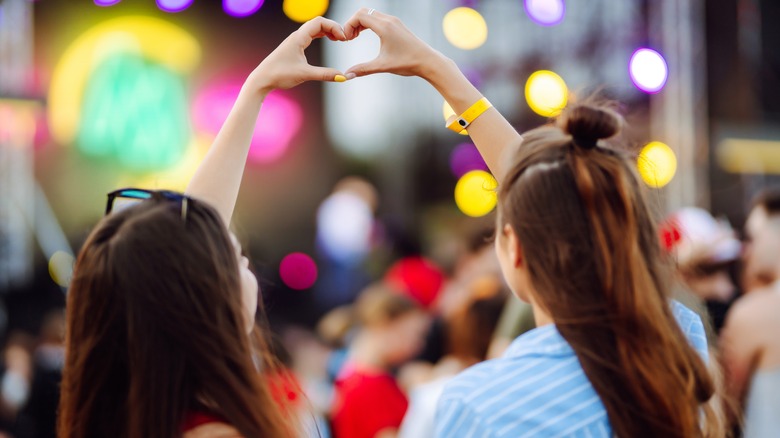 maxbelchenko/Shutterstock
While music and fashion are usually the key focus of a rave event, that's not where rave preparations should end. There are other things you should know about if you're a first-time raver to have a fun, meaningful time spreading PLUR. 
It's important that you bring a fanny pack to every rave so you can store key items like your ID, credit card, and wristband. Clothing-wise, indecent exposure is a no-no. Always dress appropriately, wear comfortable shoes to avoid sore feet, and bring a jacket so you have something to cover yourself when the temperature drops. You'll sweat a lot at a rave, so invest in heat-resistant, long-wear makeup to prevent your cosmetics from melting off your face. It's a good idea to bring a hydration pack stuffed with water bottles so you can keep yourself hydrated at any given time. 
A rave can last all night and typically has two potty breaks. You should use the toilet while you can, but be forewarned that toilet rigmarole can be dreadful and portable toilets at field raves can smell awfully bad. Therefore, it's wise to bring a shewee or a BoginaBag with you to any rave so you can relieve yourself easily and with dignity when nature calls. Remember to eat a carb-based meal two hours before a rave to get all the energy you need, and bring some snacks so you can refuel after that.