15 Hairstyles Straight From The '80s That Are Making A Major Comeback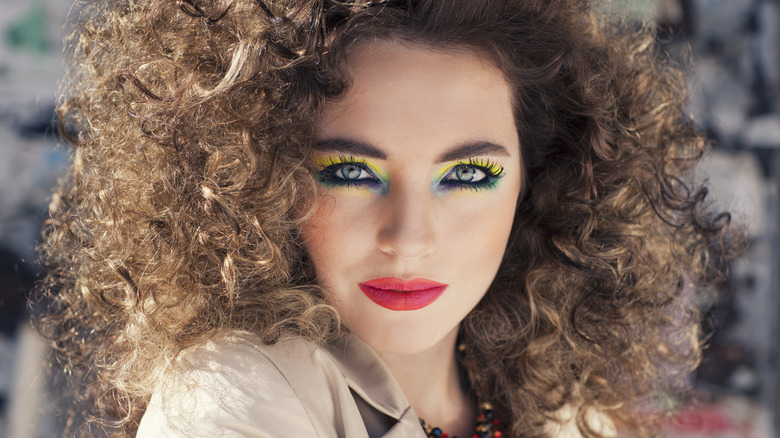 Quantiumpix/Getty Images
The '80s were a time of self-expression, rebellion, and freedom, and the fashion and beauty trends of the era perfectly reflected that. Back then, it was all about ultra-bright eyeshadows, neon and funky statement jewelry, structured silhouettes with strong shoulder pads, and of course, big hair. Nothing about the '80s was subtle and underwhelming, and if there's one takeaway from the decade's beauty and fashion trends, it's that everyone deserves a place in the spotlight.
As with everything beauty and fashion-related, trends come back — most commonly in a 20-year cycle. This means that the 2020s can expect plenty of '80s fashion trends to come back around, and that is already evident with some of this year's trending hairstyles. If you're looking for a change, '80s hair is a great way to make a statement and channel your inner diva. From teased and bouncy disco curls to a low-maintenance and chicly messy shag, these retro hairstyles are all about expressing yourself.
The more volume, the better
The most prominent hair trend of the '80s was over-the-top volume. This means that if you have naturally gorgeous curly hair, you absolutely need to embrace it and allow it to be as big as possible. If your hair is fine and flat, you can achieve some volume by using a volumizing spray and gently teasing your roots. However, keep in mind that teasing can cause breakage, so definitely don't do this on a daily basis.
Perm-like hair
In the '80s, permed hair was very common. Anyone with straight and fine hair would get one, and they essentially wouldn't have to worry about styling their hair for months. However, perms are today known for the damage they can cause to your hair, which is why we wouldn't recommend them. Instead, you can achieve a similar look by using a small curling wand or, even better, tiny, heatless curlers. No, this isn't a permanent method, but it keeps your hair healthy.
Crimped hair
Crimped hair rose to popularity in the '80s thanks to pop icons like Madonna and Cyndi Lauper. Back then, with the help of a crimper, you could easily create a zig-zag pattern in your hair that would give it tons of texture and volume. Nowadays, crimpers have evolved, and they don't dry out or damage your hair as much. However, using a heat protectant is still a must.
A low side ponytail
Asymmetrical hairstyles were very popular in the '80s. An easy way to experiment with those without committing to a haircut is to simply rock a side ponytail or braid. The more tame version of this look is to have the pony sit low, while a more dramatic and bold option would be to do a higher side ponytail.
Feathered hair with wispy bangs
Inspired by Farrah Fawcett's famous '70s hair, feathered hair continued to be popular in the '80s too. However, it slightly changed; the layers were messier and exaggerated, and the bangs weren't perfectly styled. A haircut like this is made its comeback through the currently popular wolf cut, and it is the perfect choice for anyone who doesn't want to spend hours styling their hair.
The mullet
Mullets were a huge trend in the '80s, and they weren't just a hairstyle for men. Today, the retro haircut is definitely a brave choice, but those who can pull it off look stunning with it. If you want to try this look but are still a bit wary as to how it will look on you, start small. Make the difference in length of the front and back minimal; you can always shorten the front more once you get used to the haircut.
Voluminous bangs
Bangs were definitely a popular haircut choice in the '80s, and instead of being super straight and thick, they were wispy and ultra-voluminous. To recreate the classic '80s bangs, divide your bangs into a lower and upper section. Curl the lower section towards your forehead, and curl the upper section away from it.
A deep side part bob
Even though Gen Z doesn't want to hear it, a side part is returning with the rise of retro hairstyles. A deep side part like this can be rocked with any haircut, but it looks particularly cool with a short and voluminous bob, as it creates the asymmetry that the '80s were all about.
A French twist
Many hairstyles that were popular in the '80s are fun and messy, but one that's more polished and glamorous is a French twist. While there are different ways to create it, most have the voluminous top and sleek twist in common. The easiest way to create a French twist is to simply start off with a low ponytail, which you then tightly twist until it's coiled against your head. Once you tuck the ends of the ponytail inside of the twist, you can secure it with bobby pins and hairspray.
Half updo with bangs
Accessories were a big part of the '80s, which is why many would opt to add a bow to their look, even if they wanted to rock their hair down. The classic way to have the best of both worlds was to create a fun half updo that easily gives you the volume on top but allows you to rock your hair's length as well.
Super messy high ponytail
High ponytails might immediately make you think of Ariana Grande, but in the '80s, this hairstyle was a bit less snatched and sleek and a lot messier and voluminous. Naturally, curly hair is great for this look, but you can also do it on hair that you've curled — and it's particularly great for second or third-day curls that don't look good enough to be worn down.
Voluminous curls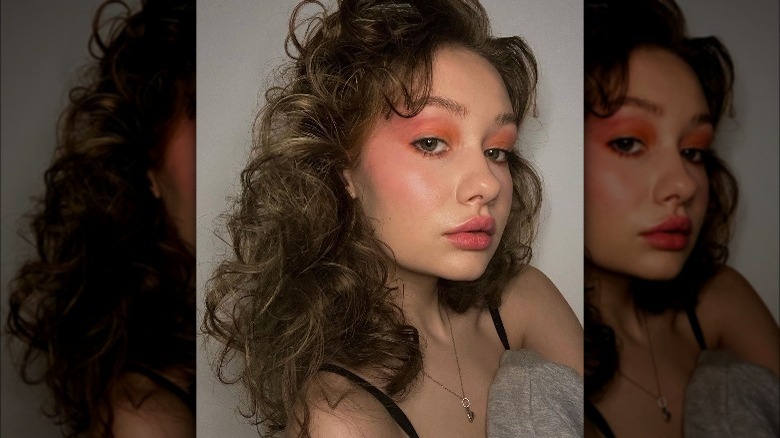 Perms and tiny curls were super popular back then, but so were glamorous larger curls. You can achieve this look with a wide curling iron, but it looks the most organic and retro if you go in with rollers or an overnight curling method. After all, in the '80s, curling wands the way we know them today definitely weren't a thing.
The shag with curtain bangs
Curtain bangs have been popular for multiple years now, and the trend is still going strong. For a fun, '80s-inspired look, pair curtain bangs with a messy shag haircut that will allow them to blend perfectly into the rest of the hair. Since this haircut looks best when your hair is slightly messy, it's also super low maintenance.
The asymmetrical bob
With summer right around the corner, many are more inclined to opt for a shorter haircut that will allow them to feel breezy and cool. A bob is always a great choice, but if you want to spice it up a bit more, go for an asymmetrical one. The amount of asymmetry you're willing to rock is entirely up to you!
Scrunchies
By far, the easiest way to add a dash of '80 style to your hair is to simply rock a large and vibrant scrunchie. Scrunchies have been popular for decades, but every now and then, they have their big comeback moment. This summer, rocking one around your wrist and having it literally on hand to tie your hair up when you get too hot is a fun way to add some retro style to your look.