Why You Might Want To Reconsider Full-Coverage Makeup When Working With Mature Skin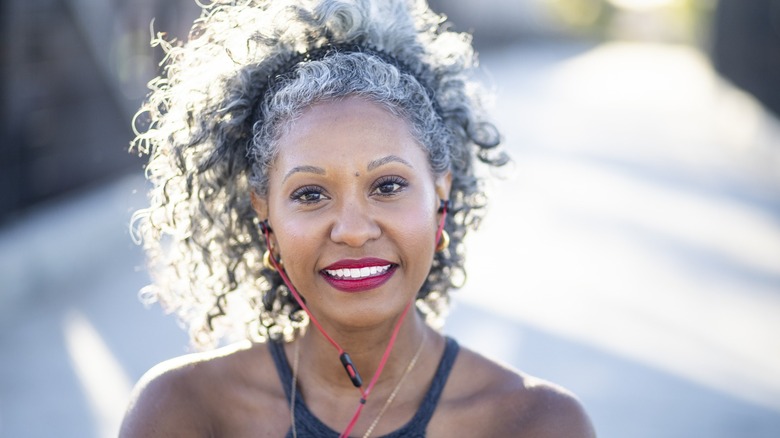 Adamkaz/Getty
If there's one thing to know about makeup, it's that there is no one-size-fits-all approach. We all have different skin types, beauty preferences, and lifestyle needs. And while it's a relief to finally figure out which products work best for you, there's a twist in the makeup game that requires you to always stay on your toes: time.
As we age and our bodies change, our skincare needs and personal tastes will change as well. When it comes to cosmetics, that might mean rolling back on your full-coverage makeup. Slathering on thick foundations and concealers is all well and good when you have young, smooth, oily skin that thrives on a heavy mattifying effect, but mature skin demands a much different makeup routine.
To avoid a face full of creased and cakey makeup, the focus should be on light, moisturizing products that offer hydration and protection, especially when applying foundation to mature skin. This doesn't mean that the days of fabulous makeup are over. You can still pull off plenty of showstopping looks while honoring the needs of older skin.
Mature skin is dry and delicate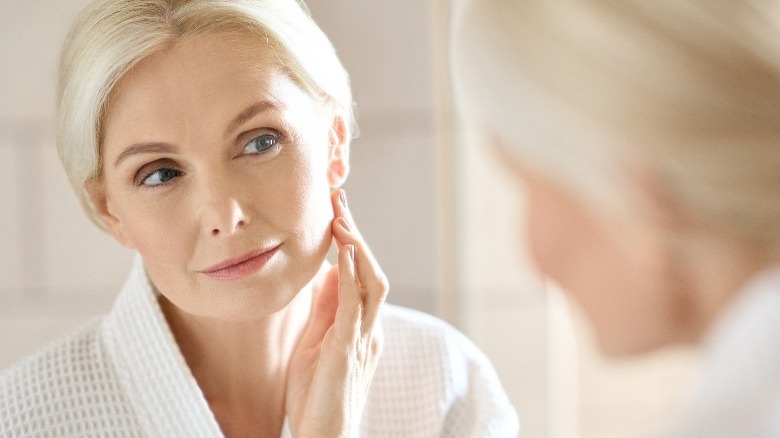 Ground Picture/Shutterstock
If you've graduated from a beauty princess to a beauty queen, it's time to give your makeup routine a refresh. As you get older, you'll find that thick makeup draws more attention to fine lines and wrinkles. Think of the creasing that happens when you put concealer under your eyes, and now picture that across other areas of your face. It's not the aesthetic that most people are going for.
When we feel self-conscious about older skin, it can be tempting to slather on high-coverage makeup, but mature skin is simply too dry and delicate for that strategy to work. Dry skin becomes a bigger concern as we age, with the skin's oil production decreasing by up to 60% throughout our lifetimes (per Advances in Wound Care). Powders and mattifying liquid formulas won't do you any favors by soaking up the minimal oil left on your skin.
A person with mature skin also has to factor in that their skin is more fragile than it was in years past. Older skin isn't just dry and more wrinkled, it's also thinner and more delicate due to the loss of fat (via National Institute on Aging). Older skin gets injured more easily and takes longer to heal, so you need to be extra careful with how you manipulate your skin and the number of irritating products you wear, hence the need to transition to a lighter makeup style.
Alternatives to full-coverage makeup for mature skin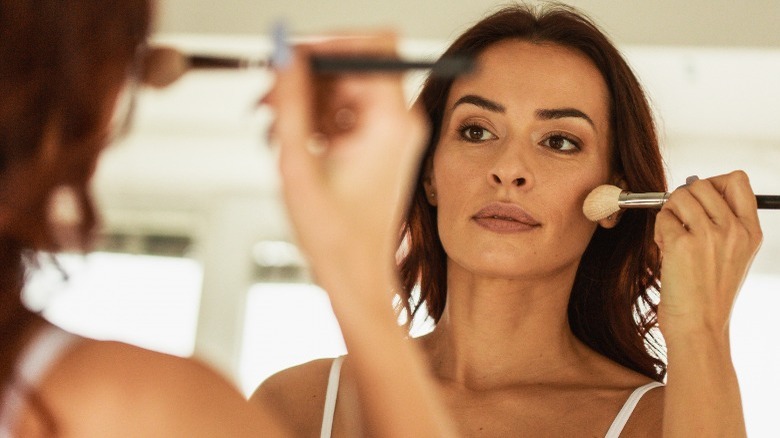 Fotostorm/Getty
If you like the clean, smooth look of a full-coverage foundation, shift your focus from makeup to skincare. After all, your makeup is only as good as your canvas. Invest in quality cleansers, moisturizers, and eye creams — and of course, always wear sunscreen, no matter your age. When your skin is healthy, you'll find that you need less makeup to achieve an attractive and even complexion.
Swap out your foundation for a tinted moisturizer or serum. You'll get light, subtle coverage that won't sit so heavily on fine lines while protecting your skin from drying out. Look for a concealer with a hydrating formula and be sparing with your application. Stick to light, creamy formulas for products such as blush, eyeshadow, and bronzer. Aim for products with illuminating qualities that add a healthy glow to your skin.
In terms of contour, most people are better off skipping it. You lose fat in your face as you age and a mature face usually already has a gorgeous bone structure, so contour makeup isn't that necessary and just weighs your skin down with more product. For an alternative method for creating lift and definition, lightly apply a cream or liquid highlighter to cheekbones, brow bones, nose bridge, and temples.
As long as you pay attention to how your skin is changing and adjust your beauty routine accordingly, makeup can be just as fun and expressive as it was when you first started wearing it.