All The Tips You Need For Applying Foundation To Mature Skin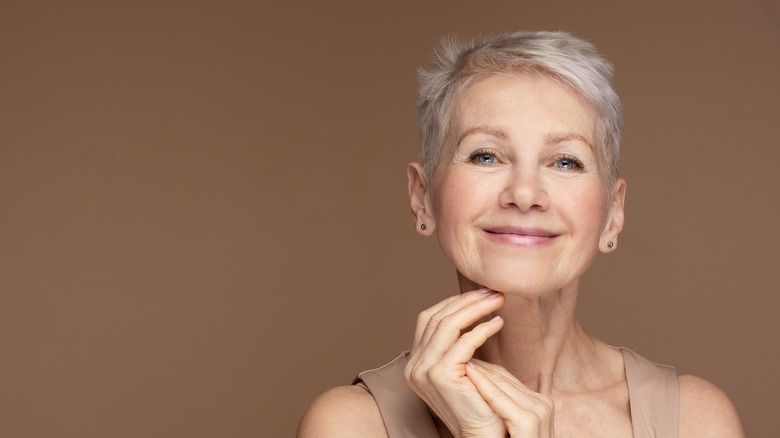 Raisa Kanareva/Shutterstock
Makeup has the incredible power to make anyone feel more confident in their skin. It is an art that knows no restrictions and is available to anyone. One of the essential parts of makeup is your foundation. Despite the look you are trying to achieve, your foundation can make or break the presentation. For those with mature skin, this is exceptionally true. 
Advertisement
As Bobbi Brown tells Get The Gloss, just because you are getting older doesn't mean you have to play it safe with your makeup. In terms of foundation, there are just a few tweaks and adjustments you can make to feel amazing in your skin. One of the reasons why those with mature skin no longer feel like they can correctly wear foundation is because of the evolving skin changes. Brown explains that when looking to apply foundation on mature skin, you want to consider these changes and issues, such as dry skin and fine lines.
Have the proper skincare routine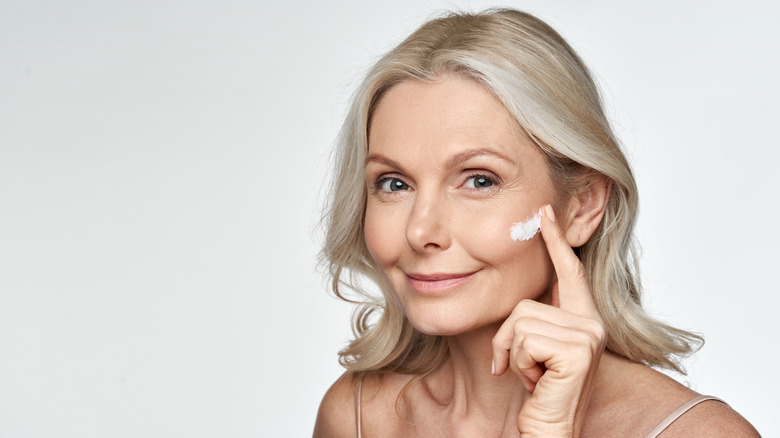 Ground Picture/Shutterstock
Before you begin to put on your foundation, you want to make sure your skin is ready. To do this, you want a skincare routine that will rehydrate the skin and create a base on which the foundation can sit on top. Because the skin gets drier as we age, it's essential to hydrate the skin as much as possible to avoid having a dry base. Founder of Westman Atelier, Gucci Westman, tells Allure, "Be vigilant about moisturizing in all areas — especially around the eyes, where you want the skin to feel smooth." Good hydration along these dry spots will reduce the effect that issues like fine lines will have on the foundation.
Advertisement
According to Bellatory, the next most significant part of your skincare to keep in mind is your primer. The primer you choose will set the base for your foundation and will help your skin and makeup join together. When picking your primer, Bellatory recommends opting for one that matches your foundation. For an oil-based foundation, choose an oil-based primer; for a water-based foundation, choose a water-based primer. This way, your foundation, and primer do not conflict with each other. The primer is not a step you want to avoid, as this will help even out your skin tone and create a unified base that your foundation can sit on.
Reach for hydration over coverage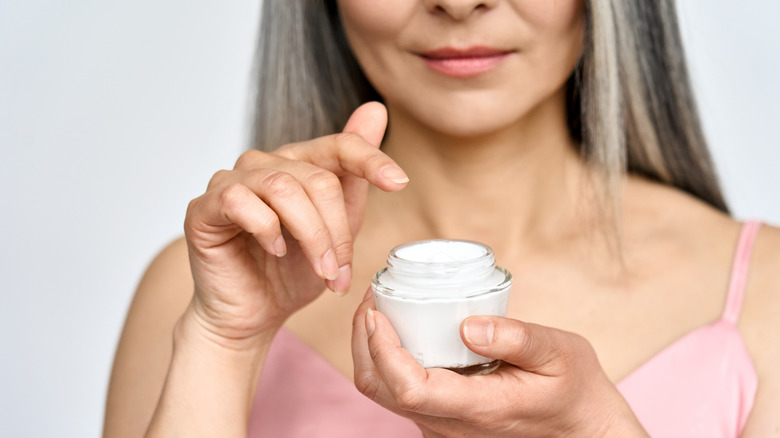 Ground Picture/Shutterstock
When choosing the best foundation for mature skin, selecting the product with the most coverage might seem like the right choice. It would make sense to try and cover fine lines and wrinkles with a full coverage foundation. However, a full-coverage foundation is the last product you want to select if you have mature skin. A full-coverage product covers all imperfections, but when mixed with drier skin, it can make a look cakey and cracked.
Advertisement
Southeast Dermatology Specialists recommend opting for a lightweight, hydrating foundation that is more on the light side than full coverage. When you mix a hydrating primer and foundation, your look will give you refreshed and glowy skin. Opting for sheer and lightweight will let the foundation cover up unwanted skin texture but let your natural radiance shine. Southeast Dermatology Specialists state that a great alternative could be tinted BB cream if you want something even sheerer than foundation. Although not foundation, BB creams give you the slightest color but great hydration and protection.
Use the correct tools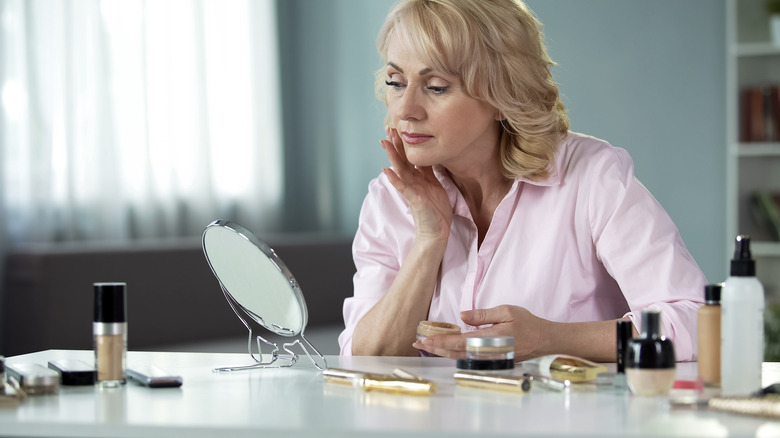 Motortion Films/Shutterstock
After choosing your foundation, you want to ensure that you apply it with the correct tools. As Makeup Artist Elise Marquam-Jahns tells Byrdie, you should reach for a soft buffer foundation brush to get a blended look. A buffer brush will let the foundation evenly spread throughout the face and give you that airbrushed look. 
Advertisement
Speaking to Huda Beauty, Makeup Artist Natasha Moor suggests using a damp sponge for optimal foundation application. Using a damp beauty sponge allows the product to absorb the skin without falling into the fine lines and wrinkles. Moor adds, "As a result, your makeup celebrates your natural skin, and the finish is more flawless and long-lasting."​​ If you want to achieve this natural look using only a damp beauty sponge, just apply foundation on the back of your hand and pick up the product with the sponge little by little. This lets you build up your coverage without it looking cakey.
Follow up with the right concealer
Prostock-studio/Shutterstock
Once you've applied your foundation, you want to follow it with the right products. One of those essential products is the right concealer. Concealers play an indispensable role in your routine since, when paired with foundation, they help spot correct areas that need extra coverage and help add brightness to sites that may be dull. 
Advertisement
Makeup Artist Melissa Formica tells Ipsy that picking the right concealer is as crucial as your foundation, "When choosing a concealer for mature skin, I recommend going with a creamy and hydrating formula." Formica also recommends only using concealer in the inner corners of the eyes to not draw attention to fine lines or wrinkles. However, you want to be careful when applying your concealer as it is easy to overdo it and end up with too much product concentrated in one area. North Pacific Dermatology recommends only using concealer after foundation and a lighter shade for under-eye application to brighten the area.
Stay away from powders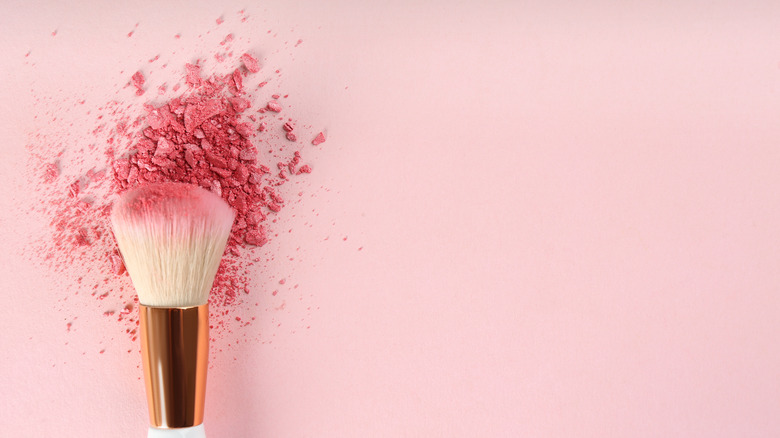 New Africa/Shutterstock
After using concealer, you want to finish off your look with anything but powders since it's always best to use similar formulas. Powder products will ultimately highlight dry areas, far from the ideal look you're looking to create. Instead, reach for cream and liquid products. As Prime Women recommend, cream blushes specifically will help add the look of moisture and freshness to the face. Hourglass Cosmetics' global cosmetics director of education, Marc Reagan, tells Women's Health that cream products are the best friends of mature skin. Because this formula promotes a youthful touch on the skin, they are the best for your eyeshadow, blush, and contouring products.
Advertisement
Although powders are not always easy to avoid, Reagan suggests leaving them for the parts of the area where you may be more oily than others. The T-zone is one spot where powders can be used without worry. However, to maintain the freshness and dewiness of your foundation, it is best to limit your powder use.