Boho Belts: Another '00s Trend Back In Full Swing (We Just Wish It Was Functional)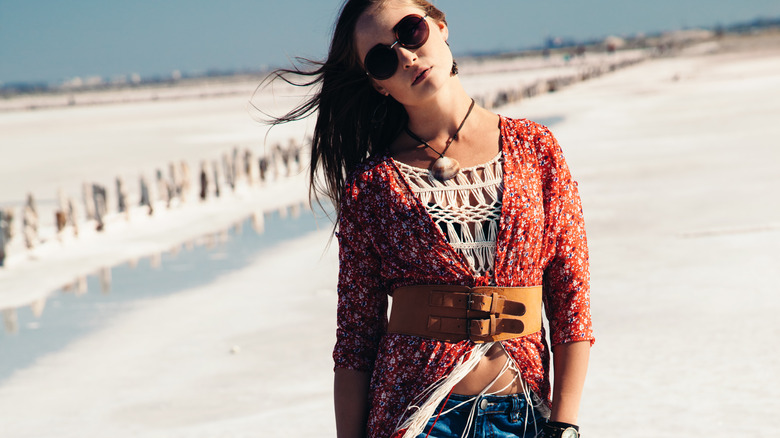 Alena Ozerova/Shutterstock
The 2000s boho style is back in 2023! If you enjoy free-spirited, quirky looks, this carefree Y2K-inspired outfit trend is perfect. From flowy pieces to unique patterns to intentionally mismatched garments, the boho aesthetic is about expressing yourself without wanting to appear polished and, of course, having fun with fashion. If you want more inspiration regarding the boho style, look at pictures from Coachella and other festivals, as many attendees often opt for boho looks when going to these events.
Your outfit doesn't have to be boho-inspired from head-to-toe to rock the trend; all you need is some creative aspects. "It will be in the subtle details of clothing where boho will make its way into fashion in the future," Andie Sobrato, a personal stylist, told InStyle. Accessories are also excellent for implementing bohemian touches into your look, and a boho-inspired belt can help you with that. While beautiful boho belts don't typically provide the functional aspects some people look for in more traditional belts, these creative variations can elevate your ensembles.
Bold statement belts bring the style to life
The boho aesthetic is about creativity and expressing your uniqueness, so don't be scared of going bold with your accessories and belt. Elevate a low-key look with a belt featuring a prominent statement detail, and let it be your outfit's focal point to bring the boho vibes.
Rope-inspired belts are always so boho
Belts with rope-inspired designs can add a free-spirited, exciting touch to even the most minimalistic or professional garments in your wardrobe. Rope-looking belts are significantly more boho than traditional ones. Remember, the rope style typically won't be as reliable as more structured options, but it will look undeniably alluring with various ensembles.
Fringe is super fun
Of course, we had to add fringe belts to this list. "Fringe" is one of the first words we think of when hearing people discussing the boho aesthetic. Fringe doesn't only have to apply to boots or jackets — the design looks so wild and fun on belts — perfect for bold outfits.
Tassel touches are another option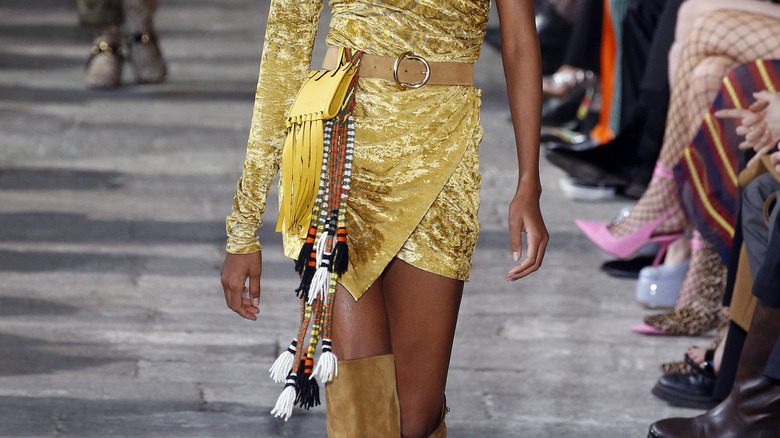 Estrop/Getty Images
If you prefer tassels over fringes in clothing and accessories, look for a belt with tassel details instead. Tassels are also somewhat dauntless and a bit sexier, making them ideal for boho belts. Belts with tassel ends typically appear longer than many other belts, so keep them in mind when shopping and styling.
Beautiful belly chains are always sexy
We've written about belly chains before, and we're writing about them again. While they are in no way traditional belts, they're sexy, trendy, and perfect for exuding the Y2K aspect of the boho style. Since belly chains were everywhere in the early 2000s, these playful pieces are experiencing a 2023 comeback.
Let your belt pop for some cute contrast
When you want a more professional or formal look, it's typically the best bet to match your belt to your outfit for a cohesive, pragmatic ensemble. But when you're going for boho, forget about those rules; just have fun mixing and matching! For instance, try wearing a bright red belt with a purple dress for styling a contrasting and free-spirited look.
Playful patterns are perfect
One last way to get creative with belts is to look for belts with patterns. While there's no problem with classic, solid-color ones, options featuring prints are more creative and carefree, so they'll help your outfits seem more boho. Belts with colorful floral designs are super intriguing and fun to wear.