Boho Is Back - How To Rock The 2000s Staple Style In A Modern Way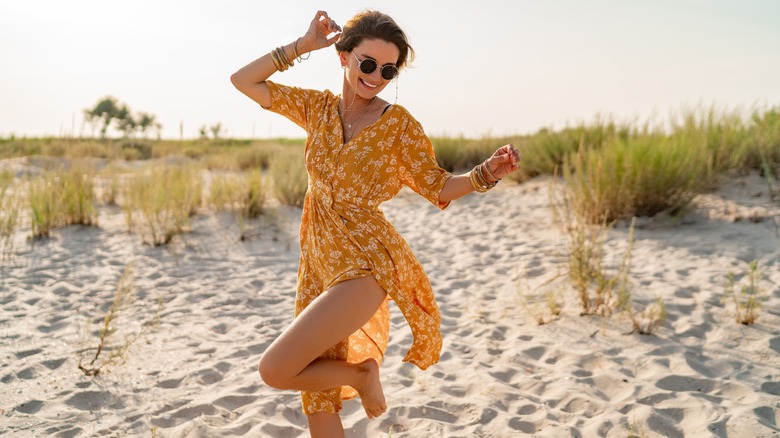 Maria Markevich/Shutterstock
The bohemian look is a fun trend that always seems to come back around. Boho was originally inspired by the nomads of the 1950s and 1960s. The people of the time created the style using bits and pieces of what they found during their extensive travels. This led to their wearing beautiful patterns, intricate crochets, and fantastic jewelry, all while looking both carefree and stunning.
It's no surprise that the look is coming back in full effect this year. While we all know someone who tried their hand channeling their inner bohemian during festivals in the 2010s, the look has now been upgraded to fit the style of today. The trick to nailing the boho look is picking the right statement pieces that are both eclectic and unique, without being too polished. With the warm weather around the corner, it's going to be easy to add the boho trend to your everyday style.
Find an A-line dress
When you think bohemian, the structure of an A-line dress does not typically come to mind. However, its flattering nature, mixed with the right accessories and patterns, creates the perfect look for summer. When shopping for the right dress, pick the length that suits you best, and aim for those with intricate designs.
Go for vibrant prints
When it comes to the boho trend, it's time to stand out. While creams and lighter colors were praised in the past, this year, we are embracing saturated color. Step out of the box and look for patterns that are bright to create a dynamic and eye-catching outfit.
Look for flowing sleeves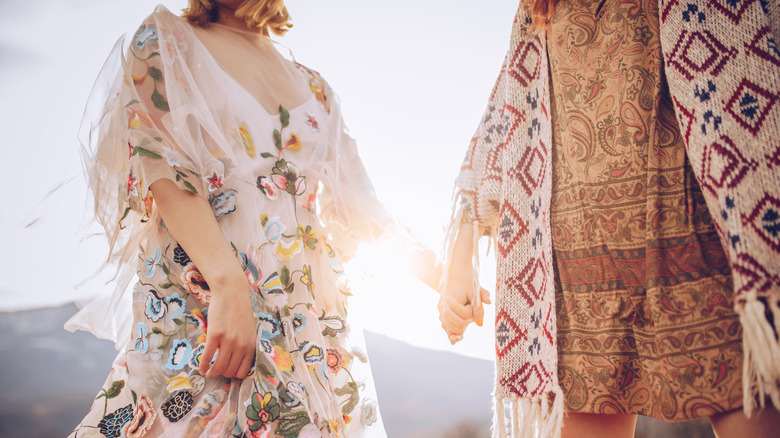 South_agency/Getty Images
The sleeves make the outfit when it comes to the boho trend. The key is to look for sleeves that are quarter-length to long and which are not form-fitting. Loose sleeves allow the outfit to be easily worn in the summer without you feeling hot while out and about.
Bust out your kaftan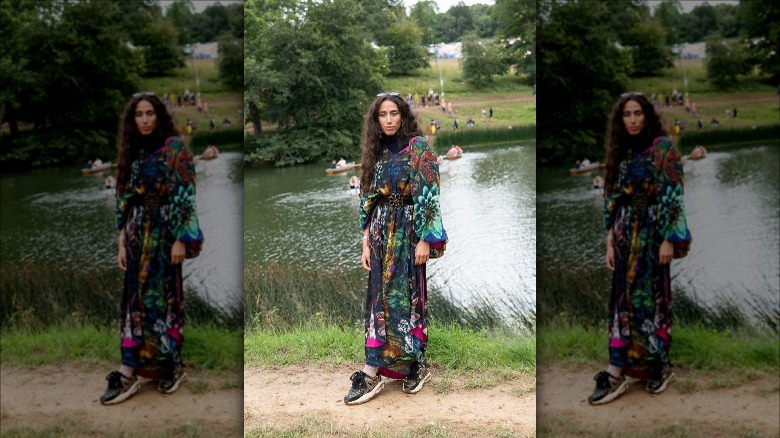 Kirstin Sinclair/Getty Images
Kaftans are having a major comeback when it comes to the boho look. A kaftan is a long, flowing dress that was around before the bohemian trend even existed. They come in various colors and patterns, allowing them to fit the trend perfectly. Wear the comfortable dress on your next excursion for a beautiful yet effortless look.
It's all about crochet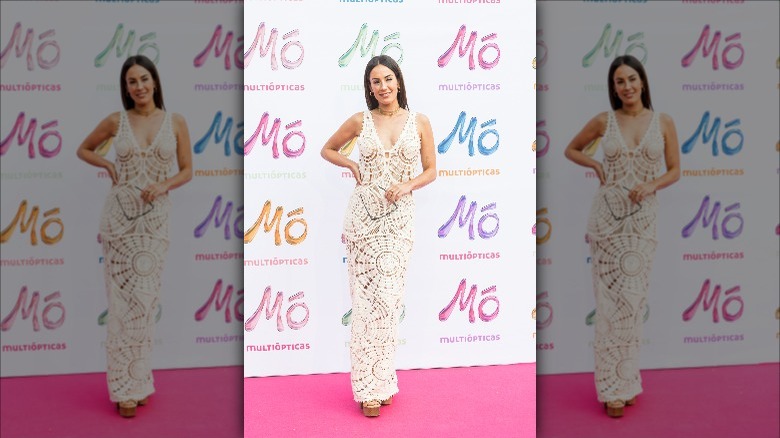 David Benito/Getty Images
Chic crochet fashion looks aren't going anywhere now that we are embracing our inner bohemian. Whether you are looking for a cute top, dress, or skirt, adding this staple piece of clothing will give you a great, fresh-from-the-festival look. For a boho look, most stick to neutral colors when going for crochet clothing.
Add statement jewelry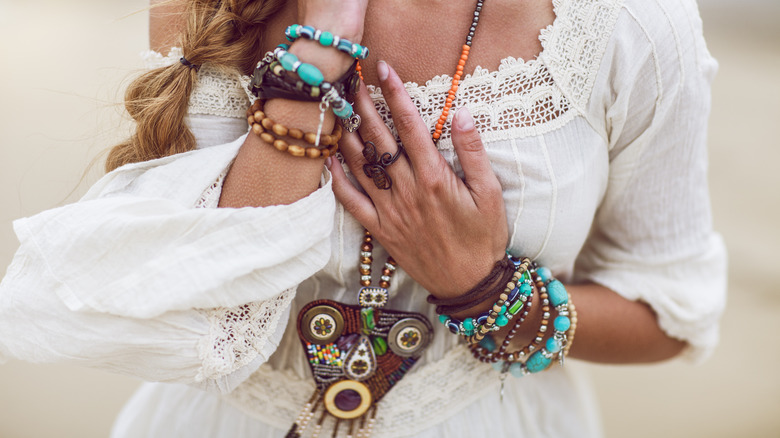 Jasmina007/Getty Images
Jewelry is the best hack for bringing even the most basic outfits to life. When looking for the right accessories, aim for larger, colorful statement jewelry that includes stones, metals, and even gems. If larger jewelry is not something you're into, stick to earrings and small rings that add a pop of color.
Don't forget your hat
Whether it's 2013 or 2023, the hat is still a staple for creating an effortless look (and protecting you from the sun). Unlike many aspects of this style, a hat can be quite understated. Look for a wide-brimmed hat that comes in neutral colors so it looks chic and goes with your colorful bohemian outfits.