Why Swapping Your Hair Part Periodically Is An Excellent Idea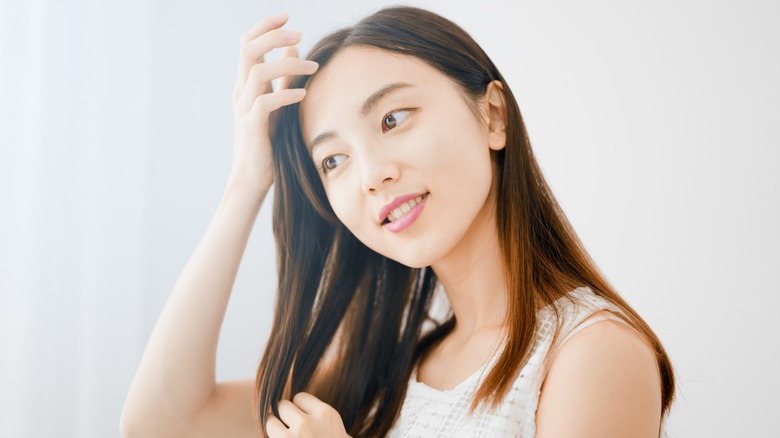 aijiro/Shutterstock
When it comes to hair styling, most of us want to look our best with minimal time and energy, which is why we rarely change our hair part. It's the one part of the hair that we don't want to risk messing up. Flipping your hair to the opposite side or to the center can significantly change your look. Sometimes it looks good, but many times it makes you look unnatural and your hair can feel uncomfortable on your scalp. 
When you swap your hair part, you usually have to put more effort into styling to make it look as aligned with the direction of your hair growth as possible. Not to mention, certain face types tend to look best with certain hair parts. That's why most of us prefer having our hair parted in the same way most of the time. Gotta keep those bad hair days at bay. 
Here's the kicker: not swapping your hair part periodically might be convenient for your hairstyle, but it can spell trouble for your hair health in the long run. Most hair experts will tell you that it's better to shift your hair parting every once in a while because letting your hair part stay put for a long time can do your hair more harm than good. Here's why. 
It prevents hair loss or traction alopecia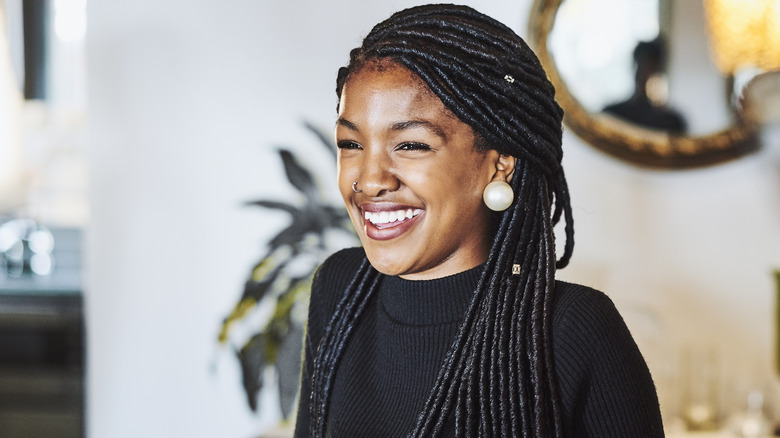 Stígur Már Karlsson /heimsmyndir/Getty Images
Letting your hair sit in the same position all the time can increase hair breakage and contribute to hair thinning over time. "The longer we wear the same part, the more we wear the hair down in that area and cause breakage," hairstylist Annie Rush tells Allure. 
Swapping your hair part on a regular basis helps reduce the constant weight placed on the hair strands, which is beneficial for those suffering from traction alopecia, a kind of hair loss caused by constant pulling or tugging on the hair roots. This hair condition usually occurs among people who wear tight hairstyles, braids, cornrows, weaves, or those who regularly use rollers to set their hair. 
Moving your hairline and experimenting with loose hairstyles more often can help fight off weight-related damage to the hair follicles, improving hair density and preventing hair loss. "I tell my clients all the time and they tell me they have noticed new hair growth after changing their part and wearing the hair in looser ponytails or down more," Nick Stenson, artistic director at Matrix, tells Well+Good. You'll feel as if your hair resists the change of part at first, but it will get used to it after some time.  
It helps hide dandruff, thinning hair, and baby hair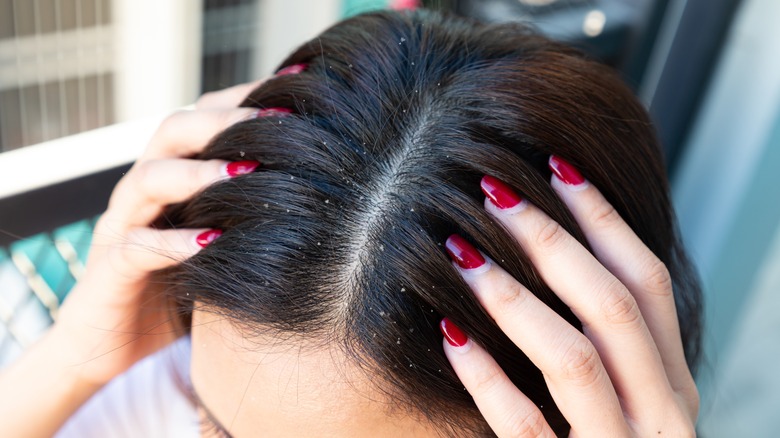 Zyn Chakrapong/Shutterstock
Changing your hair part can also help make your dandruff less noticeable. If you are treating dandruff, wearing your hair in a middle part will only call attention to your scaly scalp and put your flakes on full display. Switching to a side part or a deep-side part is an effective way to hide your scalp issue. "Style your hair with lots of volume and texture — think fuller beachy waves or voluminous curls. This will lead the eye away from the scalp," hairstylist and Mizani's brand ambassador Ashley Brown tells Hair.com by L'Oreal. "Wearing sleek, smooth styles will only draw attention to the scalp and 'part line,' making your dandruff a focal point." 
On the other hand, if you're suffering from thinning hair or graying around your temples, parting your hair in the middle can help you hide a receding hairline and create the impression of fuller hair. And if you have problems with baby hair cropping up along your hair part, changing its position a couple of times per week or month is a healthy way to hide them.
It prevents heat styling damage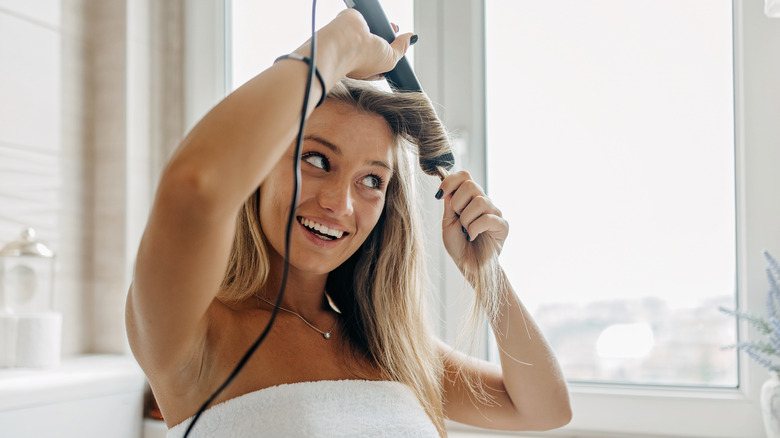 Supersizer/Getty Images
If you always have the same part when straightening or curling your locks, you're exposing a certain patch of hair to excessive heat styling and damage. Over time, you might start to notice these hair strands getting thinner and your part getting emptier over time. When there's so little hair to create a barrier between your scalp and damaging UV rays, the skin on your scalp will be at risk of irritation, such as dry scaly patches (Actinic keratoses) and redness. Squamous cell skin cancer is a potential outcome of several actinic keratoses, according to Johns Hopkins Medicine. 
Changing the part or combing your hair back is a good way to limit heat use in a particular place and prevent damage. You can still heat-style your hair after changing your hair part, but you should lower the heat setting to a temperature between 200°F to 300°F and always use a heat protectant.
It's the easiest way to jazz up your look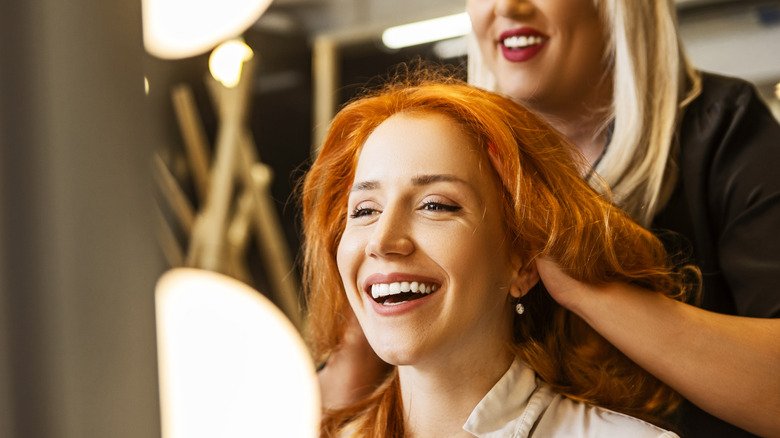 Zorica Nastasic/Getty Images
Swapping your hair part is the easiest way to refresh your style without having to go through an intensive coloring or perming treatment. Even though it might feel uncomfortable at first and it's all hit or miss, switching up your hair part allows you to experiment with different looks, hone your styling skills, and build your confidence. It's boring to wear the same old hair part you've had since childhood. And there are various types of parts to choose from, including: middle part, side part, deep side part, zigzag part, and diagonal part. These are enough to create a unique hairstyle every day of the week. 
Each of these parts highlight your facial features in different ways. If center parting accentuates the symmetry of your face and gives you a high-fashion look, a sharp side part or a deep side part gives you a more feminine, red carpet-ready appearance. If you want to play up the drama and infuse your hair with an edgy, lived-in feel, look no further than a messy-on-purpose zigzag part. And to add extra lift to your tresses, don't shy away from a diagonal side part. 
How to train your hair to change its part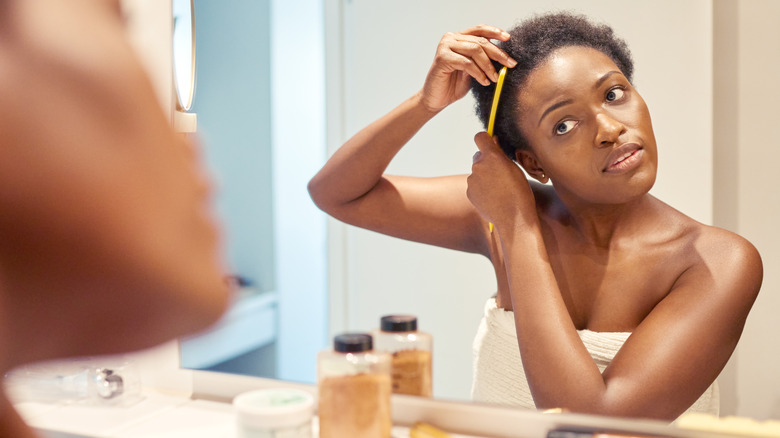 Laylabird/Getty Images
Hair can be stubborn. If you've been parting your hair in a certain direction for a long time, it will get used to it and continue to fall and lay that same way. However, it's not entirely impossible to train your hair to part in a new direction. All you need is a tail comb, hair clips, and a bottle of dry texture spray. First, use the comb to section your hair and flip it in the direction of your choice. If your tresses refuse to settle down in the new direction, pin your new part with clips or hairpins to force it to stay put. Finally, spritz your new part with texture spray to lend extra hold and volume to your hair.
Another way to help your hair get used to a new part is to switch it up before going to bed. First, wet your roots with a hydrating hair mist or distilled water and part your hair in the direction you want it to be. After combing your hair in place, create low pigtails by dividing your hair into two sections on the opposite side of your head. You can braid them or gather them into bundles or style them anyhow you want as long as they don't cramp your style as you're lying in bed. Leave this hairstyle on overnight every night for a week and your tresses will begin to fall naturally into the new part.