How To Recreate Lily-Rose Depp's Iconic Smokey Eye (Courtesy Of Her MUA)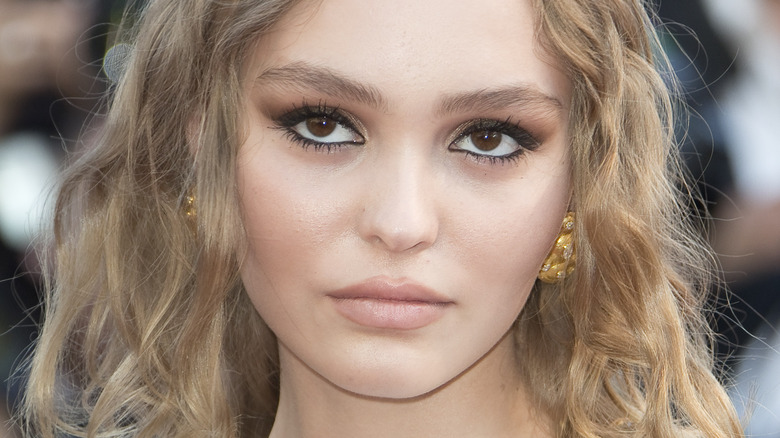 BAKOUNINE/Shutterstock
Nepo baby magic or not, Lily-Rose Depp has steadily wormed her way into people's hearts as well as aspirational mood boards. The young actor and long-time Chanel muse has not only reached 'It Girl' status but is also currently at the peak of her acting career with a new HBO show, "The Idol," coming out just last month. Fresh and increasingly iconic outfits and makeup looks have come from both the show's main character Jocelyn, played by Depp, and the actor's red-carpet looks and promotional appearances for the series. In other words, Depp is consistently serving looks and inspiration, and TikTok is eating it up as it comes. 
But what of her long list of enviable style choices have fans been coveting most? For one, her beautifully soft yet stunning doe-eyed smokey eye, which she's all but coined as her own iconic look in the years she's been attending award shows. And it's so easy to recreate, too! By taking a nude base and smudging out a moderately sized wing you can get the look yourself, no red carpet needed, shares Kate Lee, Depp's makeup artist, via Byrdie. And don't forget to line that waterline for that sultry Depp stare. 
The gist of it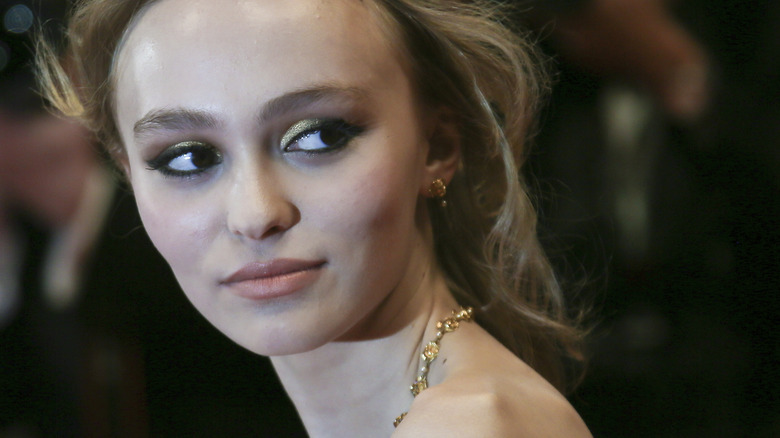 Denis Makarenko/Shutterstock
As it turns out, the secret to Lily-Rose Depp's iconic smokey eye is subtlety. Well, that plus a healthy dose of khôl eyeliner and, of course, a canvas of natural beauty. While the whole world, including her makeup artist and us, can't help but fawn over her natural doe eyes and cherubic cheekbones, rest assured that this beauty of hers isn't strictly necessary to achieve the look. Rest assured, the look can easily be tailored to all types of beauty and complexions, Kate Lee, Depp's makeup artist, told Byrdie.
The idea behind the look is simple: create that defined, big-eyed puppy stare by applying black eyeliner all around the waterline of the eye and drawing on a wing. The base of the eyelid should always be light and neutral to allow for a darker shade to blend and contour the outer edges along the wing. A finishing touch of defined, exaggerated blush application is what makes the look so classically Lily-Rose... and not much else. That's just the minimal French girl way. However, if you weren't blessed with the Depp cheekbone gene, add some light bronze or contour to your liking. There's no shame in the makeup game.
The specifics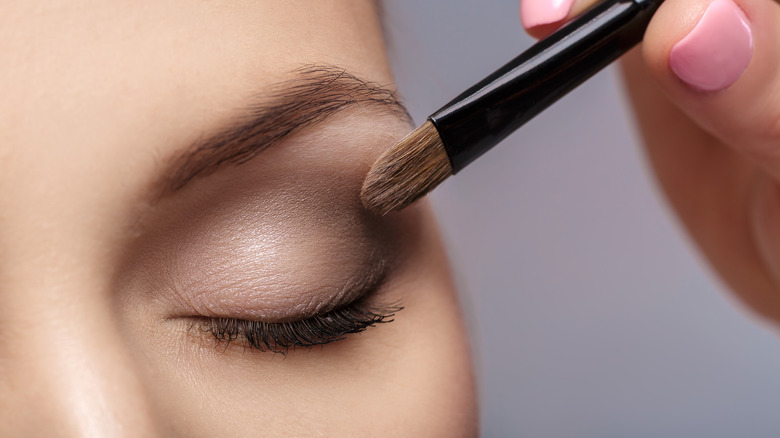 Erstudiostok/Getty Images
Now for the specifics: start with the obvious and liberally apply your base eyeshadow color. This shade will depend on your complexion, so feel free to deviate from Depp's exact look. For example, use a pinky nude for lighter complexions, such as Lily-Rose's, an olive-yellow nude for medium complexions, or a milky cocoa to earthy brown for darker skin tones. These shades should always allow for a darker shade to create depth around the outer corners of the eyelid.
The iconic doe-like definition of this look involves lining both the top and bottom water lines of the eyes with black cream liner and switching to a blendable khôl liner to draw the wing. This will allow you to create what Kate Lee calls a "soft, smudgy socket," later (via Byrdie). To achieve this, the base of the eyeshadow should remain light while the wing should be smudged into a shadowy corner. Adding a soft brown on top of this can help blend it seamlessly. Smoking out the lower lash line can also do wonders in pulling the look together.
According to Lee via Byrdie, not much else is needed in addition to the eye look, with the notable exception of a flattering blush all over the cheekbone. Not everyone has Lily-Rose's exceptional cheekbones, so apply blush where you usually would rather than Depp's exact placement. 
Where can you wear it?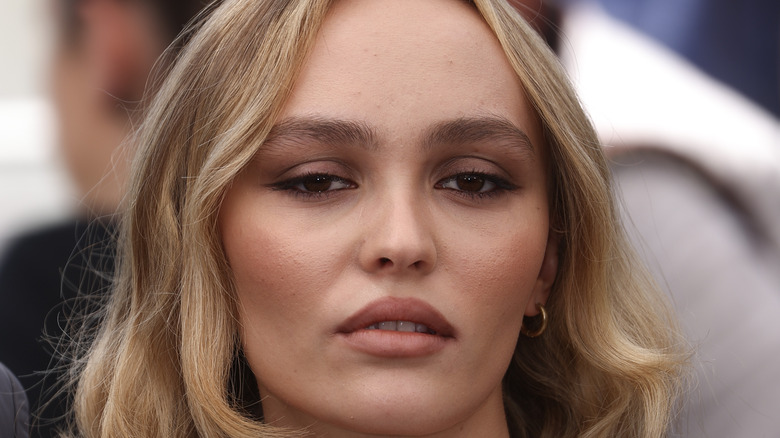 Mike Marsland/Getty Images
Although this particular look seems to be Lily-Rose's go-to for red carpet events, it's honestly the most versatile version of a smokey eye. Its subtle, light base and ultra-blended smokiness make it the perfect look for any evening event. From a wedding party to a bar crawl, this look doesn't discriminate. For formal events, this look is great as is, but it can also transition to other occasions, such as your habitual girls' night out, with a golden glitter or subtle nude shimmer topping your light base of choice. "Every time you blink, that shimmer will reflect light ever so slightly and create a subtle brightening effect," makeup artist Jenny Patinkin told Allure.
This iconic smokey eye is perfect for all lighting, too. The fact that it's Depp's first choice for any maximum glam, celeb-filled event with all those harsh flashing camera lights speaks volumes for how well it holds up for photos. Next time you want good photos of not just your outfit but also your face, we suggest going for this look. It's official, we're obsessed.