How To Ensure Your SPF Application Doesn't Damage Your Jewelry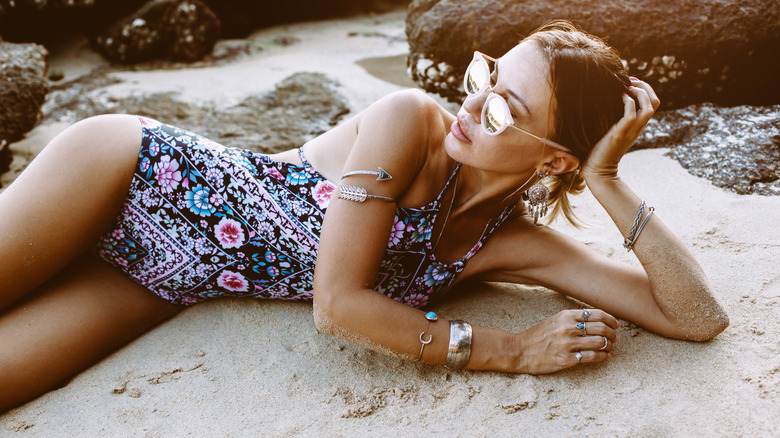 Alena Ozerova/Shutterstock
We may receive a commission on purchases made from links.
It's a great thing to be so committed to your SPF application that it's almost an automatic motion before you leave the house and step out into the sun's rays. We all know how key sunscreen is when it comes to your skin's health, protection, and youthfulness. But if in the midst of your pre-beach routine, your jewelry has slipped your mind and is subject to some sunscreen application as well, it may be taking a toll on your beloved rings and pendants.
Some pieces of jewelry do feel too precious to remove, whether it's due to sentimentality, comfort, or the fear of misplacing them, so wanting to keep on your wedding ring or heirloom bracelet for just about any activity makes total sense. However, if you'd like to preserve their shine and vitality, there are a few steps you can take to ensure your SPF application isn't causing too much damage.
Oil can build up on gemstones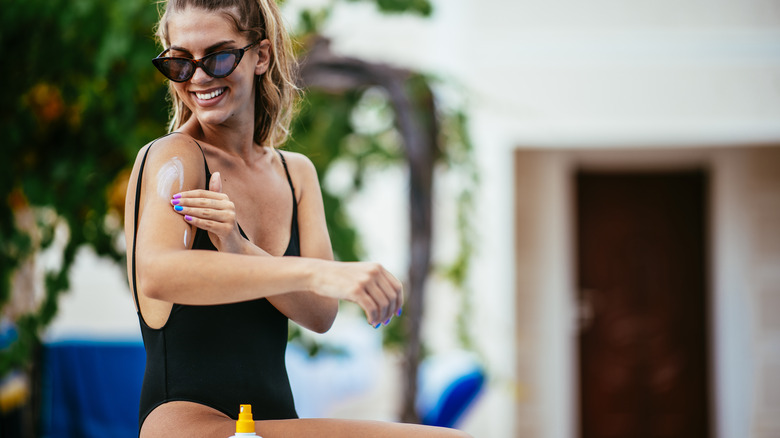 Milos Dimic/Getty Images
The oil in sunscreen oil — and the oil of body lotion — will eventually build up on your precious stones and create a filmy sheen, which dulls the shine of your crystals and gems. To avoid this, remove your jewelry when applying sunscreen, lotion, or body oil and wait until the product is fully absorbed and dry before putting your jewelry back on. This last step is key and may take a moment of patience, but it will be worth it when it comes to the preservation of your favorite delicate pieces of jewelry.
If you're planning on submerging in saltwater, it may be wise to leave your jewelry at home or tucked away in a zippered bag with your belongings on shore. Saltwater is corrosive to certain metals — plus, if the water is cold, your fingers may shrink enough to allow for your rings to slip right off.
DIY cleaning after sunscreen exposure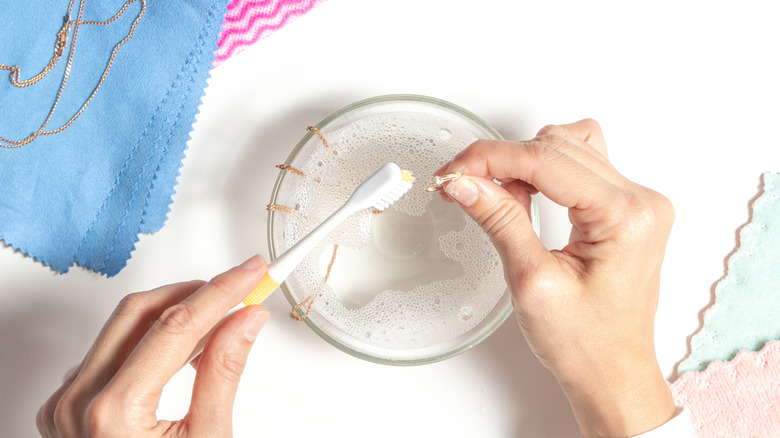 Veja/Shutterstock
If you do happen to expose your jewelry to sunscreen or body lotion, don't fret. Simply soak and scrub your rings, bracelets, and necklaces in warm water with some mild dish soap to remove the buildup and grime. For your sterling silver pieces, which are actually super easy to clean, you could also opt to use a gentle polishing cream, like Wright's Silver Cleaner and Polish Cream, which will remove tarnish and buildup without scratching or harming your silver pieces.
Make it a habit to clean your jewelry about once a week at home to remove sunscreen buildup, as well as other oils and dirt from everyday wear. If you totally spaced removing your jewelry in the throes of a busy pool party, give your gems an additional cleaning as soon as you get home. This may seem a bit redundant, but your jewelry will shine brighter for much longer with this extra care, attention, and love.
Where you store your jewelry matters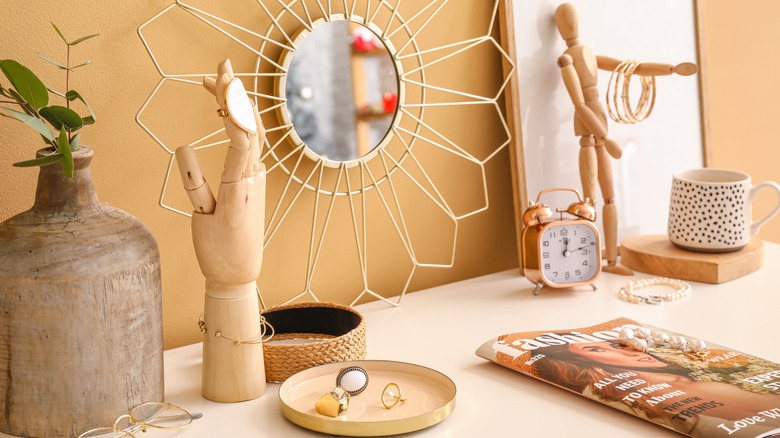 Pixel-Shot/Shutterstock
We've likely all placed our jewelry in a plastic baggie for safekeeping while we play on the beach or go for a swim in a chlorinated pool, but unfortunately, this move is not the greatest for the shine and integrity of your rings and necklaces. The inside of a sealed plastic bag may very well be secure, but the environment of the hot plastic container can actually cause damage. There isn't airflow in a plastic bag, which increases the heat and can cause a less-than-desirable effect on your jewelry. This is why you may want to rethink where you store your jewelry. 
It's best to keep your metal pieces in a cool place free of moisture and full of ventilation to preserve their beauty. A ring holder on the bathroom counter, the surface of your dresser, or a jewelry case designed for safekeeping are probably your best bets. When it comes to your wedding ring, in particular, investing in a portable ring safe is worth considering. You'll be free to apply your SPF without a second thought and know your rings are safe and sound while you enjoy the sea, sand, and sun.
Have jewelry professionally cleaned regularly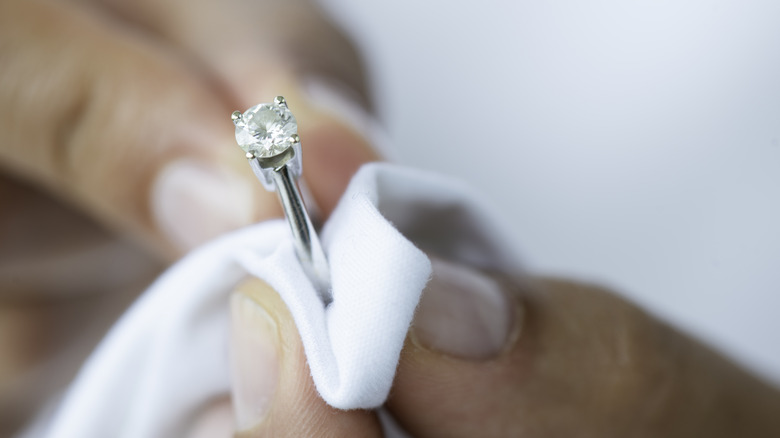 Solidcolours/Getty Images
In addition to your weekly at-home care and cleaning, it's important to take your beloved crystals and gems to a professional for a thorough and deep cleansing at least once per year, although twice per year is ideal. The results will likely have your jaw hanging and you'll find a newly amped-up motivation to keep your jewelry clean and sparkling. There's really nothing quite like the glint and shine of your engagement ring catching your eye in the sunlight. Doing your research when it comes to selecting a local professional to clean your valuable pieces and asking around for personal recommendations is always wise.
For valuable pieces — like your wedding ring or any other sentimentally important jewel — it's also wise to go ahead and have them insured. This could save you quite a headache should you misplace them or should they become damaged. It isn't likely that sunscreen alone would cause an extreme amount of harm or any irreversible damage, but backing up your valuables is always a smart move.
Additional summer protection for your jewelry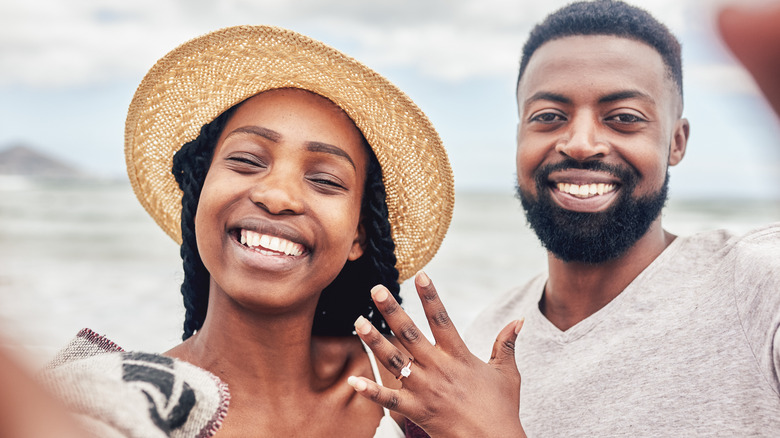 Moyo Studio/Getty Images
In addition to protecting your gem's glittering shine from sunscreen, the heat and humidity of the summer months are also something to keep in mind. While sunscreen can dim your stone's glow and dry out in the crevices of your jewelry, prolonged exposure to heat and humidity can even change or fade the color and hue of some crystals. Citrine, topaz, aquamarine, and amethyst are all vulnerable to fading and shifting in the hot summer months.If some of your favorite pieces contain these crystals, it's best to limit their time out in the heat and keep an eye on their color and shine. 
If you spend a lot of time out in the garden, working with the earth, then you likely already know to leave your rings inside or at least wear gardening gloves to protect them. This practice should be adopted if you are hiking, kayaking, or engaging in many of your other favorite summertime adventures. To keep them looking their best, it's important to take care to keep your gems safe and secure.