Ombré Mocha Nails Are Kicking The Neutral Nail Trend Up A Notch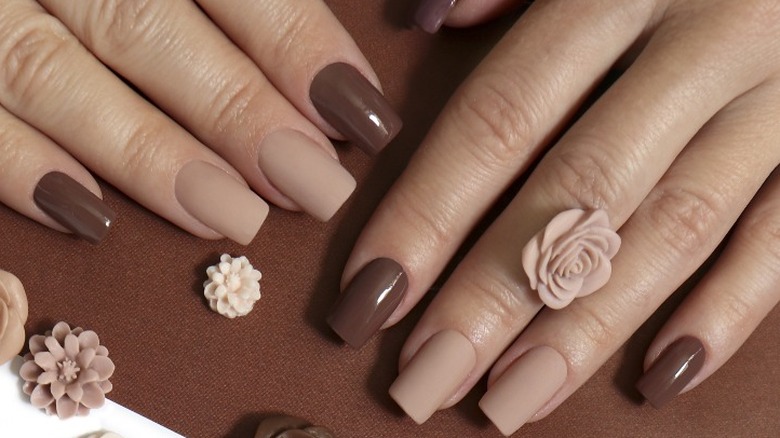 Marigo20/Getty Images
Keke Palmer introduced a nail aesthetic in the ombré spirit for summer 2023, though with a twist by applying solid shades of brown polish on each nail followed by darker hues of brown polish painted onto the next fingernail until you've achieved a cascading effect of neutral shades. As the shades layer upon one another for a look of ombré shading transcending from finger-to-finger, thumb-to-pinky, and so on, the overall appearance has fans gushing.
Termed mocha ombré nails, latte nails, neutral ombré, or simply multi-colored nails, the visual effect of cascading ombré design across all nails has grabbed the attention of nail enthusiasts hoping to recreate the manicure through similar styling techniques. The look can be achieved by many, as Palmer's nail fashion encompasses inclusivity of neutral tones and polish selections which can be used for any skin tone.
Palmer has worn nude nail looks all summer along with several other celebrities who have hopped on the trend. Though the seasonal summer-themed trends which have taken center stage until now have focused on blaring neon polish choices, pearl and rhinestone cuticle embellishments, and artistic license for crafting marbled, chromatic, and color-changing opalescent selections, nude and neutral nails are still in vogue, as proven by Palmer's neutral ombré cascading nails.
Variation of polish shades doesn't equal single color selection
You don't have to polish each nail a single solid shade if that isn't your desired look or if you simply aren't in the mood for fully-painted lone pigments on each fingernail. Instead, create micro-ombré modish styling by adding in a touch of variation in the pigment palette you choose to use, perhaps adding in lighter or darker tones through French manicure-inspired tips, cuticle rims, or your own work of art with personalized shapes on each nail. 
Add embellishments and textural elements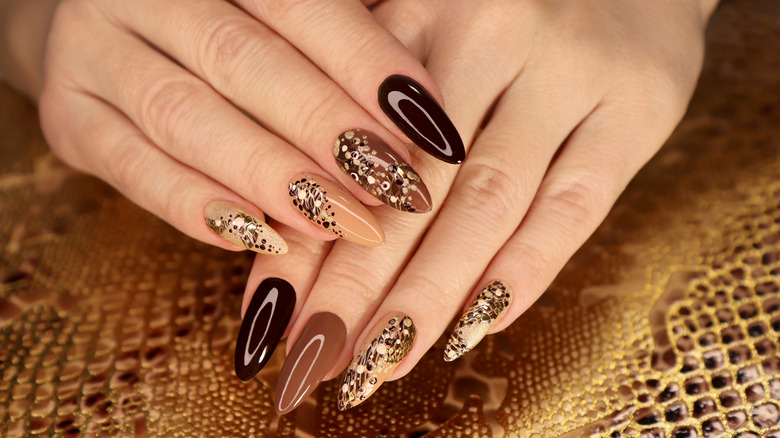 marigo20/Shutterstock
Just because you've chosen to go with a neutral manicure or cascading ombré vibe doesn't mean you have to restrict yourself to matte and muted tones when selecting your polish choices. Not at all, in fact! You might choose to select a matte base and then add accoutrements, accessories, and embellishments on top, or your preference may be glossy neutral polish from the very start. Whatever you prefer, the neutral tones are inherently yours to hone, mold, and craft into the manicure of your choice!
Glitter and sparkly polish can be neutral, too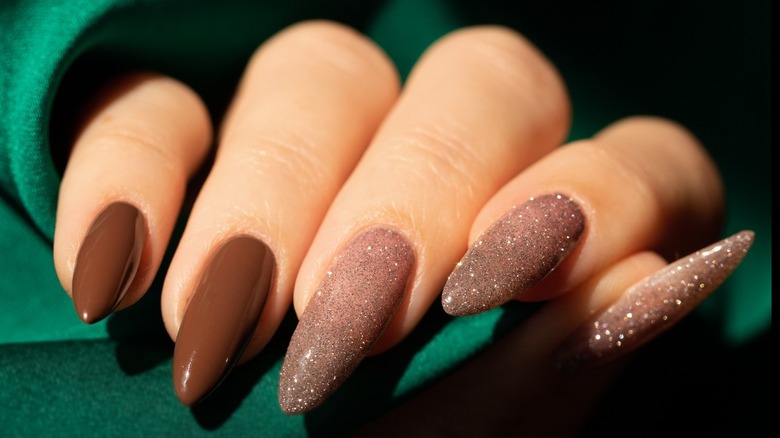 Nikal/Shutterstock
Minimalists often gravitate towards neutral manicure selections, but maximalists can enjoy tonal styles equally with doses of glitter and splashes of sparkle. Glitter can be tonal and neutral, too, which is important to remember as you choose shades for neutral designs. Depending on the purpose of your neutral nails, such as an upcoming professional function, glitter may not be the most appropriate option, but nowhere is there a manicure manual dictating that glitter isn't amongst neutral polish choices.
Toss in tortoise-shell nails for blending of neutral trends
One way to create a neutral and tonal ombré look or variety of polish choices across fingernails is to blend the neutral shades with similarly tinted trends such as the increasingly popular tortoise-shell nail aesthetic. Styling tortoise-shell nails at home is quite easy and far more affordable than going to the salon. Surprisingly, the style relies on a polish palette of light pink and orange tones followed by black onyx, but the neutral result is tonally perfect!
Subtle shifts in shading and thin lines craft complementary designs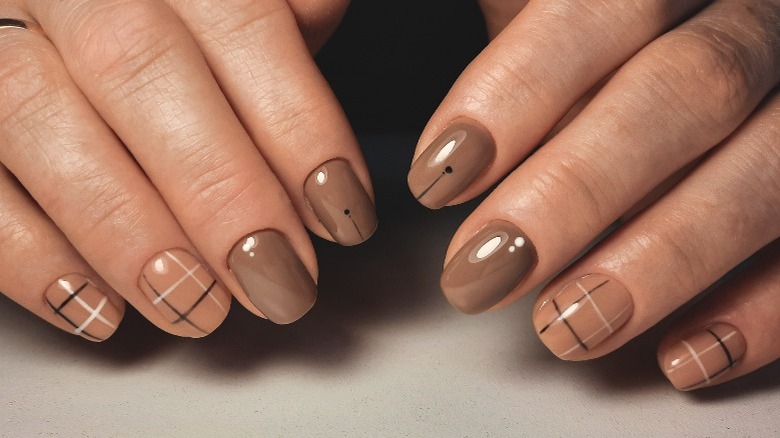 0leJohny/Shutterstock
The degree to which you paint each nail with a layer adding to the overall ombré look is entirely a personal choice, with many styles showcasing the polishing of every two fingers in identical shades and then shifting tones to a lighter or darker polish in accordance with the desired design and overall vibe. Additionally, the use of thin lines to create subtle designs can bring lots of definition and numerous compliments from others.