Here's How Often You Should Be Dermaplaning Your Face For The Best Results
It isn't every day that a TikTok beauty trend graduates to a skincare essential but, sure enough, dermaplaning has cemented itself in the everyday beauty routine. And its popularity continues to grow as it is dermatologist-approved and is actually good for your skin.
If you believe the only reason to use a dermaplaning razor is to remove peach fuzz, you are missing out on its other skincare advantages, which include skin resurfacing. "It's exfoliating at its best," dermatologist Mona Gohana, M.D., tells Glamour. It can also help reduce the appearance of acne scars. With these skincare benefits, you will find that most estheticians offer dermaplaning as an additional facial service.
Skin experts consider dermaplaning safe for most skin types, but when performing the treatment at home, dermatologists do recommend following certain guidelines regarding frequency. "At home, I recommend doing the treatment weekly to see maximum results, but it depends on your skin—you could do it once a month or every other week. However, I do not recommend doing it more than once a week," Los Angeles-based esthetician Kerry Benjamin tells Editorialist. A balanced schedule is key when it comes to dermaplaning your skin.
What is a safe dermaplaning schedule?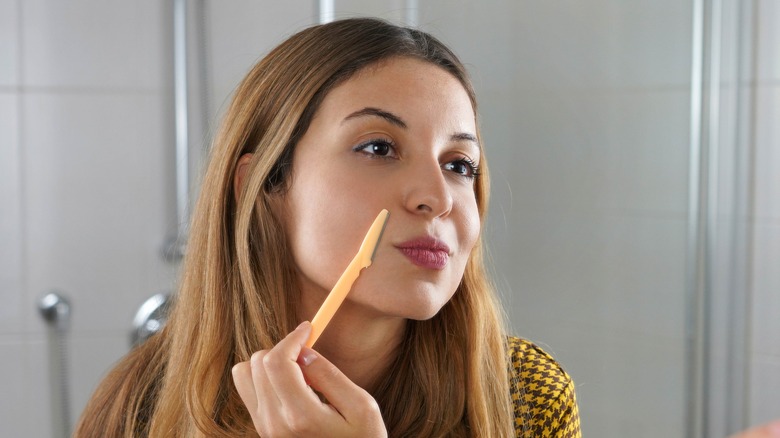 Zigres/Shutterstock
You can absolutely dermaplane on a regular basis, as long as your skin tolerates it. Most people require weekly touch-ups to maintain facial hair, which is completely safe as long as their skin can handle the exfoliation. On the other hand, some people must space out their dermaplaning sessions as frequent shaving and exfoliation cause irritation, especially for those with sensitive skin. Typically, if your skin feels irritated, red, or inflamed after dermaplaning, then your skin requires more time to heal in between sessions. As a general rule, however, try not to dermaplane more than once per week.
Another risk of too frequent dermaplaning is over-exfoliation and skin barrier damage. "Dermaplaning lessens the skin barrier," dermatologist Loretta Ciraldo, M.D. tells Glamour. "This means your products will penetrate more effectively, but it also means skin can become drier since there is less barrier to prevent water loss."
Avoid this dermaplaning faux-pas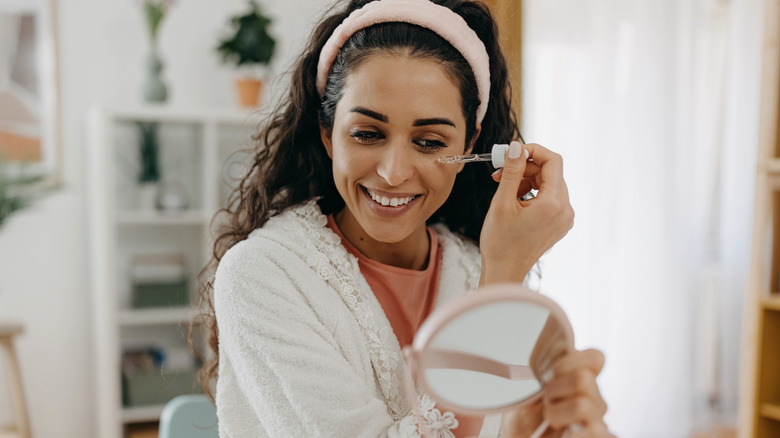 Supersizer/Getty Images
The biggest mistake you can make when dermaplaning at home is not caring for your skin in between sessions. Exfoliating leaves your skin dry and vulnerable to the environment. "I love to let the skin breathe for the rest of the day," dermatologist Melissa Doft, M.D. tells Cosmopolitan. "If you need to wear makeup, you can, but your skin barrier is more open and may become more irritated." Allowing your skin to heal is the best course of action, so Dr. Doft recommends using a hydrating serum and moisturizer after dermaplaning to reduce irritation. You'll also want to apply sun protection to the exposed new layer of skin before going outside.
To avoid further exfoliation, it's a good idea to avoid chemical and physical exfoliators for at least 48 hours. Don't forget to clean your dermaplaning razor after each use and swap out single-use razors after several uses to avoid a build-up of bacteria. Using a dull razor will also increase the risk of nicks which can cause infections and scarring, so be sure to change your razors often.