Why Round Nails May Be The Best Shape For Short Fingers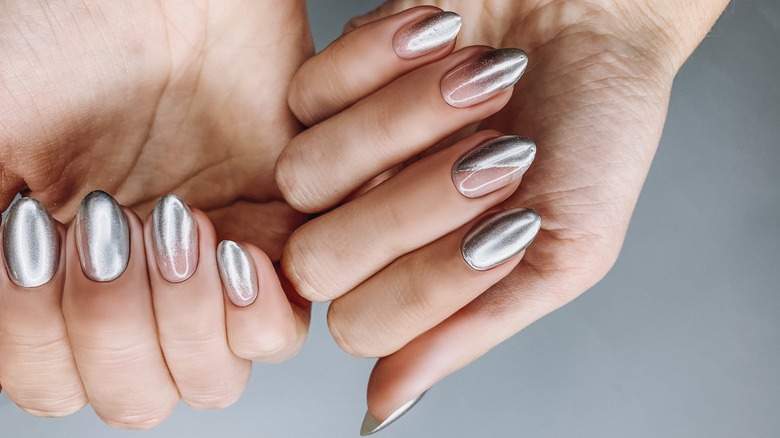 Alexandra Babaieva/Shutterstock
The shape of your nails can complement your hands and make your manicures truly shine. Understanding how your finger length works in tandem with your nail shape can help them look their best.
If you have short fingers, you can benefit from taking your natural shape into account when planning your manicures. For instance, professional manicurist Hannah Lee explains that shorter fingers typically work best with round nails. "This shape works best if you have shorter fingers, since it'll make your fingers look longer," Lee told W Magazine. "It's also great if you're active, since a shorter, rounded nail won't break as easily."
However, short finger length isn't the only reason to turn to round nails. It's a classic shape that's always trendy, and, despite not being as long as stiletto nails, round nails can look just as chic. Furthermore, round nails are a must if you're going for a certain type of manicure or nail art. "Simple nail art like French manicures or half-moon nail art, work well with round nails as the lines mimic the natural curve of the nail shape," Lili and Cata Nail Salon co-founder Lilly Rojas told InStyle. "These designs look great on short round nails."
Why round nails might work for you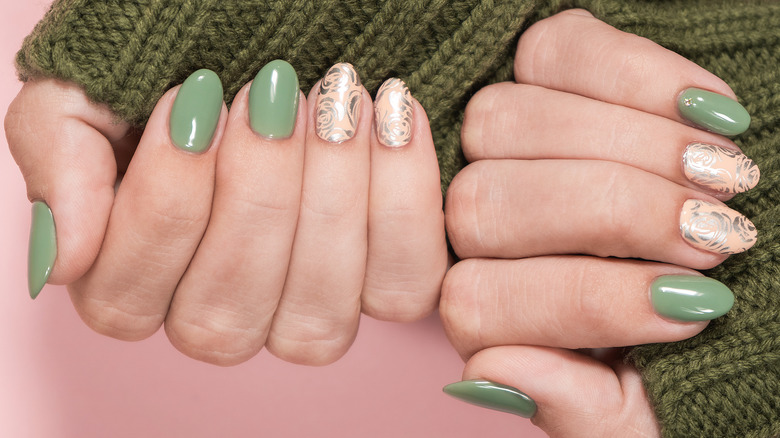 Andrii Oleksiienko/Shutterstock
Round nails are often referred to as a classic nail shape because they follow the contour of your natural nails. Additionally, they can be the perfect nail shape for those who live busy lifestyles. If you're constantly running errands, you know how much of a beating your nails can take. Rounded nails are low maintenance and can be less prone to breakage, especially if you keep your nails short.
It might come as a surprise, but round nails typically start the same way square nails — a trendy nail shape for 2023 — do. They have straight sides, curving only at the edges where they follow the shape of your fingertips. However, unlike square — which works best on those with wide or long nailbeds — rounded nails can be especially beneficial for short fingers. "If you feel you have shorter fingers, you may be more likely to go for a round nail as it can elongate fingers," Ciaté London founder Charlotte Knight told Allure. "This shape looks amazing with a bold, block color."
Before you finalize the best nail shape for you, find out how it will mesh with your fingers by taking a look at your cuticles. "I find that if it's more rounded, then a round or oval shape typically looks best. And if it's wider, then a square or squoval shape may work," professional manicurist Hannah Lee told Glamour.
How to try new nail shapes with short fingers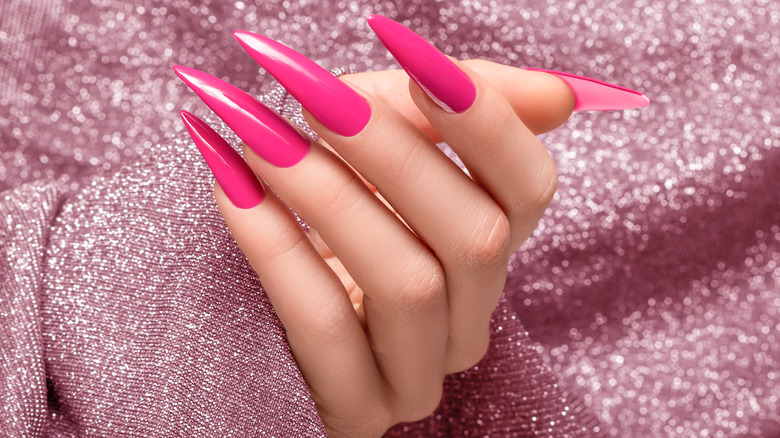 Dev_Maryna/Shutterstock
If you have short fingers, you may still be tempted to try nail shapes other than round. While round nails will likely complement your fingers best, why not see what suits your personal style? If your short fingers are particularly wide, you may want to consider almond-shaped nails — available in a multitude of designs. Filing each nail's sides to create a peak in the center is all you need to rock this shape. "An almond-shaped nail is slim on the sides and wide on the base, coming to a rounded peak. This shape will lengthen and make short fingers look slim," Deborah Lippmann, celebrity manicurist, told Real Simple.
Not everyone with short fingers, however, has short nails. If your nails happen to be lengthy, you may want to try stiletto nails. Renowned for their pointed tips, these nails are as stylish as they are luxurious. Celebrities who frequently walk the red carpet are known for sporting this shape, which can instantly add glamour to any ensemble.
Whether you want to try round nails or a truly unique shape, such as the lipstick shape, you don't have to go to the salon to do it. With a nail file, you can shape your nails right at home. Just remember to file slowly to avoid removing too much length at once and to ensure you have enough to work with as you form your shape.