We Already Know The Nail Shapes That Will Be Perfectly On Trend In 2023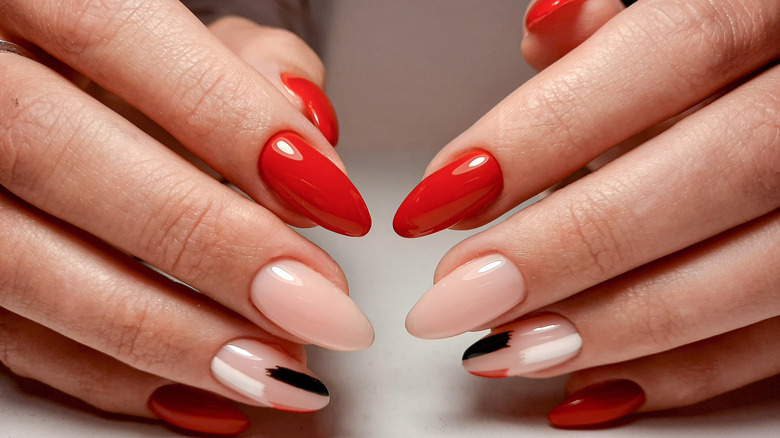 0leJohny/Shutterstock
Anyone who has seen recent fashion trends knows that what's in has been all about statements, nostalgia, and practicality. These same patterns have found their way to various beauty trends as well. When it comes to nails, many of the styles that have grown in popularity have been statement nails that are still practical for daily life. 
One example comes from the popular glazed donut nail trend, made viral by model Hailey Bieber. At the 2022 Met Gala, Bieber showcased her now-famous nails, which consist of a finish filled with shimmer and glaze. These glazed nails were later shown off by her nail stylist Zola Ganzorigt on Instagram, where the look completely took off and turned into one of the biggest trends of the year. It even progressed into other areas of the beauty world, from glazed donut skincare to glazed donut eyeshadow.
While there's no doubt everyone is still loving glazed donut nails, there are bigger nail trends expected to take over in 2023.
The simple style set to trend in 2023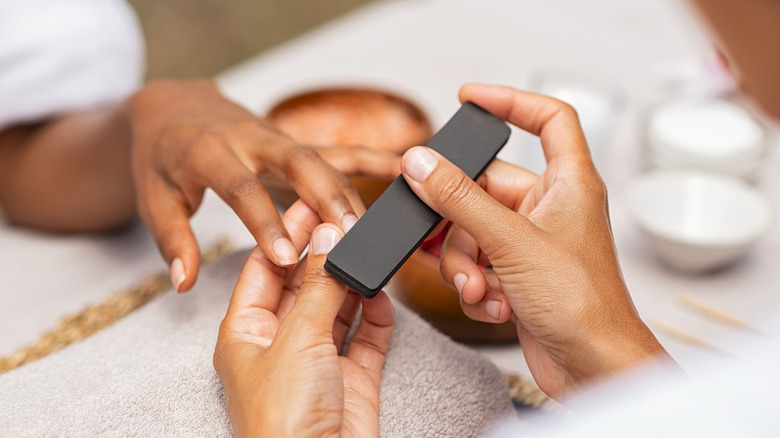 Ridofranz/Getty Images
Much like the natural makeup trend, 2023 will see the rise of scaled-back nails. For their 2023 collections, many designers decided to send out their models in short, square nails with little nail polish. Brands like Hermès showcased models in their Spring-Summer 2023 collection with clean short nails. Only a handful of models donned nail polish but the majority went bare. The trend of short natural nails is popular in part because practicality will always remain a priority for many. There's no lower maintenance than the upkeep of short nails with zero nail polish.
If you want to add some flair or statement to your nails, there's another nail shape growing in 2023. Almond nails are no stranger to the masses, having become more popular in recent years. In 2023, this feminine and flattering style will continue to be everywhere, both with and without length. Celebrity nail artist Jin Soon Choi explains to The Zoe Report that "almond shapes for long nails ... will de rigueur for 2023." The almond shape is ideal for those who also plan to add statement nail art to their look since it will give more space for designs or embellishments.
The power of the squoval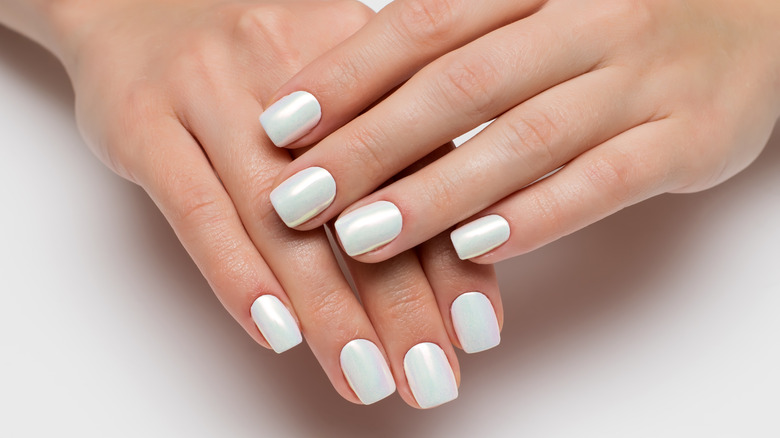 Dina Shuba/Shutterstock
If you are stuck between short natural nails and an almond shape, there's another nail trend you can consider. Celebrity nail artist Holly Falcone tells The Zoe Report, "In addition to a shorter nail length, the trending shape is likely to be more square or squoval." The squoval shape is a new combination between a square and oval shape that is ideal for those seeking a trendy style with a bit more elegance. Falcone adds that this shape is perfect to get those French manicures that are having their comeback moment. 
For nail lovers who aren't afraid of a bit of edge, the coffin shape is another ideal trend to try out in 2023. While many are apprehensive of nail shapes with sharp edges, the coffin shape is a top nail trend to have in mind if you dare. Celebrity nail artist Gina Edwards tells InStyle, "Nail shapes vary from almond to stiletto to square, but I think coffin-shaped nails will continue to rise. It's a sleeker look than your traditional square, and it's more relatable in today's fashion. I think of coffin shape as an architectural nail." The coffin shape will also give you the most room to try out some fun nail art in the new year.