What Exactly Is The Glazed Donut Skincare Trend?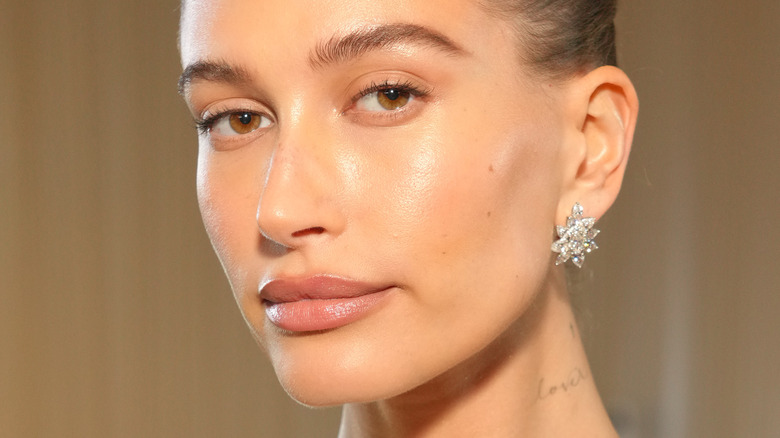 Kevin Mazur/mg22/Getty Images
Beauty trends change with the season, and what's popular one day can be totally out the next. There was a time when matte skin was super in, for example. In 2013, P&G global creative design director Pat McGrath told Elle, "It's all about matte, perfected complexions," and it was all over the runways. While those with oily skin will always hold a soft spot in their hearts for the matte look, it looks like the tables have turned. 
Now, it's all about dewy and glowy skin. We can thank K-beauty's glass skin trend for that, which took over social media and was "the most popular makeup looks at the autumn/winter 2019 fashion shows," per Harper's Bazaar. On this, makeup artist Nikki Wolff told the outlet, "When you think about glass, you imagine this even and smooth surface, so glass skin is that super reflective skin finish, like water, rather than anything that's too metallic." The point is to make your skin literally look like glass or as close as possible to it. 
While it's pretty easy to create a flawless look with zero pores on social media (thanks to filters), it's almost impossible to have that in real life. Now, we have a glazed donut skin trend that went viral when model Hailey Bieber said, "My standard when I go to bed at night is if I'm not getting into bed looking like a glazed donut, then I'm not doing the right thing," in a YouTube video. But just how does she achieve this?
What glazed donut skin actually means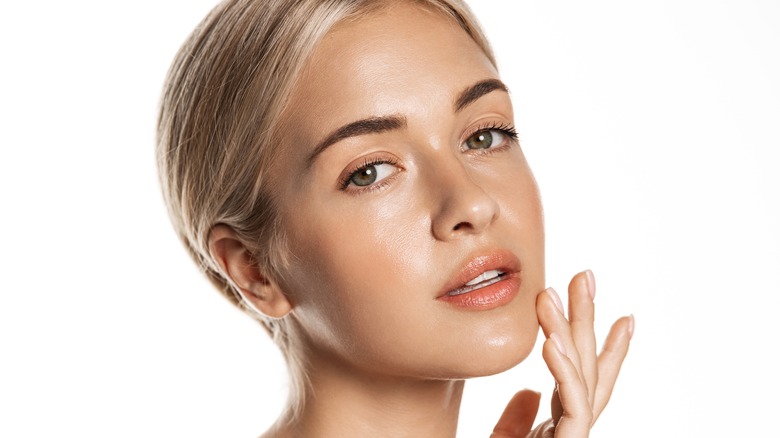 Lyubov Levitskaya/Shutterstock
What used to be just a delicious little treat is now the yummiest trend in skincare, and we are all about it. Imagine a glazed donut; it literally looks like it's glowing from within, and that's where the name comes from. On this new skincare term, Reneé Rouleau, celebrity aesthetician and founder of Reneé Rouleau Skin Care, explained to Women's Health, "Essentially, it's what us oily-skinned people have always had and tried to manage by mattifying it with oil-blotting papers, but now we're in style!" Rouleau added that it's the result of your skin's natural oils. While this trend is a birthright for people with oily skin, others have to work at achieving this look that's "shiny, dewy, (borderline greasy) and hydrated skin," as New York-based aesthetician Tiara Willis describes this appetizing look.
It's next-level dewy skin that looks good enough to eat. What makes this different from K-beauty's glass skin is that "the whole idea here is to celebrate your skin's natural beauty — freckles and all," according to New Jersey-based board-certified plastic surgeon Alexis Parcells (via The Editorialist). It focuses more on "pampering" and "enhancing" rather than trying to look flawless like you have a filter on in real life. The glazed donut trend focuses on achieving healthy-looking skin with a "lit-from-within-glow" rather than using products to conceal all your flaws. It involves layering products to glisten, and while it started as a skin trend, it's also the hottest beauty trend of 2022.
How to achieve the glazed donut skin look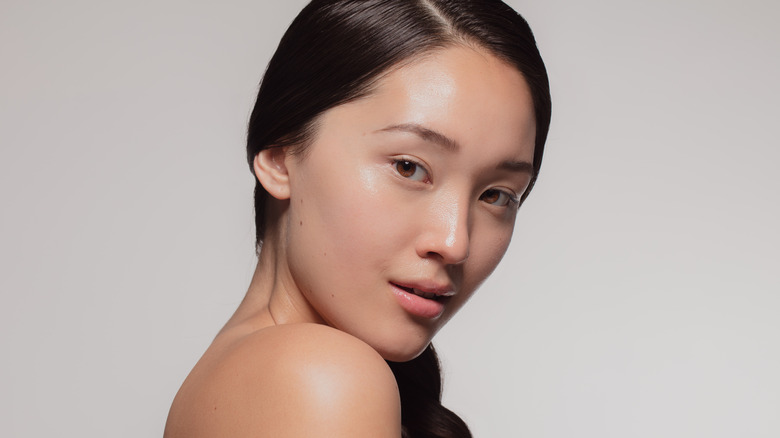 Jacob Lund/Shutterstock
If you're interested in the exact skincare routine to get the glazed donut skin like Hailey Bieber, she shares it in her YouTube video. However, you can also rock this look when you are out and about with the right products, so your skin looks as glazed and radiant as a scrumptious donut.
You need to start with the skin, obviously. New York-based aesthetician Tiara Willis told Women's Health, "To get that glazed glow, your skin can't be ashy, dull, or dry. It has to be hydrated and moisturized," so it's important to use "rich moisturizers and ointments." Glowing skin is healthy skin, so take care of your skin barrier by investing in "gentle, non-drying products as well as barrier-repairing products." This way, you're all covered and have an excellent base for the whole look.
When you take it from a before-bedtime routine to a day look, it translates to the most hydrated-looking skin with natural, no-makeup makeup, per Poosh. All you need is a combination of the most hydrating skincare products and glow-boosting moisturizers with a strategically placed highlighter for "sculpted cheekbones." Don't forget lip gloss. The outlet recommends using a super-hydrating serum and topping it off with a tinted moisturizer with sunscreen. Then, accentuate your cheekbones with a highlighting balm and finish off with a face mist to complete the "glazed and glowing" look.